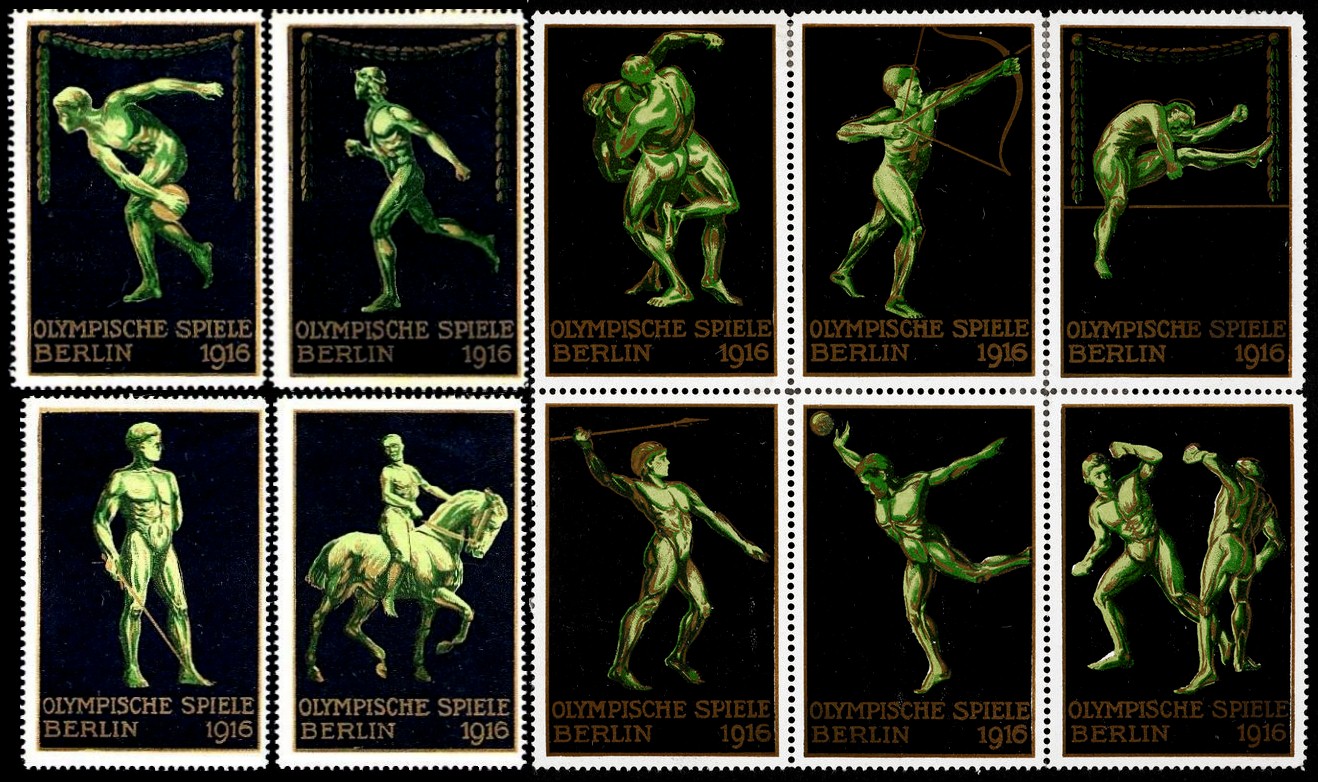 #1916-3a&9a and #1916-3b to 12b
DuBois listing:

3a.to 12a. "OLYMPISCHE SPIELE BERLIN" below, lettering and design frame in gold. Vignettes: one or two "statuesque" athletes. 40x61mm, perf 11.25. Athletes' bodies are bright green; sword, discus & highlights on bodies are gold; other body details are black; background is gray-green (similar to color of old Statue of Liberty); poses follow:

3a) discus thrower, 4a) runner, 5a) wrestlers, 6a) archer, 7a) high jumper, 8a) fencer, 9a) horseman, lOa) Javelin thrower, 11a) shot-putter, 12a) boxers ... Rare

3b to 12b. Same as Nos. 3a to 12a but background is black ... Rare

Nos. 3 to 12 exist as a se-tenant pane of ten, PM4S
Reproductions of these labels were issued recently by the German Sporthilfe organization.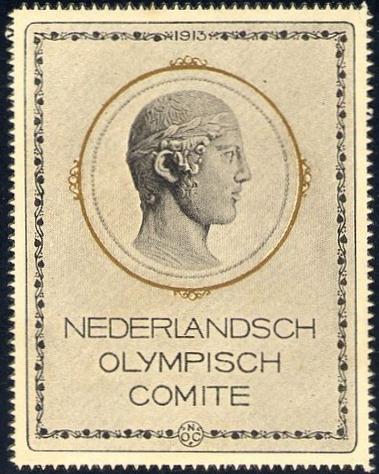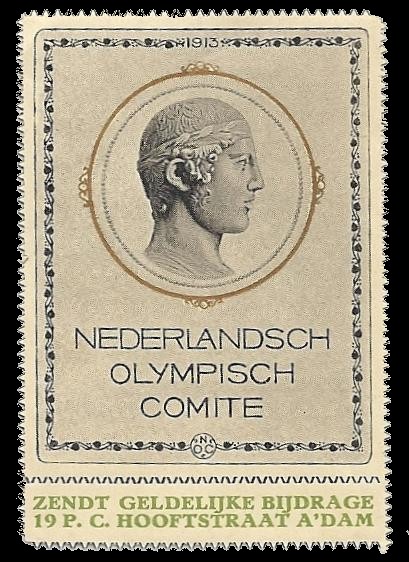 #1916-13 and 13a
DuBois listing:
13. "NEDERLANDSCH OLYMPISCH COMITE" below. Vignette, above: the head of a Greek God facing to the right, in a black & gold circular frame; label has a decorative border with a thin outer line; in border, at top "1913," at bottom "NOC." Perfs are serrated with black edging 43x55.5mm, perf 13.5, black & gold on cream paper .. Rare

13a. No. 13 with tab at bottom, inscribed with green text - "ZENDT GELDELIJKE BIJDRAGE 19 P.C. HOOFTSTRAAT A'DAM" ... Rare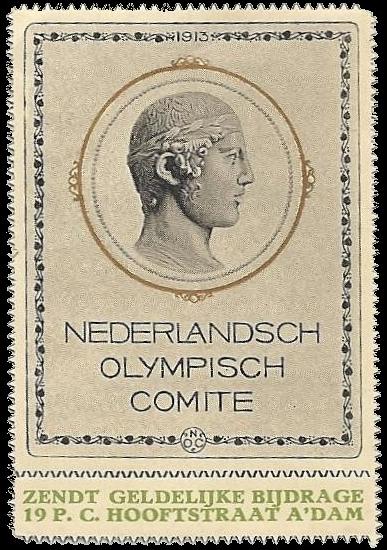 This is an odd example - the perforations are printed!
DuBois listing:
14. Swedish Label: "FRAMGANG FÖRPLIKTAR" above; "MEDVERKA VID NATIONALINSAMLINGEN FÖR OLYMPISKA SPELEN I BERLIN 1916" below. Vignette, between texts: three crowns of the Swedish coat of arms on a dark blue background, on top of a light blue tablet on which is inscribed "SVERIGE 1916," in gold; the vignette has a gold edging with a thin, black borderline; the main border of the label is an ornate, rope-like, light & dark blue color; another ornate border, light blue on white, surrounds the vignette; printer's mark, below design: "CENTRALTR STHLM."; the latter and both upper and lower texts are black. 28.5x45mm, perf 11.5 ... $30.00
(Translation: "Success has its obligations. Contribute to the national collection for the Olympic Games in Berlin 1916.")