POSTER STAMPS AND LABELS OF THE OLYMPIC GAMES
INTRODUCTION

Official Poster and Emblem for 1952 Winter Games in Oslo

The IOC decided not to increment the number for the Winter Games until they'd actually been held, so 1948 was V, and 1952 was VI.

The following poster stamps were issued for the 1952 Winter Games:

Click on image below to open an enlarged version in a separate window/tab
Click on the DuBois number beneath the image to display technical data about that label.

STILL MISSING

#1952-W-1
DuBois listing:

1. "DE VI OLYMPISKE VINTERLEKER OSLO 1952" in a dark blue, 1mm circle, above: "VI OLYMPIC WINTER GAMES NORWAY 1952" below; within the circle: a double-towered edifice in white, with Olympic rings superimposed thereon, in various shades of blue; background is light blue; border is thin, dark blue line.

20x27mm, perf 14, text in circle is white, lower text, below circle, is dark blue ... $2.50


#1952-W-2
DuBois listing:

2. German Fund Label: "OSLO 1952 DEUTSCHE OLYMPISCHE GESELL-SCHAFT SPENDEN-MARKE 10 PFG" above a winter landscape with Olympic rings and ski parts.

29x44mm, perf 10, colors red & blue ... $4.00

(German Olympic Society; Donation Stamp-10 pfennigs)
---
NOT IN DUBOIS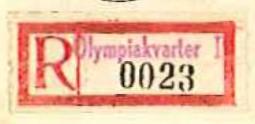 #1952-W-x1
Registration label
Olympiakvarter
Olympic Quarter
---
Norway issued three semi-postal stamps for the 1952 Winter Games.
Austria issued one semi-postal stamp for the 1952 Winter Games.
---
TOP
I am indebted to Robert J DuBois for allowing me to use images and information from his Catalog of Olympic Labels on these web pages.
All text and images are the property of the author. Any errors are his.
REWARD! If you have better or additional information about anything shown or discussed here, please email the author.
Email address at bottom of page. Full credit gladly given - your name, ebay ID, web site...

All text Copyright © 2013, William M. Senkus


Send feedback to:


Created -- 07/27/2013
Revised -- 06/10/2016