Casey Jones Rail Road Unit of the ATA
TRAINS on Railway Parcel Stamps and Railway Letter Stamps of the World
Page 2 - Belgian Congo through Belgium
---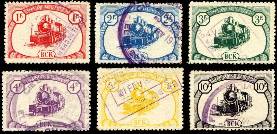 Belgian Congo
Bas-Congo au Katanga Railway
More about these stamps here.

The Lower Congo and Katanga Railway (BCK) was started in 1910 as the Chemin de Fer du Katanga, went through several name changes, and today is part of the SNCZ (Democratic Republic of Congo National Railways). Parcel Stamps were first produced about 1930, and went through several versions, all similar to the ones shown. Their use was discontinued in the late 1970's. As with most parcel stamps they were applied to waybills, retained by the company, and eventually destroyed. Some of these waybills were rescued, and the stamps removed, during an office- cleaning. Mint stamps were available, and can be found occasionally, but both used and mint copies are scarce. The area served by the BCK is now the southwest corner of the Democratic Republic of Congo (Zaire)

(Information about the BCK and its parcel stamps courtesy of Bill Weinberger, Stamp Collector, 5/12/79, Linn's, 9/14/81.)

From the ATA Handbook:
These listings are found in the catalogue Officiel de Timbre Post Belgie, edited and published by the Belgium Professional Association of Stamp Dealers. The "CP" catalogue number prefix used here is an abbreviation for Colis Postaux [Parcel Post].
Printed by Imbelco
1942 Type 300 Steam Locomotive & Emblem (BCK) of Bas-Congo au Katanga Railway Company - 40x28mm
CP18 1F red
CP19 2F blue
CP20 3F green
CP21 4F lilac
CP22 5F pale yellow
CP23 10F black
Other types:

2nd issue

2nd issue overprinted

2nd issue overprinted

2nd issue overprints
overprinted!
---
| | | | | |
| --- | --- | --- | --- | --- |
| Q008, 1894 | Q032, 1902 | Q109, 1920 | Q129, 1920 | Q186, 1935 |
| Q193, 1935 | Q264, 1942 | Q266, 1942 | Q301, 1947 | Q318, 1949 |
| Q341, 1953 | Q357, 1954 | Q364, 1954 | Q375, 1960 | Q389, 1968 |
| Souvenir sheet, 1985 | Q440, 1980 | Q462, 1982 | Q464, 1985 | Q471, 1996 |
Belgium, of course, is the most prolific issuer of State-operated Railway Parcel Stamps, with nearly 500 diferent stamps issued from 1879 through 2000. They are listed in Scott, with numbers starting "Q", under the heading "Parcel Post and Railway Stamps". Many have fine images of rail vehicles, equipment and fixtures. For my diatribe on the topic, including some comments from two Scott editors, GO HERE.
It appears the era of SNCB parcel service and stamps has ended, as the Belgian Postal Service now offers national and international parcel service, called Kilopost, while SNCB offers only heavy freight shipping.
Moreover, according to this page the major Belgian stamp catalog has reclassified all Belgian Railway Mail stamps since 1995 as Cinderellas!
1/21/2007 - GO HERE for details and pictures for all the Belgian Railway stamps, including Parcel, Newspaper, Luggage, Officials, and Regular Issues.
1/17/2005 - Keith Downing pointed out to me that Belgium used to be the country with the densest rail network in the world. Here's a useful site about railways in Belgium: http://sinfin.net/railways/world/belgium.html
__________________________________________________
IMPORTANT NOTE: This page is a work-in-progress, subject to revision as I learn more.
If you find errors, please let me know, so I can correct them. Send to

.
---
---
All text Copyright © 2004, William M. Senkus


Send feedback to the author: CLICK HERE

Created -- 12/08/2004
Revised -- 01/17/2005