Previous page in exhibit HOME Next page in exhibit
Railroads on Stamps & Covers of Austria
by Dexter C. Wright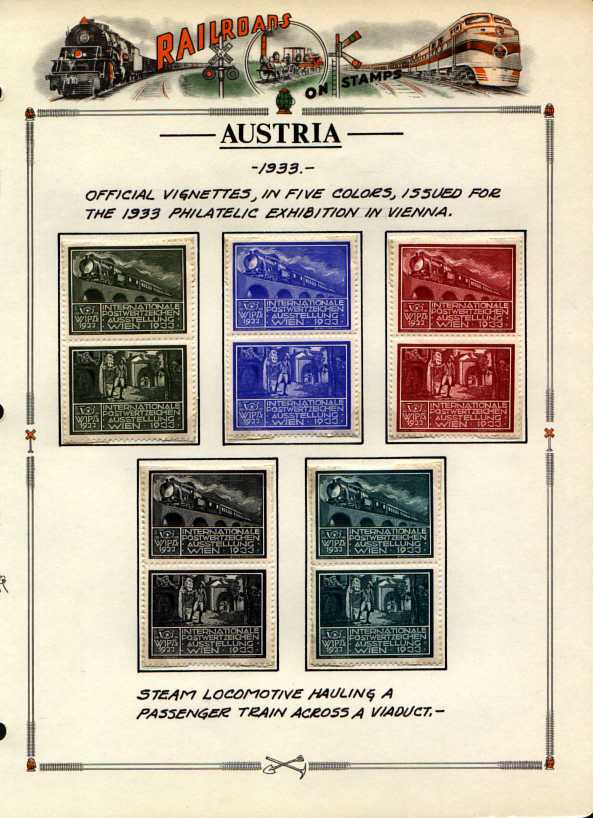 These "Cinderellas" or "Poster stamps" or "Philatelic Exhbition Seals"
(see my page C is for Cinderella Stamp)
were actually issued in TWENTY different colors, in conjunction with WIPA 1933
(Wiener Internationale Postwertzeichen Ausstellung or Vienna International Postage Stamp Exhibition). They show the progression of mail transport over the centuries, with an imaginative idea for future transport, by rocket, on the final stamp. The designs were used on these stamp, on postal cards, on envelopes, probably on tee-shirts.

See next page for all ten of the designs.

WIPA 1933 generated more Cinderellas than any other philatelic exhibition I know of.
If you want to see a more extensive display, click here.
Previous page in exhibit HOME Next page in exhibit
---
Send feedback to the author: CLICK HERE
Revised -- 6/15/2002