Previous page in exhibit HOME Next page in exhibit
Railroads on Stamps & Covers of Austria
by Dexter C. Wright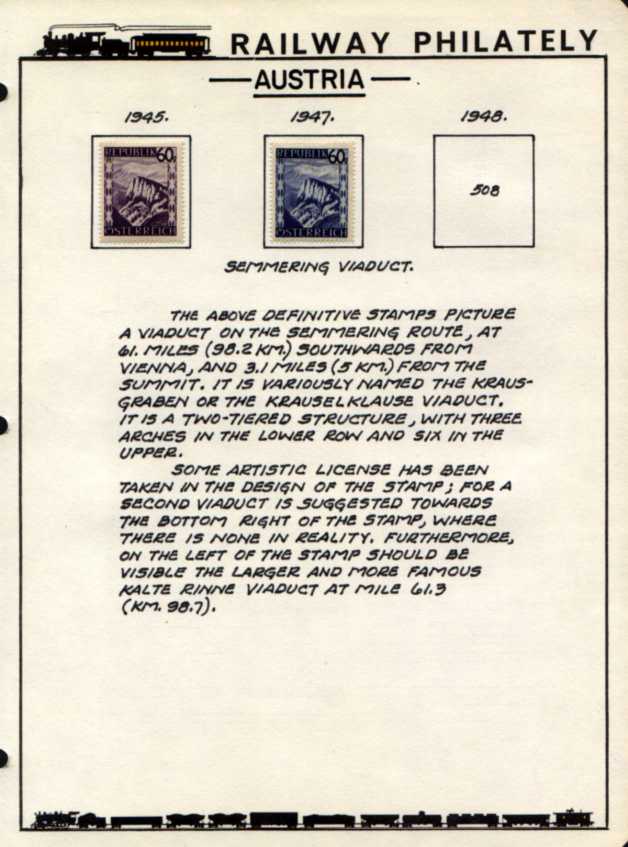 These three stamps, all with the same design, are peripheral if one is looking for trains - we know that the main viaduct depicted on the stamp does indeed carry rail traffic, but its image is so tiny one can barely make it out, so it's mostly a matter of faith, or one's personal choice how far to carry the commitment to own all the stamps with a rail theme.
Here is a link to a web page with photos from the area shown on the stamps. Indeed, half way down the page is a photo showing essentially the same view as the stamps!
Here is a link to a web page with a postcard showing the viaduct from below, and it appears that Dexter was wrong in saying there is not a second viaduct, since it obviously it exists, just as shown on the stamp.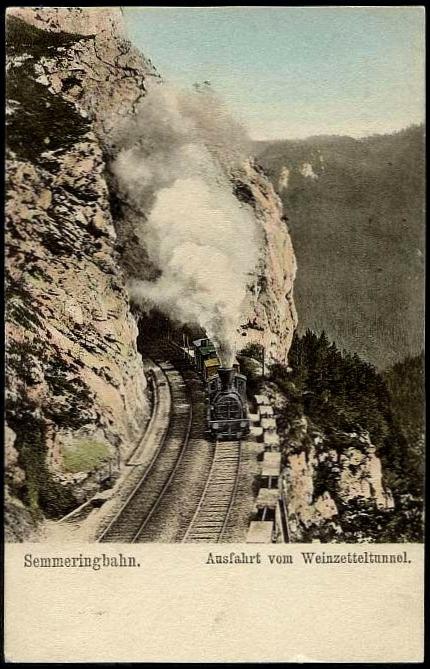 From my own collewction, above is a nice postcard, unused and un-dated, but I figure it is from the 1910's or 1920's, with a scene on the Semmeringbahn, giving one a sense of why the railroad was considered such a triumph of engineering. I looked around on the Internet, but was unable to find any text reference to "Weinzetteltunnel". But I did find a modern map showing the Semmeringbahn route, click here (WARNING - 564 KB!). I see the word "Weinzettel" just below the letter "E" (in a red circle at left center), so presumably that's where the tunnel is.

And indeed, looking further I found this page with modern photographs of the Semmering Railway - the last shot on the page shows the same view as my postcard - but a much different train, and electrified, so there are lots of wires cluttering the view! And the text for the photo above that one says "With a length of 688 m the Weinzettelwand tunnel is the third longest, after the two main tunnels crossing the summit."
Previous page in exhibit HOME Next page in exhibit
---
Send feedback to the author: CLICK HERE
Revised -- 6/15/2002