Railroads on Stamps & Covers of Austria
by Dexter C. Wright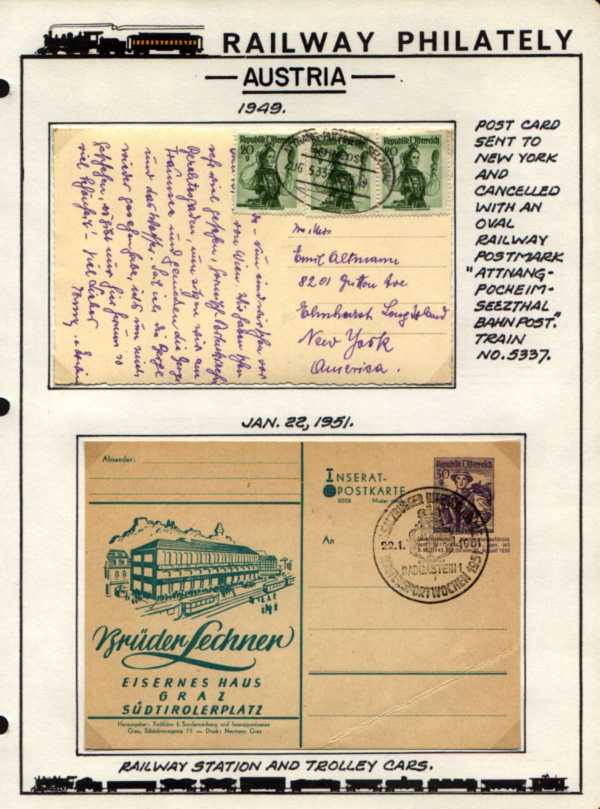 Back on June 24, 2002, CJRRU member Tony Goodbody wrote to say that the top item shown here, with a German TPO postmark, is especially interesting, since its date (25.6.49) is a late one for such markings. He explained as follows:
The key point about this mark is that it is a German type oval used in Austria.

Austrian TPO marks have always been circular. When the Anschluss took place in 1938, Austria was incorporated into the Third Reich and became effectively part of Germany. This of course included the railways, the Post Office and the whole bureaucracy. The borders between Austria and Germany were removed and new travelling post office routes, crossing the former border, were introduced. Naturally the German authorities introduced their oval cancel for the new routes as well as for certain of the routes within the former borders of Austria. (Whether all the Austrian routes had oval cancellers I don't know. I think perhaps some continued to use the circular marks because I am sure I have one or two from that period).

This arrangement lasted until the end of the war in 1945. At that time the railways were again re-organised but in the ensuing chaos the available oval cancellers continued to be used until new circular cancellers could be manufactured. Just how long this took I don't know but I would have thought the example in Dexter's collection dated 1949 was quite late. I have certainly not seen a later one. (I have but a single example of this kind of postmark in my collection but it is dated 1943 on a Hitler Head stamp.)

I have an article called 'Der deutsche Bahnpoststempel in der Ostmark 1938 bis 1945 und ab 1945 in der 2. Republik Ostrerreich,' which lists the German TPO markings used in Austria, with dates and trains of their usage. The route ATTNANG PUCHHEIM - SELZTHAL (notice the spelling - Dexter didn't get it quite right) is listed towards the top of page 13, and indicates that train 5337 operated after 1945. I think there should be an 'a' in the bottom segment, although I can't see it.
The "a" is there, and can be seen clearly on this larger scan.
When I told Tony I had finally gotten around to publishing his comments (on June 24, 2004!), he added this:
I have had a look at this matter again in the light of the fact that I now have a complete listing of German TPO marks put out by the German TPO Study Group. It is an enormous work running to one volume for each letter.

The postmark in question was issued on 26th July 1941 and taken over by the Austrian postal authorities in 1945. However it is only recorded used in 1941 and 1942, hence Dexter's mark extends the dates of usage by a full seven years - far more than I ever imagined.

The direction of travel is indicated by the oddness or evenness of the train number (as in the USA and other countries, of course). Here we have train No. 5337, an odd number.

However, the matter is complicated by the fact that the route from Attnang-Puchheim to Selzthal is via Stainach-Irdning, and Attnang-Puchheim to Stainach-Irdning trains have even train numbers but Stainach-Irdning to Selzthal trains have odd numbers. In the opposite direction Selzthal to Stainach-Irdning trains have even numbers, while Stainach-Irdning to Attnang-Puchheim trains have odd numbers.

Now, according to the article which I quoted, only two train numbers were used post 1945, namely 5320 and 5337. My guess is that they operated between Attnang-Puchheim and Stainach-Irdning (107 km.) rather than between Stainach-Irdning and Selzthal (18 km.).

Hence train No. 5337 would be in the direction towards Attnang-Puchheim.

The fact that Atttnang-Puchheim comes first in the postmark has nothing to do with the direction of travel. It means that Attnang-Puchheim is the Home Station of the RPO. This is a concept we don't have here.
Thanks, Tony.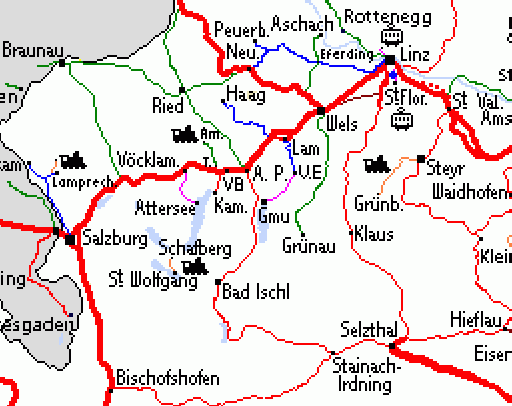 The map above shows all three of the towns mentioned, and was clipped from the excellent full rail map of Austria at http://members.telering.at/hans.goebl/bahnnetz-en.htm, Note that Attnang-Puchheim lies about halfway between Salzburg and Linz, and is abbreviated "A.P." on the map. Selzthal is straight below Linz, and Stainach-Irdning is left of Selzthal a short ways. The distance today by car from Attnang-Puchheim to Selzthal is 102km, according to the Mapquest-style directions on this European holiday planning site.
Previous page in exhibit HOME Next page in exhibit
---
Send feedback to the author: CLICK HERE
Revised -- 6/25/2004