Poster Stamps
of the Chemical Industries Exposition
(Click on any image to see a higher-resolution version.)
Poster stamps are a subset of Cinderella stamps. A Cinderella stamp is essentially any stamp not produced by a government for use as postage, a definition which includes (to some people) officially-issued stamps such as tax stamps, telegraph stamps and locals. Poster stamps are advertising stamps, and usually poster-like in their appearance. Many are indeed just reduced versions of actual posters, and were issued in conjunction with the events for which the posters were produced. The poster stamps on this page were all issued in conjunction with the Chemical Industries Exposition in the U.S., now called "Chem Show". One even thas a train! Below are all I have been able to accumulate so far. Thanks to the history page of the organization that runs the show, I was able at last to assign reliable dates to the first two.
10/31/17 - Collector Peter Zecevic sent me images of four new stamps - 1920, 1951(2), 1959, and 1969! Thanks, Peter.
His additions suggest there are at least seven more - 1918, 1919, 1949, 1955, 1957, 1965, and 1967 - plus more post-1969?
Can anyone else expand the exhibit below?
Note: images are NOT shown in proper relative sizes - the earlier issues are rather large, the later ones smaller.
---

1915
FIRST

1916
SECOND

1917
THIRD

1920
SIXTH
We know the Expo was held in 1918 and 1919, because they incremented the show numbers - 1920 is the Sixth - but I have seen no stamps for those years.


1921
SEVENTH

1922
EIGHTH

1923
NINTH

1925
TENTH

1925
TENTH
missing color version

1927
ELEVENTH

From 1915 though 1923, the shows were held every year. After 1923 they were held every two years.


1929
TWELFTH

1931
THIRTEENTH

1933 Spring
FOURTEENTH

1933 Fall
FOURTEENTH (!?)

1935
FIFTEENTH

SIXTEENTH

Note the two shows in 1933 (both numbered 14th), and the change from Spring to Fall dates from then on.


1937
SIXTEENTH
with vendor overprint

1939
SEVENTEENTH

1941
EIGHTEENTH

1943
NINETEENTH

1946
TWENTIETH

1947
TWENTY-FIRST

WWII didn't stop the shows, but the 1945 show was delayed a year.



1951
TWENTY-THIRD

1951(2)
TWENTY-THIRD
10/31/17 - NEW FIND
WHY TWO VERSIONS?

1953
TWENTY-FOURTH

1953(2)
TWENTY-FOURTH
9/27/17 - NEW FIND
WHY TWO VERSIONS?

1959
TWENTY-SEVENTH

1961
TWENTY-EIGHTH

The 1947 show was back on schedule, an odd-numbered year.
Note that the 1953 show was held in Philadelphia - Why the change? All other years were in New York.
I see that Grand Central Palace, the venue for all prior years except 1943, closed in 1953, so that must have prompted the move.
By 1959 the show was back in New York, at the New York Coliseum.

(Their web site says "... with the exception of three shows in Chicago and one in Philadelphia, every Chem Show ... has been in New York City.")


1963
TWENTY-NINTH

1969
THIRTY-SECOND
I find it interesting that even as late as 1963, the Exposition was still showing factories belching polluted smoke into the air. Note that the 1969 stamp still shows the factories, but no smoke!
Was this a sign of environmental awareness? (The EPA was established in 1970)
---
The stamp below may be a precursor to the series. It's interesting to note the way new technologies are grouped at first, then assume identities of their own. Early auto show were often combined with shows for electricity, for example.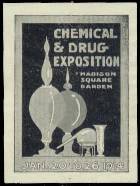 I have these two covers that relate to the theme as well:

IF YOU CAN ADD to the images above, please email the author at




Click here to access my web page about the 1936-1951 Poster Stamp Bulletin of the National Poster Stamp Society.

---
---
All text Copyright ©, William M. Senkus


Send feedback to:


Created -- 05/24/2004
Revised -- 01/28/2018