TRAINS ON U. S. STAMPS
and POSTAL STATIONERY
-----------
The De Witt Clinton

A PLEASURE RIDE ON AN EARLY AMERICAN TRAIN
A train on the Mohawk and Hudson Railroad, July 31, 1831, between Albany and Schenectady, New York, carried politicians from the state capital on a tour of inspection. 'In spite of its clumsy appearance the engine was able to haul its load at a rate of thirty miles an hour on the level stretches, though when it entered the hills it had to be pulled up an inclined plane by a stationary engine. The cars were stage coaches. When the engine started they were jerked so violently by the loose couplings that "Whigs and Democrats embraced each other, or were thrown to the floor." Startled by the strange spectacle of the puffing monster, horses and even people ran in terror. The shower of pine sparks was so heavy that, on one occasion at least, a stop had to be made at a water tank to allow passengers to extinguish their burning clothes and umbrellas.
The illlustration and text above are from an enclosure in a "Kribbs Cover" for Scott US 2362-66, by KEN AND ANGIE KRIBBS. The illustration shows the De Witt Clinton.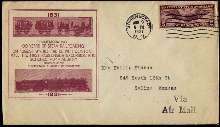 Commemorative cover for the 100th anniversary of the De Witt Clinton's first trip.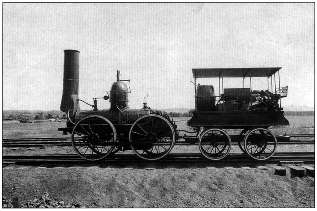 De Witt Clinton reproduction
The De Witt Clinton was built by the West Point Foundry for the Mohawk & Hudson. On August 9, 1831, it became the first locomotive to operate in New York State and was among the first locomotives to operate in the United States. The locomotive pictured here is a replica of the original. Few remnants from the early days of railroading have survived into modern times. John P. Hankey collection.
(Photo and text from "American Steam Locomotive", by Brian Solomon; MBI Publishing Company, 1998)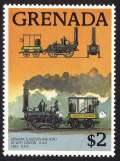 Stamp showing De Witt Clinton. Note the date - the engine pictured is a reproduction built in 1893 for the World's Columbian Exhibition in Chicago. It is now in the Henry Ford Museum, in Dearborn, Michigan. The replica was built by the New York Central Railway in their West Albany Shops. There wasn't much left of the original in 1893, but what parts were left were incorporated into the replica.
This may be the reproduction shown in the photograph above, but the source of that image does not say.
The reproduction only approximates the look of the original, of which only general drawings survive.
---
---
All text Copyright © 2001, William M. Senkus


Send feedback to the author: CLICK HERE

Revised -- 11/12/2004