1933
(Click on any image to view an enlarged version)
SOKOLSKÝ VÁNOČNI POZDRAV
Sokol Christmas Card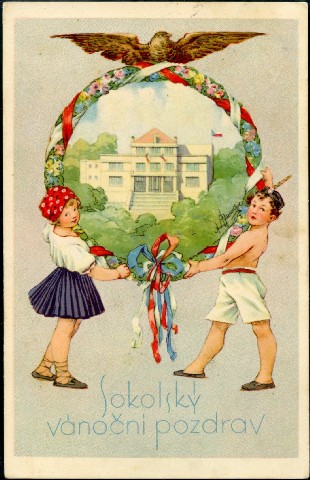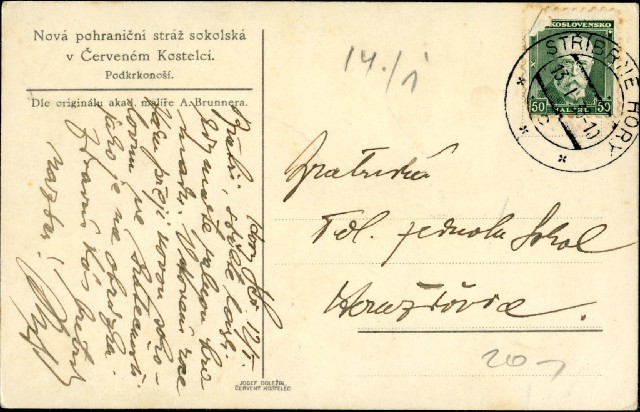 Artist: A. Brunner

NOVÁ POHRANIČNÍ STRÁŽ SOKOLSKÁ V ČERVENÉM KOSTELCI
New Sokol Border Guard House at Červený Kostelec

Mailed January 13, 1933
Červený Kostelec is a town of about 8,000 people in Northern Czechia, near the border with Poland. The town's church is now painted red, representing the fire that engulfed it in the 17th century, and gave the town its name, červený meaning red.

------------
I. POKRAJINSKI SLET S.K.J. LJUBLJANA
1st Regional Slet of Yogoslav Sokols, Ljubljana
Sokol was popular in other Slavic countries, including Yugoslavia, after its formation post-WWI. Sokol games were held there as early as 1922, with the first major Slet in 1933.
Postcards were produced for the occasion, of course.
"Pokrajinski" means "Regional"
A set of two Yugoslav postage stamps was issued for the occasion, both are shown below.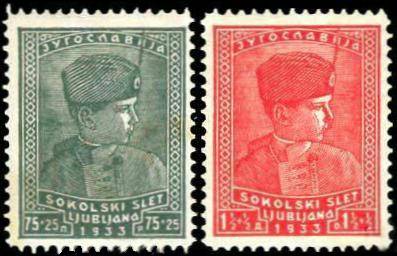 POSTER STAMP for Czech Orel membership, Quarterly payment