2¢ LOCOMOTIVE COIL - May 20, 1982


Sc. 1897A - issued 5/20/82
This stamp was an early entry in the Transportation series coils, which began on 5/18/81 with the 18¢ Surrey. Redesigned and reissued in 1987 as Scott 2226, the 2¢ locomotive was one of the longest-lived stamps of the series - reprinted as recently as 1994,it was available from the USA Philatelic catalog as recently as December of 1999. It may still be in stock at the USPS Philatelic Center in Kansas City.
The train pictured is a classic 4-4-0 "American", originally a wood-burner, as we can deduce from the tall, flared stack, which usually had a screen on the top to minimize flying sparks, a chronic problem. That looks like coal in the tender, though, so this one has probably been converted to use coal, as many were in that era, when the originally plentiful wood supplies dwindled, and a more efficient fuel was needed.
The source of the image for the design was a Currier & Ives print called American Express Train, shown below.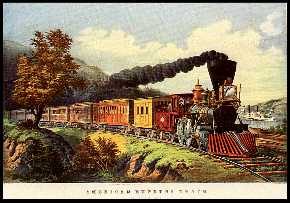 Currier & Ives litho. - American Express Train
Below is the Fleetwood FDC for this issue, with the following text on the back:
Of all the forms of transportation which have been developed during the United States' onward march, the one which has contributed most to the spread of her civilization, the creation and diffusion of her wealth, the expansion of her industries, and improvements in her standard of living, is the steam locomotive. No other mode of transportation has ever so fully entered into the everyday life of the American people. To this day, the American locomotive has remained a source of fascination for its people. ... The locomotive looked as eternal and indestructible as the mountains of America that it passed over. But indeed, that was an illusion. For like the dinosaur, the steam locomotive is gone except as a museum piece, and like the dinosaur, it reached impossible dimensions of size and weight before it vanished.
In other words, for at least the latter half of the nineteenth century, the history of America was the history of its railroads - no other vehicle epitomizes more our development as a Nation in that era.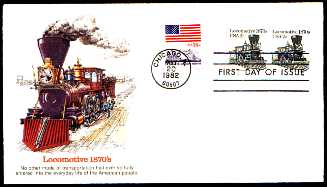 Fleetwood FDC
This cover illustrates to me one of the virtues of the large commercial FDC makers like Fleetwood and Artcraft - they can and do commission top-quality art work and text. Its slickness, and our distaste for anything mass-produced, often blind us to its merits. Note that this image shows the same locomotive as the stamp (and the lithograph), flipped horizontally, and with wood in the tender - obviously the artist did his homework!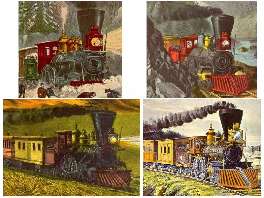 Currie & Ives - details
Here are details from four Currier & Ives lithos of the same period as our source for this stamp (including the source image) - apparently this locomotive was a popular model for one of their artists. You can see the full images for all four here.