29¢ RAILWAY MAIL CAR
29¢ "Empire State Express" on Scott 295, stamp-on-stamp
NATIONAL POSTAL MUSEUM ISSUE - July 30, 1993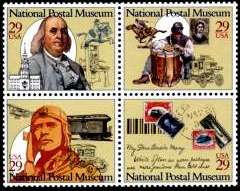 Sc. 2779-82 - issued 7/30/93
This issue is one of my all-time favorites, not only for the train themes on two of its stamps, but for its rich mixture of postal history. It was released to advertise and honor the opening of the new National Postal Museum. The official USPS publicity explained that three of the stamps represented the three centuries of our nation's history - the 18th, the 19th, and the 20th, and the fourth represented the entire span. I find the design of the fourth stamp the weakest of the four, but like its stamp-on- stamp theme - I would have omitted the bar code and hand-writing and enlarged the stamps. Something like this: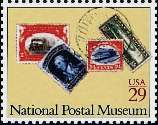 Sc. 2782x - never issued
| | |
| --- | --- |
| Sc. 2779 Pugh FDC | Sc. 2780 Pugh FDC |
| Sc. 2781 Pugh FDC | Sc. 2782 Pugh FDC |
Here are the covers produced by two of the best FDC makers currently active, the Pughs (Julian and Sharon) and Fred Collins. They have rather different styles, and chose to emphazise some of the same and some different aspects of the themes, but each did an excellent job of complementing the stamps with cachets. Fred chose not to develop the train theme, which of course I deplore, but I am a big fan of his, and find it hard to fault his covers here. The Pughs chose to use a non-official cancel with a great train very prominently featured, and a wonderful train scene as one of the cachets, so there's no faulting them either. I do note that their train scene is a reproduction of the one they used on the Montgomery Blair aerogramme, but it was good enough to merit the re-use.
| | |
| --- | --- |
| Sc. 2781 - Fred Collins FDC | Sc. 2782 - Fred Collins FDC |
| Sc. 2780 - Fred Collins FDC | Sc. 2779 - Fred Collins FDC |