TRAINS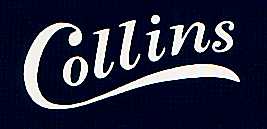 ON FRED COLLINS HAND PAINTED FDCs
Below are all the Collins FDCs I know of with any sort of rail theme, which includes a few streetcars and bridges. The first alphanumeric code below each image (e.g. J201) is its Collins number, which identifies it uniquely among Fred's products, and is the number to use when ordering from him. The number in parentheses is the Scott catalog number of the stamp on the cover. I have organized them more or less chronologically. Retail prices on these today range from $5.50, for the 1983 streetcars issue, which Fred still had in stock the last time I checked, to $150 for the 2c 1982 Steam Locomotive issue, which is available only on the after-market, and is relatively scarce. (If you know of any I've missed, please e-mail me at

.)
For more about trains on U.S. stamps, take a look at my set of pages titled
Trains on U.S. Stamps and Postal Stationery.
(Click on any image to see a higher-resolution version.)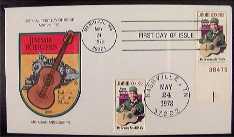 G101 (Sc. 1755) 05/24/78
I do not own this cover - it's one of the scarcest and most expensive of Fred's covers - a viewer kindly contributed the scan.
| | |
| --- | --- |
| J201 (Sc. 1800) 10/18/79 | L501 (Sc. 1897A) 05/20/82 |
| G601 (Sc. 1898) 3/25/83 | I701 (Sc. 2059-62) 10/8/83 |
| V701 (Sc. 1905) 2/3/84 | L901 (Sc. 1867) 3/20/85 |
| F1118 (Sc. 2217i) 5/22/86 | U1101 (Sc. 2245) 10/24/86 |
| K1201 (Sc. 2276) 5/9/87 | U1201 (Sc. 2337) 8/26/87 |

C1301-5 (Sc. 2362-6) 10/1/87

C1301-5 (Sc. 2362-6) 10/1/87

C1301-5 (Sc. 2362-6) 10/1/87

C1301-5 (Sc. 2362-6) 10/1/87

C1301-5 (Sc. 2362-6) 10/1/87

N1301 (Sc. 2342) 2/15/88

D1401 (Sc. 2344) 6/21/88

K1401 (Sc. 2259) 7/19/88

O1401 (Sc. 2265) 8/16/88

E1501 (Sc. 2263) 10/28/88

M1501 (Sc. 2402) 2/3/89

Z1501 (Sc. 2194A) 6/7/89

W1601 (Sc. 2438) 11/28/89

Z1701 (Sc. 2513) 10/13/90

L1801 (Sc. 2464) 4/12/91

O2042 (Sc. 2688) 7/24/92

Y2001 (Sc. 2711-14) 10/22/92

U2210 (Sc. 2828) 4/27/94

G2301-5 (Sc. 2843-7) 7/28/94

G2301-5 (Sc. 2843-7) 7/28/94

G2301-5 (Sc. 2843-7) 7/28/94

G2301-5 (Sc. 2843-7) 7/28/94

G2301-5 (Sc. 2843-7) 7/28/94

O2312 (Sc. 2869l) 10/18/94

L2401 (Sc. 2463) 6/9/95

U2401 (Sc. 2940) 07/11/95

H2501 (Sc. 3004-7) 9/30/95

I2505 (Sc. 3000g,h) 10/1/95

O2501 (Sc. 2337) 11/2/95

J2603 (Sc. 3085) 7/11/96
Trans-Mississippi Centennial
There is no train in the cachet Fred chose for this stamp, nor does he feature the bridge from the stamp (he depicts a bridge in the background, but it's not recognizably the bridge from the stamp), which is the rail connection, but the stamp is a reproduction of Scott 293 - sort of. For this souvenir sheet reissue of the Trans-Mississippi commemoratives, the USPS chose to issue them as they were originally intended, with bi- color designs, and with the 2-cent and 2-dollar designs swapped. At any rate, the design of the stamp on this cover shows the Eads Bridge in St. Louis (1874), with street cars clearly visible on top. You can see that better in this enlargement. The bridge also carried trains on its lower deck.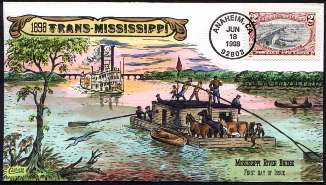 (Sc. 3209b) 6/18/98
Celebrate The Century

Two of the covers below do not actually show a train, but the stamps themselves have a train connection, so I decided to include them - the Panama Canal stamp shows the "mules" (electric locomotives) that pull ships through the locks. The Truman stamp shows President Truman holding up the newspaper announcing (erroneously!) that he had been defeated in the 1948 election - he was standing on the rear platform of a railway car when that photo was taken!

Fred's cover for the St. Louis World's Fair features a drastically modified version of the famous Eads bridge, completed in 1874, with a lower deck that carried trains, and streetcars and other traffic on the top deck. (See Trans-Mississipps stamp, above.)


M2803 (Sc. 3182c) 2/3/98

N2806 (Sc. 3183f) 2/3/98

(Sc. ) 2/3/98

U2804 (Sc. 3184d) 5/28/98

N2911 (Sc. 3185k) 9/10/98

H3004 (Sc. 3186d) 02/18/99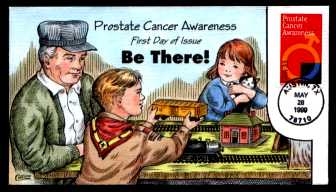 (Sc. 3315) 5/28/99
All Aboard!

(Sc. 3333) 8/23/99

(Sc. 3334) 8/23/99

(Sc. 3335) 8/23/99

(Sc. 3336) 8/23/99

(Sc. 3337) 8/23/99
| | |
| --- | --- |
| (Sc. ) 03/29/01 | (Sc. ) 6/7/02 |
| (Sc. ) 7/26/02 | (Sc. ) 8/15/02 |
Nellie Bly Commemorative
Women in Journalism Issue
This cover hasn't even been sent to Fred's customers yet, but here's the image from his flyer about it, and the text he wrote to describe it: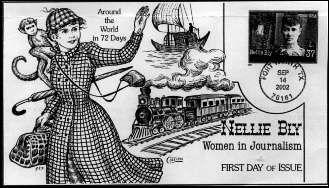 (Sc. ) 9/14/02
Nellie Bly, at age 25, embarked on her most famous exploit when she set off to beat the fictional record of Jules Verne's Phileas Fogg, who had traveled around the world in eighty days. Her boss, New York World editor Joseph Pulitzer, agreed to fund the trip and held a contest to see who could come closest to guessing the time it would take Nellie to travel around the globe.

My hand painted cachet commemorates this true-life adventure as it shows the attractive Bly during her hurried journey. A cute monkey sits on her shoulder as she hastily travels on. To provide examples of modes of transportation of the period, I've shown an oriental junk sailing vessel and a vintage steam train. Nellie beat the fictional Fogg by more than a week, as she arrived back in New York City 72 days, six hours, eleven minutes and 14 seconds after starting.

Nellie Bly was actually the pen name of Elizabeth Jane Cochrane Seaman who was born May 5, 1864. From an early age, she had a vivid imagination and a relentless personal drive. At age 18, she was hired as a full-time reporter for The Pittsburgh Dispatch. In 1887, Bly went to work for the New York World newspaper. She often went undercover in disguise to get stories about labor conditions, housing problems, the treatment of women, and poverty. At one point, she pretended to be mad to gain admittance to an insane asylum so she could reveal the poor treatment given to the mentally ill. Bly covered World War I on the Eastern Front and died of pneumonia shortly thereafter on January 27, 1922.
Top of Page
---
---
All text Copyright © 2000, William M. Senkus


Send feedback to the author: CLICK HERE

Revised -- 02/21/2003