12/12/18
Charles Kiddle -
I look back with affection to both Bonnie and Roger. I did business with them for many years. They were the best people.
---
12/12/2018
Arthur H. Groten M.D.
I first met Roger and Bonnie more than 25 years ago. I was coming to the end of the life of one of my collections and was casting abut from something new. I had known Roger earlier but, at the time, was not interested in their weird and wonderful Cinderella material.
One day, at an APS show, I was bored and sat down at their booth and said "Roger, show me something I haven't seen before." He handed me one of his red boxes containing European poster stamps. One look and I was hooked and have been ever since. The collection I built now resides at Vassar College where students have access to it and, in fact, used some of the material in a recent exhibit of 20th Century World's Fairs.
They were both as charming as could be and, every time I saw them, had some goodies to show me and stories to tell. It was always a pleasure to sit and chat with them. They were dealers of the old school and I miss them a lot.
12/12/18
Ray Petersen -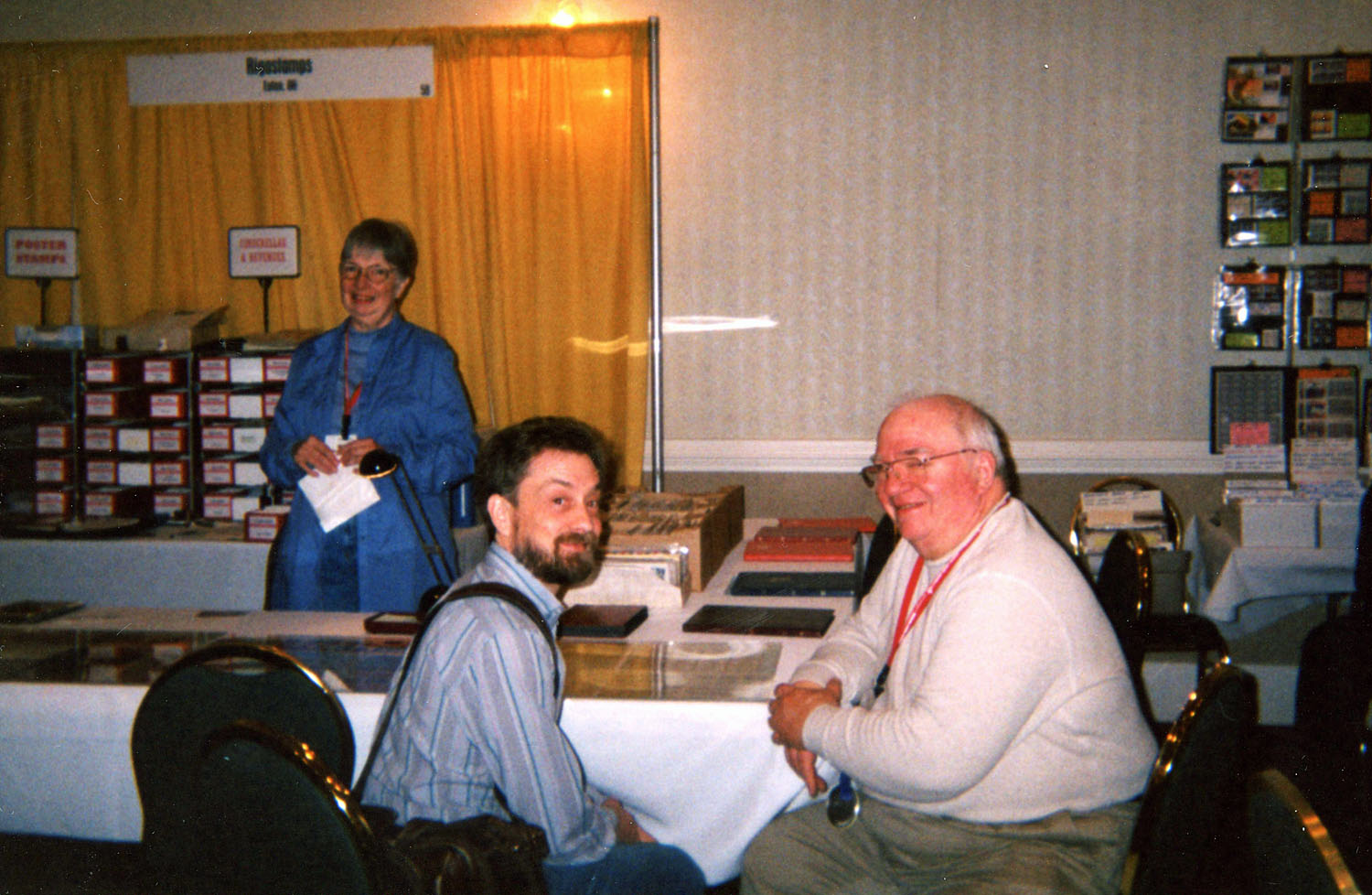 Taken at the St. Louis stamp show, spring, 2004. That show, which celebrated the 100th anniversary of the 1904 St. Louis World's Fair, attracted quite a few cinderella and poster stamp dealers and collectors. It was during several meals and discussions at that show where the idea for the Poster Stamp Collectors Club was born, and the PSCC was founded in the year following. This photo shows Bonnie and Roger at their sales table. The fellow sitting next to Roger is Tom Minor, a fellow poster stamp aficionado, who is a director and founding member of the PSCC.
I think I met the Rigas in the early or mid 1980s, early in my career as a cinderella dealer. At that time I was only dealing in foreign revenues, but they were very hard to find (pre Internet and eBay days). I remember visiting a stamp show at the Javits Center in NYC where Rigastamps had a table, and was astounded at their range of material. I then followed them at other east coast shows, and, eventually, with the digital explosion and the advent of the widespread use of the Internet, I followed their online store and their eBay presence. One thing I particularly remember is having a discussion with Roger about eBay and eCommerce and selling online. Rigastamps had already had an eBay store for quite some time, as well as their own online store. I was in the process of exploring options for an online store myself, and Roger gave me a great piece of advice about selling on eBay auctions. He told me that he had found the most important thing was continuity. He said that once you have followers on eBay, they will follow you regularly, but you must ALWAYS have something there to offer, or they will drift away. He said if you post (7-day) auctions once per week, try to have new ones ready to post before the old ones end, so you have material available all the time. I have found that small bit of advice to be very true and still applies today.
Unfortunately the past year has been a tough one for cinderella collectors, having lost the Rigas, and also Mike Mead (Britannia Enterprises) and Dick Warren (Founding member and Secretary/Treasurer of the Poster Stamp Collectors Club).