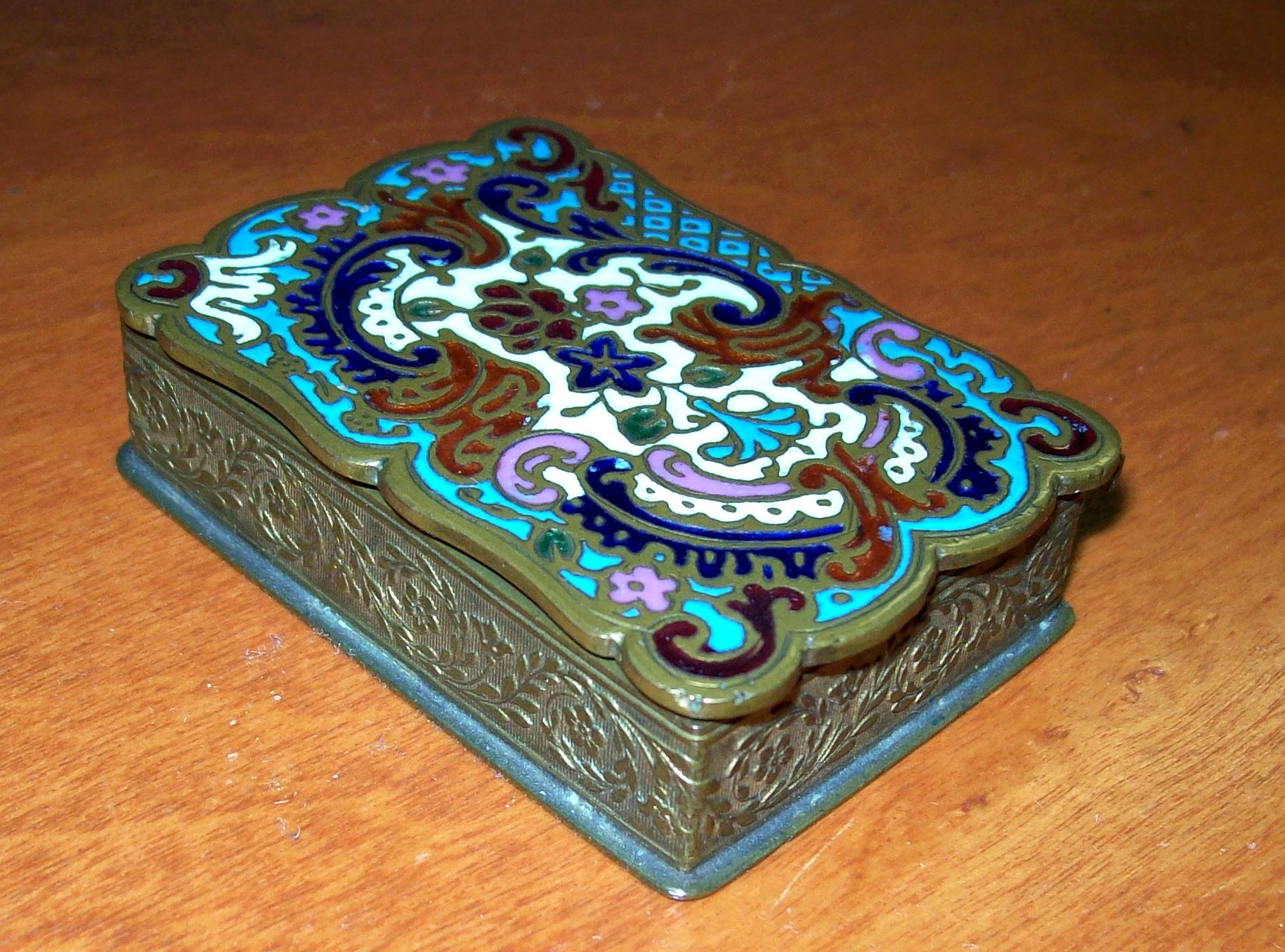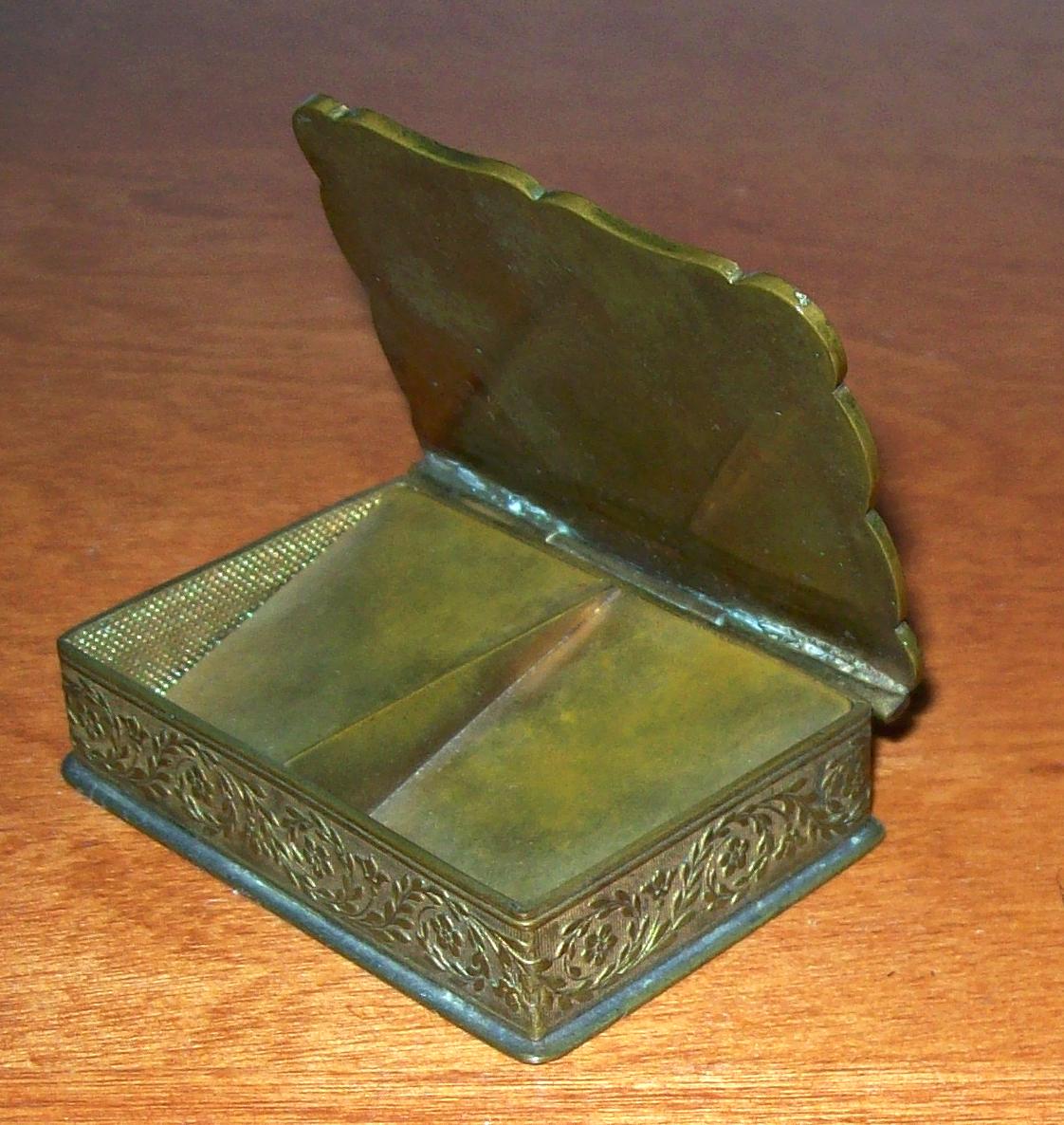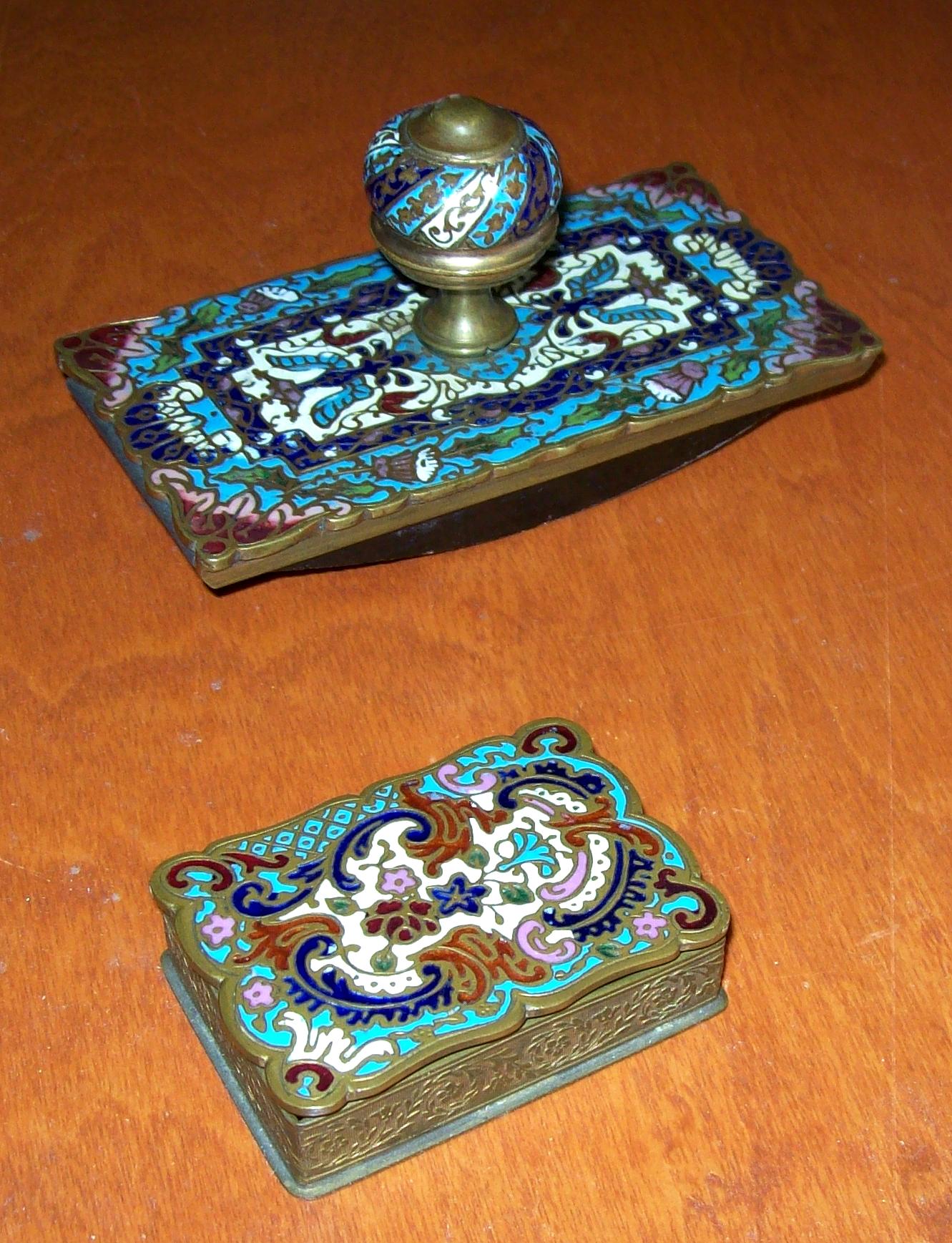 Brass and champlevé enamel stamp box, French, 1880-1900
A LITTLE HISTORY
STAMP BOXES: The world's first postage stamp was issued in Great Britain in 1840. The United States followed with its first stamp in 1847. In those ancient days, sending a letter was something special, and stamps were expensive, so special boxes and cases were created to hold them. The first were made of wood or leather, but as time went on they were made of brass, ivory, silver, even gold, and adorned with carving, inlaying, engraving, and enamel. In late Victorian and Edwardian times, no lady's or gentleman's desk was complete without a box to hold stamps. The simplest had a single compartment, while the most elaborate had drawers and shelves and compartments galore. AND, as you can see from the third image above, many were part of elaborate desk sets that included blotter rollers, ink well holders, writing pad folders, etc.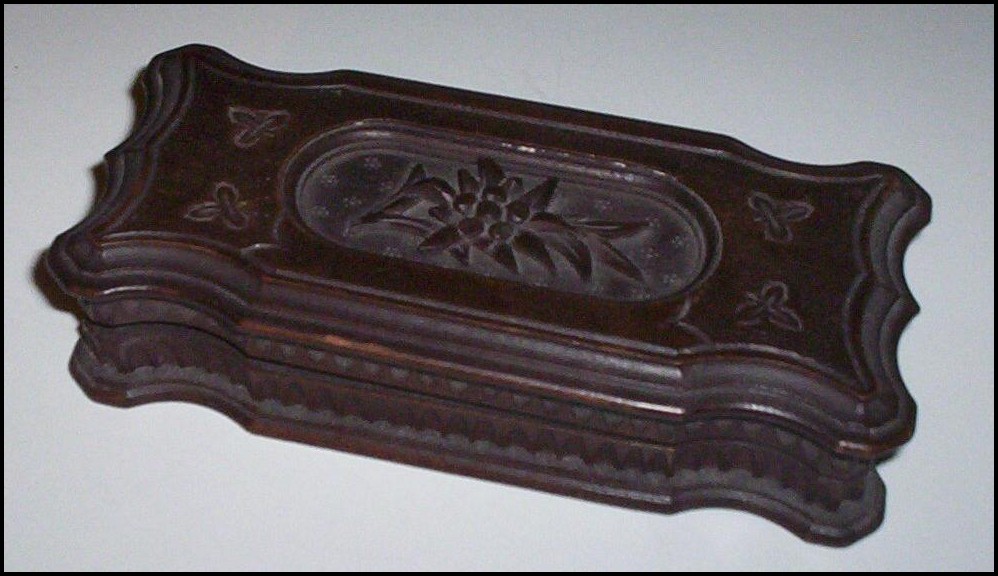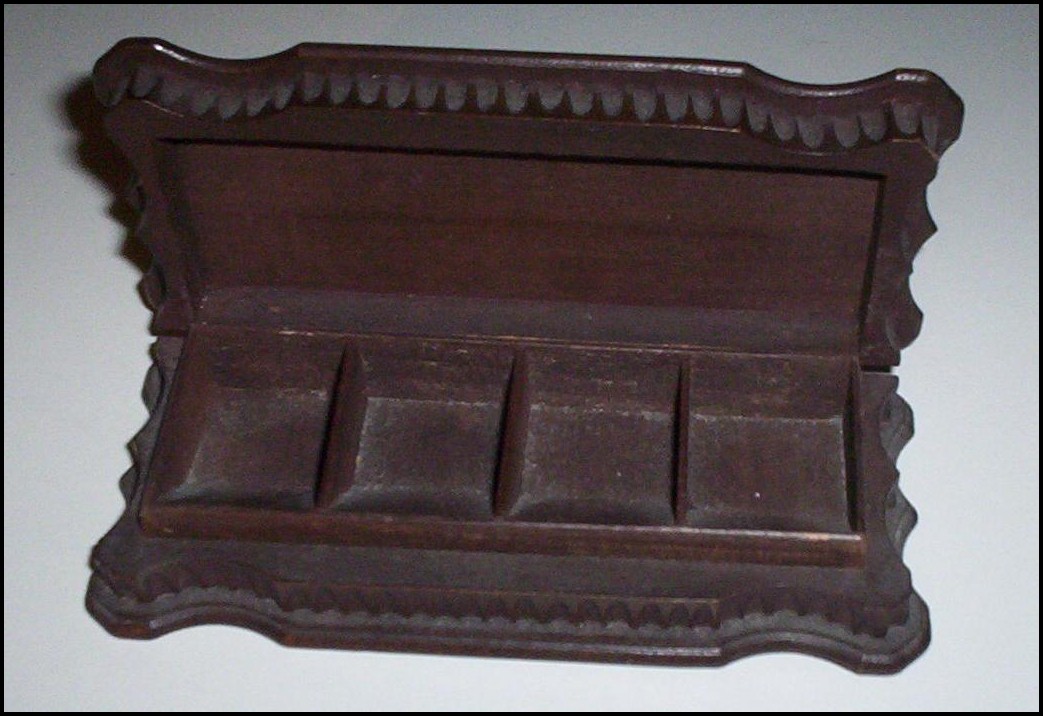 carved wooden stamp box, ca. 1895, probably Swiss
STAMP CASES were small stamp boxes meant to be carried on one's person, sized to hold just a few stamps, available for emergencies. The simplest were of decorated cardboard, while the more elaborate were made of precious metals. Many had small rings attached so they could be suspended from a watch chain or necklace. Some were so elaborately adorned that they were as much items of jewelry as utilitarian objects.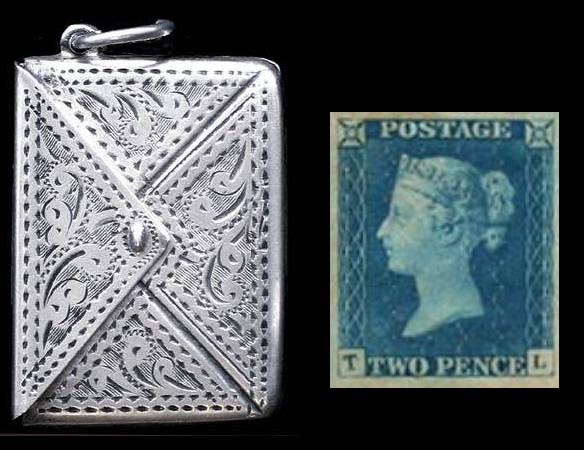 silver stamp case, English, ca. 1890
One of the most famous and widely sought stamp cases is one created by none other than the famous author Lewis Carroll. It's called, of course, the Alice in Wonderland Stamp Case, and while it is made of nothing but stiff paper glued and folded to make a little wallet with pockets for the stamps, plus a paper envelope, it is still quite popular, and a nice copy will set you back at least $100 today. With it was included a small pamphlet by Carroll on letter writing, an appropriate topic for him, as (according to the Oxford Dictionary of National Biography) he wrote at least 95,000 letters in his adult life. That averages out to at least 6 letters per day!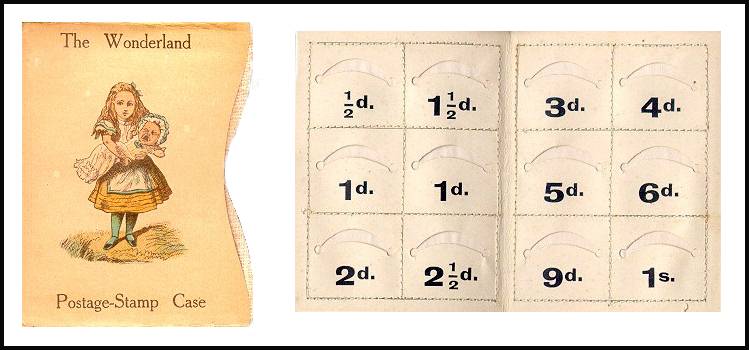 Alice In Wonderland stamp case, English, 1889
Mr. Dodgson's advice on letter-writing strikes me as very apropos today, even for e-mail. For example, "If the Letter is to be in answer to another, begin by getting out that other letter and reading it through, in order to refresh your memory, as to what it is you have to answer." It saddens me how often those to whom I send e-mail seem never to read beyond the first sentence of my message, so that if I wish to treat more than one topic, or ask more than one question, and be assured of a reply, I must send a separate message for each! And even then....
------------------------------------
MODERN TIMES
Today, stamp boxes are still made, primarily for users of stamp coils. They are usually round, with a slit in the side for the end of the coil to feed through. These too range from the simplest wooden ones to precious keepsakes of cloisonné and limoges porcelain. Stamp cases have pretty much died - who carries stamps any more?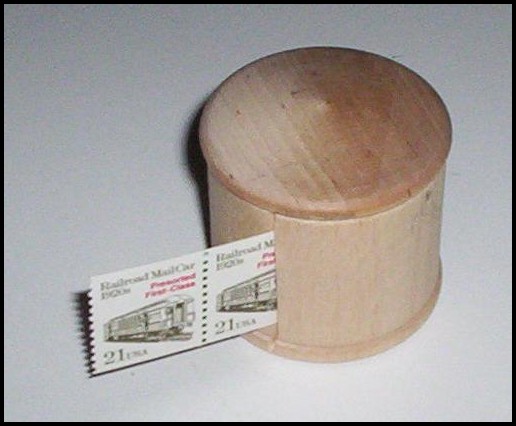 modern wooden box for a stamp coil, American, ca. 1995
------------------------------------
GALLERY
But it is the antique stamp boxes and stamp cases I collect. As with many things I have collected over the years, I got started on stamp boxes because of "the one that got away." I saw a very elaborate Victorian box of carved and inlaid wood, with lots of drawers and compartments, in an antique store. It was expensive for me at the time, but not beyond my means, and I hesitated long enough that someone else bought it. All my subsequent purchases have been attempts to make up for losing that first one! Still, I love them because of their physical beauty, of course, but also because of their nostalgic echoes of an era long past, when writing letters was still important, and stamps were still new and exciting.
Below are images of a few more of the stamp boxes I have collected, plus links to other web sites where you can see even more, and learn more of their history.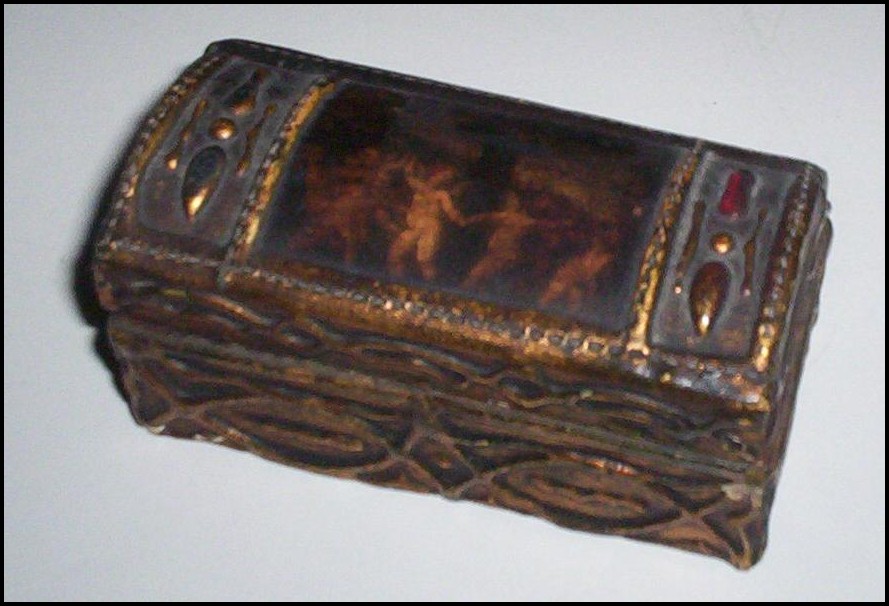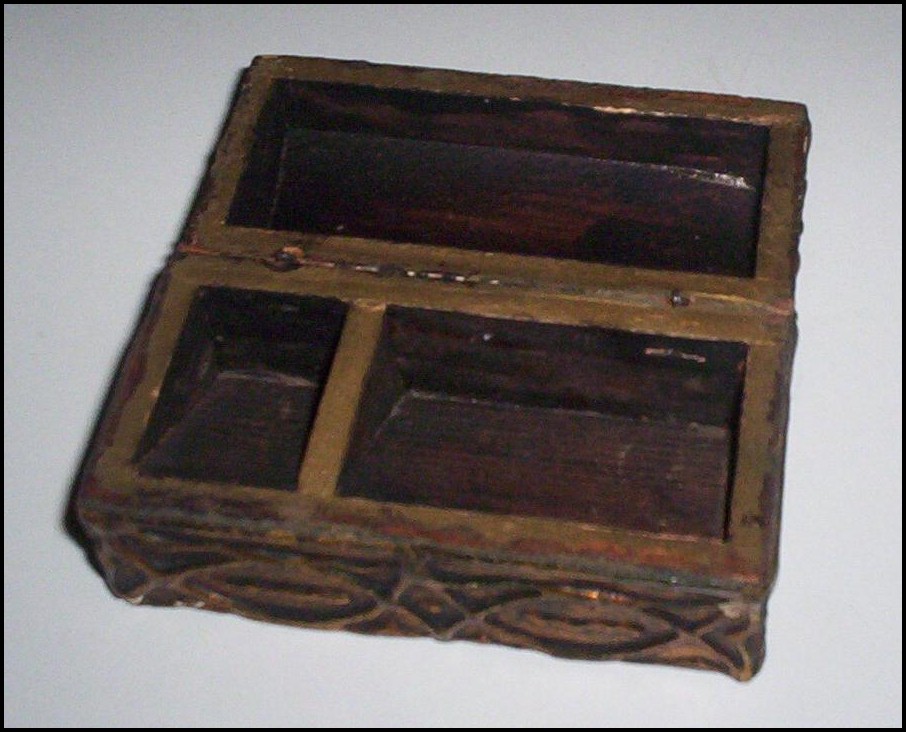 Carved, painted, and lacquered wood stamp box, probably Italian, ca. 1925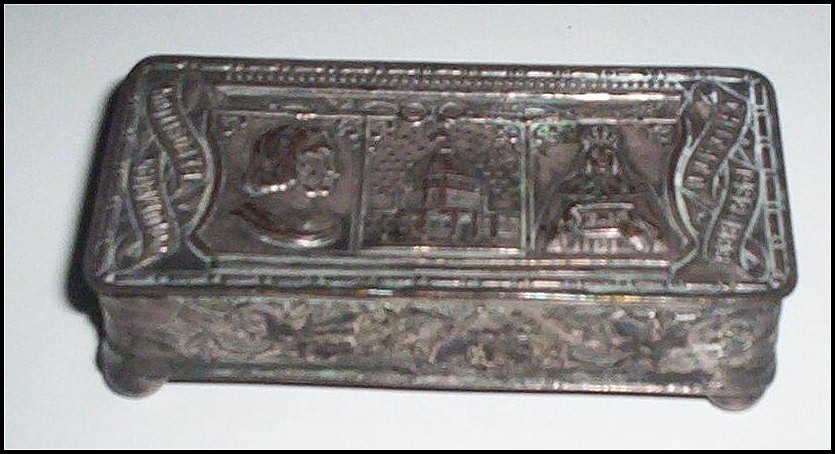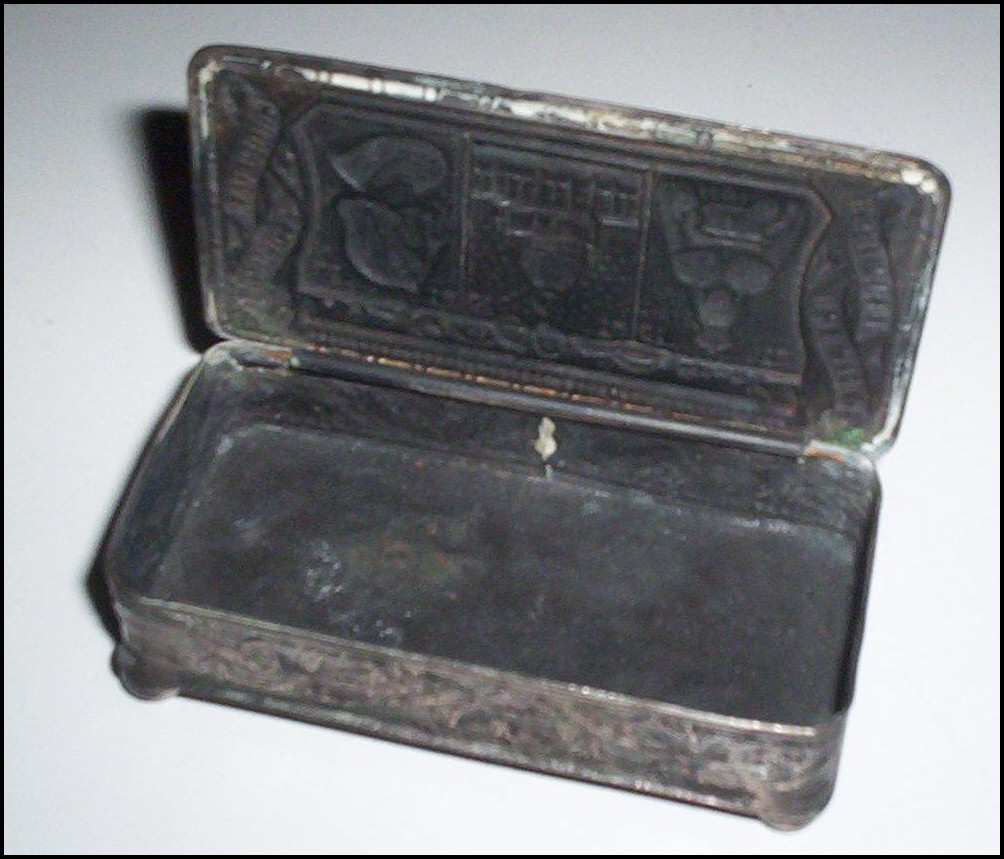 Stamp box from Columbian Exposition in Chicago, 1893
Probably tin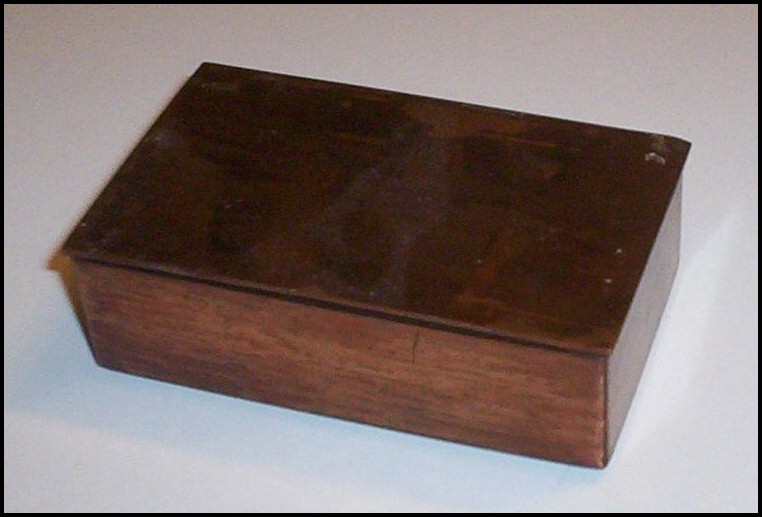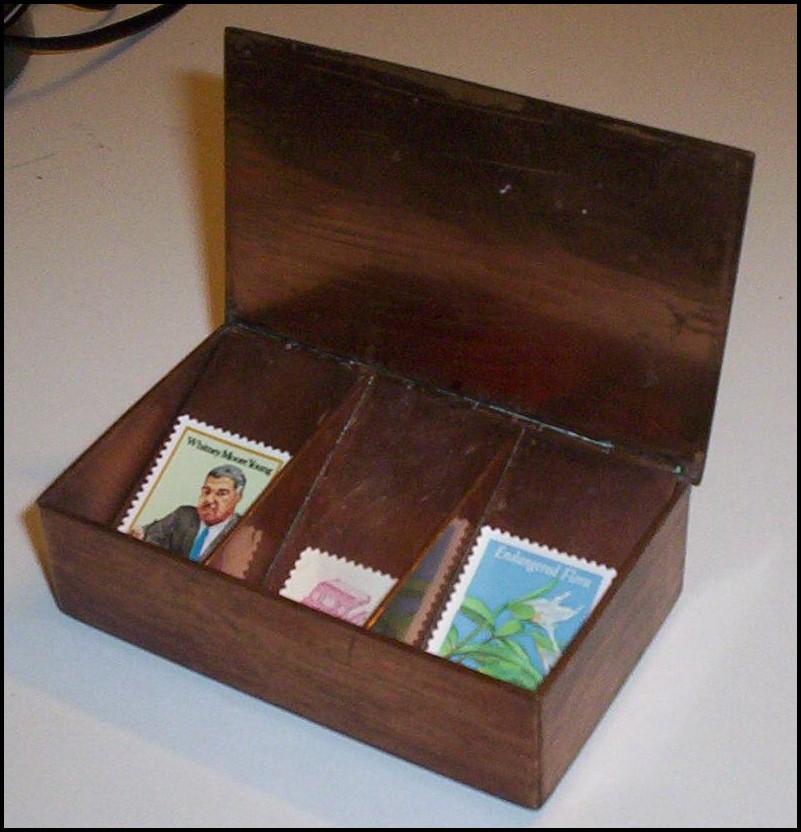 Copper stamp box, American, ca. 1950?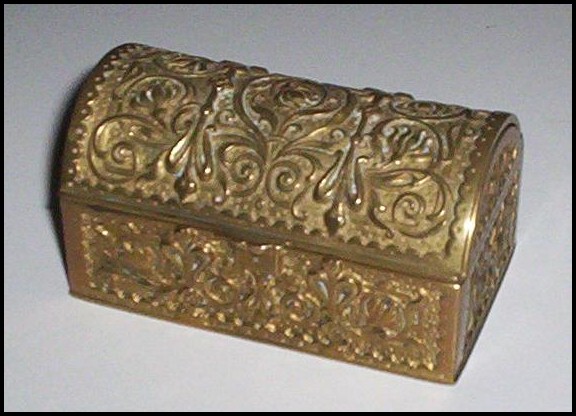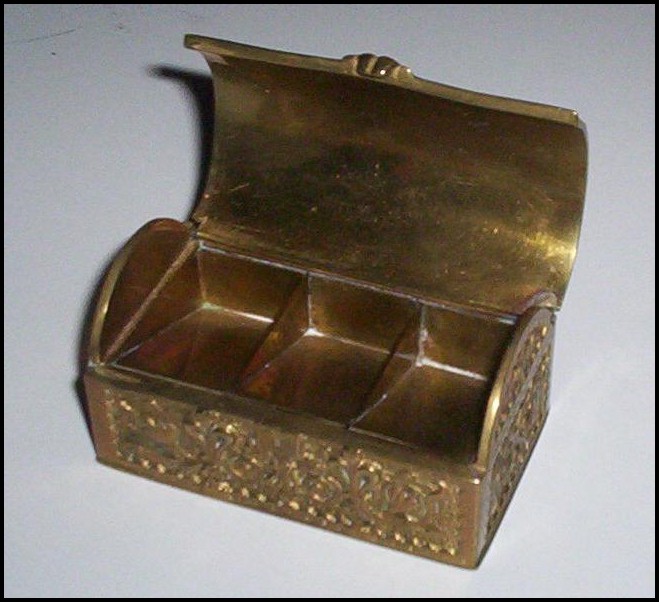 Brass stamp box, origin unk., 1920's?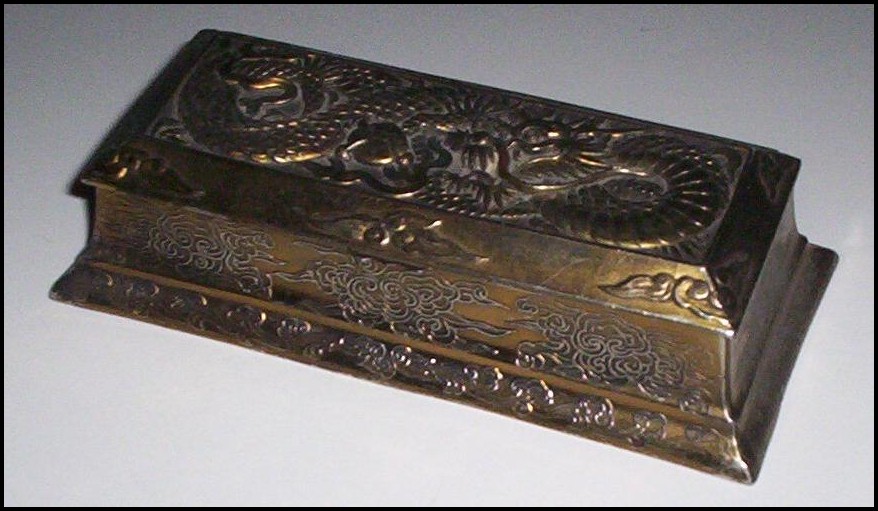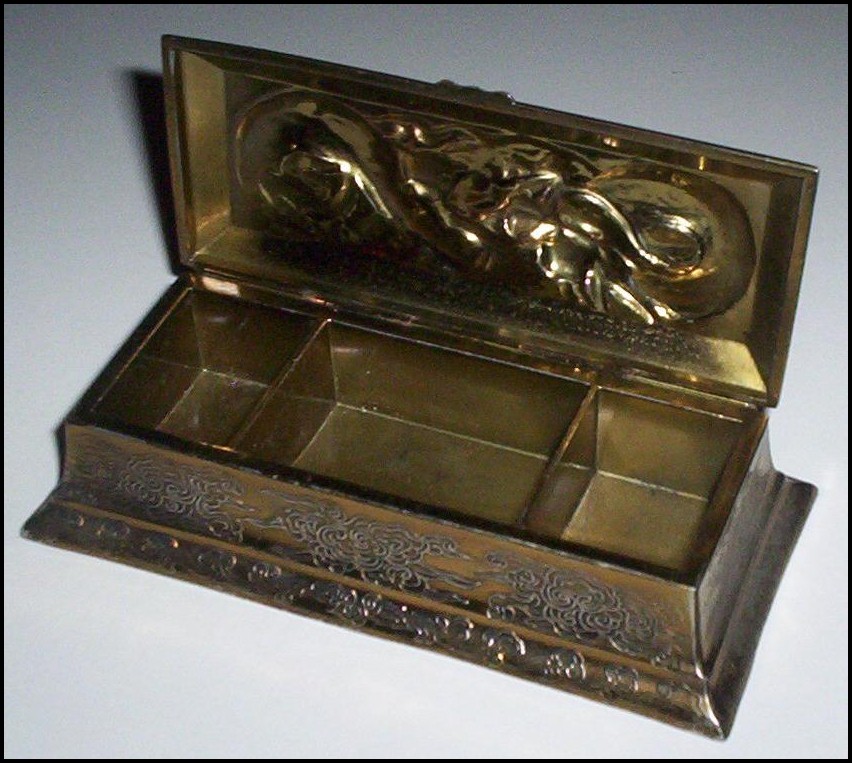 Brass stamp box, Japanese, 1920's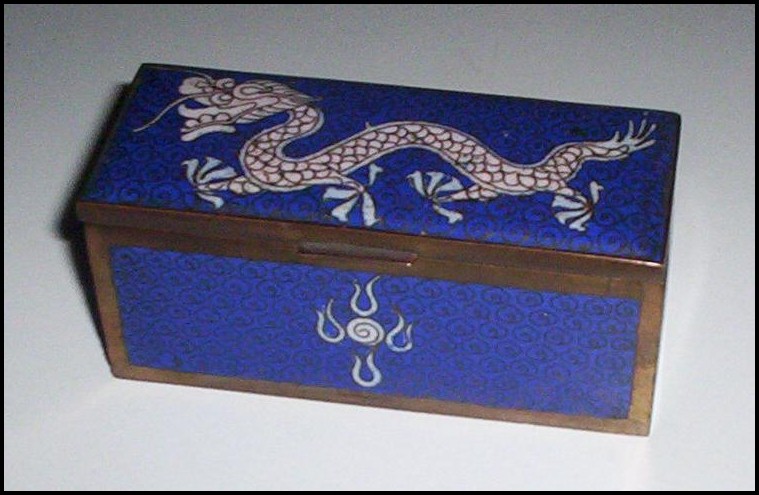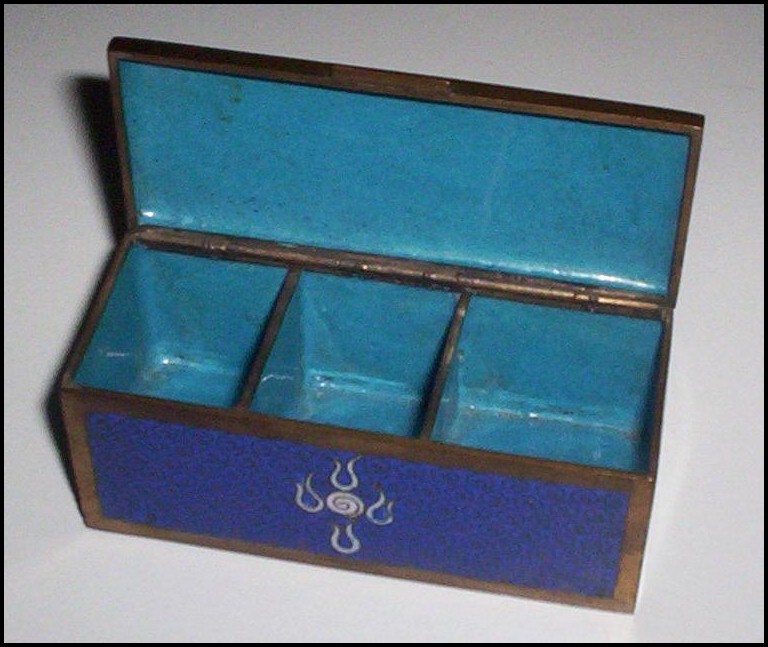 Brass and cloisonné enamel stamp box, Chinese?, ca. 1900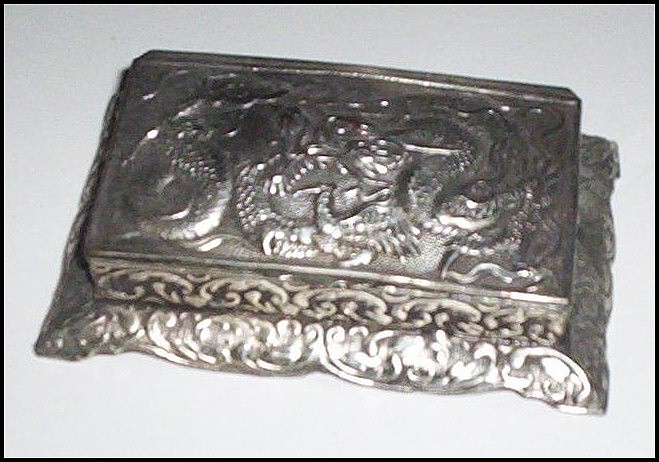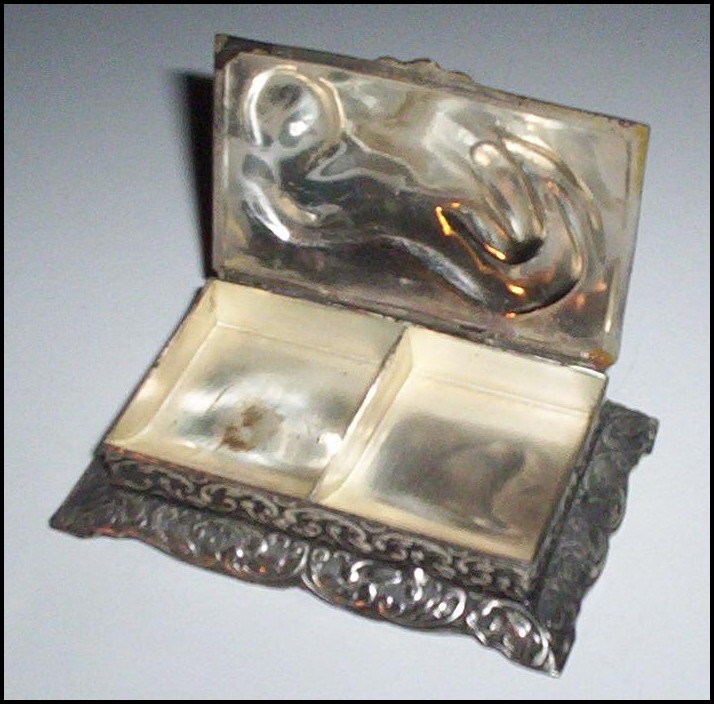 silver stamp box, Japanese?, ca. 1920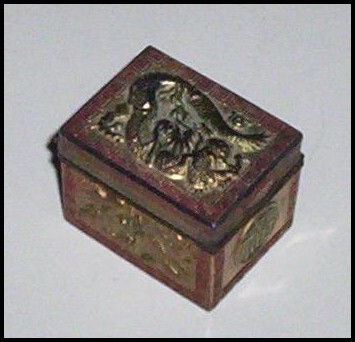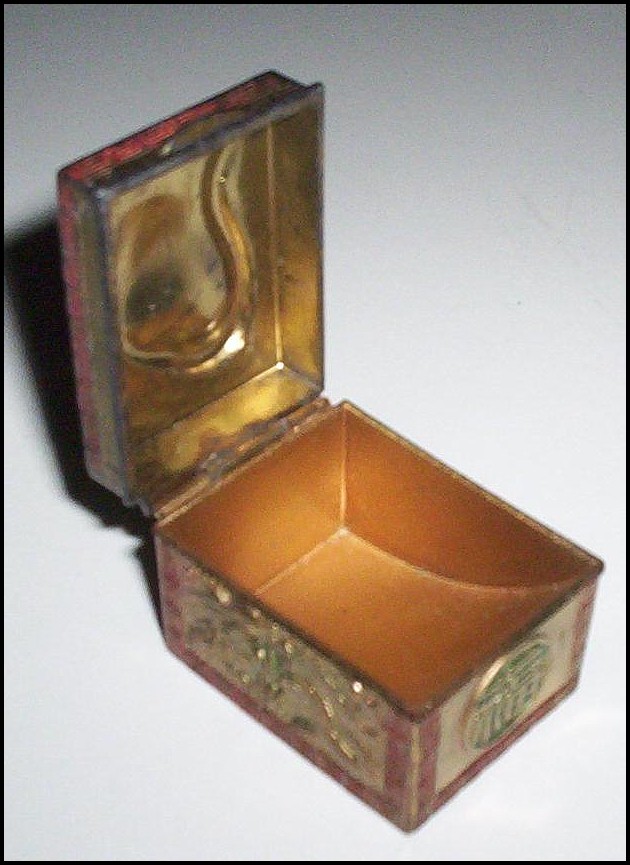 Brass and enamel stamp box, probably Chinese, ca. 1930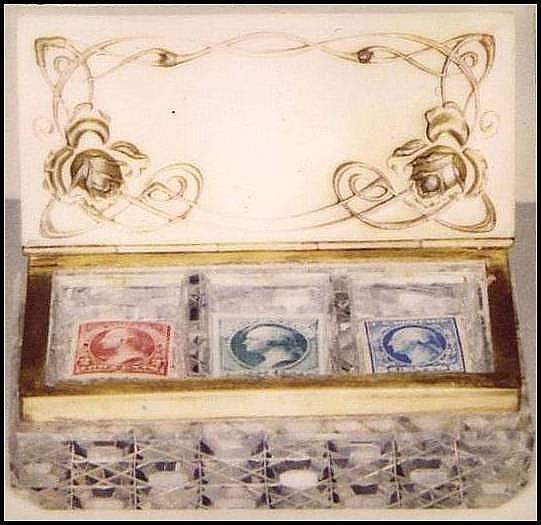 Pressed Glass and Brass stamp box, French or English, ca. 1920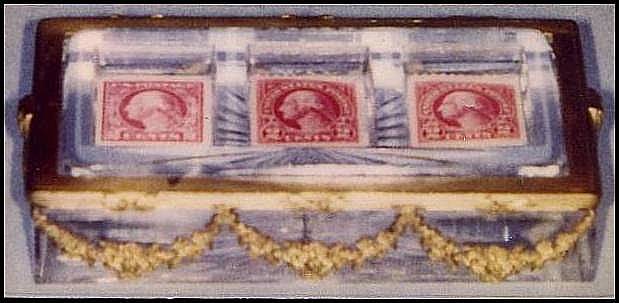 Pressed Glass and Brass open-top stamp box, French, ca. 1900
------------------------------------
TO LEARN MORE
The best web site I could find about stamp boxes was that of the STAMP BOX STUDY CIRCLE of the UK. Most of their content is in pdf files, so you will need the Adobe pdf reader to view them. They have an excellent introduction to the subject here:

http://www.stampbox.org.uk/articles_files/Introduction.pdf
and an image of a fabulous collection of enamelled boxes HERE
plus lots more content on stamp boxes of all types.

And more HERE.

------------------------------------

WHERE TO BUY THEM

I bought most of my boxes in philatelic auctions. Weiss Philatelics used to have a sale at least once a year, but they sold that part of their business to The Folded Letter in 2000, so that company is the chief retail outlet for stamp boxes now. Schuyler Rumsey Philatelic Auctions in San Francisco had a nice group of lots in their December, 2006 auction (Lots 1727-1841), so it's probably worth watching their future auctions for more.

And there's always eBay.

------------------------------------

A LAST WORD

BTW, if you didn't follow that link above to Lewis Carroll's delightful treatise on letter-writing, I urge you to do so now - you won't regret spending the ten minutes or so it will take to read it - Eight or Nine Wise Words About Letter Writing by Charles Dodgson.