Belgium
Railways Stamps
---
Back to the Issues page.
To the Previous issue.
To the Next issue.

Home - alphabetilately.org About these pages More about Belgian Railway Stamps
---
| Issue year | Issue description |
| --- | --- |
| 1947 | Railway stamps: road crossing |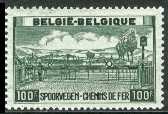 01/01
Click here
for an image of a plate proof in unaccepted colour (image is 7 kB in size)
for an image of a definitive plate proof in accepted colour (image is 19 kB in size).
---
Back to the Issues page.
To the Previous issue.
To the Next issue.

Home - alphabetilately.org About these pages More about Belgian Railway Stamps
---
Page update log:
18 Mar 2001: plate proofs added.
01 Sep 1999: initial setup.