Belgium
Railways Stamps
---
Back to the Issues page.
To the Previous issue.
To the Next issue.

Home - alphabetilately.org About these pages More about Belgian Railway Stamps
---
| Issue year | Issue description |
| --- | --- |
| 1977 | Railway stamps: Paul Delvaux (1) |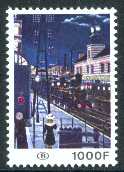 01/01
white paper
polyvalent paper
| Issue year | Issue description |
| --- | --- |
| 1985 | Railway stamps: Paul Delvaux (2) |
a) Perfed stamps
| | |
| --- | --- |
| | |
| 02/01 | 02/02 |
b) Plate numbers
All three stamps from these issues also appear on a Special issue (image is 31 kB in size).
Each of the three stamps also appear, in blocks of four, on specially issued sheets.
These exist with Dutch and with French text, giving 6 sheets in total.
---
Back to the Issues page.
To the Previous issue.
To the Next issue.

Home - alphabetilately.org About these pages More about Belgian Railway Stamps
---
Page update log:
05 Feb 2000: 1985 issue plate numbers updated.
01 Sep 1999: initial setup.