Belgium
Railways Stamps
---
Back to the Issues page.
To the Previous issue.
To the Next issue.

Home - alphabetilately.org About these pages More about Belgian Railway Stamps
---
| Issue year | Issue description |
| --- | --- |
| 1997 | Paul Delvaux |
a) Perfed stamps
| | |
| --- | --- |
| | |
| 01/01 | 01/03 |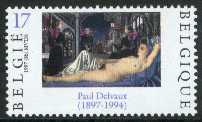 01/02
b) Plate numbers
| | |
| --- | --- |
| | |
| 01/01 | 01/01 |
| | |
| --- | --- |
| | |
| 01/02 | 01/02 |
| | |
| --- | --- |
| | |
| 01/03 | 01/03 |
Click here for an image of a luxury sheet (image is 32 kB in size).
---
Back to the Issues page.
To the Previous issue.
To the Next issue.

Home - alphabetilately.org About these pages More about Belgian Railway Stamps
---
Page update log:
30 Oct 2002: image of luxury sheet added.
22 Apr 2002: stamp 01/02 shows tram in dark background.
05 Feb 2000: 1997 issue plate numbers updated.
01 Sep 1999: initial setup.