DOROTHY KNAPP FDC's
Dorothy Knapp was born in 1907, and died in 1986.
She was a commercial artist and art teacher (residing in Rhinebeck, NY)
who designed commercial First Day Covers during the 1940's, mainly for Fleetwood, one of the large FDC publishers.
In addition to those mass-produced designs, each of which was produced in the thousands, she often created small quantities - ten or twelve per stamp issue - of hand-drawn, hand-painted covers. The earliest of these was probably created in 1940 or 1941 (though she did some add-ons to covers created earlier), and the latest in 1986. They are much in demand today, and sell for $200-500 each.
Below are a few of my favorites of both types of Knapps -
the mass-produced commercial designs and the hand-painted jewels, in chronological order, from 1941 to 1956.
If it strikes you thre are a lot of trains, that's my prejudice, not Ms. Knapp's.
(I may not have all the ones with trains here, but it's not because I haven't tried.)

(Click on any image to see a higher-resolution version.)
(And if the topic of hand-painted FDCs interests you, visit the excellent web site of Chapter 73 of the AFDCS - here is a link to their article on the history of HDHP-FDCs, at http://www.hpfdc.com/ansink.htm )
---
50¢ Airmail - 1941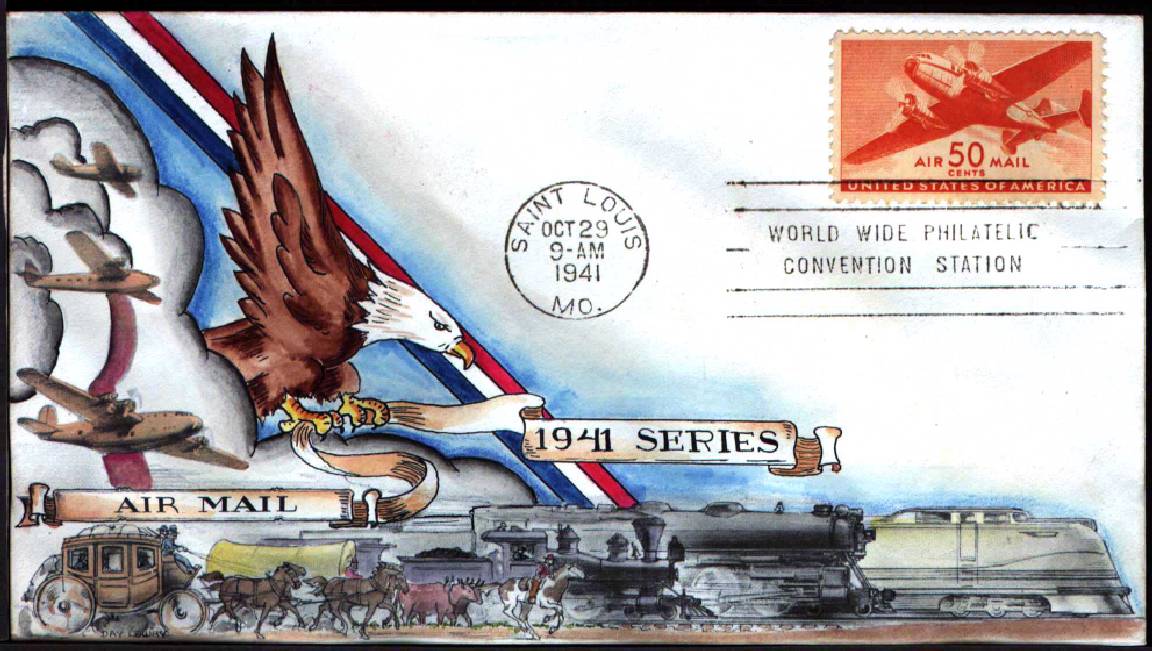 Sc. C31 - 10/29/1941



The scan above was sent to me by a Knapp collector who found this web page while
researching her collection on the Internet and was kind enough to share scans of some
with trains. When I saw it I was sure I had seen the cachet before, and sure enough,
when I looked through my own collection, I found the FDC below, a standard commercial cover by Day Lowry.

10¢ Special Delivery - 1941
NOT a Knapp cover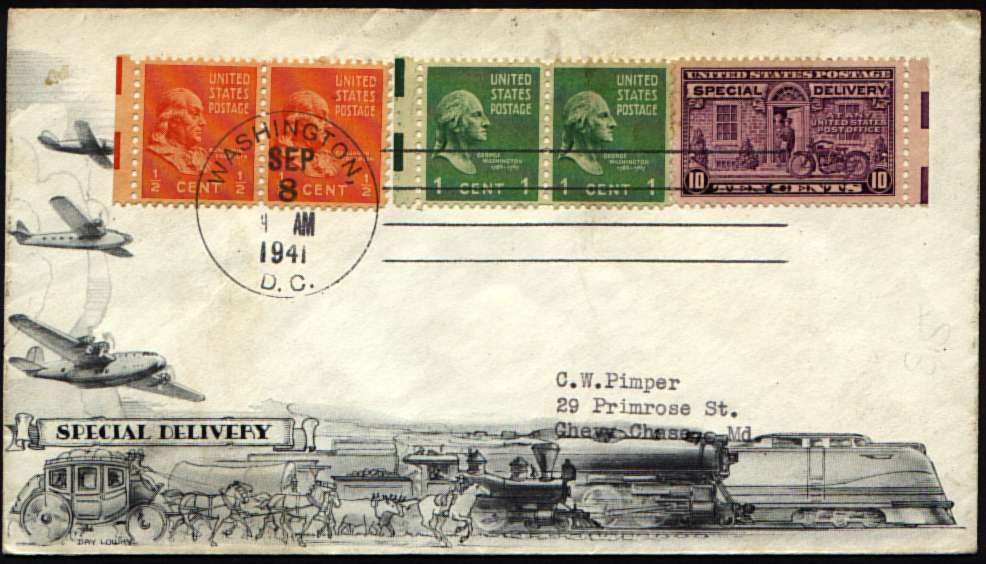 Sc. E15b - Electric Eye Plate - 9/8/1941
I assumed this meant that Dorothy Knapp worked for Day-Lowry as well
as Fleetwood, and created the image first for their mass-
produced version, then liked it well enough that she used it for a private version.
Today (2/4/2012) though, FDC expert Doug Weisz sent me the following comments:

The cover with the Lowry trains, carriage and planes is a Lowry printed cover that Dorothy decided to add some artwork to. They never worked together. This was a cover that either Max had laying around and Dorothy decided to paint or was a cover sent to Dorothy and commissioned an addition to. This was her first year of producing any cachet in any number at all let alone one with someone else. Max had been collecting and dealing in covers for some time and Dorothy had a lot of covers around to play with and to look at. Mae Weigand signed and had colored either by herself or her artists black and white cachets. Jarrett had hundreds of hand colored Aristocrats covers in his estate. They were not signed but I strongly suspect that Dorothy colored them. She may have even made him the cover on this website. Lowry designed and had printed all the cachets he did as we have seen all the original art for his covers. I have also seen all the original art for Dorothy's work as well and there's no correlation between the two.

Thanks Doug.

---



While seeking out the cover above I came across the ones below as well, which I am including just to show how popular this image of the history of mail transporation has been with FDC makers. I don't think any of these is a Knapp design. Be sure you scroll down to see the custom and commercial covers Ms. Knapp created for the CIPEX souvenir sheet in 1947, where she uses the concept again.

| | |
| --- | --- |
| Sc. 947 - 5/17/1947 | Sc. 947 - 5/17/1947 |





Sc. E17 - 10/30/1944





---

Overrun Nations Issue of 1943

Franklin D. Roosevelt was a stamp collector himself, and played a very active role in the selection of stamp subjects and designs during his term as US president. Late in 1942 he asked the US Postmaster General to consider a series of stamps in honor of the nations which had been overrun up to that time in Europe. The result a year later was the Overrun Nations set shown on Fleetwood-Knapp FDCs below.




Sc. 909-920 - 1943

Roosevelt had intended to continue the series, for non-European nations, but only the stamp below, for Korea, was issued, in 1944.


Sc. 921 - 1944



From 1894 until this set in 1943, all US postage stamps were produced by the US Bureau of Engraving and Printing. The BEP lacked the production facilities required to do the sort of multi-color printing on these stamps, so the job was farmed out to the American Bank Note Company, and in place of the usual plate number on each pane, the name of the nation was printed, so the covers above show a complete set of "plate blocks " of the stamps in this set.



---

75th Anniversary of Completion of Transcontinental Railroad - 1944

Trains are my favorite topical collecting area, so it goes without saying that the covers below are all-time favorites of mine.





And here's a treat - below is another copy of the hand-painted cover above. Another Knapp collector was kind enough to send me a scan of hers. There are significant differences between the two, suggesting that Ms. Knapp varied her designs as she created the 10 or 12 hand- painted covers she painted for special friends and family. In this case it is clear to me that she painted the cover above specifically for a block of four, and rearranged the design elements to accomodate the block.


Sc. 922 - 5/10/1944





---

17¢ Special Delivery - 1944


Sc. E18 - 10/30/1944





---

Motion Pictures - 50th Anniversary


Sc. 926 - 10/31/1944





---

V-J Day - 1945

This is not a First Day Cover, but V-E Day and V-J Day (Victory in Europe and Victory in Japan) were such important events at the time that many FDC makers created special covers like this to commemorate them.





---

In Memoriam - FDR - 1945


5¢ FDR commemorative
Sc. 933 - 1/30/1946


5¢ FDR commemorative
Sc. 933 - 1/30/1946





---

Armed Services Commemoratives of 1945 and 1946


Veterans of World War II Issue
Sc. 940 - 5/9/1946





---

Postage Stamp Centenary Commemorative - 1947





---

Centenary International Philatelic Exhibition (CIPEX) Souvenir Sheet


Sc. 948 - 5/19/1947






Sc. 948 - 5/19/1947





---

Postage Stamp Centenary Air Mail Envelope - 1947


Sc. UC17 - 5/21/1947





---

Air Mail Issues of 1947





---

U.S.-Canada Friendship - 1948



This is the only example I have seen where Dorothy's hand-painted and Fleetwood designs are so similar; indeed, since her Fleetwood design is not signed, we might not know it was hers, were it not for the hand-painted version.



---

UPU 75th Anniversary - 1949





---

6¢ Air Mail Coil - 1949


Sc. C41 - 8/25/1949





---

Wright Brothers Air Mail Issue - 1949


Sc. C45 - 12/17/1949





---

American Bankers Association Issue - 1950


Sc. 987 - 1/3/1950





---

Railroad Engineers - 1950


Sc. 993 - 4/29/1950





---

6 cent Air Mail envelope - 1950


Sc. UC18 - 9/22/1950





---

Nevada Centennial Issue - 1951


Sc. 999 - 7/14/1951





---

125th Anniversary of the Baltimore & Ohio Railroad - 1952


Sc. 1006 - 2/28/1952





---

Labor Day Issue - 1956


Sc. 1082 - 9/3/1956





---





Top of Page

---

All Letter images Copyright © 1997, 2000, SF chapter of AIGA
All text Copyright © 2000, William M. Senkus


Send feedback to the author: CLICK HERE

Created -- 06/18/2000
Revised -- 02/04/2012