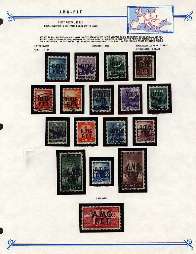 AMG stamps of FTT
In 1947 a formal peace treaty between Italy and Yugoslavia was finally signed, and most of AMG - VG was ceded to Yugoslavia. The one exception was the city of Trieste, which was declared a "free territory" and divided into two areas, one still to be administered by the AMG, the other by the Yugoslavs.
The AMG - FTT government created local stamps by overprinting issues of Italy. In addition, many special philatelic varieties were produced to cater to collectors, as the issues were popular at the time. One of the most attractive (though printed in small quantities and now expensive) such philatelic creations was the "Natale Triestino" issue of Christmas, 1953, shown below. In addition to the AMG - FTT overprint on the stamps themselves, a special overprint was added to the gutters between pairs of sheets, and these "gutter pairs" were sold to collectors. (P.S. - they're not cheap, as only 1,000 complete sets exist, so even though this is not a popular collecting area, you will have to pay upwards of $400 to own them. Still, how many stamps as scarce as that can you own for so little?)
---
One reason many U.S. collectors are interested in the AMG stamps is that the early issues were produced by the BEP. Some think these stamps deserve to be listed in the Scott U.S. Specialized catalog, as U.S. back-of-the-book stamps, rather than as footnotes to the various countries in which they were released. Thus far Scott has refused to make that change, arguing that who produced the stamps is irrelevant, it is where and how they were used that determines where they belong in the catalog. Regardless of how one classifies them, they represent an important chapter in world and philatelic history, and provide wonderful opportunities for learning and enjoyment.
The above is just a brief introduction to the topic of AMG stamps and collecting. I plan to expand on it as time permits. If you have knowledge or suggestions to contribute, please e-mail me at

See also my page O is for Overprints where I show a few more AMG stamps.
---
September, 2002

The following is a condensed version of an e-versation I had with Dr. Harry Wilcke, author of several of the key AMG texts and many articles about the AMG issues (see References, below).

Dear Bill,

I ran onto your philatelic web site through finding my name associated with AMG in a search that I was doing. I didn't have time to look at much of your other material, but I was interested in checking out the AMG section. You gave a nice introduction to that area of philately.

I first met Joe Bush in about 1978 or so, just as you did, through his ads. We became good friends and I worked for him in my spare time for about twenty years. I had the pleasure of visiting the Bushes in their home in Bonita on a number of occasions and got to know them rather well.

I did a vast amount of research and study on the AMGs for Joe's and my own edification over those years and wrote many articles for Linn's, American Philatelist and Possessions. I was AMG Section Editor for Possessions for several years and the UPPS published The AMG Story. Since we were able to provide camera ready material, the cost was minimal and the society made a profit on it. I revised the Bush AMG catalog a couple of times. I even wrote an AMG section for the Minkus US catalog but my work did not get included due to limited space.

While I enjoyed immensely working with the AMGs, I was not happy with the exhibiting of them. They are not regarded too highly within the upper crust of philately. In one exhibit, I showed a complete set of plate numbers from all of the BEP material, including the rare Austrian second printing on the 5 g. I believe that this garnered only a silver at the national level.

Ultimately, I did make it to gold with AMG doing the postal stationery of post-war Germany. This also won the Marcus White Trophy and a GPS award. Copies of my philatelic exhibits are in the library of the APS in State College, PA.

I wish to thank you for the lucid description of the AMGs and trust that there will be some collectors who get interested in this area after reading your material.

Some omissions - I notice that you did not mention the local Italian issues which appeared under the AMG: the Naples overprints and the Bari Wolf. Perhaps not too many people besides Joe Bush considered these AMG issues! I did a lot of work on both these and was fascinated by them.

Also I note that the second France Issue is missing. In their typical manner, the French had lots of complaints and so the BEP reprinted with values that they said they needed.. Even then, they didn't take to these stamps with much enthusiasm!

Then, a good portion of the Austrian issue was overprinted PORTO for use as postage dues which is worth a mention, I think.

Finally, the use of the BEP design on postal stationery in Germany is also of interest.

My heartfelt thanks to Dr. Wilcke for his comments. On 12/10/2005 I added examples of most of the other material he mentions, though I do not have any of the German postal cards. If any viewer can supply scans of those, I will be glad to add them here.
---------------------------------
---
AMG CURRENCY
I mentioned at the top of this page that there was AMG currency as well, and since I own a few examples, I decided to show them here. Like the stamps, they are dull and utilitarian in design and execution, but the historic echoes they carry are to me powerful and moving.
AUSTRIA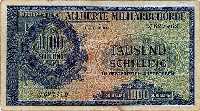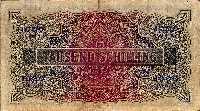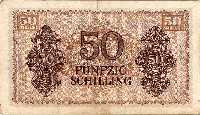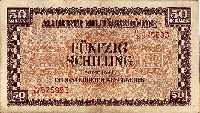 FRANCE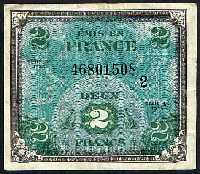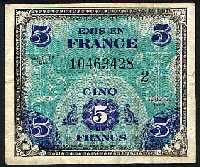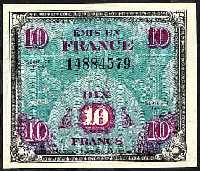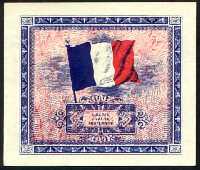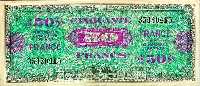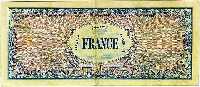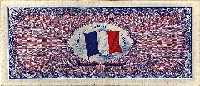 GERMANY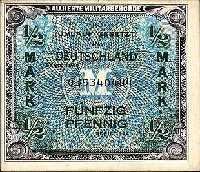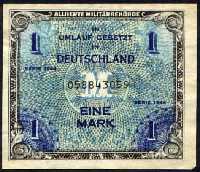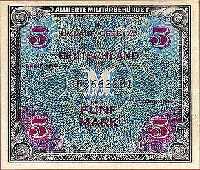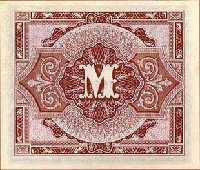 ITALY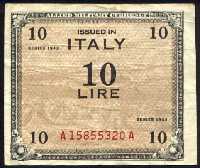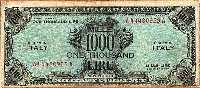 JAPAN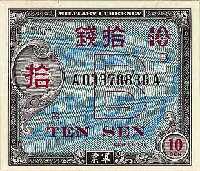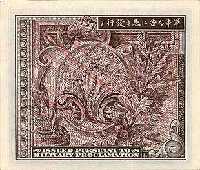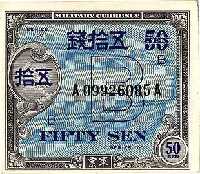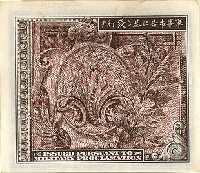 ---
References
The album pages and map above are reproduced with the kind permission of

Joseph V. Bush, Inc.
PO Box 626
Bonita, CA 91908
(FAX: 619-479-0874)
If you want to learn more about AMG stamps, the following articles are a good starting point:
A Guide for AMG FTT Collectors, by Angelo G. Giumanini
The American Philatelist, May, 1989
The BEP Goes to War, by Harry W. Wilcke, M.D.
The American Philatelist, November, 1990
The Issues of the United States Allied Military Covernment in World War II, by Harry W. Wilcke, M.D.
U.S. Stamps and Postal History,1997(?)
----------------------------
And here are a couple of excellent books, for those who want to go deeper:
The A.M.G. Stamps of Germany,
by F. Hugh Vallancey; Herman Herst, Jr., 1958
This is probably the earliest scholarly work on the subject, and while more recent books may be more complete or accurate, this one is still valuable and interesting for its perspective so soon after the end of WW II. It has extensive data on varieties for the specialist.
The AMG Story,
by Harry W. Wilcke, M.D.; The United States Possessions Philatelic Society, 1994
This is an excellent recent work surveying all aspects of AMG philately, with good illustrations and historical information. It makes interesting reading, and provides an excellent overview of the topic. It is not, however, a catalog, and does not provide data on printing, varieties, errors, etc.
---
---
All text Copyright © 2001, William M. Senkus


Send feedback to the author: CLICK HERE

Created -- 11/23/2001
Revised -- 07/23/2007