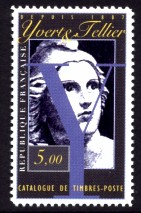 Yvert & Tellier is a French firm that publishes French-language catalogues for stamp collectors, including a multi-volume set with world-wide listings, plus a two-volume set of specialized catalogues for France and its former colonies. They also publish reference books on stamp collecting, and produce a prestigious line of stamp-collecting supplies and accessories, such as albums, stock books, and lovely icy-blue glassine envelopes. Founded in 1900, they are one of the Big Four of philatelic publishing.
The counterpart of Yvert et Tellier in the U.S. is Scott Publishing Company, which publishes a similar range of products for American collectors. In the UK, Stanley Gibbons does the job. In Germany, it's Michel. There are many other such companies producing at least catalogues for their respective home countries.

Albums, catalogs, accessories, supplies, and philatelic literature are almost as important to stamp collectors as stamps. I often feel I am as much a collector of stamp collecting books, tools and paraphernalia as of the stamps themselves, and there are good reasons this should be so - proper identification of stamps is critical to establishing their value for buying and selling, while proper handling and storage of stamps are critical to preserving that value.
Click on any image below to view a high-res version


---
Catalogs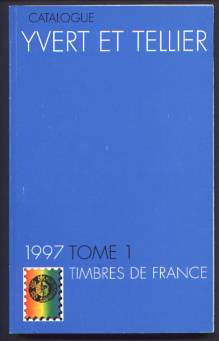 Catalogs are essential tools for stamp collectors. They tell us what is available to be collected, how to identify it, and what it is worth. The four major catalog publishers world-wide are Michel (Germany), Gibbons (England), Scott (US), and Yvert & Tellier (France). Each publishes THE specialized catalog, usually issued yearly, for stamps of its native country, plus generalized world-wide catalogs in its language, perhaps issued less frequently. In addition, there are specialized catalogs published in most of the other major countries of the world, such as the Edifil catalogs for Spain, and the Unitrade catalog for Canada.
The difference between a general catalog and a specialized catalog is mainly the level of detail. A General Catalog lists only the primary version of each stamp, with little information about errors, varieties, price on cover, FDC, cancels, Plate Blocks, etc. The Specialized Catalogue includes all of those. The General Catalogue is aimed at the collector who wants to fill the spaces in his or her album, and is not interested in an exhaustive collection of every possible variety and format. The Specialized Catalogue is aimed at the specialist, someone who wants to know and own every variety and nuance of every stamp. The 1997 Scott generalized catalog listings for US issues 1847 through 1996 (US 1-3088) take up 74 pages, while the 1997 Specialized listings for that same period take up 170 pages. If we focus on the listings for stamps issued prior to 1900, there are 27 pages in the Specialized, and 7 in the General, reflecting the fact that it is the early stamps of the world that have the most varieties and usages.
Specialized Catalog values usually reflect Market Value, i.e., what one would actually pay a dealer for a stamp of the specified condition at the time the catalog is issued. Note that I say "of the specified condition", since as I observed earlier (see Q is for Quality), the relative condition of a stamp can affect its value hugely, so a catalog will explain in its introductory text the exact criteria, such as gum condition and centering, that apply to its valuations. Generalized catalog values, since they are updated less frequently, are more likely to be "Relative Values", i.e. indicative of the values of stamps relative to one another.
A generalized catalog usually lists only the postage stamps of each country, while a specialized catalog will have as well sections for other varieties of government-issued stamps and postage, such as postal stationery, Revenue stamps, parcel post, etc. - what philatelists call the "Back-of-the-book" or simply "BOB" material.
Here are the cover and Key to the Listings from the 1997 Yvert and Tellier Specialized catalog for France:
The Key explains all the elements of the listings, which are highly abbreviated, to conserve space. The date of issue and a brief description of the stamp are followed by a reproduction of the design, beneath which are its "Catalog Number", Face Value, and several "Catalog Values". The value of a "mint" stamp is generally much greater than the value of a used stamp, so at least those two will be listed in both generalized and Specialized catalogs, while the Specialized may list as well values (especially for earlier issues) based on whether it has gum or not, or whether or not is is hinged. The Specialized catalog lists additionally values for all the different varieties of color and design that are common for earlier stamp issues.
The Y&T catalog includes the section whose starting pages are reproduced above, on cancellations, which are another factor that can influence the value of stamps, especially earlier issues. And yes, forgery of valuable cancellations is all too common, so any time you are paying a lot for a stamp or cover for its cancel, expertization is advisable.
Above are a couple of the pages for the earliest issues of France. The Y&T catalog shows examples in color in its Specialized volume, as do some of the other publishers, but not Scott. Notice as well the drawings of design variations. Tiny details can make the difference between a common, cheap variety, and a rare, extremely valuable one, so helping to make that distinction is one of the purposes of a Specialized catalog.
Here's a page for more recent listings, of 1986. Modern issues have fewer varieties, so the listings are simpler. The enlargement shows the listing for the US-France Joint Issue to commemorate the 100th birthday of the Statue of Liberty, and tells us that there is a fairly rare unperforated variety, plus postal stationery with the same stamp design. The number of stamps printed was 21.6 Million.
Another advantage of a Specialized catalog is its inclusion of detailed listings such as these, for the Railway Parcel Post stamps of France. These are Back of the Book (BOB) listings, which are either entirely absent from, or very abbreviated in generalized catalogs, since most collectors of world-wide or foreign issues focus entirely on the regular postage stamps.
---
Albums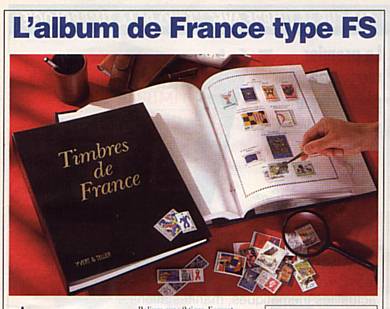 Part of the fun of collecting is organizing and displaying what one collects, and albums are one very popular way of accomplishing those tasks. Typical commercial albums provide a designated space for each stamp of the country concerned, including usually a black-and- white image of the stamp, the catalog number assigned to that stamp by the maker of the album, and a description of the subject of the stamp. There can be great satisfaction to filling a page, or even an entire album, by affixing an example of the proper stamp in each of the spaces (though it will take a better student of human psychology than I to explain why).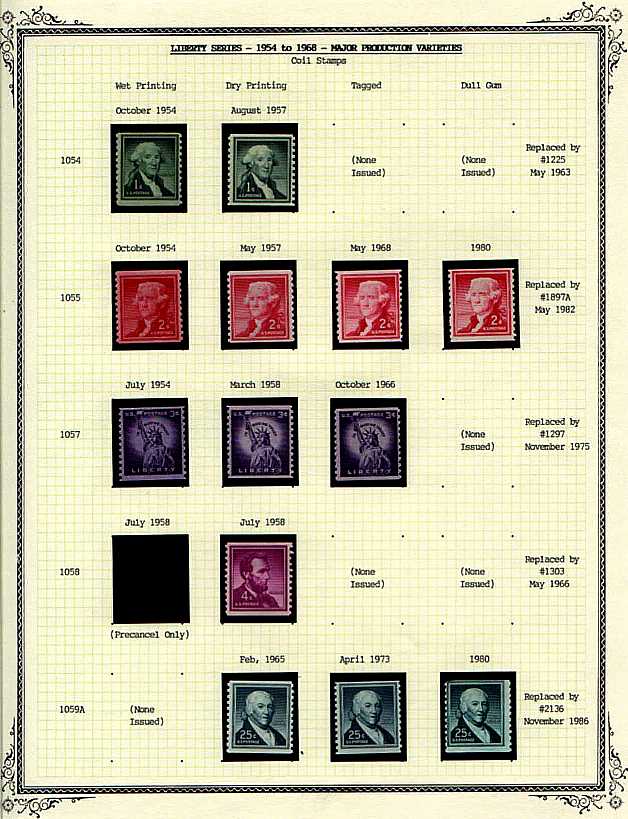 If you prefer to arrange stamps according to your own design, or write them up according to a personal taste, you can buy blank pages, and create your own album. Above is a page I created to display Major Production Varieties of coils of the US Liberty Series of 1954- 68, an area I enjoyed collecting and studying for a while, because of the changes that were occurring in production methods at the time these stamps were issued, and the varieties like these that resulted. I used one of Scott's standard blank pages, because I like the border design, and the faint grid helps me position the stamps better, but you could use any (preferably archival) stock you like.


---
Stock Books and Stock Pages
Some people don't use albums at all, they prefer to store their collections in stock books or on stock pages. It offers the convenience of quick re-configuration and great flexibility, but lacks the finished look of an album page. It's your collection, choose what works best for you.
Stock books are also a popular way to store new acquisitions and duplicates, both awaiting further processing - mounting, trade, or sale.


---
Other Collecting Supplies and Paraphernalia
Tongs, magnifiers, glassines, hinges, mounts, cutters, UV lamps, perforation gauges, drying books, stamp lifting fluid, watermark fluid, etc. -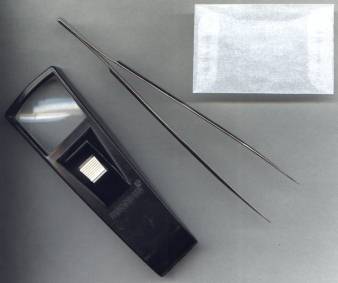 I have three pairs of stamp tongs that I can find right now, one pair that I actually use, the others I acquired on the way to finding the ones I liked. They are not "tweezers", mind you - stamp tongs and tweezers are only superficially the same.

I have at least seven magnifying glasses, and am still looking for the perfect one. The one I use the most is the one shown above, since it is very portable and incorporates a small flashlight to illuminate the subject, which can be very handy at dimly-lit stamp shows. But none of the ones I have ever seems quite right for the job. My scanner is the answer in some ways, since it allows me to examine stamps at extrememly high magnification, seeing the slightest variations, but its drawbacks are that I can't carry it with me, and it is slow. I'll keep looking.

Glassine envelopes come in many sizes, from these tiny ones barely large enough to hold one stamp, to ones that can hold an entire pane. Most are not archivally safe, so you should not use them for long-term storage, but they are indispensable for organizing and conveying stamps.
---
Philatelic Literature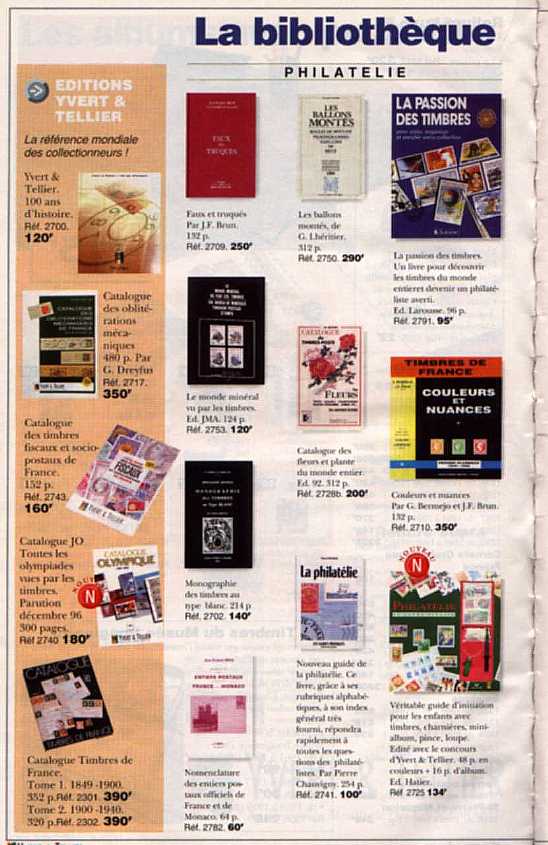 Philatelic literature is a collecting area in its own right. I could not have produced these pages without my own modest library of reference books, and stamp collectors seem to enjoy writing about collecting almost as much as practicing it. I read somewhere that there are more books about stamp collecting than any other hobby, and I suspect it is true, since the library of the American Philatelic Society has over 4,500 titles listed in its card catalog, and receives over 400 periodicals.


---
For more about philatelic catalogs and supplies, visit the web sites of their publishers:

Yvert & Tellier

Scott Publishing Company

Michel

Stanley Gibbons
Or see my Links Page for other sources of philatelic books and supplies.
Here's a web page with an extensive list of catalogs from all over the world.


---
---
---
All Letter images Copyright © 1997, 2000, SF chapter of AIGA
All text Copyright © 2000, William M. Senkus


Send feedback to the author: CLICK HERE

Revised -- 01/18/2007