ZEPPELINS ON POSTER STAMPS
Want more? I've created a page showing some Cinderellas (poster stamps and match box labels) and postcards depicting Zeppelins. Click on the image below to visit it.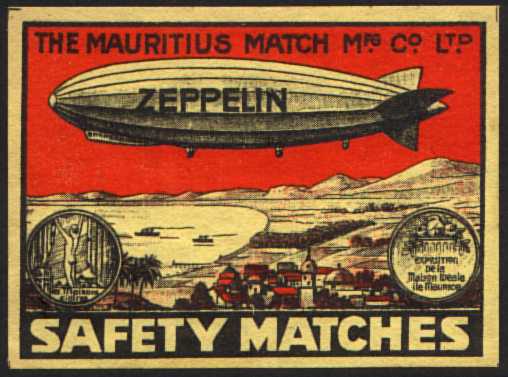 Poster stamps and other non-postal creations depicting Zeppelins
---
LINKS
Ask your favorite search engine about other sites on Zeppelins and you will find hours of entertainment - the topic is a popular one. My favorite is the following:


Titled simply Zeppelin, this is an extensive, well-organized site about all aspects of Zeppelin history and study, including news about the new passenger Zeppelin program in Germany (!), and a page of links to other Zeppelin sites. There is even talk of using giant airships as carriers of oversize, overweight freight that could be transported no other way! Perhaps the concept was not so nutty as we thought.
9/1/2 - That giant cargo-lifter was almost a reality - Here's the company website, but they've filed bankruptcy papers, so barring a miracle, I don't think the idea will fly.


Artistamps designed by Uwe Bressem to promote Cargolifter
AND, here's a link to the site of German artist Uwe Bressem. He designed and produced the stamps Cargolifter is using as one of its fund-raising gimmicks, in an effort to acquire public support for the venture. I don't think the actual revenue from the stamps will help much, but they do help spread the word. You can purchase them through his site (the Cargolifter site displays them, but says they are sold out). I bought all the various formats - you can see more of them on my "Zeppelins on Cinderellas" page too. Not really a Zeppelin, of course, but close enough these days.


References
Lehmkuhl, The Zeppelin Stamps
Sieger, Zeppelin Post Katalog
Steve Ivy Auctions, The Alan L. Belinkoff Collection of Zeppelin Post Mail of the World
Falk, Arthur, Hindenburg Crash Mail
Berthold and Kummer, Handbook of Zeppelin Letters, Postal Cards & Stamps 1911-1931


Zeppelins on Collins FDC's
Finally, just because I like them, here are a couple of Zeppelin-themed FDC's by Fred Collins.
END OF Z IS FOR ZEPPELIN POST
---
---
---
All Letter images Copyright © 1997, 2000, SF chapter of AIGA
All text Copyright © 2000, William M. Senkus

Send feedback to the author: CLICK HERE
Revised -- 11/08/2004