LES JOURNÉES BESSONNEAU
"Bessonneau Days"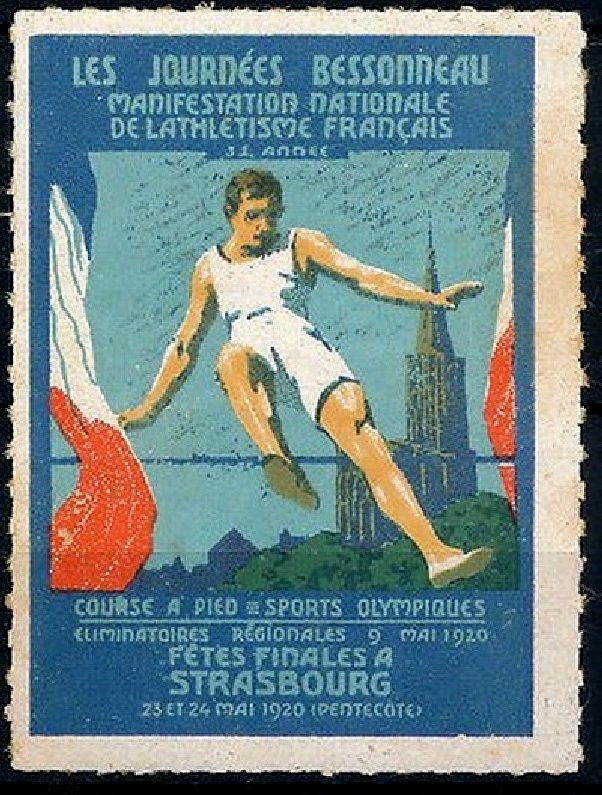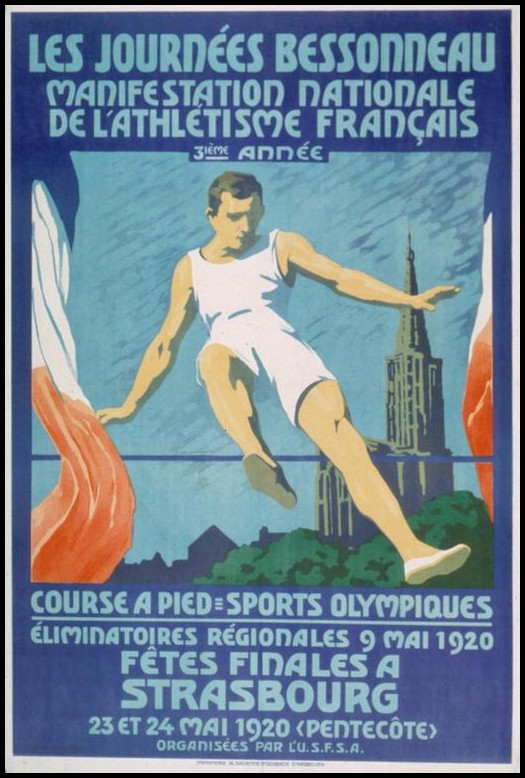 1920-x4
59x45mm overall
Bessonneau Days, 1920
Poster stamp on left, poster on right!
I love it when I can find both a poster and the stamp with the same design, illustrating the reason for the term.
LES JOURNÉES BESSONNEAU
MANIFESTATION NATIONALE
DE L'ATHLÉTISME FRANCAISE
3ème Année
COURSE A PIED - SPORTS OLYMPIQUE
ELIMINATOIRES REGIONALES 9 MAI 1920
FETES FINALES A STRASBOURG 23 ET 24 MAI 1920 (PENTECOTE)
---
Bessonneau Days
National Event
French Athletics
3rd Year
Foot races - Olympic sports
Regional Qualifiers May 9, 1920
Final celebrations in Strasbourg May 23 & 24, 1920
(Pentecost)
---
"Bessonneau Days" were founded in 1918 by Julien BESSONNEAU, industrialist and deputy of Maine et Loire, to celebrate French athleticism.
Although the event was held early enough in 1920 to have served as trials for the Olympic Games in Antwerp that year, I can find no indication that this event did, so use of the term "Olympic Sports" may have been just generic.

5/1/18 - On the left Below, image of a postcard for the 1921 edition of these games. Again, it says "Sports Olympiques," confirming that the term was used generically.
5/28/2019 - And on the right, a label that below showed up on eBay today, for the 1918 edition of these Games, at Lyon. Note that it was held in a different town each of these years.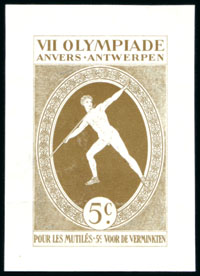 1920-x5
VII OLYMPIADE ANVERS - ANTWERPEN
POUR LES MUTILÉS - 5C - VOOR DE VERMINKTEN

David Feldman auction - June 2016 - Lot #30245
Description:
Unissued charity vignette for the injured. Die proof in brown on carton, with "VII OLYMPIADE" and inscriptions in French and Dutch, depicting Javelin thrower, presumably to raise funds for those injured in WWI