After Japan gave the 1940 Games back to the IOC in July 1938, the IOC then decided to give the Winter Olympics to St Moritz, Switzerland, which had hosted it in 1928. However, due to controversies between the Swiss organizing team and the IOC, the Games were withdrawn again.
In the spring of 1939, the IOC gave the 1940 Winter Olympics, now scheduled for February 2-11, to Garmisch-Partenkirchen, Germany, where the previous 1936 Games had been held. Three months later, Germany invaded Poland, on September 1, to ignite World War II and the Winter Games were cancelled in November.
There was no poster design published for 1940 Winter Games in Garmisch- Partenkirchen.
DuBois lists no poster stamps issued for the 1940 Winter Games in Garmisch- Partenkirchen, but I found the following image on the www - they look like luggage stickers, and the text says Winter Olympic Games - 1940 - Garmisch- Partenkirchen.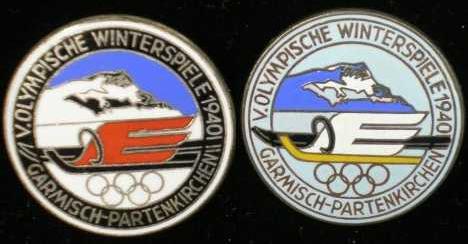 1940-x1 and x2
I think these are participant's badges.
---
11/14/18 - Alvaro Trucchi, collector and prize-winning exhibitor of Olympic vignettes, published the following rather crude image in an article about Winter Olympic labels for Phila-Sport magazine. He has no information about it, but it looks like a design for a semi-postal postage stamp. As such, it is a very borderline entry in this collection, but I show it in case someone can tell us more about it.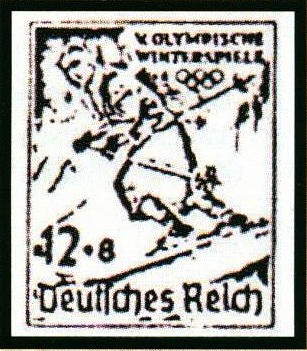 1940W-G-x3
Black on white, Downhill skier.
"V. OLYMPISCHE WINTERSPIELE" and Olympic rings at top right,
"42+8" and "Deutsches Reich" at bottom left.
Dimensions unknown.