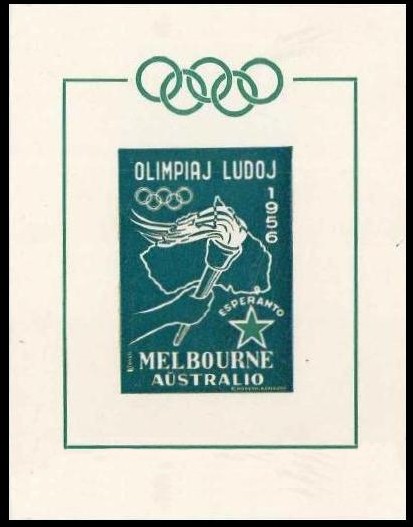 #1956-48a
48a. Same design as No. 48 but larger size; has green frame line, rings and star. Background is darker green. 73.5x98mm (overall design portion), 100x122 (overall card)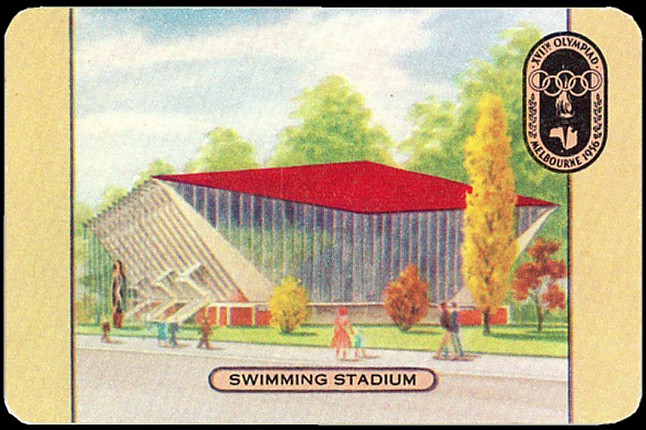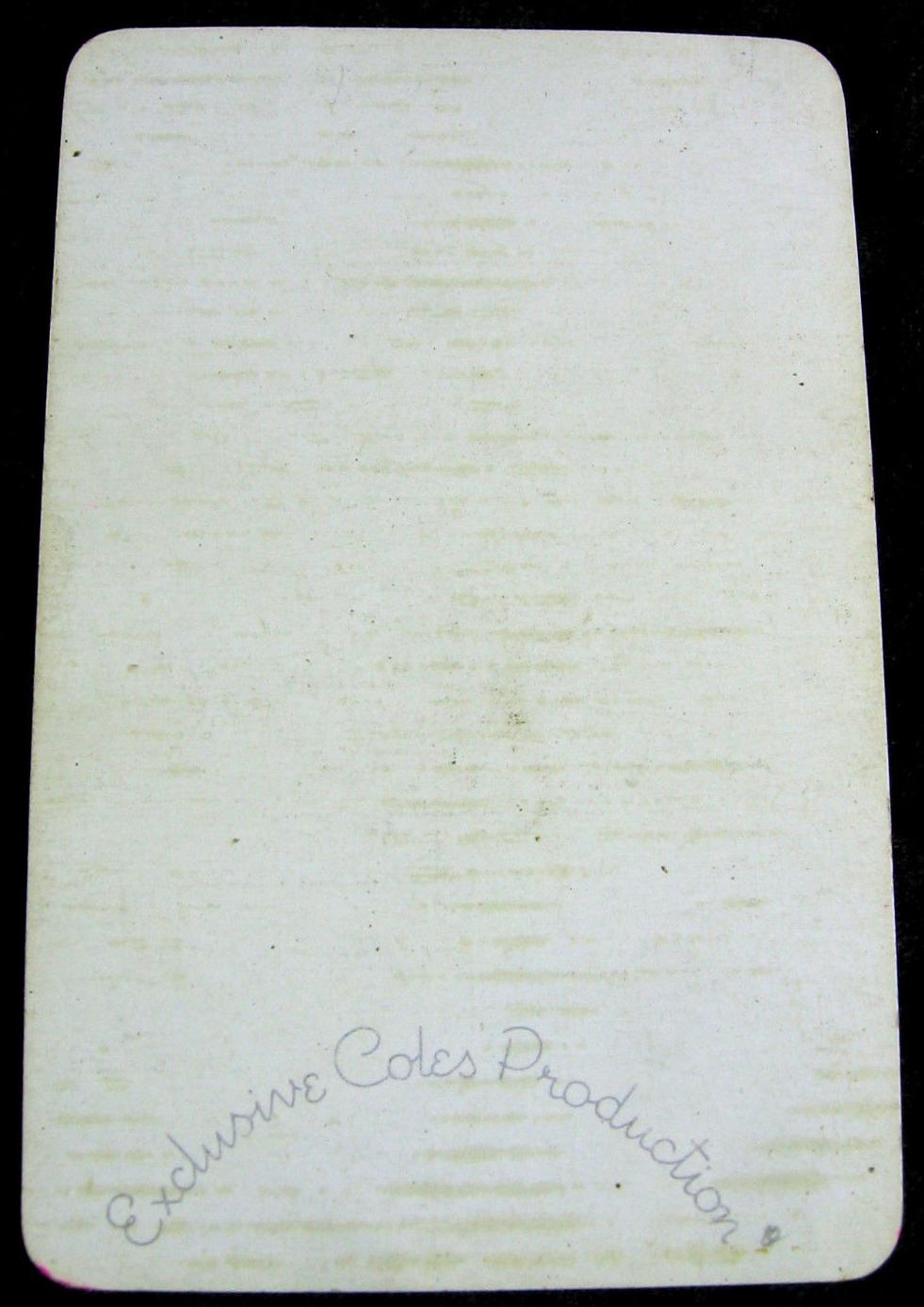 #1956-48B
48B. A non-label, but Olympic-related card: "SWIMMING STADIUM" in panel at bottom. Logo of the Melbourne Games, as at label No. 2, at upper right.
Vignette: external view with people walking on a frontal walkway. 89.5x58.5mm (overall). Vignette is multicolored, card is of playing-card size and thickness, with rounded corners ... Rare
7/13/16 - I just found out that this item is a "Coles Swap Card" (Coles is an Aussie grocery chain, still in business) and part of a set of 140, five groups of 28, as follows: one group showing Olympic sports events (24 seen), one showing Melbourne Olympics venues (the set to which the item above belongs, four seen), one showing scenes in foreign countries with small flags at top (28 seen), one showing flowers of foreign countries and large flags (26 seen), and one showing industries & products (none seen) The backs usually have the text "Exclusive Coles Production," as shown in the second scan above. More HERE and HERE. They are plentiful on eBay.
I consider these peripheral items in the DuBois catalog - they are not poster stamps or labels - so their place here is a bit dubious, as DuBois admits. If we include this one, we must include all 139 of the rest of its set! AND there are many other swap cards with an Olympic theme. It's up to you.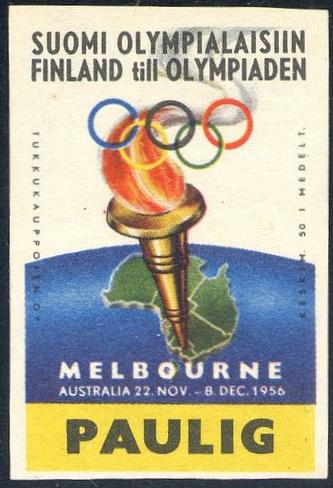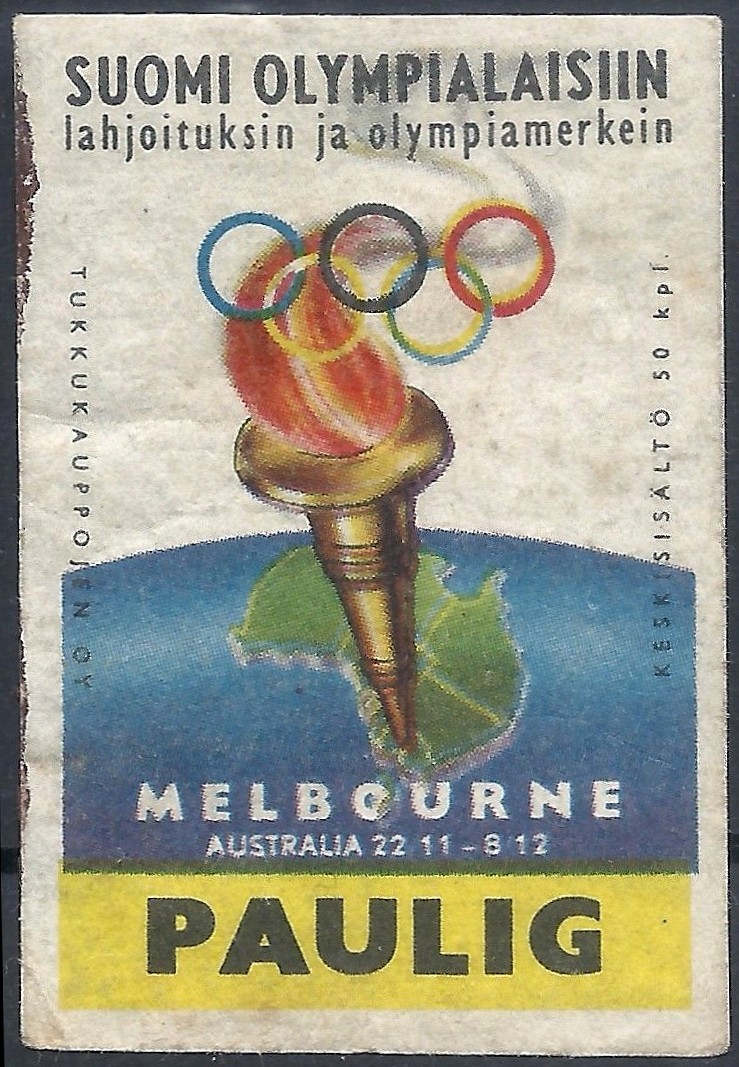 #1956-56 and 57
56. "SUOMI OLYMPIALAISIIN FINLAND till OLYMPIADEN" at top; a torch is centrally located, with Olympic rings superimposed at the top of the flame; the bottom of the torch touches down on Melbourne's location on the continent of Australia; across bottom of design: "MELBOURNE AUSTRALIA 22 NOV - 8 DEC 1956" - below design: "PAULIG" to left of design: "TUKKUKAU-PPOJEN OY" - to right of design: "KESKIM 50 I MEDELT" An imperforate match box label, 3lx48mm, multicolored ... Rare
57. Design like that of No.56 except for the two upper lines: "SUOMI OLYMPIALAISIIN lahjoituksin ja olympiamerkein" and on the right side: "KEJKISISAL TO 50 KPL" An imperforate match box label, 31x48, multicolored ... Rare
See similar label 1956-W-13 on the 1956 Cortina d'Ampezzo page.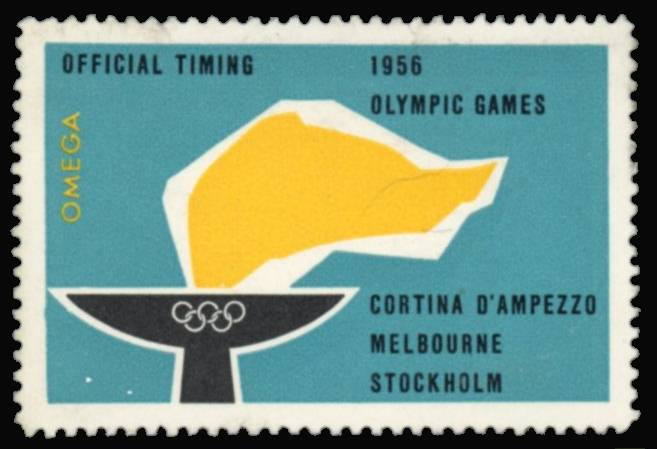 #1956-58
58. "OFFICIAL TIMING 1956 OLYMPIC GAMES" above; vignette depicts a bowl, adorned with Olympic rings, containing the Olympic fire, flaming upward and to the right; at lower right: "CORTINA D'AMPEZZO MELBOURNE STOCKHOLM" - to left, above bowl: "OMEGA" 49x3lmm, perf 11.5. Colors: bowl & texts are black (except for "OMEGA" which is yellow); flame is yellow; bowl,flame and label have white edges ... $3.00