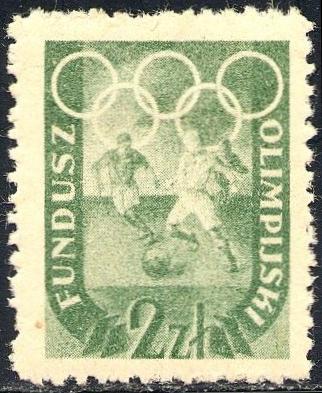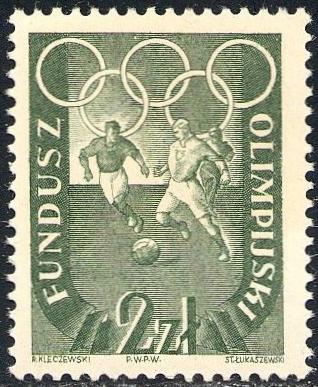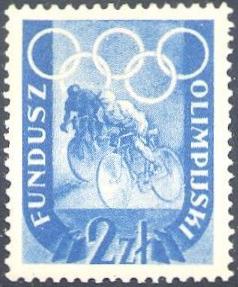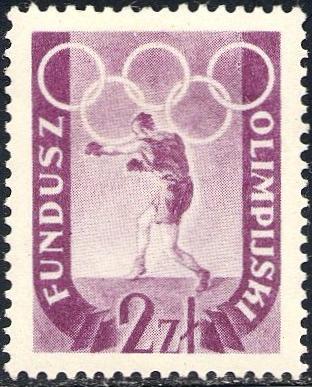 #1956-13 thru 16
3/13/16 - I just found an article about Polish philately HERE which states that the 2zl cyclist stamp is olive. Was that an error, or is there one more stamp to this set? Excerpt below.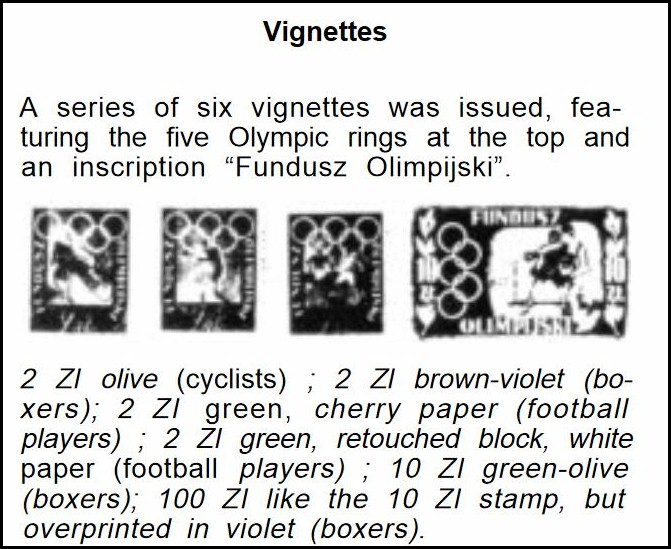 DuBois number: 1956-13 thru 16

POLISH FUND LABELS:

In the course of preparations for the 1952 and 195& Games, the Polish Olympic Committee launched an extensive fand-collecting campaign. The following "Olympic Fund" labels were issued jointly with a Sports Lottery:
"FUNDUSZ" up left side; "OLIMPIJSKI" down right side; 2 zl/ at bottom.

13. Vignette: three soccer players below Olympic rings (interlaced as on original Olympic flag) - olive green
14. Same as 13 but with artist's imprint below design
15. Like 13 but two cyclists in vignette, blue
16. Like 13 but boxer in vignette, brown-violet

21x26mm, perf 12.5

The images at left satisfy DuBois' listing, above. But the article excerpt says the cyclist stamp is olive-green - Does that exist, or was the author in error? He also mentions "cherry paper" - what's that?

4/22/16 - I scoured the www and found several auction listings of the set, all saying the cyclists stamp is blue, none mentioning a green variety.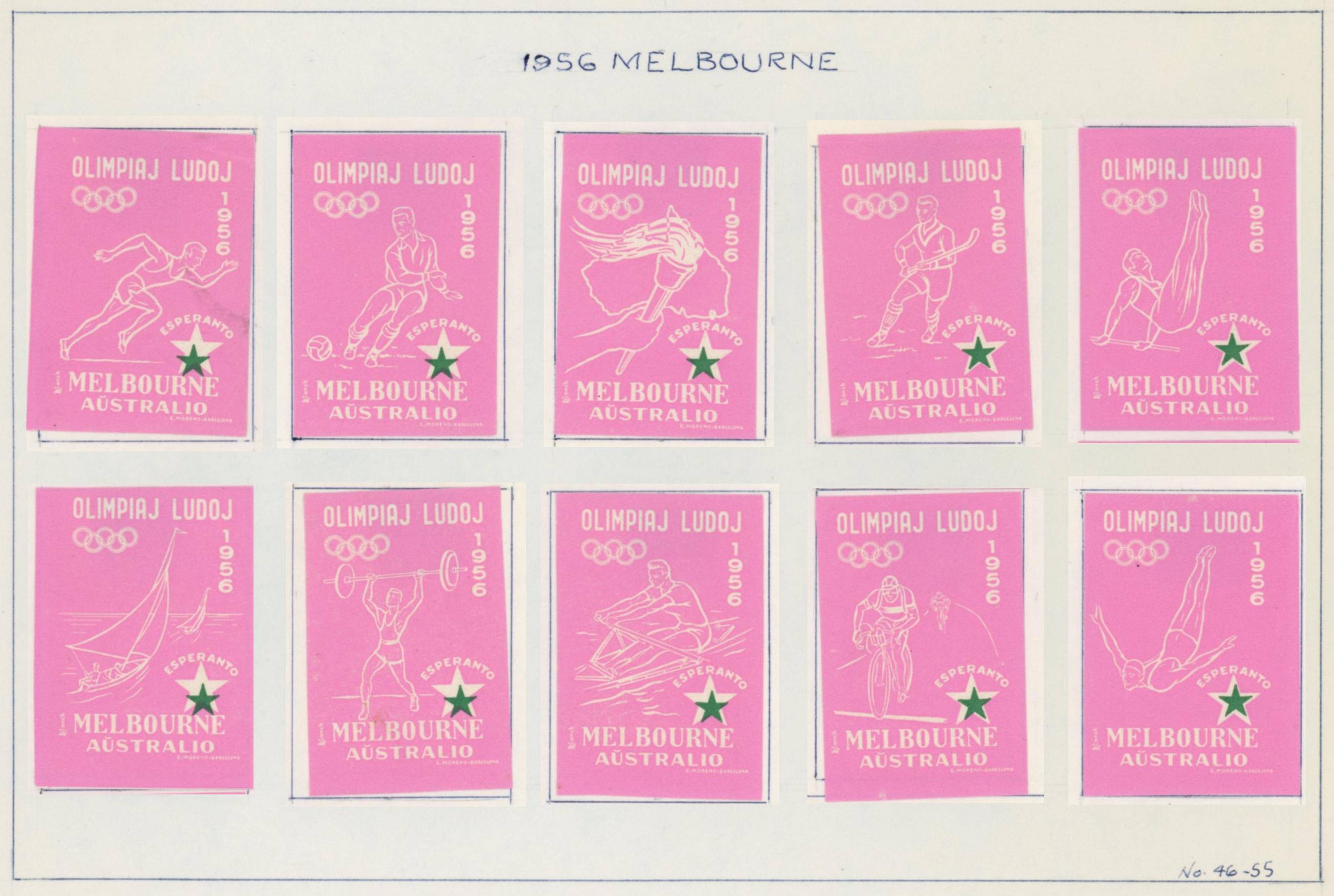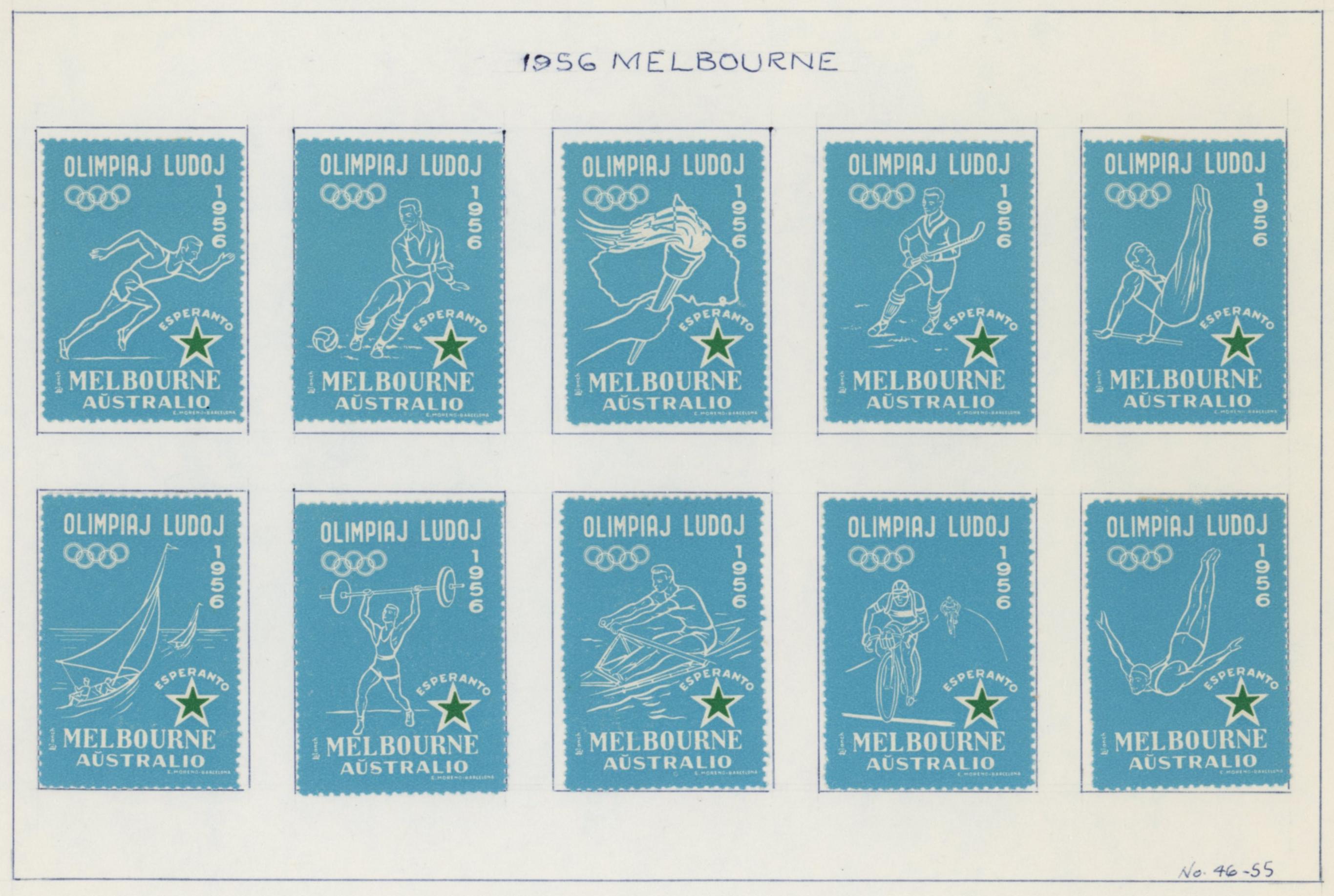 AN ESPERANTO ISSUE, Nos. 46 to 55:

"OLIMPIAJ LUDOJ" (Olympic Games) across top; Olympic rings and "1956" under upper text; "ESPERANTO" with a green star below, at lower right; "MELBOURNE AUSTRALIO" across bottom: to left of "M" of Melbourne, the artist's imprint "Blanch" and on the lower right, printer's imprint "E.MORENO-BARCELONA". 30x44.5mm (design), perf 11 & imperf.
Texts, picture and star's outline are white.
There are five different background colors, as follows: a)rose, b)blue, c)red-brown, d)yellow, e)orange.
The centrally located vignettes depict the following:
46. A sprinting athlete
47. A soccer player
48. A hand holding a torch, above an outline drawing of Australia, with Melbourne indicated.
49. A hockey player
50. A gymnast
51. Two sail boats
52. A weight lifter
53. An oarsman rowing a scull
54. Two bicyclists
55. A diver doing a swan dive ... $1.99 ea

Sheet Format: Nos. 46 to 55 are listed in the order in which they occur on a sheet of ten(5x2). There is one background color only on all labels of the same sheet. The background color spills over abut 3mm into the selvage. There is a green border (about 0.8mm wide) around the whole sheet, interrupted at top center by green Olympic rings (inter-laced as on the official Olympic flag). There is a printer's imprint near the bottom of the sheet, below the tenth label: "Presis: E. MORENO Barcelona - Hispanio"

Perforated sheets are PM4S, perforations extending all the way through the selvage ... $20.00 sheet
DuBois says there is a fifth color, yellow, but I have not seen it. If any viewer can supply an image, please send to email address at bottom of page.