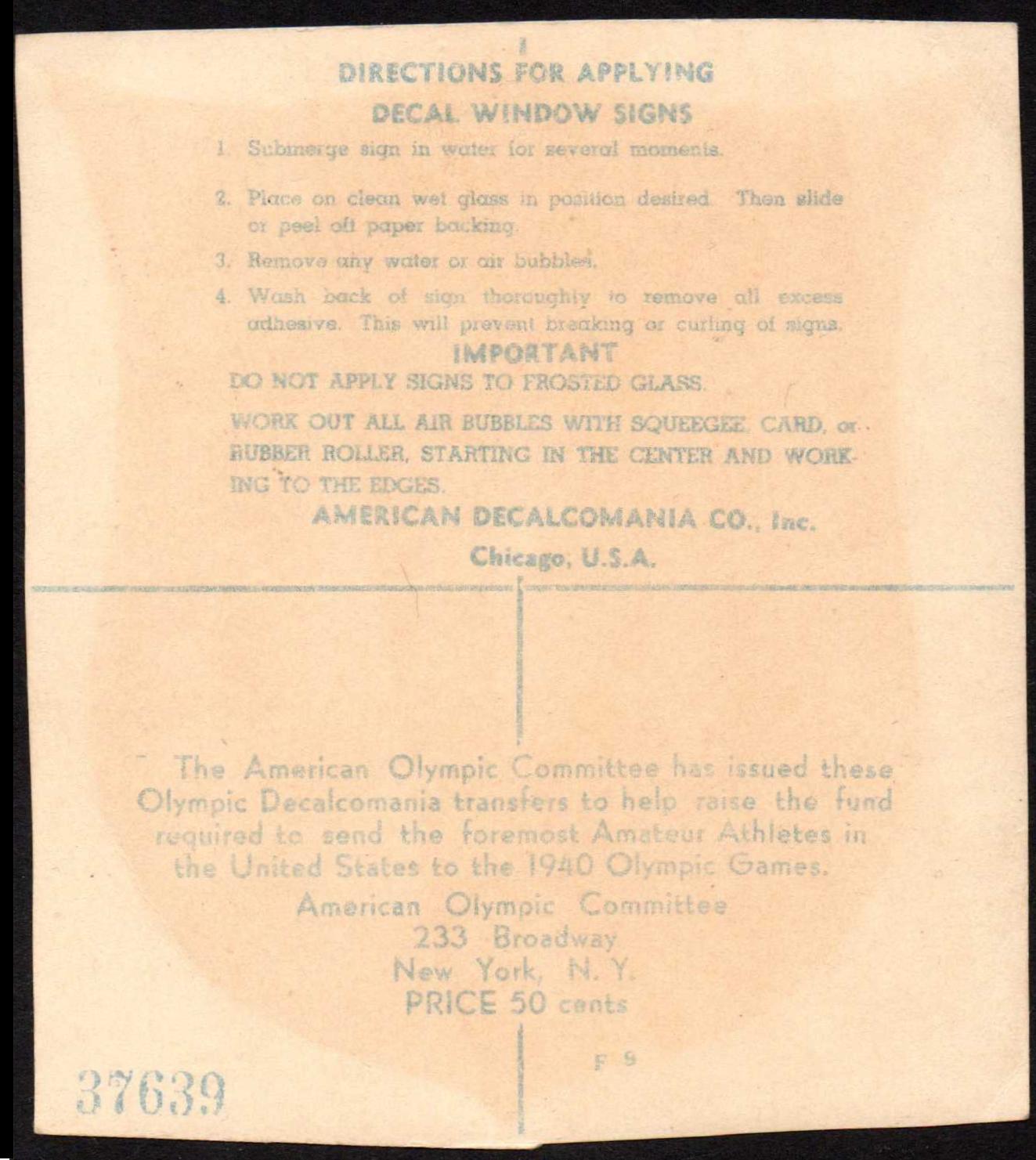 #1940-F-21
A decal
DuBois listing:
21. "AMERICAN OLYMPIC FUND" in gold letters across stripes, Olympic rings, in a 56.5x20mm panel, in upper portion (Interlaced as on the original Olympic flag). 101x1l6mm (design), 111x122mm (overall), rings are in their usual multicolors, outline around edge & across shield is gold, die cut ... Rare
Inscription on back states, "To send the foremost Amateur Athletes in the United States to the 1940 Olympic Games ... price 50 cents"
---
CLICK HERE to view a page that lists all the Olympic decals that depict a US Olympic shield.
DuBois listing:
The two following labels were issued in anticipation of the Olympic Games that were scheduled to be held at Helsinki: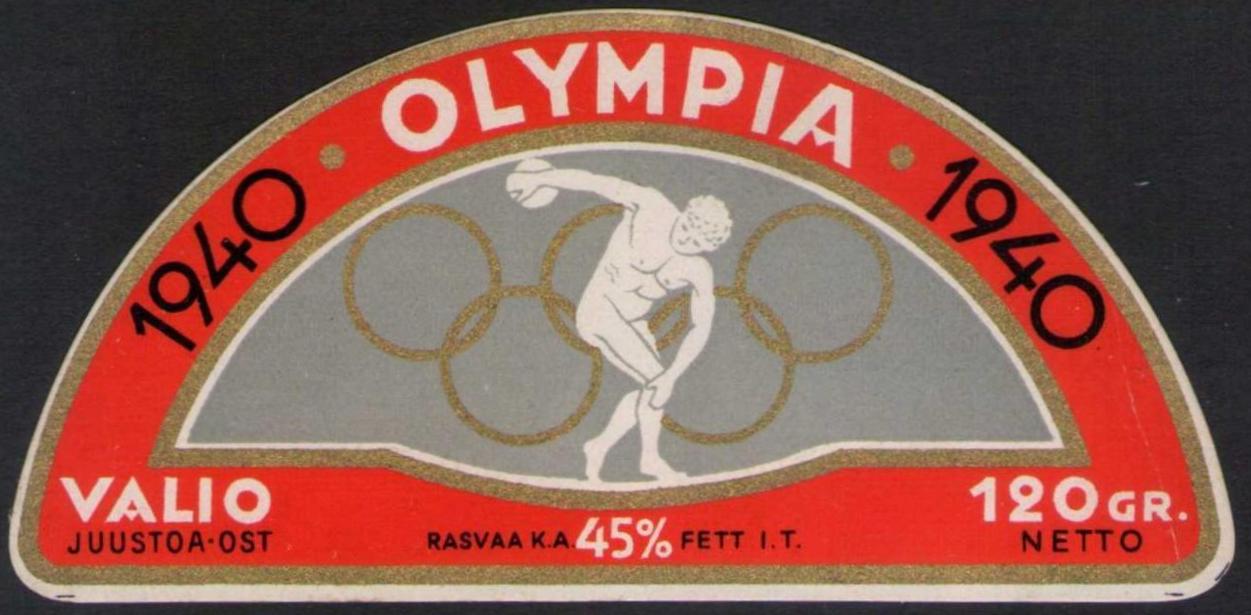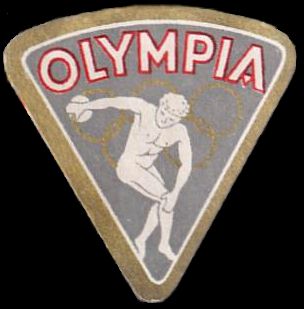 #1940-F- 22 and similar item
22. A Finnish Souvenir Cheese-Carton Label: "1940 OLYMPIA 1940" across oval-shaped, top of label; "VALIO JUUSTOA OST" at lower left; "RASVAA K.A.45%FETT I.T." at bottom, center; "120 GR. NETTO" at lower right. Vignette: classic statue of discus thrower, in white, in front of gold Olympic rings. 101x49mm (overall), background of texts is red, texts are either white or black, vignette background is gray and has inner white border & outer gold border, outer edge is white with gold inner border ... Rare
(Valio Helsinki Cheese Co., 45% fat, 120 grams, net) An attractive, very Olympian label!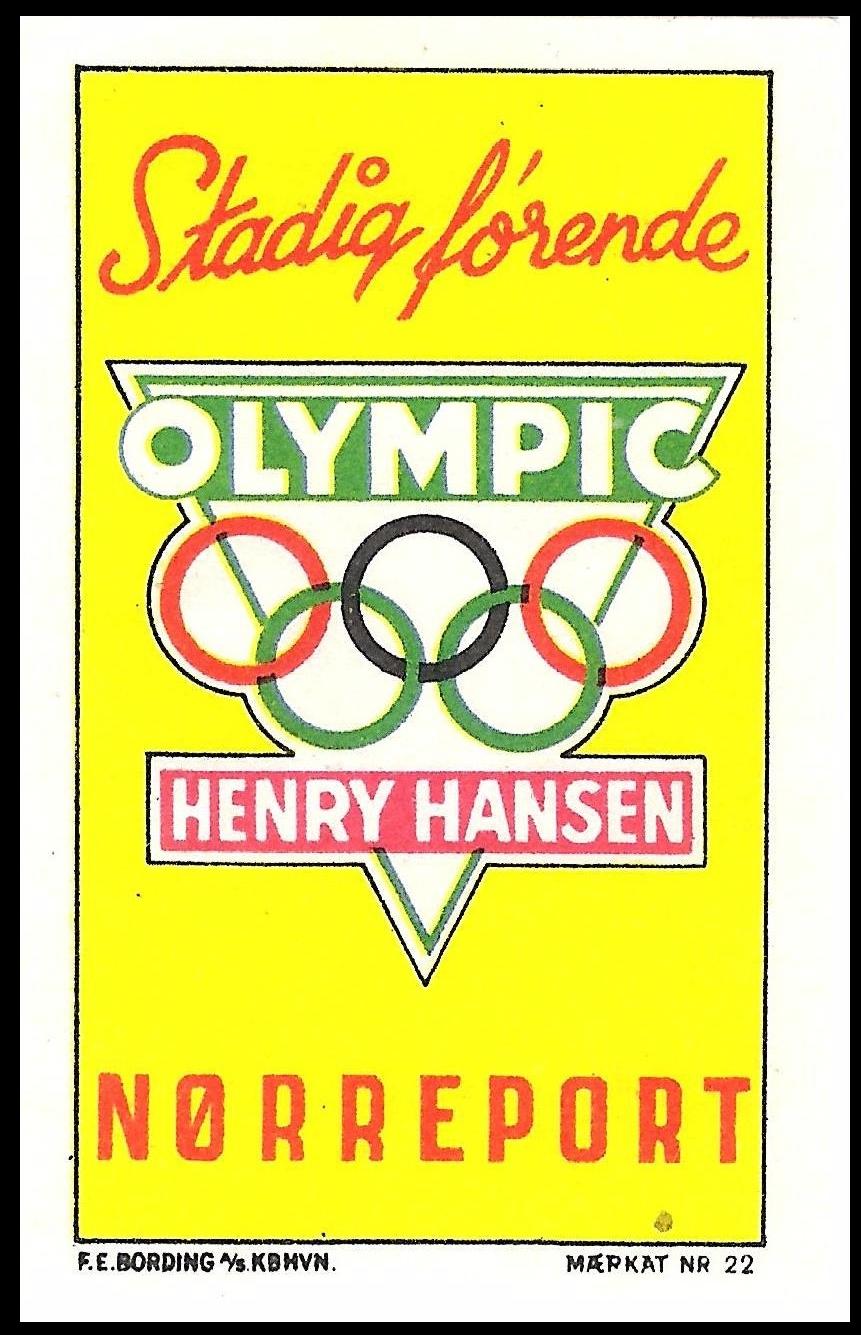 1940-F-23
DuBois listing:
23. "Stadig forende OLYMPIC HENRY HANSEN N0RREPORT" red & white texts on a yellow background. Vignette: a green & white triangle with multicolored Olympic rings (interlaced as on original Olympic flag). 29x50mm (design), an imperf maerkat label; "F. E. BORDING A S. KBHVN - MAERKAT NR 22" below design, in black text ... Rare (Danish text: Henry Hansen, Norreport, Copenhagen, Olympic Cycler).
The vignette depicts the logo that is used on "Henry Hansen" bicycles and or motorcycles. A "maerkat" is a registered, numbered Danish label; more information on such labels is available from the author, on request.
DuBois lists this as a 1940 stamp, but I think it belongs with the 1932 items, based on its Maerkat number - 22. The first Danish Maerkat label was issued in 1930, so this stamp must have been issued in 1931 at the latest. See the bottom of 1932 Los Angeles page for more about this stamp and my logic for placing it there.