According to Wikipedia:
" Pierre de Frédy, Baron de Coubertin was a French educator and historian, and founder of the International Olympic Committee. He is considered the father of the modern Olympic Games. The idea for reviving the Olympic Games as an international competition came to Coubertin in 1889, and he spent the following five years organising an international meeting of athletes and sports enthusiasts that might make it happen. The congress was held on 23 June 1894 at the Sorbonne in Paris, and the modern Olympic movement was officially born."

Poster stamps were already very popular by that time, and the stamp below was created around the time of that first Olympic Congress, to commemorate the event. It is the FIRST Olympic stamp of any sort - postal or poster, and it is quite scarce.

Click on image below to open an enlarged version in a separate window/tab

Text from DuBois:
This round label with the date "1894" on it is believed to be the oldest Olympic label (or stamp). It is said to have been issued in the period after the foundation of the International Olympic Committee (1894) and before the Games of the first Olympiad of the modern era (1896).

COMITÉ INTERNATIONAL above, OLYMPIQUE below, latter texts are inside the circular border; 1894 in center.

Vignette, between texts and 1894: two branches of laurel in the shape of an open crown.

A thin-lined border is between the texts and the outer edge.

A round label, 35mm diameter, design is embossed white on a blue background.

a) sky-blue ............... $60.00
b) pale sky-blue ....... $60.00
3/12/16 - Recently I found this image somewhere on the www.
It seems to confirm that the label above was issued in conjunction with the first Olympic Congress in 1894.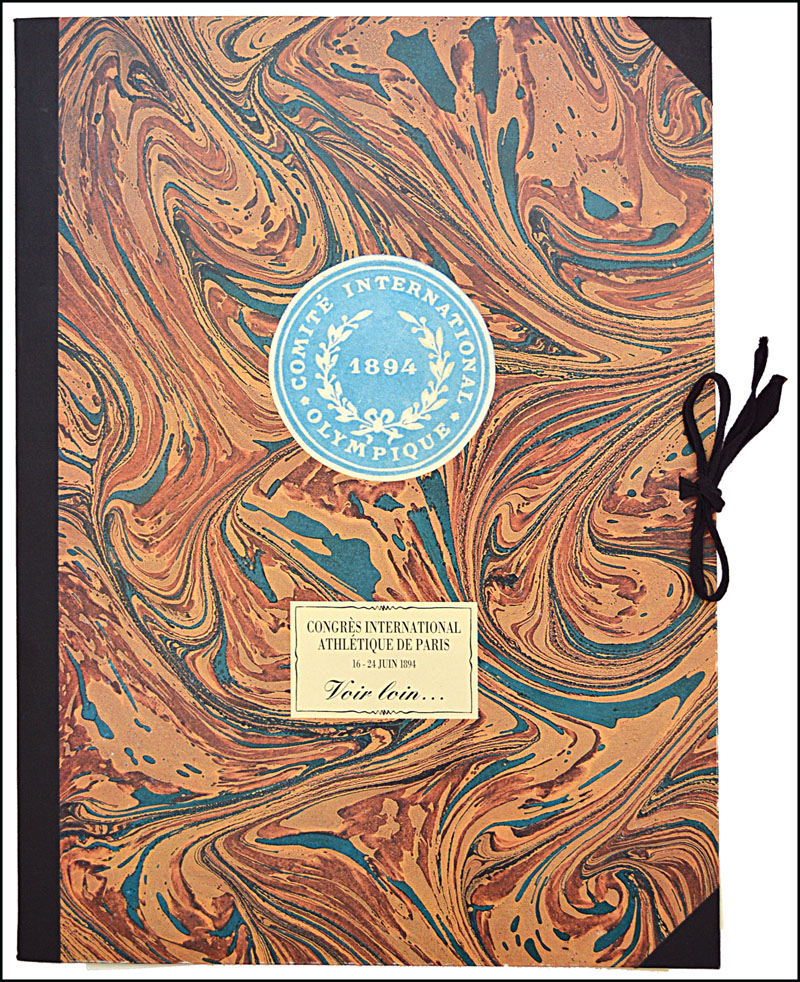 4/22/16 - BELOW, two recent examples of 1894-1 from eBay, showing the effects of age, light, poor storage, etc. I emailed the seller of the second item, and he assured me it was authentic, but "oxidized," and had sold for much less than a fresh copy. These images lead me to question whether there are really two versions of the label, as DuBois asserts, or merely changelings from light and age.
PRICING: The prices shown in the DuBois catalog were his estimates of retail values at the time he published the catalog - 1986. Prices today are mostly higher.