Click on image below to open an enlarged version in a separate window/tab
Click on the DuBois number beneath the image to display technical data about that label.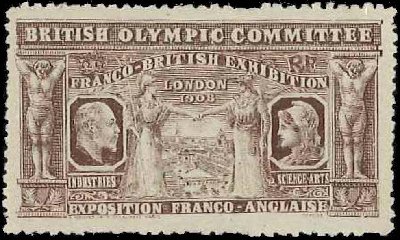 Poster stamp for the 1908 Olympic Games in London
#1908-1 to 8
DuBois listing:
"BRITISH OLYMPIC COMMITTEE / FRANCO-BRITISH EXHIBITION / LONDON / 1908" in upper portion of label; "EXPOSITION FRANCO-ANQLAISE" below, beneath central vignette-portion.
Vignette: a crown at upper left, RF at upper right; head of Edward VII, to left, with word "INDUSTRIES" below; head of Marianne, to right, with words "SCIENCE-ARTS" below; hands of Britain and France reaching out toward each other (two allegorical ladies), with London in the background, centrally located; two columnar statues at left and right sides, crossed palms below them.
52x28mm, perf 11 (imperforate proofs exist)
1. sky-blue
2. slate-blue
3. yellow-green
4. orange
5. rernilion
6. carmine
7. red-brown
8. dark brown
.....all rare
4/11/16 - French collector Philippe Pavard provided these images of all eight colors, both perf and imperf, plus the image of a related overprint on one of the other FBE stamps.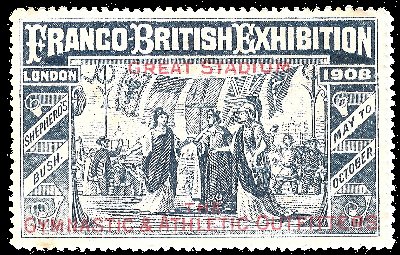 Generic FBE stamp with overprint
51x32mm overall
FRANCO-BRITISH EXHIBITION - LONDON 1908
Overprinted:
GREAT STADIUM
THE GYMNASTIC AND ATHLETIC OUTFITTERS
There was no scarcity of poster stamps and labels created for the Franco-British Exhibition.
But perhaps emphasizing how disdainfully the Games were treated is the fact that the stamp for the Games was printed setenant with labels for several rather minor French exhibitions of 1908, as shown by these images -
That third image is from Bob Wilcock's book, and shows an entire sheet of all the vignettes - an amazing find!
So presumably the firm that printed and distributed all those labels took it upon itself to create this souvenir.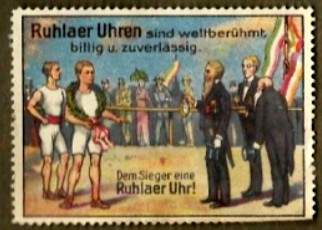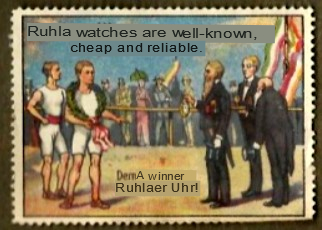 This attractive sports-themed poster stamp sold on eBay on 3/15/22 for $6.
The seller described it as OLYMPIC GAMES WATCH GERMAN POSTER STAMP.
There is nothing other than the sports theme to connect it to the Olympics, but I like it, so chose to display it here.
I estimate the date as circa 1908, based on the costumes.
Today Philippe Pavard of Paris - a major contributor to these pages - pointed out an eBay auction offering the item below, which the seller called "France GB 1908 london Olympic black vignette proof unused block 6."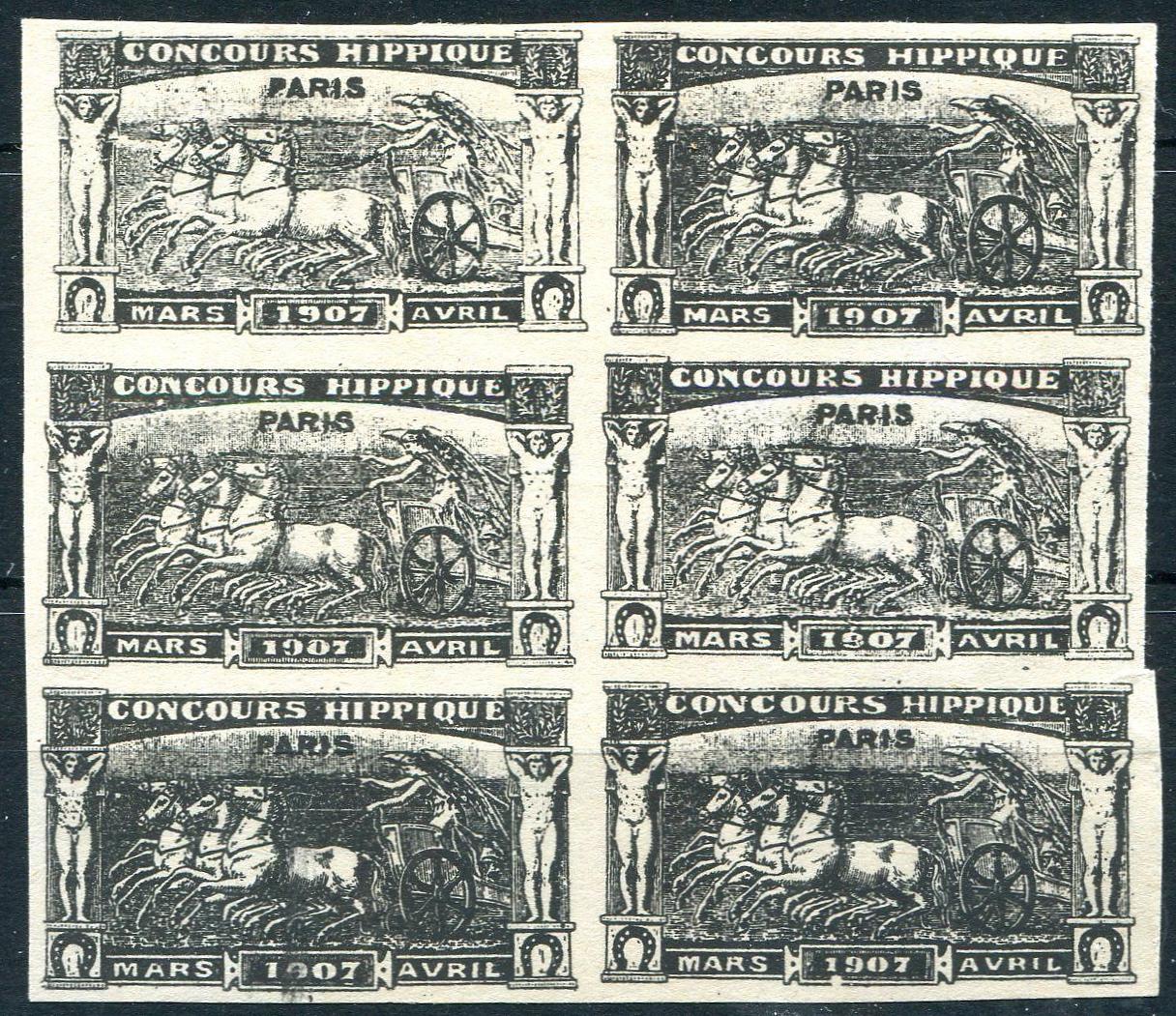 CONCOURS HIPPIQUE - PARIS - MARCH 1907 APRIL
That's quite a stretch, as the stamp had nothing to do with the Olympics - it was issued to promote a horse show in Paris in 1907. Nor has it anything to do with Great Britain, unless Paris was in England in 1907. I don't think so.
Here are four examples of the stamp as it was printed and distributed: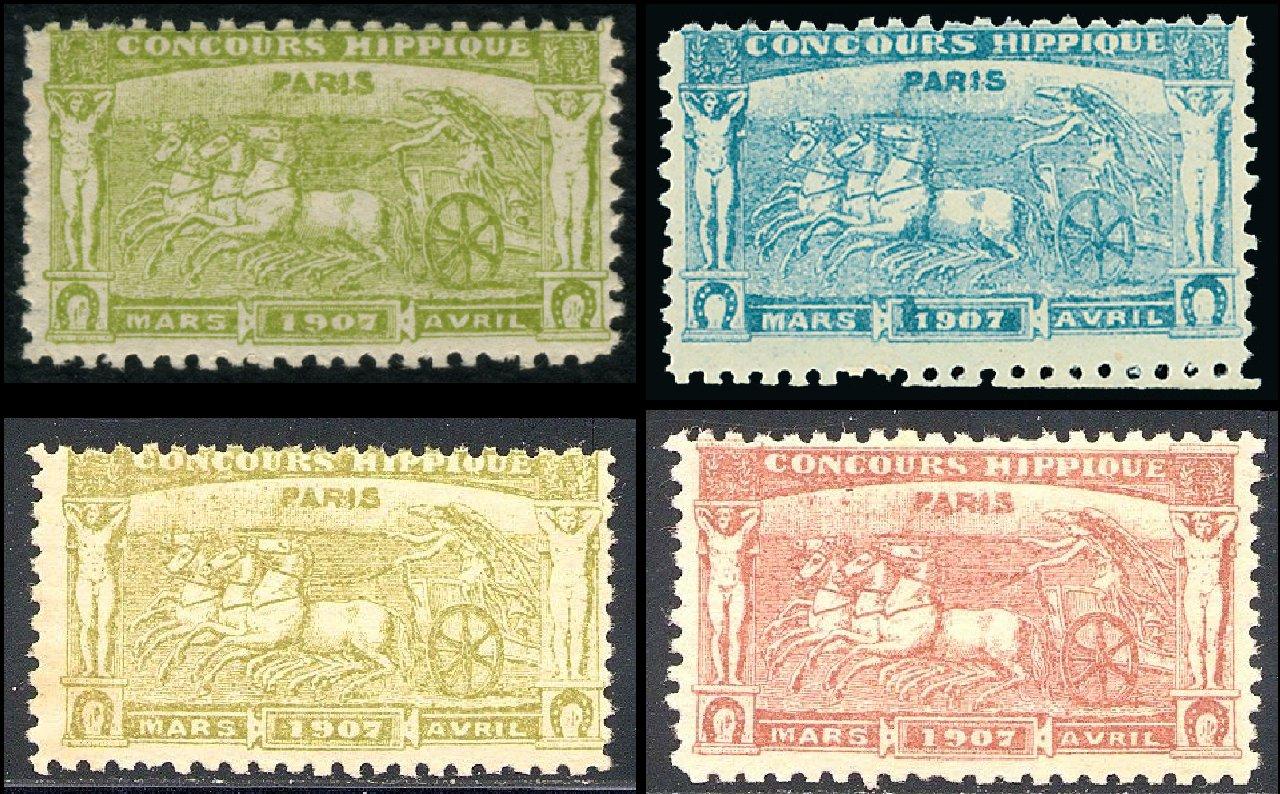 However, its design IS based quite closely on this Greek Olympic postage stamp of 1896: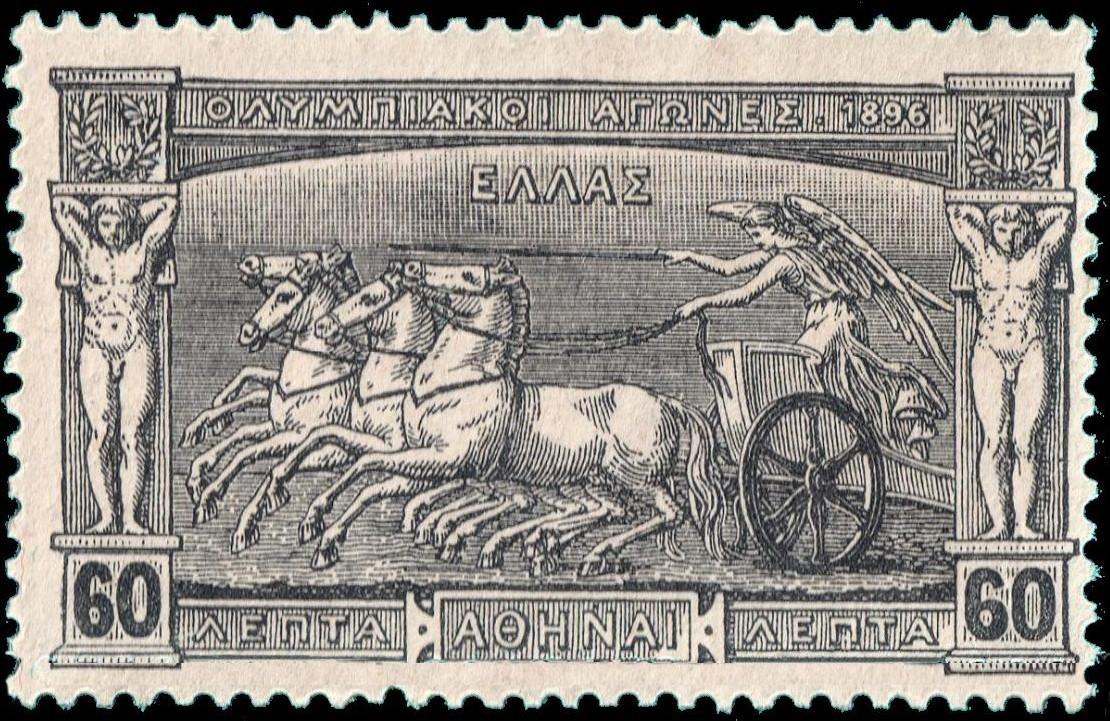 They are so similar that I thought at first they might have been printed from the same dies, but on closer examination I see differences.
One can see as well that the 1908 BOC cinderella was also based on that 1896 Greek stamp, though somewhat crudely - the figures on the sides are squat and angry-looking, and no longer nude - Victorian prudishness.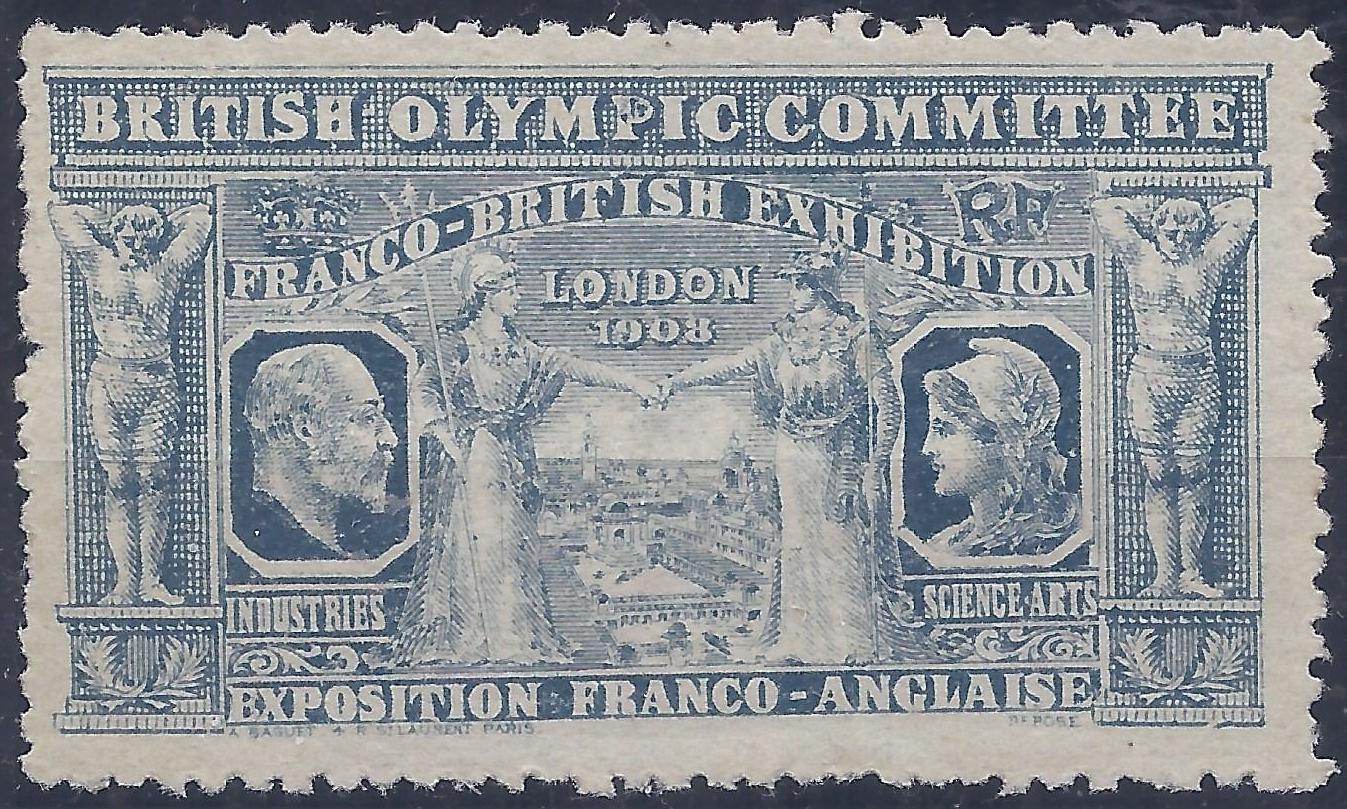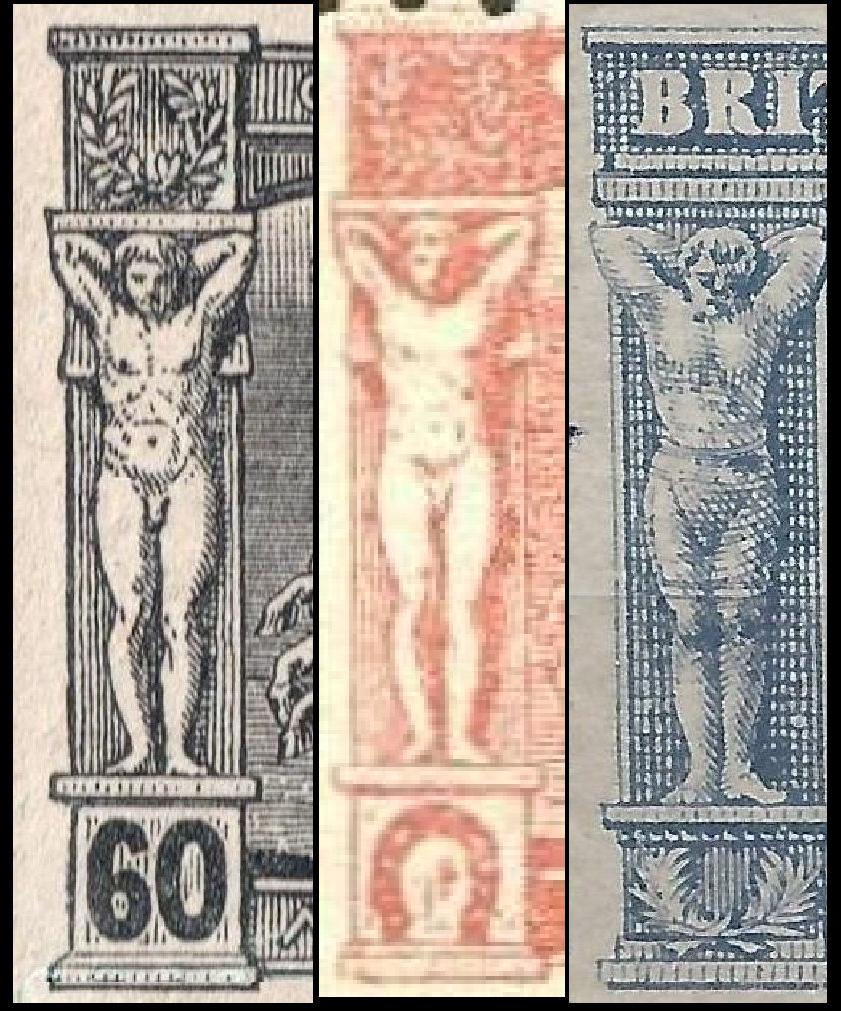 So I think the eBay seller had all of that in mind when he wrote his item's description. Whether one should include that 1907 label in a collection of Olympic poster stamps is a matter of personal choice.
ERRONEOUS LISTING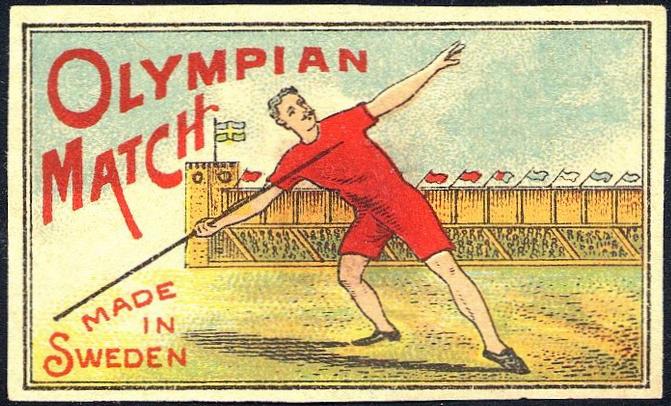 Matchbox label
#1908-9
DuBois Listing:
A Swedish Matchbox Label:
9. "OLYMPIAN MATCH" at upper left; "MADE IN SWEDEN" at lower left. Vignette: an athlete about to throw a Javelin, a stadium in the background with the flag of Sweden flying and other flags below. 55.5x32mm, multicolored, texts & athlete's suit are red ...................... Rare
Label 1908-9 belongs on the 1912 page, the Stockholm Olympics of 1912, so I have added it there.
Why DuBois listed this as a 1908 label I cannot say - perhaps he was relying on an older catalog, and did not think to question it. The stadium pictured is clearly the Stockholm Olympic Stadium, built specifically for the 1912 Games, and opened in 1912. But DuBois didn't have the www and Google to help him, did he?


Thanks to French collector Philippe Pavard for pointing out this error.
AN INTERESTING COMPARISON
This has nothing to do with poster stamps - the topic of these pages - but I found the image amusing.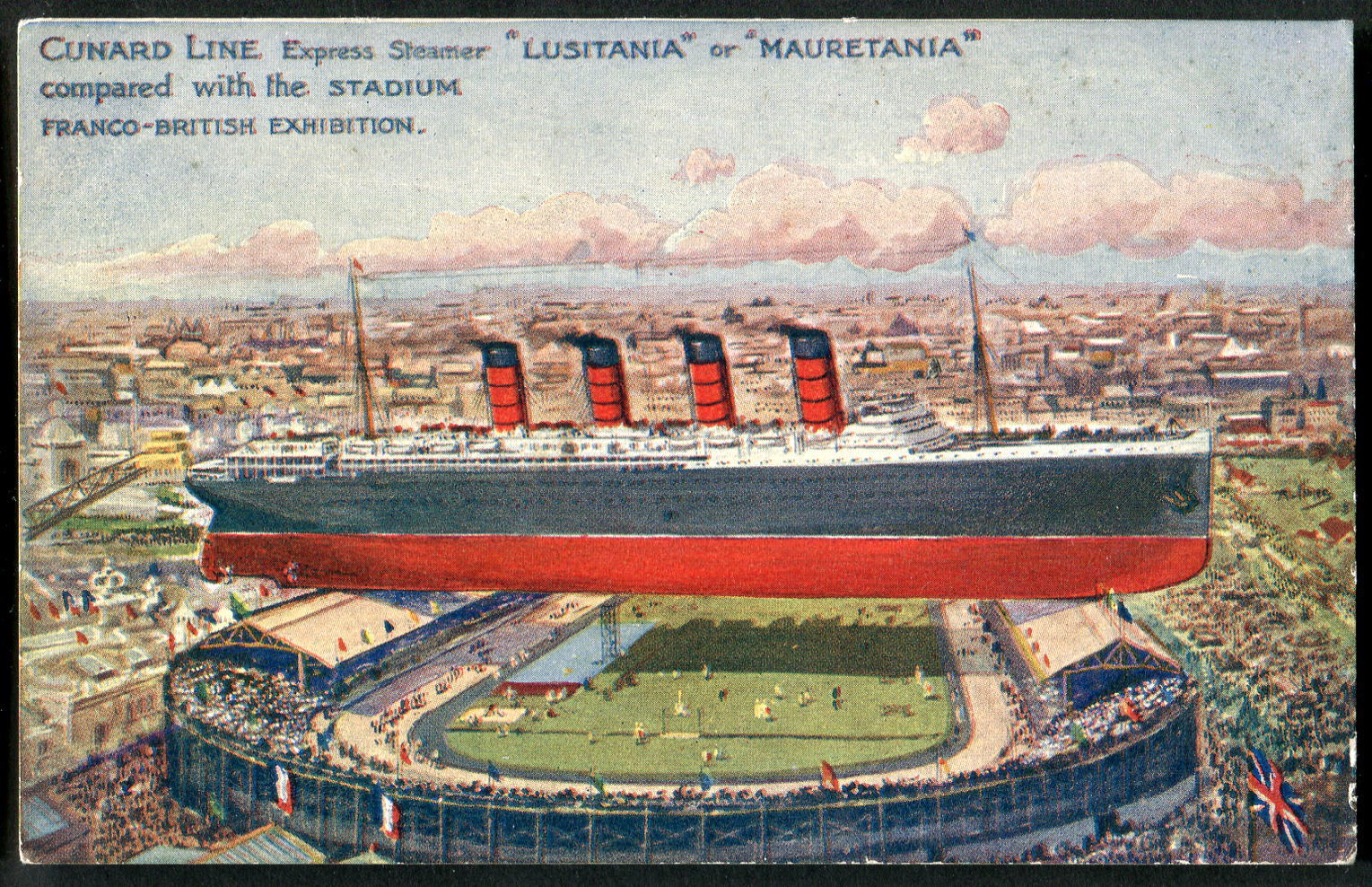 Postcard showing
CUNARD LINE Express Steamer "LUSITANIA" or "MAURETANIA" compared with STADIUM FRANCO-BRITISH EXHIBITION.
That must have been quite a flood!
The strange contraption at far left that looks like a giant building crane was one of the attractions of the amusement area of the Exhibition, it raised groups of spectators into the air for a birds-eye view of the area. It was called The Flip-Flap, and was quite popular. Here's a better view: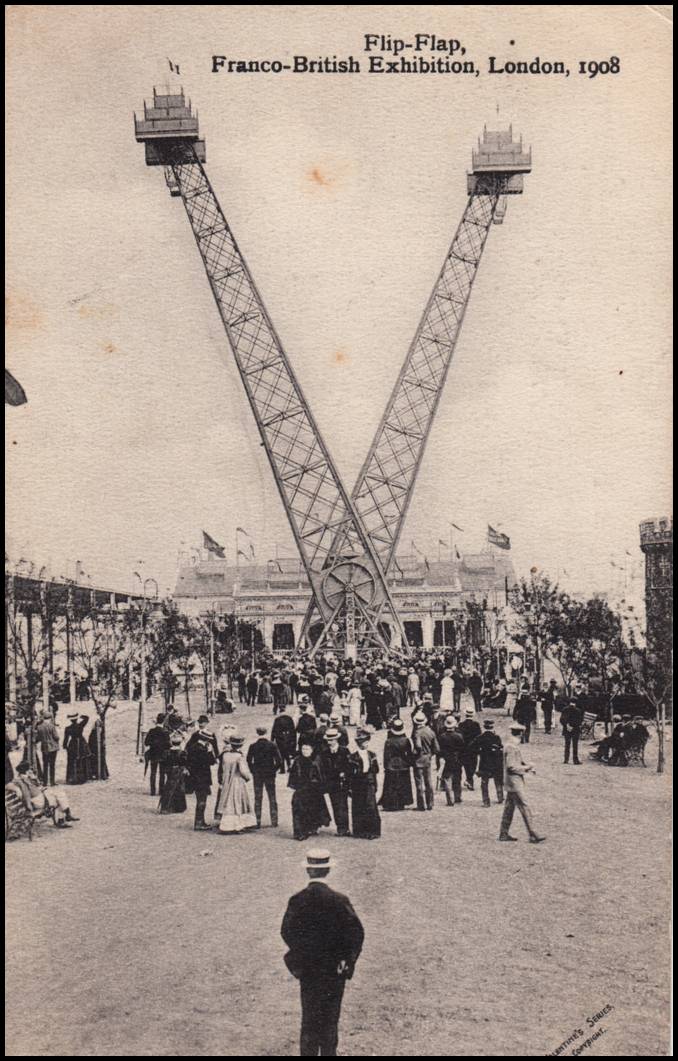 What they said about it
Finally, I enjoyed the following contemporary comments about these Games in a publication called "The Franco-British Exhibition - Illustrated Review - 1908" - available on the Internet Archive.
Turning to the lighter side we find again the note of novelty prevailing.

The principal features were, of course, the great Stadium and the Olympic Games, both entirely new to the British public. The Stadium is truly a great structure, on the heroic scale ; too great, indeed, to serve the purpose of a single season only ; it is surely a permanent possession.

The games excited the utmost popular interest and drew vast crowds. It is unfortunate that they were the occasion of incidents, which left a disagreeable taste in the mouth and raised doubts whether international unity is really promoted by such contests. It is certain that if competitors carry their own rules about with them and cannot stand being beaten the result is more likely to be enmity. But the Exhibition was in no wise to blame for that.

The other amusements formed a standing attraction which seemed to be appreciated to the utmost. They were all selected on the principle of being entirely new to London. One of them, the great Flip-Flap, is absolutely new ; it was the invention of Mr. Kiralfy, the inspiration of a happy moment, and was constructed for the occasion. After some initial difficulties it had a triumphant career. Not less the Scenic Railway and the Canadian toboggan. I confess to being a little hazy about these great devices, never having had time to take a turn on them m'self, but whenever one passed near them they were always crowded with passengers, and the noise they made was incessant and terrific.
Somewhat mysterious - more about controversies during the 1908 Games HERE, HERE, and HERE.