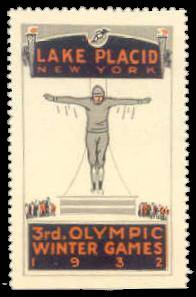 #1932-W-5
DuBois listing:
5. "LAKE PLACID NEW YORK" above; "3rd. OLYMPIC WINTER GAMES 1932" below. Vignette: a ski jumper at take-off(front view); spectators at both sides, above lower text panel; torches at both sides of upper text panel. 28x47mm, perf 12. black, gray & orange ... $20.00
Sheets of 10(5x2), SE4S, thus all labels have 1 or 2 str. edges.
( CLICK HERE for a B&W image of a full pane of 10, from SPI's catalogue of the 1932 FDCs and vignettes.)

---
DuBois listing:
6. A rectangular label, horizontal:
"A.S.B.T. / S.S.S.V." at lower left; Olympic rings(inverted) "1932" at lower right; Swiss coat of arms at upper left; a bob-sled, in action, on race course in center; double-lined border.
46x32mm, perf 11, multicolored
A.S.B.T. = Association Suisse de Bobsleigh, Tobogganing et Skeleton
S.S.S.V. = Schweizer Schlittensport-Verband = Swiss Luge Association
NOT IN DUBOIS
Is this a seal or an imprint?


#1932W-x1
This was on the image of a First Day Cover on the www, and could be a cachet, but it looks like an embossed foil seal.
Text reads "III OLYMPIC WINTER GAMES" across the top, and "LAKE PLACID 1932" at the bottom.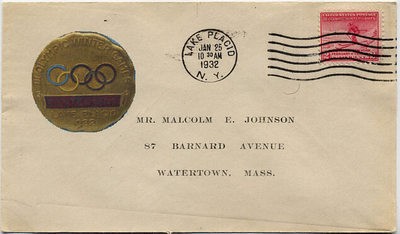 CAN ANYONE SUPPLY MORE INFORMATION ABOUT THIS?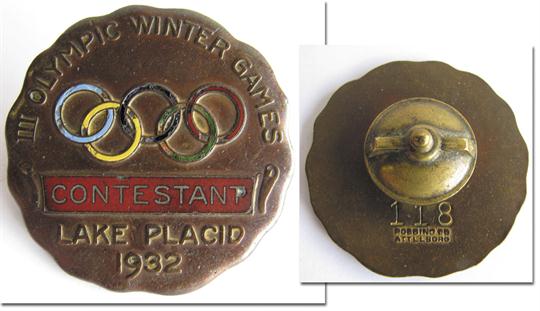 10/26/16 - I found this image of the Contestant's badge - same design.
8/19/19 - I found an ebay listing for an identical cover, title = "GOLD MEDAL CACHET" - so I think that answers the question - this is NOT a label or seal.
NOT IN DUBOIS
Is this a seal or an imprint?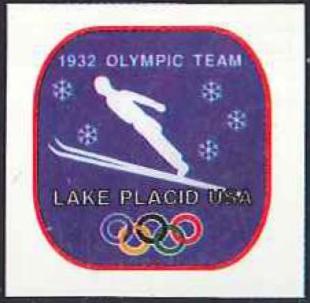 #1932W-x2
1932 OLYMPIC TEAM
LAKE PLACID USA
Vignette: a rounded square,
thin red border,
ski jumper in flight against blue background,
white snowflakes, multicolored Olympic rings
22.5x22.5mm
From a Feldman auction - see image below.
This could be a cutout.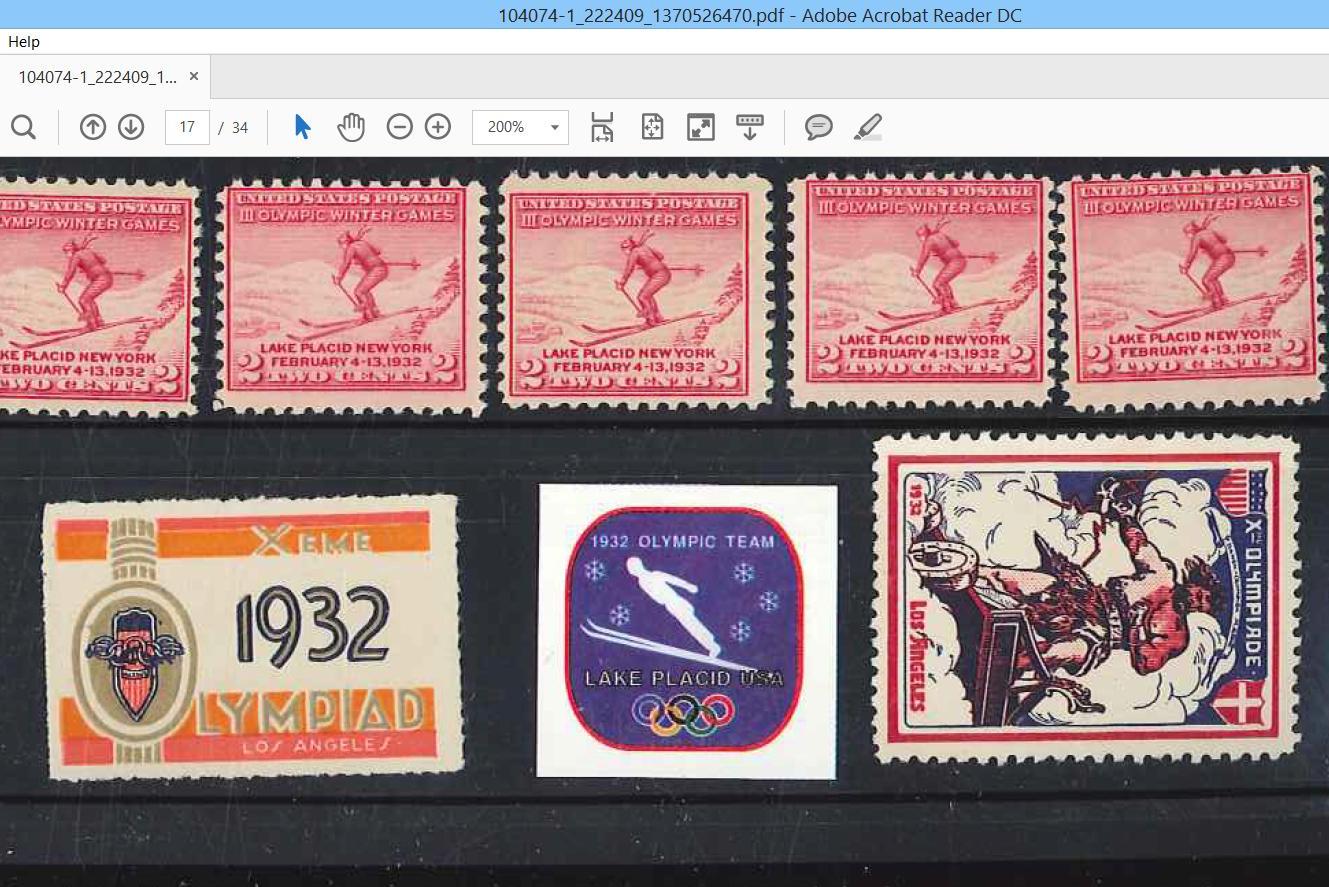 Philippe Pavard supplied the image below, of this item on a cover - again, it looks odd - the lack of any sort of perforations, and the appearance of scissor marks, suggest it could be a cutout.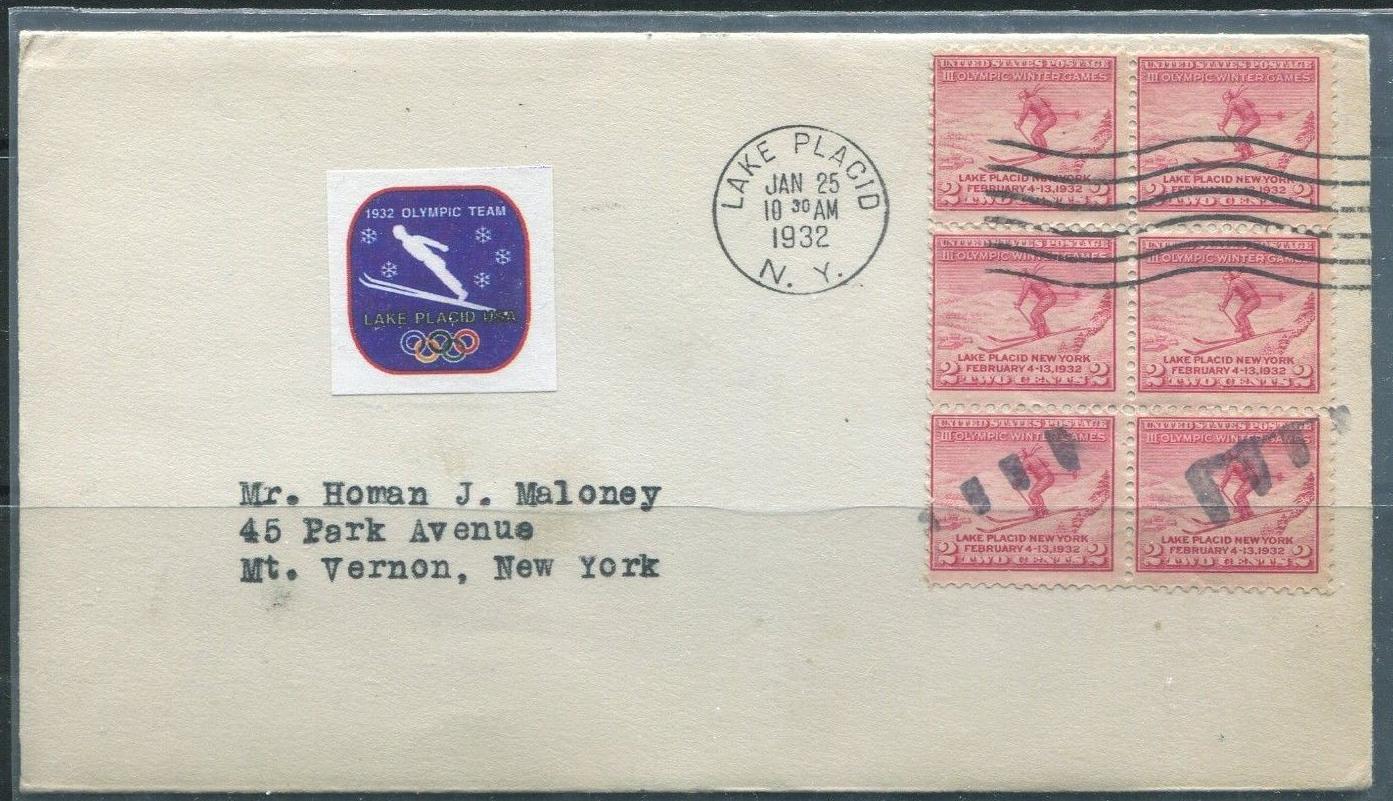 10/21/16 - the owner wrote: ...it is impossible to peel the label off with cold or warm water - in my opinion a cutout, with modern glue.
I did a Google Image Search for the design, and found that it was used for the US team badge for the 1932 Winter Games - image below-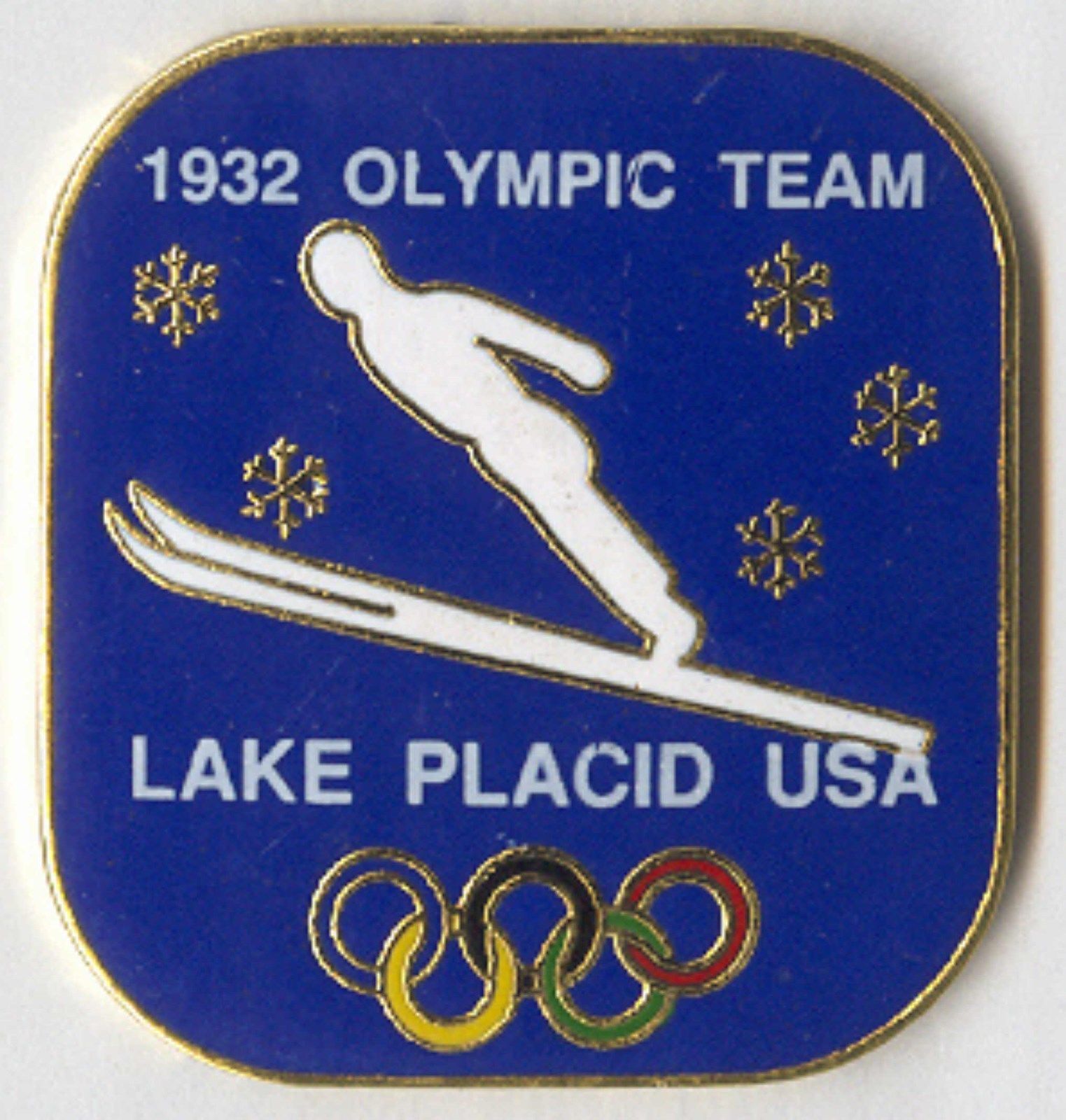 NOT IN DUBOIS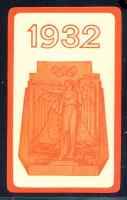 1932-W-x3
"1932" with Olympic rings and (winged?) female figure in Greek robe on a plaque or urn.
(Image courtesy of the Olympic Games Museum.)
The source says this is a label (vignette), but I have not seen it in that form. It does have the Olympic rings. The same design is stamped in gold on the cover of the official report on the 1932 Lake Placid Winter Games: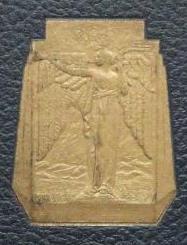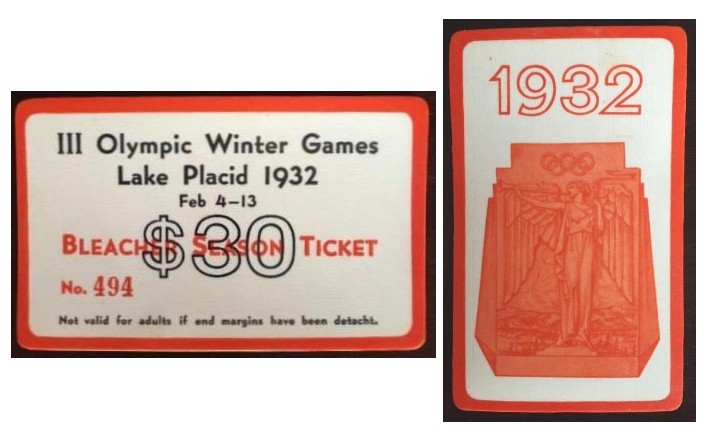 And it turns out this was one of the official logos of the 1932 Winter Games, used on medals and tickets. I think 1932-x1 is the back side of a laminated plastic Bleacher Season Ticket, not a label or vignette - 2nd image.
BELOW: More tickets, and a Contestant's Medal.