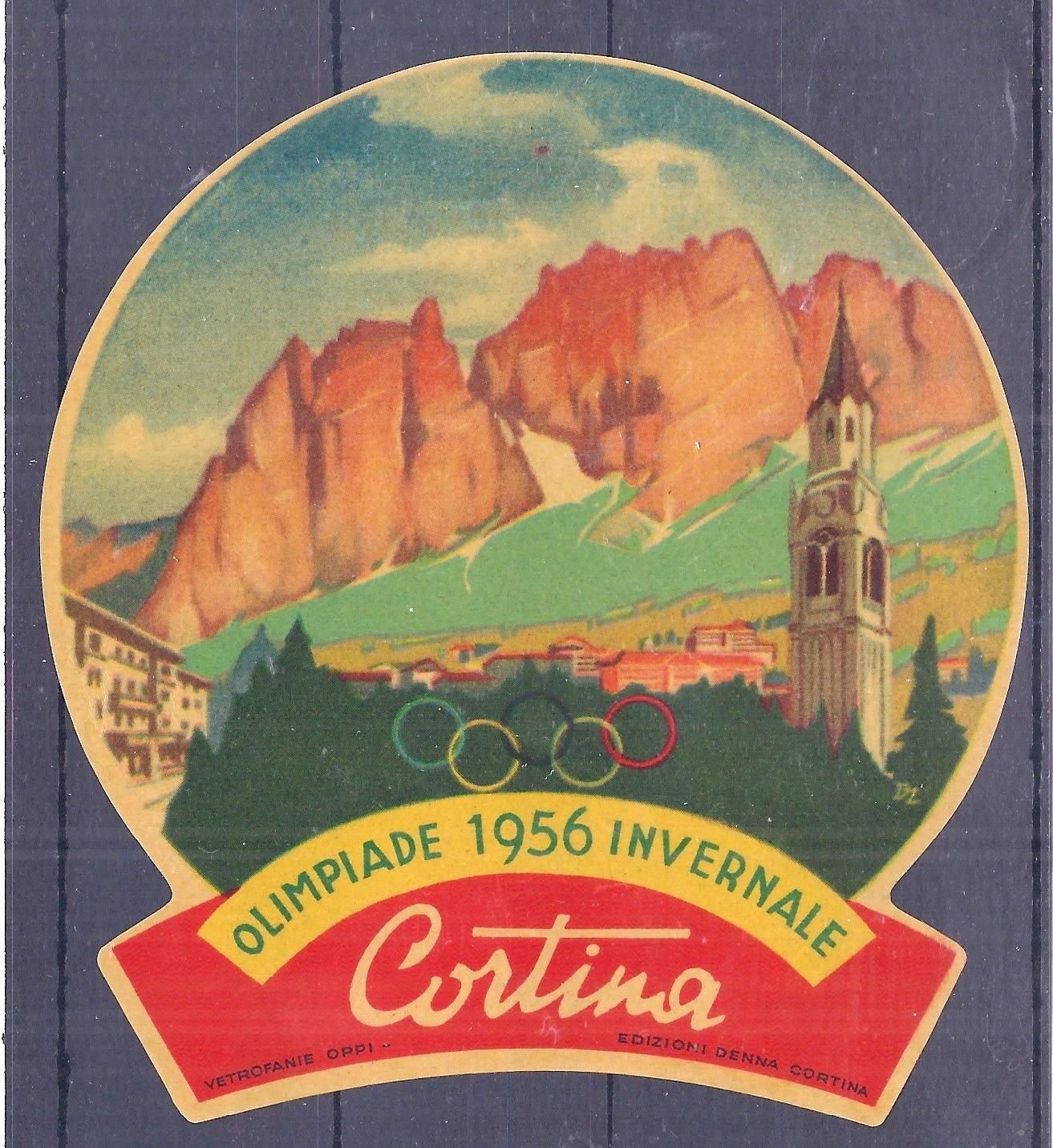 #1956-W-x1
A decal, multicolored, "OLIMPIADE 1956 INVERNIALE CORTINA" -
in small type at bottom "Vetrofanie Oppi. Edizioni Denna Cortina"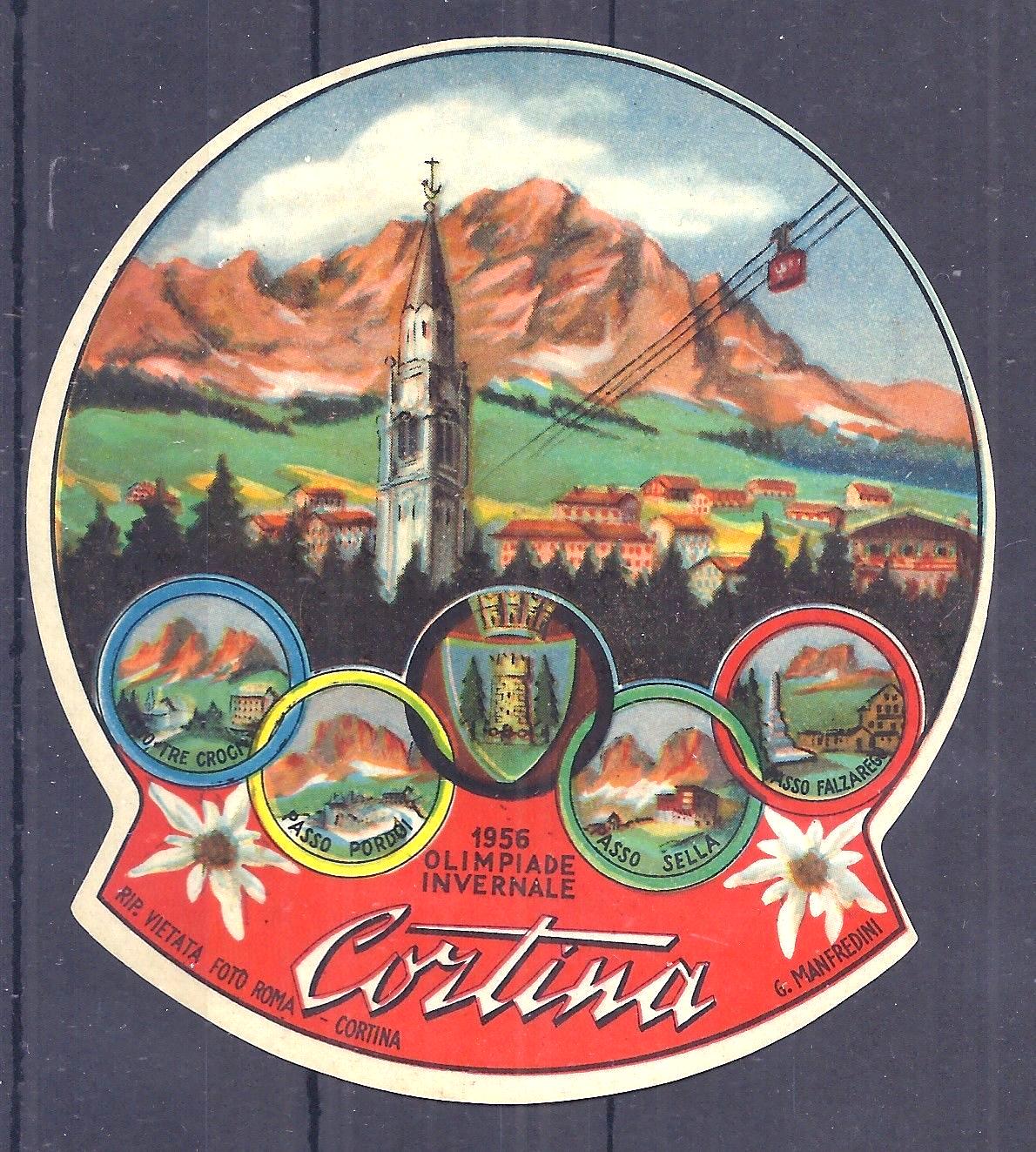 #1956-W-x2
A decal, multicolored, "1956 OLIMPIADE INVERNALE CORTINA"
tiny named views inset in the rings, artist and printer names at bottom.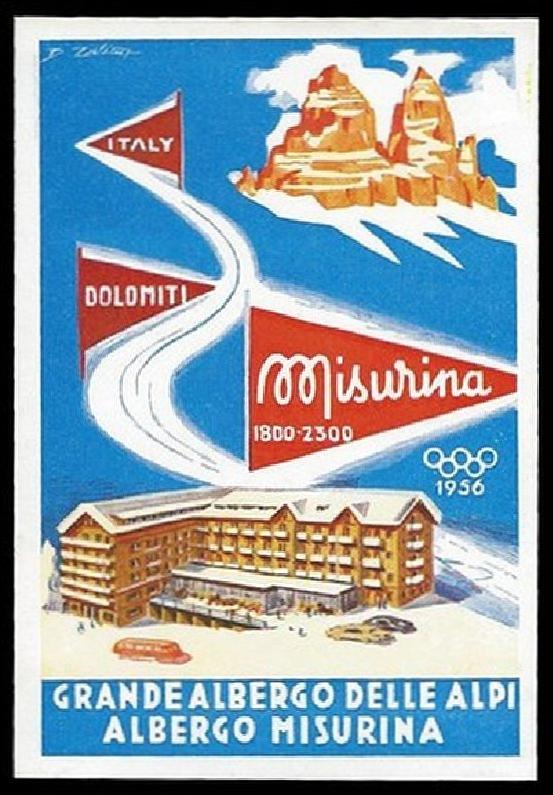 #1956-W-x3
A hotel label, light blue background, red and orange design,
"ITALY DOLOMITI Misurina - 1800-2300 "
Olympics rings and "1956"
"GRANDE ALBERGO DELLE ALPI ALBERGO MISURINA"
06/16/2020 - I thought this was a postcard, but Philippe Pavard now owns a copy, and tells us it is a gummed label - Overall: 87x127 mm, Image: 79x119 mm
THANKS, PHILIPPE!

#1956-W-x4
A set of four Ukrainian Exile Underground Post labels (from an eBay auction, seller says they were issued for 1956 Winter Games, I was able to confirm that HERE - top of page 233)

Rectangular label, border text:
Плекайте український вільний спорт
підпільна пошта українська
Plekayte ukrayins'kyy vil'nyy sport
pidpil'na poshta ukrayins'ka
Make Ukrainian Sport Free
Ukrainian Underground Mail
Vignette in center, downhill skiier, denomination in red at lower left
Colors (border, then vignette): 10 = grey & pale blue, 20 = red & pale blue, 30 = slate & pale orange, 40 = violet & grey.