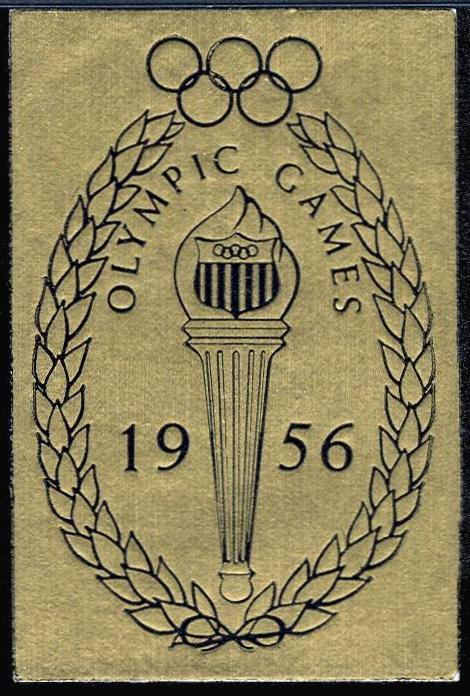 #1956-29
29. A large oval-shaped laurel wreath, Olympic rings above, closing the upper end of the wreath; within the wreath, at the upper sides: "OLYMPIC GAMES"; In the center, between 19 & 56, a torch with the U.S.A. Olympic coat of arms adorning the flame. 35x53mm, imperf, black imprinted into gold background ... $5.00
Why is the next entry numbered 29 as well? DuBois does not mention it, so he may have inherited it from a prior catalog.

#1956-29a,b,c,d

29a thru d. "ATENI 1896" at top left; six runners directly beneath; then a torch (at Athens, the starting city) and the Athens to Melbourne route, with the localities located between the two terminal cities denoted, "CAIRO, KARAKI, CALCUTTA, SINGAPORE, DJAKARTA, DARWIN, CAIRNS, BRISBARNE (Brisbane misspelled), SYDNEY, CANBERRA"; then, below: "LX ANNIVERSAIRE DES JEUX OLIMPYQUES ENTE PROVINCIALE TURISMO CATANIA LA CITTA DELL'ETNA (ITALY)" - at lower right: a runner with a torch; at bottom right: "MELBOURNE 1956" A line border around whole label. 44x65mm, perf 11.5

a) brown on light green
b) brown on light blue
c) brown on chamois
d) brown on light gray
... $3.00 each
All colors exist imperf ... Rare

Proofs are known.

Sheet format: Block of four (2x2), PM4S, perfs pass through selvage ... $15.00 sh.

Are there five colors?
30. "ATHEN-MELBOURNE" at bottom; vignette, above text: an Olympic ring-adorned torch between two olive branches and "1896" & "1956". Several one-colored designs on 3 colors of paper. 42x35mm (6lx4lmm overall), perf 11.

Ink colors: red, green, dark gray, light brown, light bistre, light green & black, on the following colors of paper: light turquoise-green, rose-pink, & light buff ... $1.OO each

Imperf pairs, 2 design colors on same paper ... $4.00 pr

Note: See label No.45 for a listing similar to No. 30.

---

The ink colors DuBois lists do not agree with the examples I have seen, which include nine ink colors, as follows (as seen on the sheetlets at left, starting with top left stamp, across then down): brown-1, red, brown-2, black, green, black, grey, orange, brown-3, blue-gray. Those are imprecise terms, but you get the idea. I think he thought there were two shades of green because of the papers. And it's clear he had not seen a complete sheetlet.