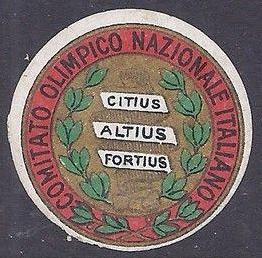 #1924-7
DuBois listing:
7. Italian Issue: "COMITATO OLIMPICO NAZIONALE ITALIANO" inscribed on a wide circle frame, on a red background; Vignette, with gold background: a wreath around a white ribbon on which is inscribed "CITIUS ALTIUS FORTIUS" - all lettering black; a thin, white border around edge. 26mm. diameter, imperf.
a)red frame ....... $15.00
b)carmine frame ... $20.00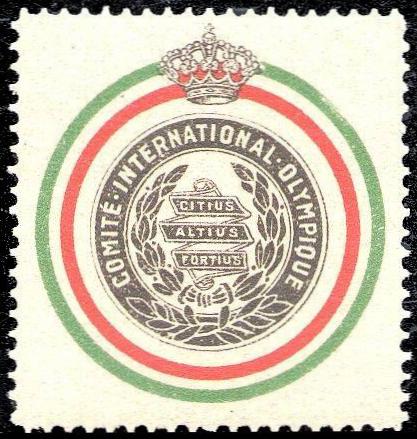 #1924-8
DuBois listing:
8. French Issue: Similar to No.7 but vignette is all black and inscription now reads "COMITE INTERNATIONAL OLYMPIQUE" wholly surrounded by a red, white & green circular frame with a crown at the top. 29mm square, perf 11.5 ... $20.00
Note: The motto, "CITIUS-ALTIUS-FORTIUS" which occurs on labels 7 and 8, above, means "Swifter-Higher-Stronger." This motto occurs on labels of the 1932 - Los Angeles Games, on a ribbon which intertwines around the Olympic rings
(see Nos.2,3,6,7,40,61,70 & 71 of that section).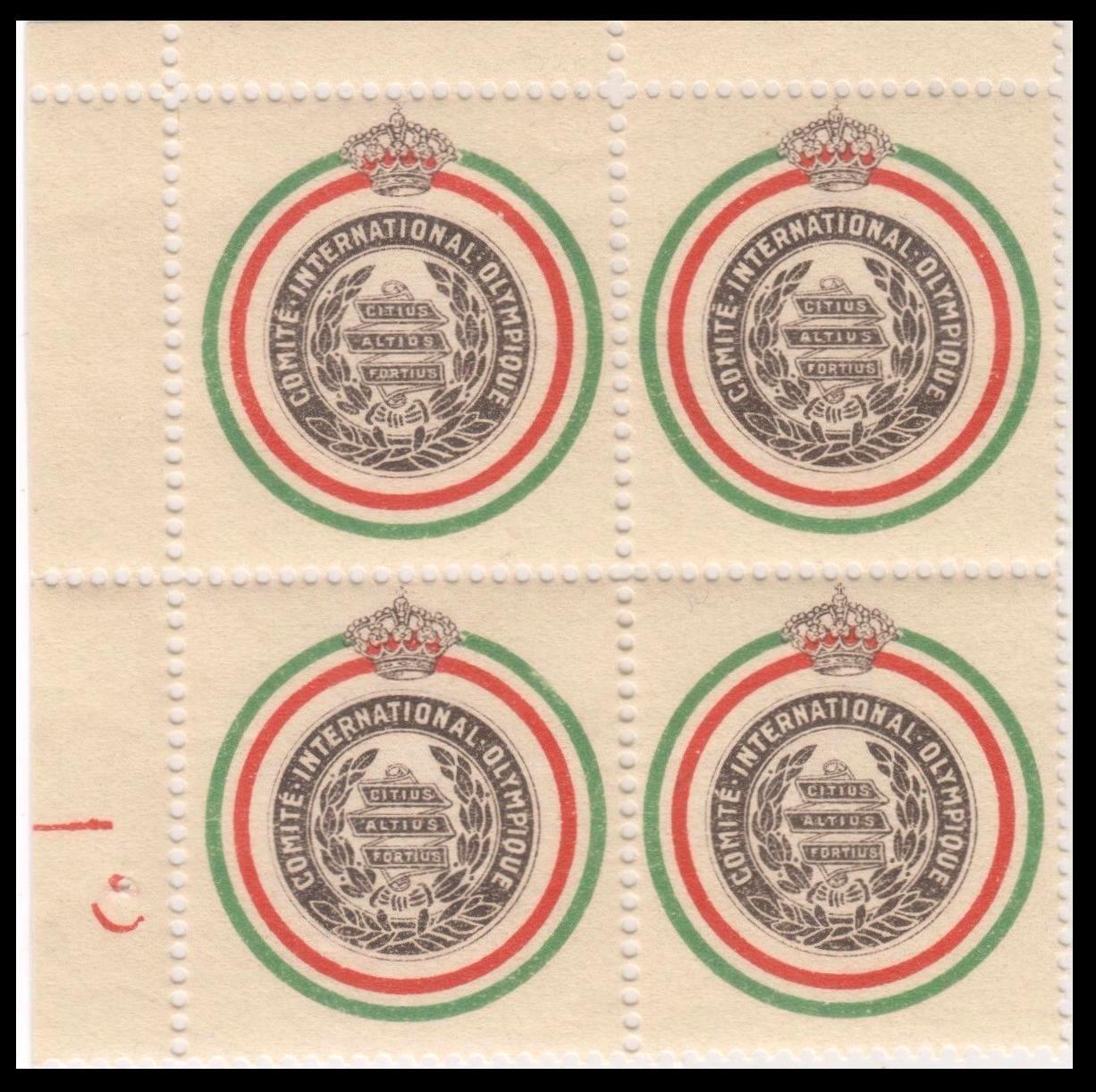 According to Wikipedia:
The Olympic motto is the hendiatris "Citius, Altius, Fortius" which is Latin for "Faster, Higher, Stronger". It was proposed by Pierre de Coubertin upon the creation of the International Olympic Committee in 1894.
Coubertin borrowed it from his friend Henri Didon, a Dominican priest who was an athletics enthusiast.
Coubertin said "These three words represent a programme of moral beauty. The aesthetics of sport are intangible." The motto was introduced in 1924 at the Olympic Games in Paris. A more informal but well known motto, also introduced by Coubertin, is "The most important thing is not to win but to take part!" Coubertin got this motto from a sermon by the Bishop of Pennsylvania during the 1908 London Games.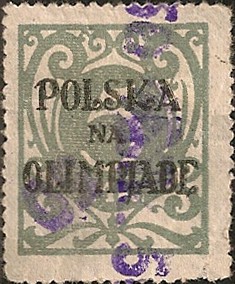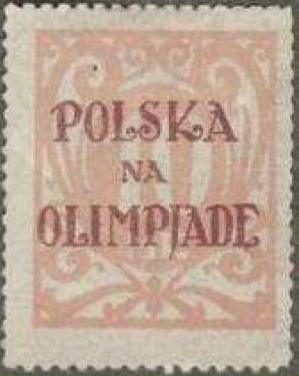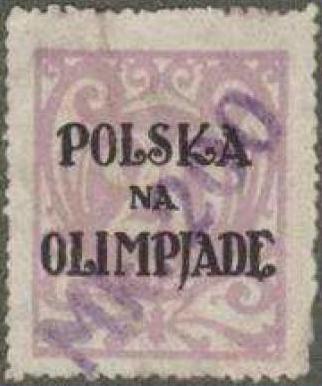 Polish Fund labels
#1924-9 thru 12
#1924-12a, 10, & 12c (top) and 1924-12abc (bottom)
Images courtesy of Roman Babut

The basic stamp is an ornamental design with overprint "POLSKA NA OLIMPJADE" in three lines. Denomination (5, 10, or 20) is in large numeral in a central oval.
12a,b,c are 9 thru 11 with purple surcharges.

Following reunification of Poland in 1918, the Polish Olympic Committee was established, and in 1924 Poland sent its first athletes to the Games in Paris. These labels were part of a fund-raising effort by the POC for those Games. The initial printing of 1923 was almost immedistely rendered worthless by the hyperinflation of that year, necessitating the new overprinted valuations. Consequently the unoverprinted labels are much scarcer than the overprinted ones (which are not exactly plentiful). I am told the image of 1924-10 above may be the only surviving example, and that there are no known examples of 1924-9 and 1924-11.

DuBois listing:

9. Polish Fund Label: "POLSKA NA OLIMPIJADE" a black over-print. Vignette: a white "5" in an ornamental background. 24x29mm, perf 11.5, gray ... $30.00
10. Like No. 9 but a white "10" - Overprint is brown, vignette is rose ... $28.00
11. Like No. 9 but a white "20" - Overprint is black, vignette is violet ... Rare

12. Nos. 9, 10 & 11, with violet handstamps of new values:
a) Mk 50 on 9,
b) Mk 100 on 10,
c) Mk 200 on 11 ... All rare