LES JOURNÉES BESSONNEAU
"Bessonneau Days"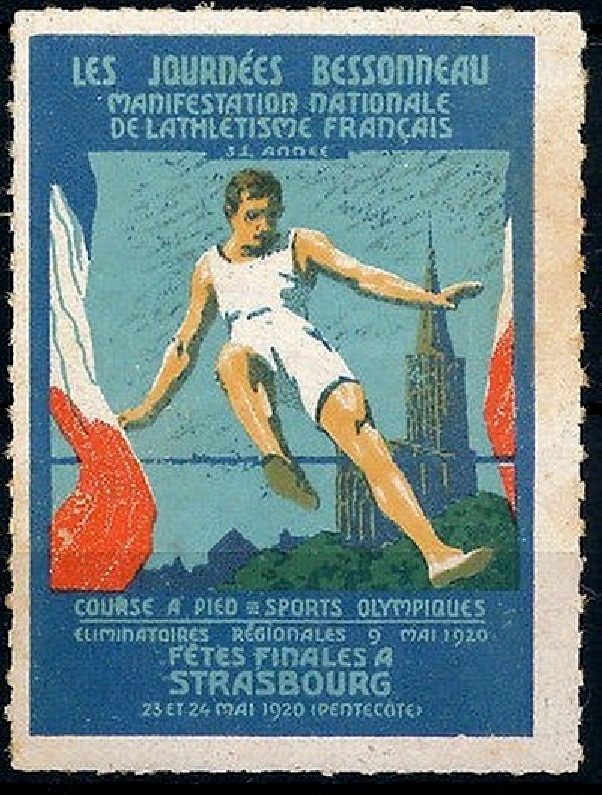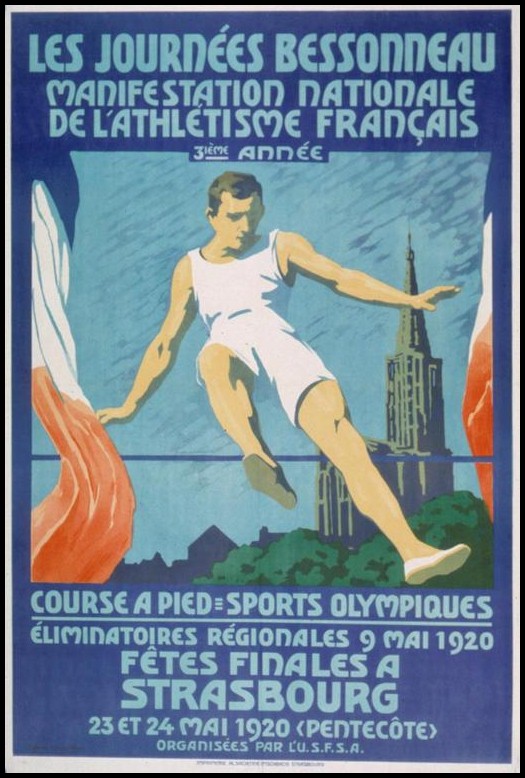 1920-x4
59x45mm overall
Bessonneau Days, 1920
Poster stamp on left, poster on right!
LES JOURNÉES BESSONNEAU
MANIFESTATION NATIONALE
DE L'ATHLÉTISME FRANCAISE
3ème Année
COURSE A PIED - SPORTS OLYMPIQUE
ELIMINATOIRES REGIONALES 9 MAI 1920
FETES FINALES A STRASBOURG 23 ET 24 MAI 1920 (PENTECOTE)
---
Bessonneau Days
National Event
French Athletics
3rd Year
Foot races - Olympic sports
Regional Qualifiers May 9, 1920
Final celebrations in Strasbourg May 23 & 24, 1920
(Pentecost)
"Bessonneau Days" were founded in 1918 by Julien BESSONNEAU, industrialist and deputy of Maine et Loire, to celebrate French athleticism.

Although it was held early enough to have served as trials for the Olympic Games in Antwerp that year, I can find no indication that this event did, so use of the term "Olympic Sports" may have been just generic.

I love it when I can find both a poster and the stamp with the same design, illustrating the reason for the term.

5/1/18 - Below, image of a postcard for the 1921 edition of these games. Again, it says "Sports Olympiques," confirming that the term was used generically.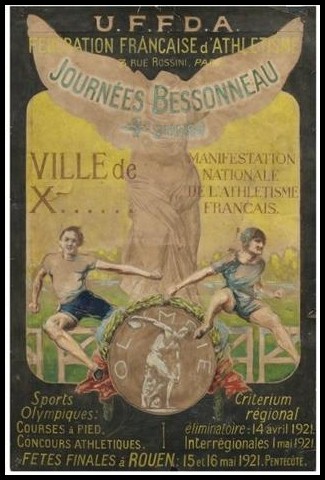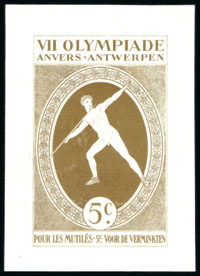 1920-x5
VII OLYMPIADE ANVERS - ANTWERPEN
POUR LES MUTILÉS - 5C - VOOR DE VERMINKTEN

David Feldman auction - June 2016 - Lot #30245
Description:
Unissued charity vignette for the injured. Die proof in brown on carton, with "VII OLYMPIADE" and inscriptions in French and Dutch, depicting Javelin thrower, presumably to raise funds for those injured in WWI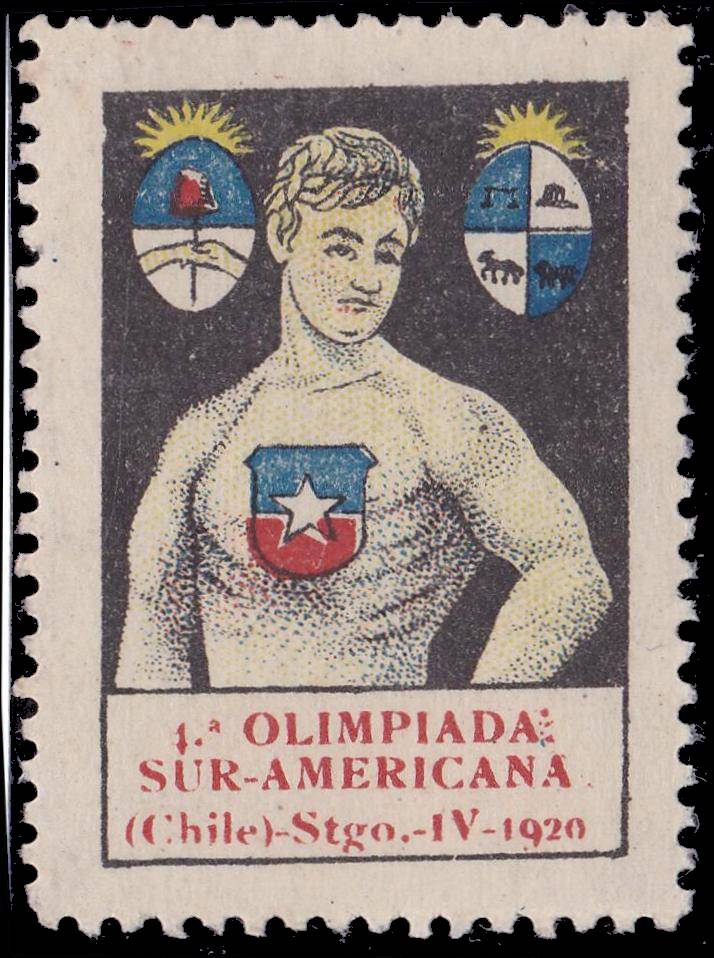 1920-x6
4.a OLIMPIADA SUR-AMERICANA
(Chile)-Stgo.-IV-1920

South American Olympics

Before the 1920's the Olympics were mainly a European and American event. The South American countries held their own Games. In 1920 they held the fourth.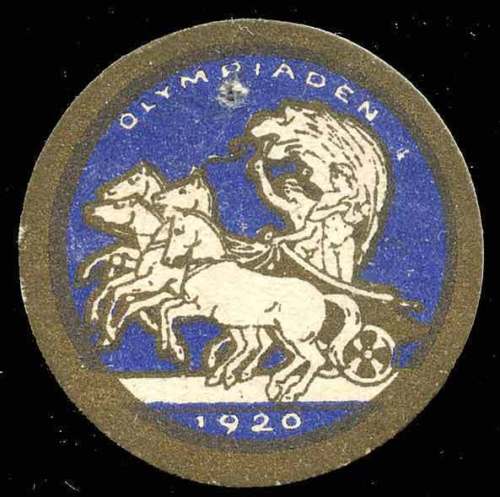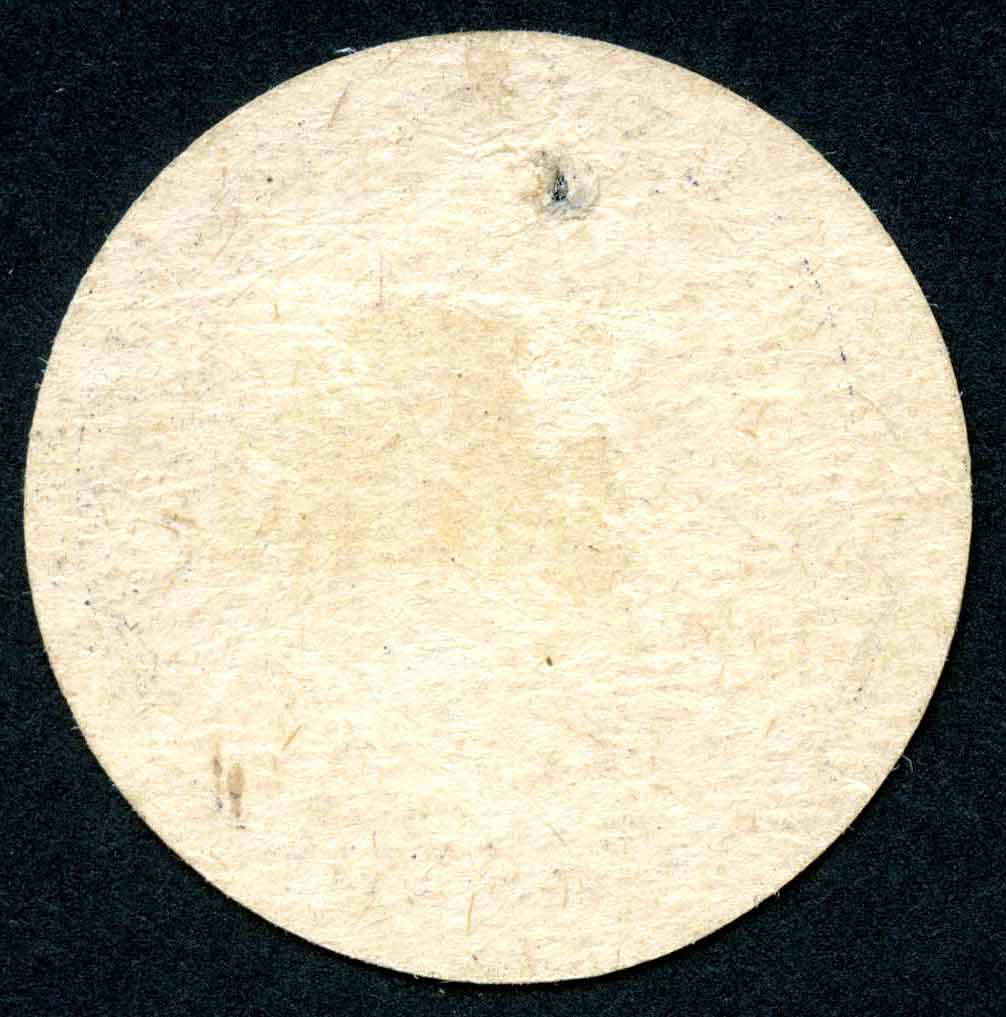 1920-x7
Diameter = 27mm

OLYMPIADEN 1920
Four horses drawing a chariot with two nude male riders,
one carrying torch, the other playing a lyre(?),
brown border and outlining white design on blue background.

1/12/17 - New item from Ray Petersen, aka maerkat on eBay. He notes Small round tag on card stock. Has a small hole near top - perhaps for use as a pinned lapel tag or similar. Approximate Size: 27 mm. diameter = 1 inch.

"Olympiaden" can be Swedish for "Olympiad," Dutch (Flemish) for "Olympiads," or German for "Olympics."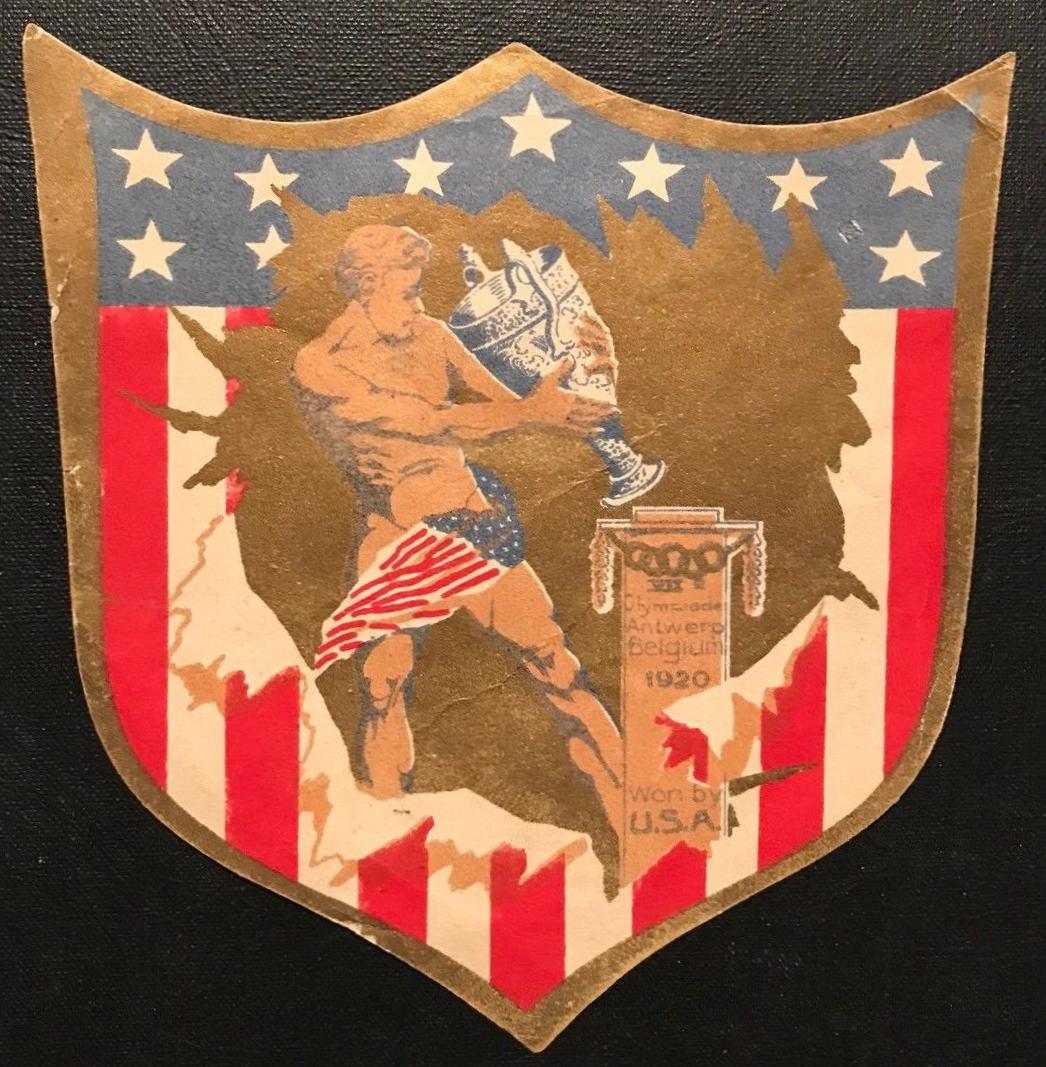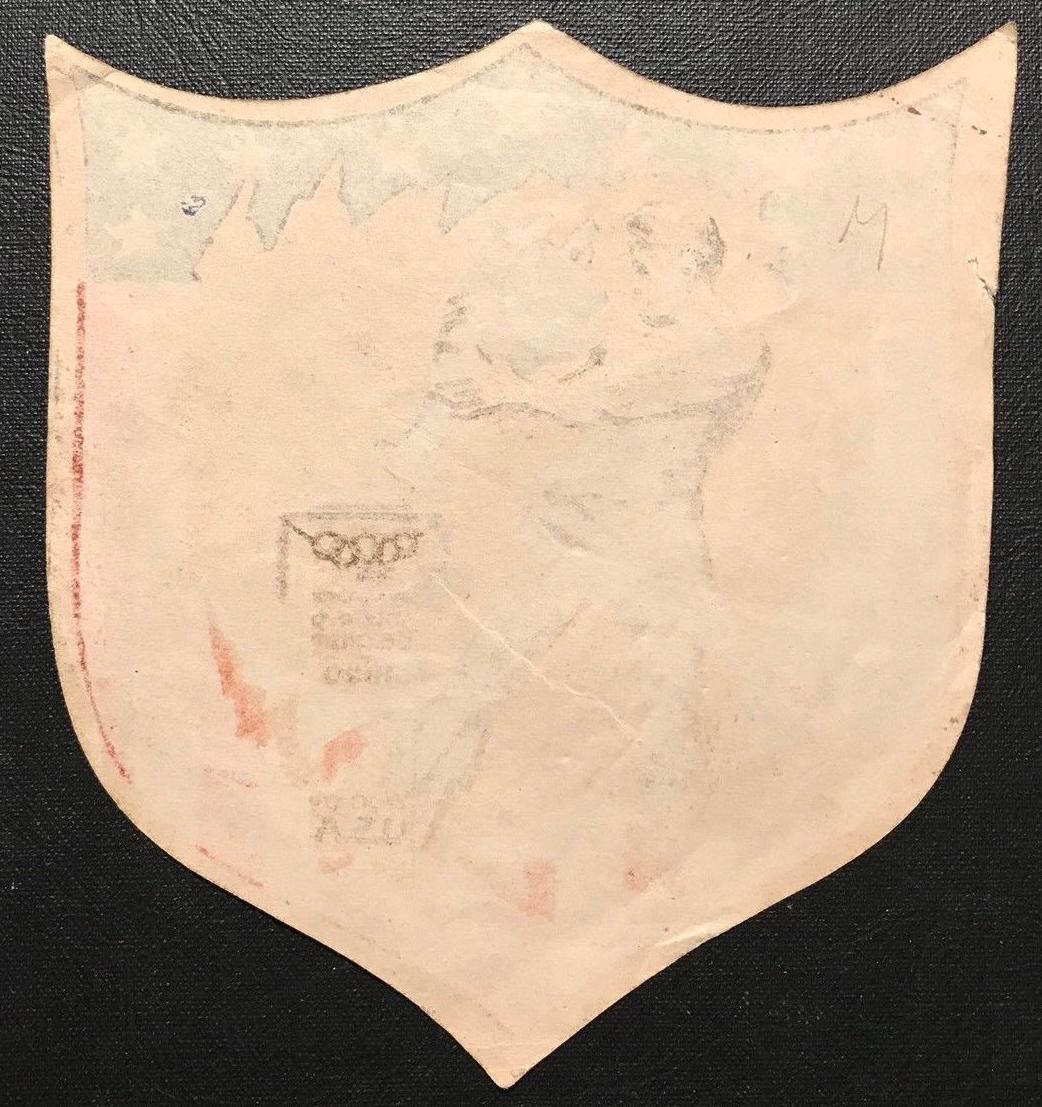 1920-x9

Large die-cut, multi-color shield-shaped label with nude athlete draped with American flag, and holding trophy, next to stand with text "VII Olympiade Antwerp Belgium 1920 - Won by USA". American Olympc shield in background.

Size = 4-1/8" x 4-3/8"

1/8/2018 - this fabulous label just showed up on eBay, seller ID = "gerell" - Can anyone tell me more about it? I assume the text is celebrating US victories at the 1920 Games - the US won more medals than any other country.
5/22/18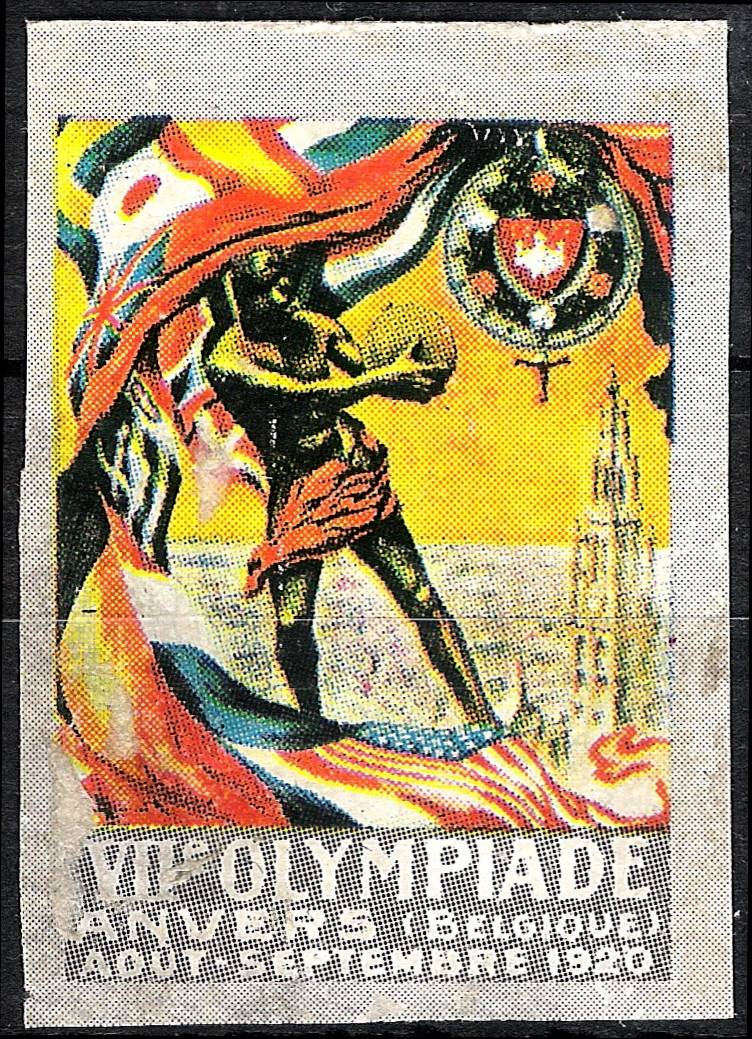 1920-x10
Reproduction of 1920 Antwerp Olympics poster with silver border, on tiny ungummed label
Size: 26x36mm (about 1" by 1.4")
This is small for a matchbox label, though I have seen a few this small. So what is it? The edges are uneven, so it was cut down from something larger. But what?