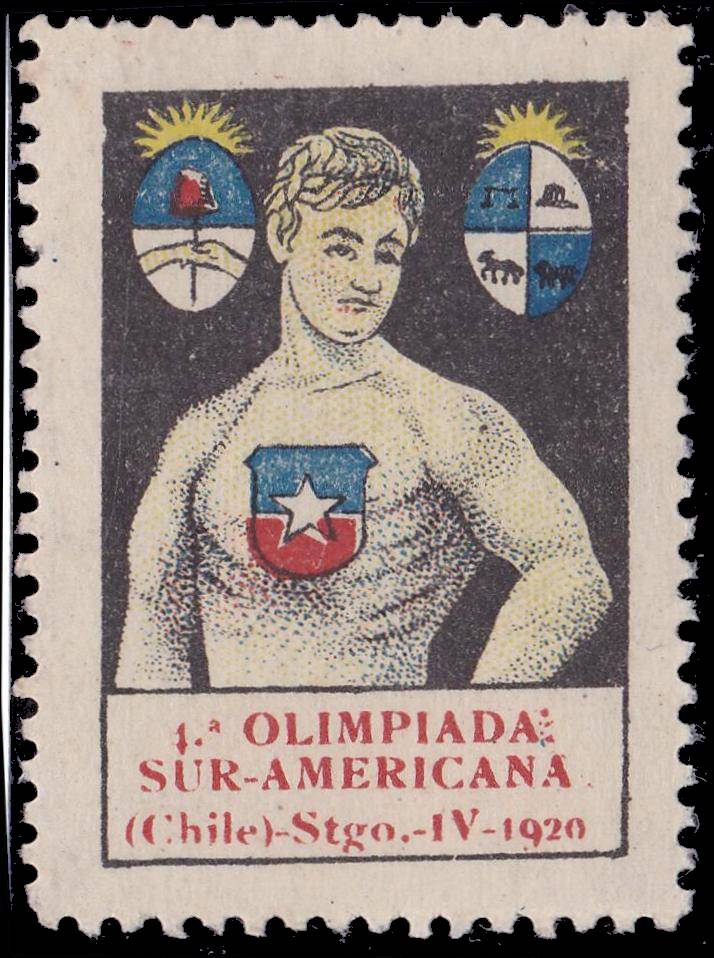 1920-x6
4.a OLIMPIADA SUR-AMERICANA
(Chile)-Stgo.-IV-1920

South American Olympics

Before the 1920's the Olympics were mainly a European and American event. The South American countries held their own Games. In 1920 they held the fourth.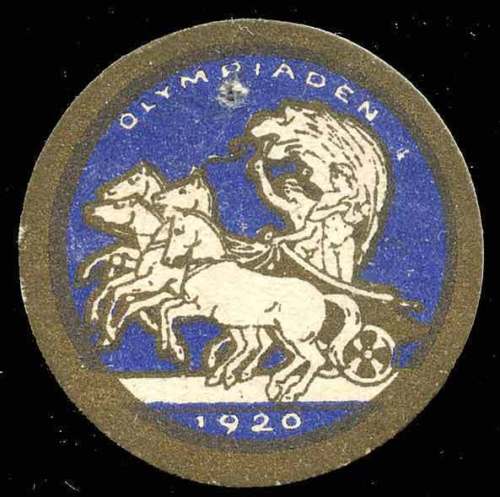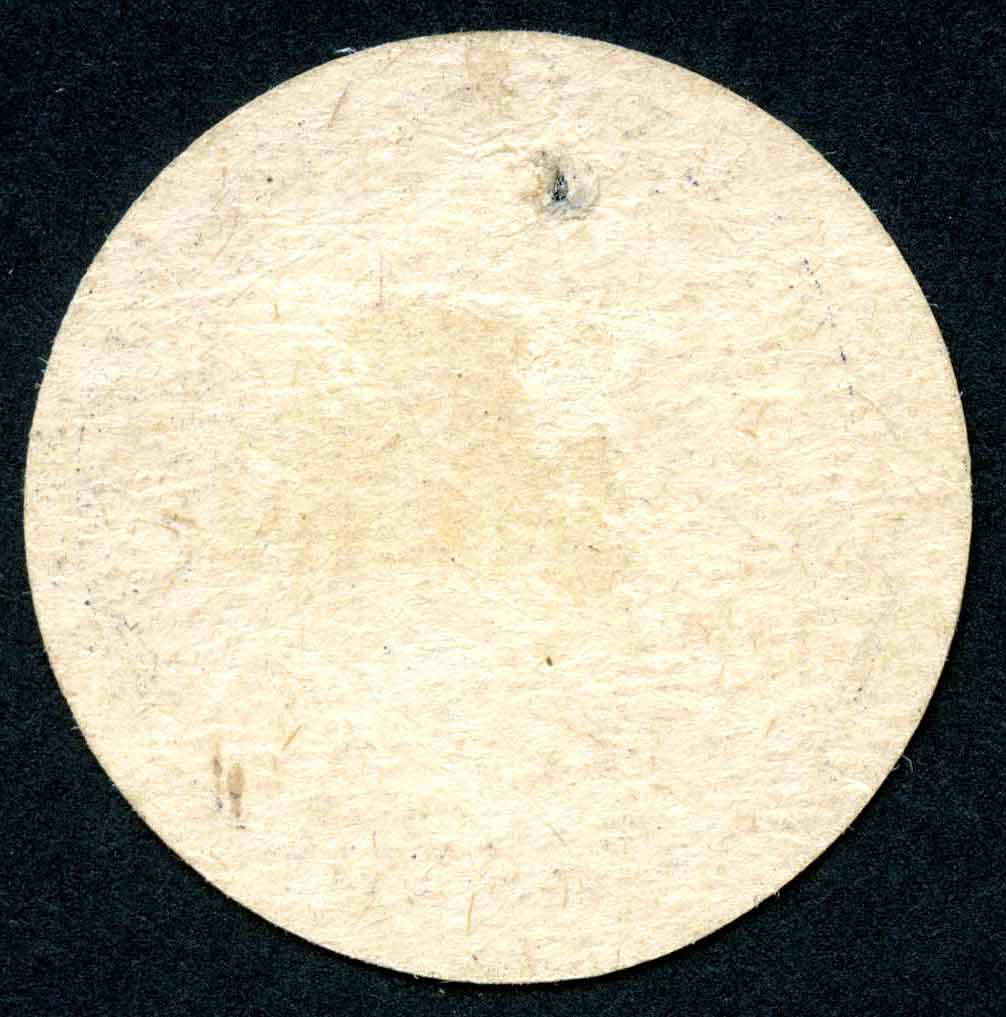 1920-x7
Diameter = 27mm

OLYMPIADEN 1920
Four horses drawing a chariot with two nude male riders,
one carrying torch, the other playing a lyre(?),
brown border and outlining white design on blue background.

1/12/17 - New item from Ray Petersen, aka maerkat on eBay. He notes Small round tag on card stock. Has a small hole near top - perhaps for use as a pinned lapel tag or similar. Approximate Size: 27 mm. diameter = 1 inch.

"Olympiaden" can be Swedish for "Olympiad," Dutch (Flemish) for "Olympiads," or German for "Olympics."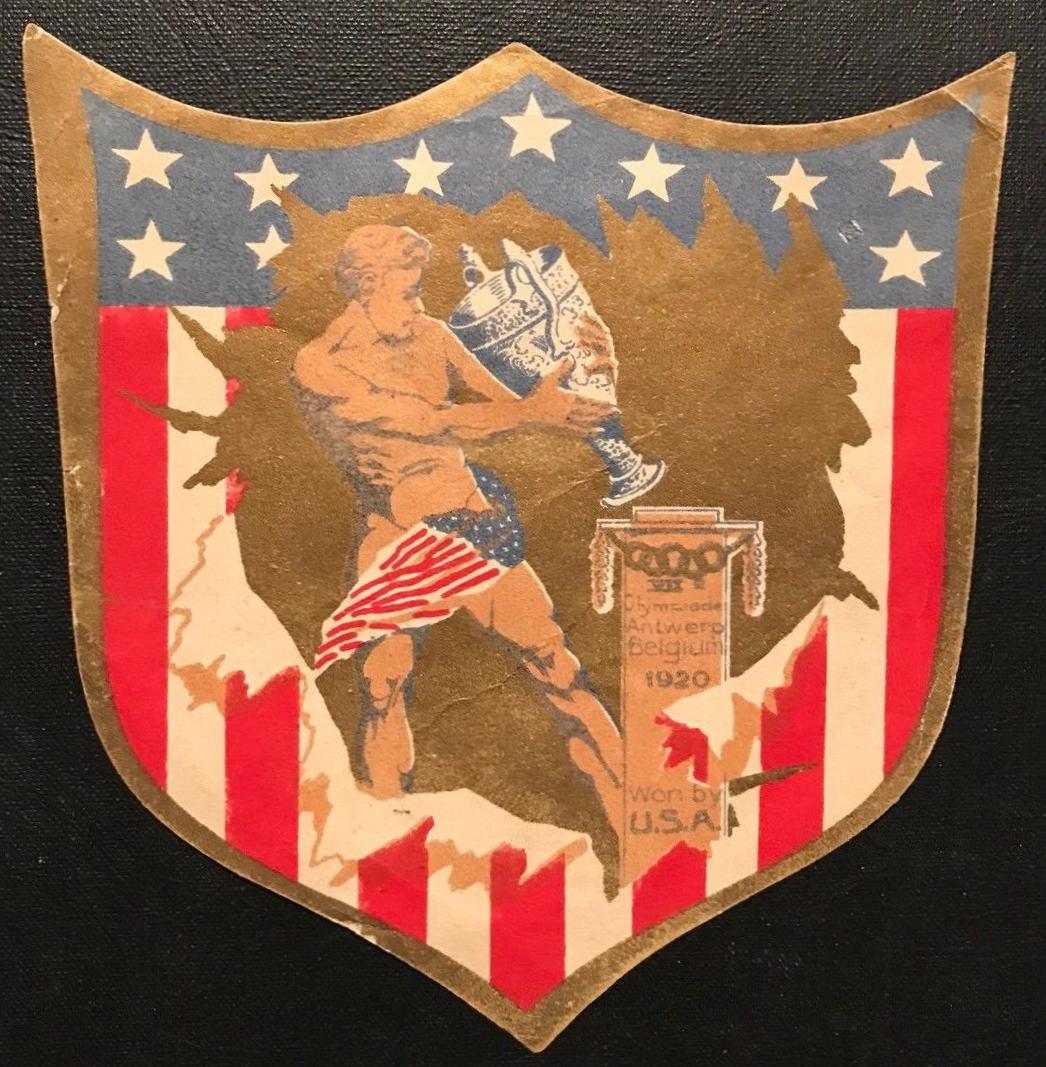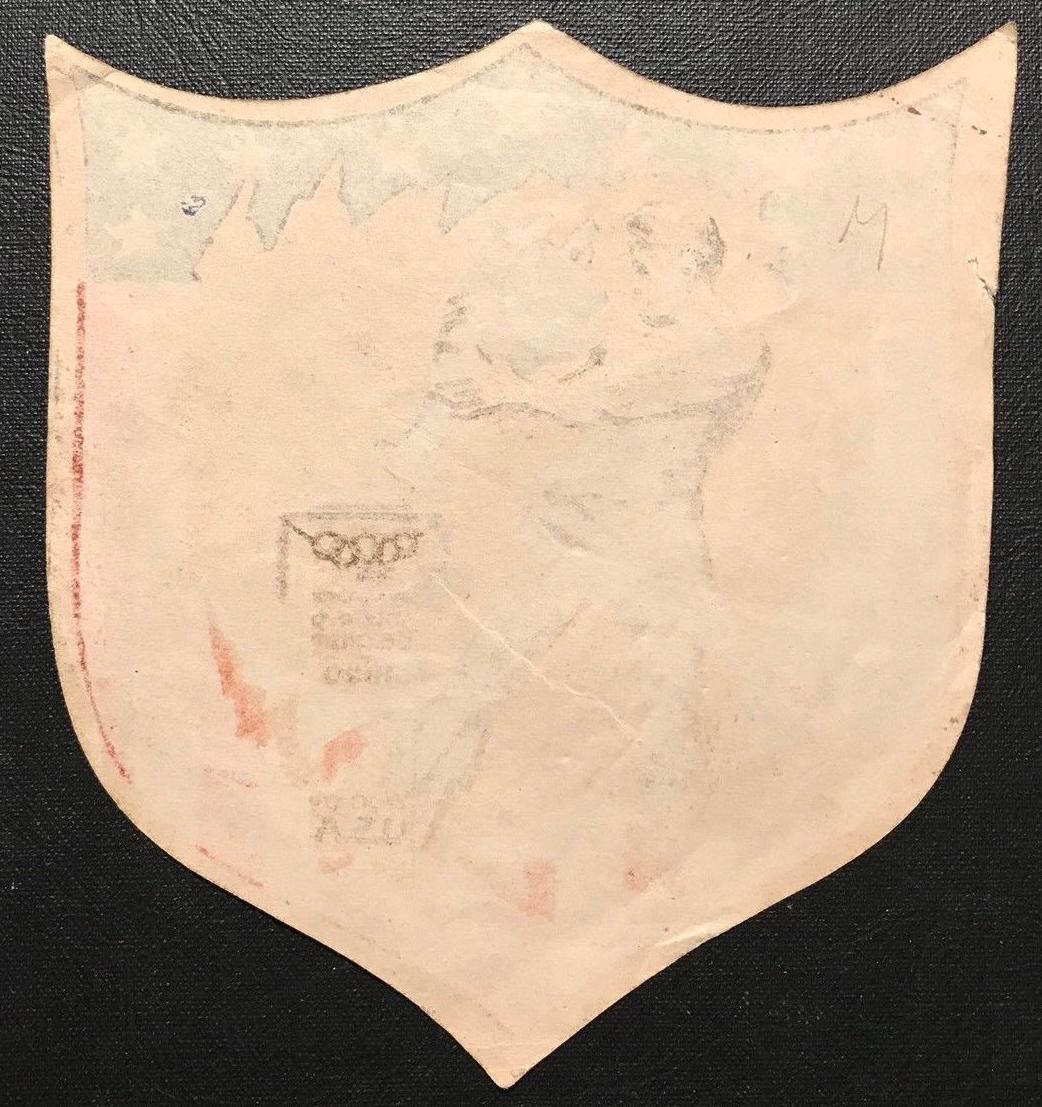 1920-x9

Large die-cut, multi-color shield-shaped label with nude athlete draped with American flag, and holding trophy, next to stand with text "VII Olympiade Antwerp Belgium 1920 - Won by USA". American Olympc shield in background.

Size = 4-1/8" x 4-3/8"

1/8/2018 - this fabulous label just showed up on eBay, seller ID = "gerell" - Can anyone tell me more about it? I assume the text is celebrating US victories at the 1920 Games - the US won more medals than any other country.
5/22/18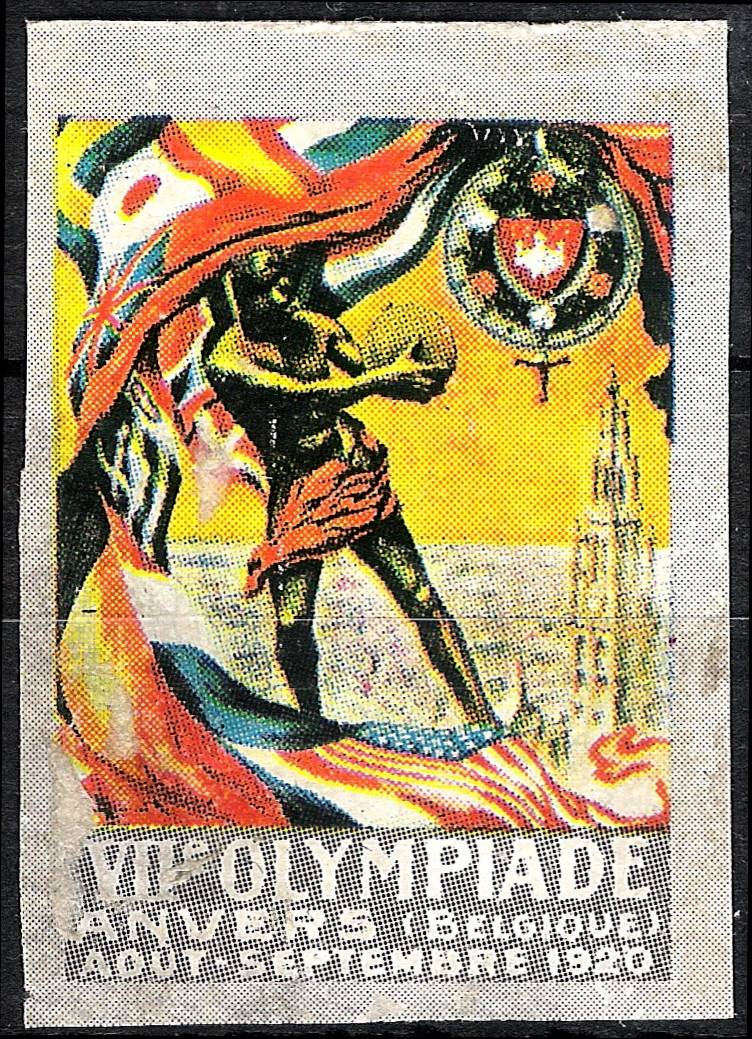 1920-x10
Reproduction of 1920 Antwerp Olympics poster with silver border, on tiny ungummed label
Size: 26x36mm (about 1" by 1.4")
This is small for a matchbox label, though I have seen a few this small. So what is it? The edges are uneven, so it was cut down from something larger. But what?
10/12/18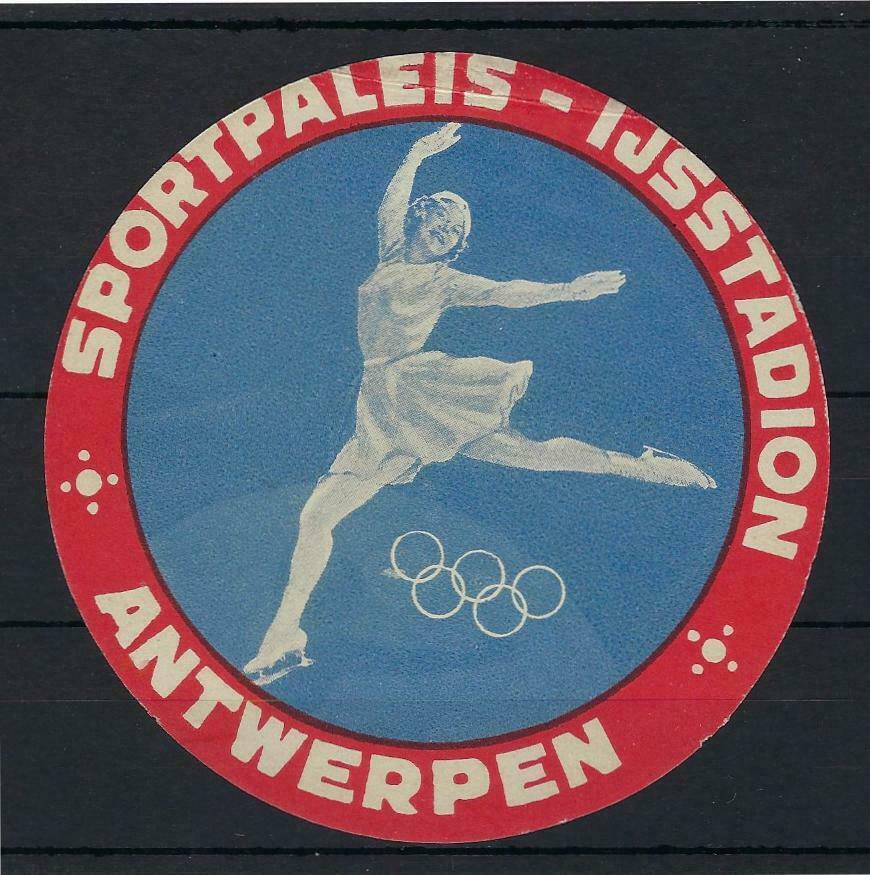 1920-x11
Size 100 mm diam.
Circular label, red border, image of female ice skater doing a jump and Olympic rings, in white against blue background.
Text: SPORTPALEIS - IJSSTADION - ANTWERPEN
The 1920 Summer Games were the only ones with ice skating. Earlier Games had no winter events, and in 1924 the Winter Olympics were begun.
03/31/19

Peel-and-stick self-adhesive label
OOSTENDE PRE-OLYMPISCHE STAD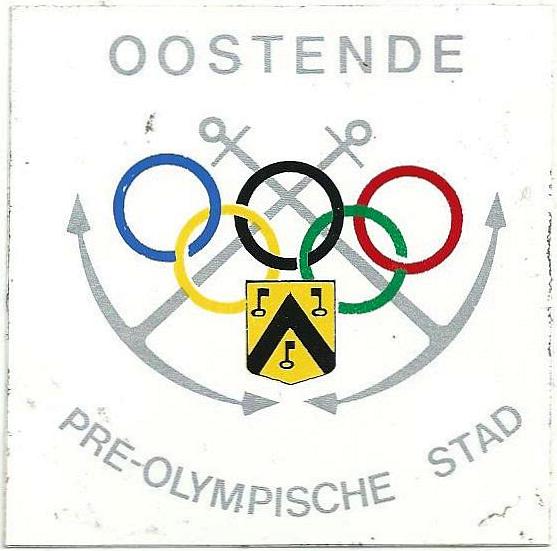 1920-x12
Size 68 mm x 69 mm (2.7 inches square)
Square label, white background, crossed anchors in background, Multi-colored Olympic rings in front, coat of arms of Ostend, "OOSTENDE" at top, "PRE-OLYMPISCHE STAD" in an arc at bottom.
Ostend was the site of some sailing events for the 1920 Olympic Games centered in Antwerp, but this does not look that old.
I am just guessing that this might have been issued in 1920, but the style and technology seem too new for that. Did they have self-adhesives then?
And why "pre-Olympic?" What does that even mean?
12/30/19

Gummed label - reproduction of 1920 Olympic poster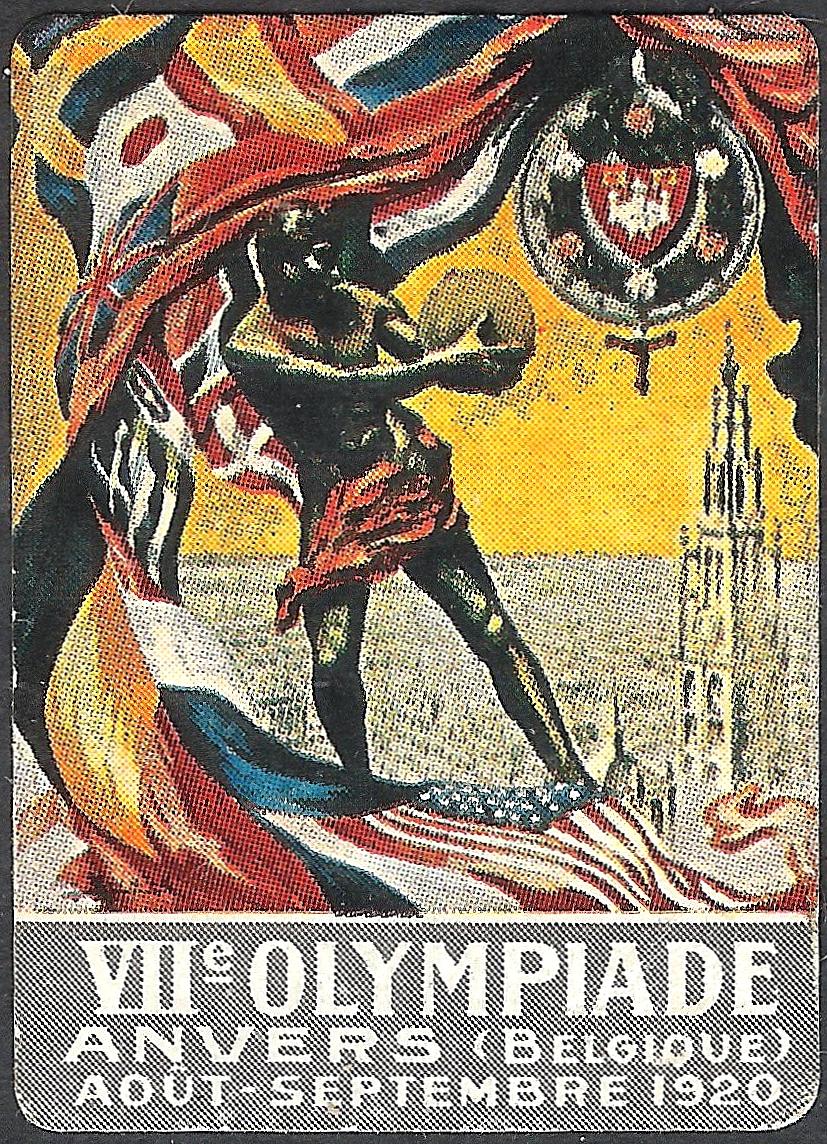 1920-x13
Size 3.4 x 4.7cm
Rectangular label, gummed
This label has the same format and size as two others, 1912-x10 and 1936-x36, so it seems likely it is part of a set of labels, one for each of the summer Games from 1912 through 1936 - or later.
Can anyone out there tell us more?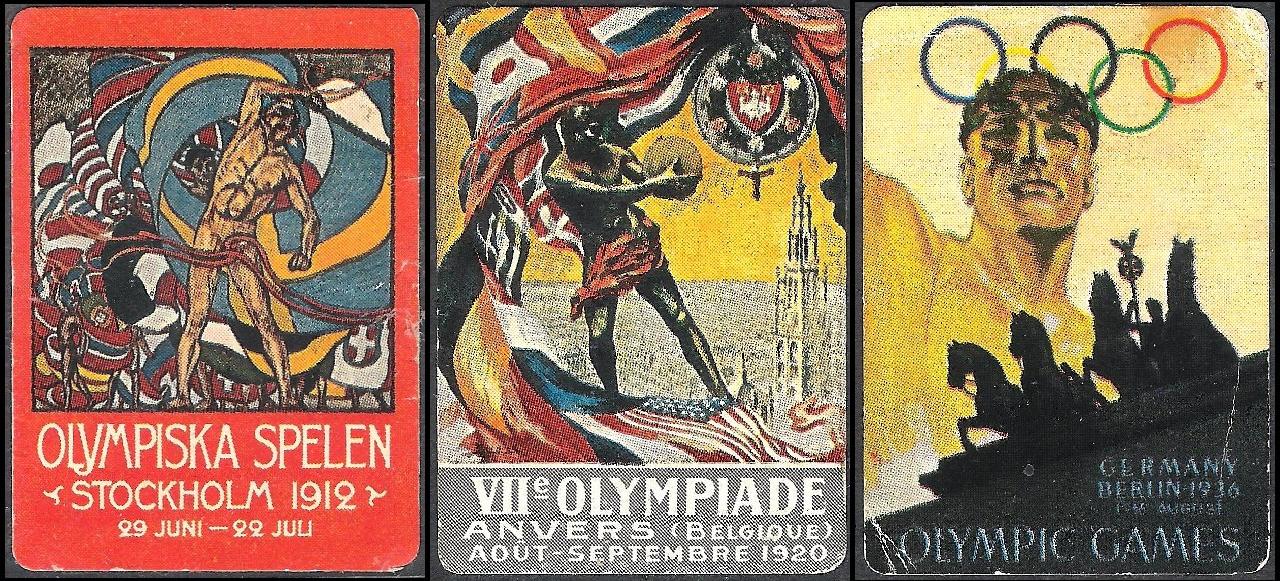 SEE THE ANSWER - NEXT COLUMN
6/17/2020 - the labels below showed up on eBay, all with the tab on the right edge, which explains that they are part of a Dutch set of 18, and that the Melbourne 1956 label is number 13. So number 18 would be Montreal 1976, and that puts them outside the current scope of this collection :-)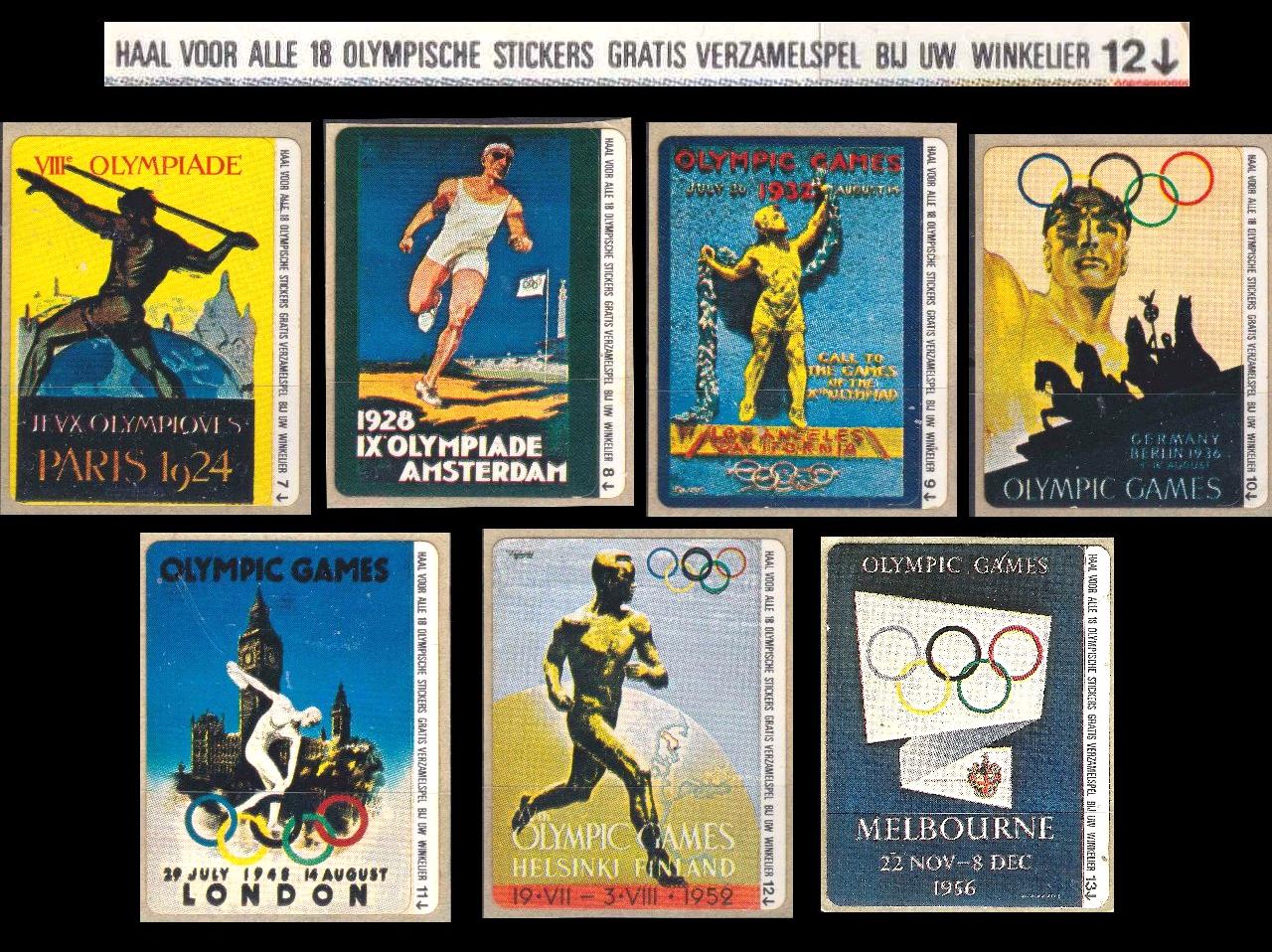 HAAL VOOR ALLE 18 OLYMPISCHE STICKERS GRATIS VERSAMELSPEL BIJ UW WINKELIER
GET ALL 18 OLYMPIC STICKERS FOR FREE FROM YOUR RETAILER
Can anyone supply scans of the entire set AND their story?
04/22/2022

Gummed baggage label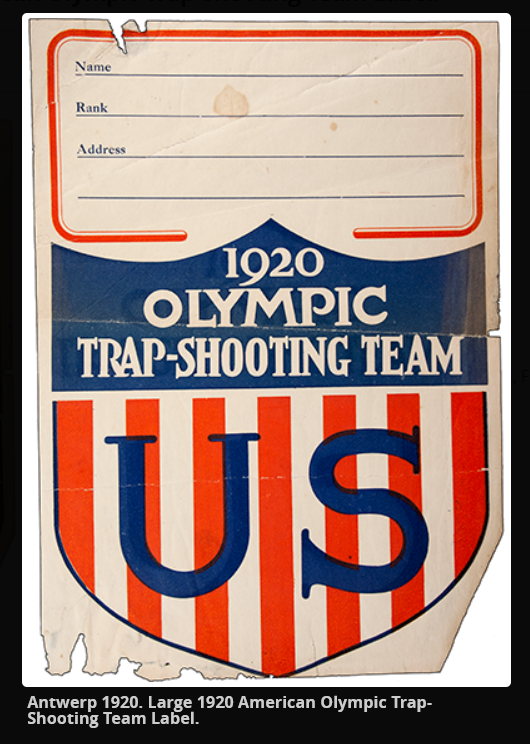 1920-x14
Size: 15.5x22cm (6.1x8.7 in.)
Rectangular label, US Olympic team shield, "1920 OLYMPIC TRAP-SHOOTING TEAM" and space for team member's name, rank, & address.
A great new find! It sold (Ingrid O'Neil Auctions - 4/9/2022) for $60.