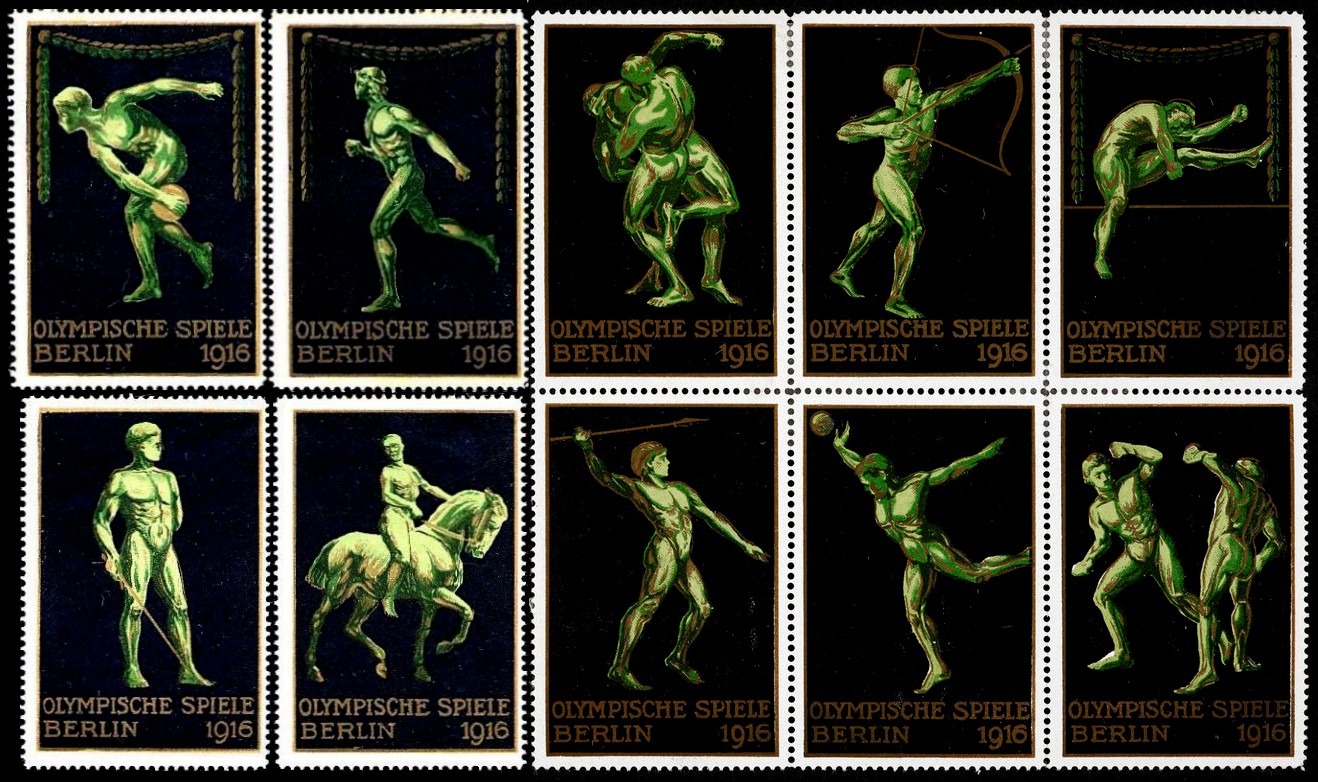 #1916-3a&9a and #1916-3b to 12b
DuBois listing:

3a.to 12a. "OLYMPISCHE SPIELE BERLIN" below, lettering and design frame in gold. Vignettes: one or two "statuesque" athletes. 40x61mm, perf 11.25. Athletes' bodies are bright green; sword, discus & highlights on bodies are gold; other body details are black; background is gray-green (similar to color of old Statue of Liberty); poses follow:

3a) discus thrower, 4a) runner, 5a) wrestlers, 6a) archer, 7a) high jumper, 8a) fencer, 9a) horseman, lOa) Javelin thrower, 11a) shot-putter, 12a) boxers ... Rare

3b to 12b. Same as Nos. 3a to 12a but background is black ... Rare

Nos. 3 to 12 exist as a se-tenant pane of ten, PM4S
A display page I found on the www claims that these stamps were designed as essays in 1913 by Professor Franz von Stuck, AND that when the 1916 Games were cancelled, the stamps were issued and sold for the benefit of the German National Games (Deutsche Wettkampfe) AND finally that these are the first Olympic stamps depicting modern athletes, albeit not attired in the modern manner. :-)
Reproductions of these labels were issued about 1984 in booklet form from the German Sporthilfe organization - images below. They show up on eBay and other auction sites regularly, fetching typically about $20 for the complete booklet.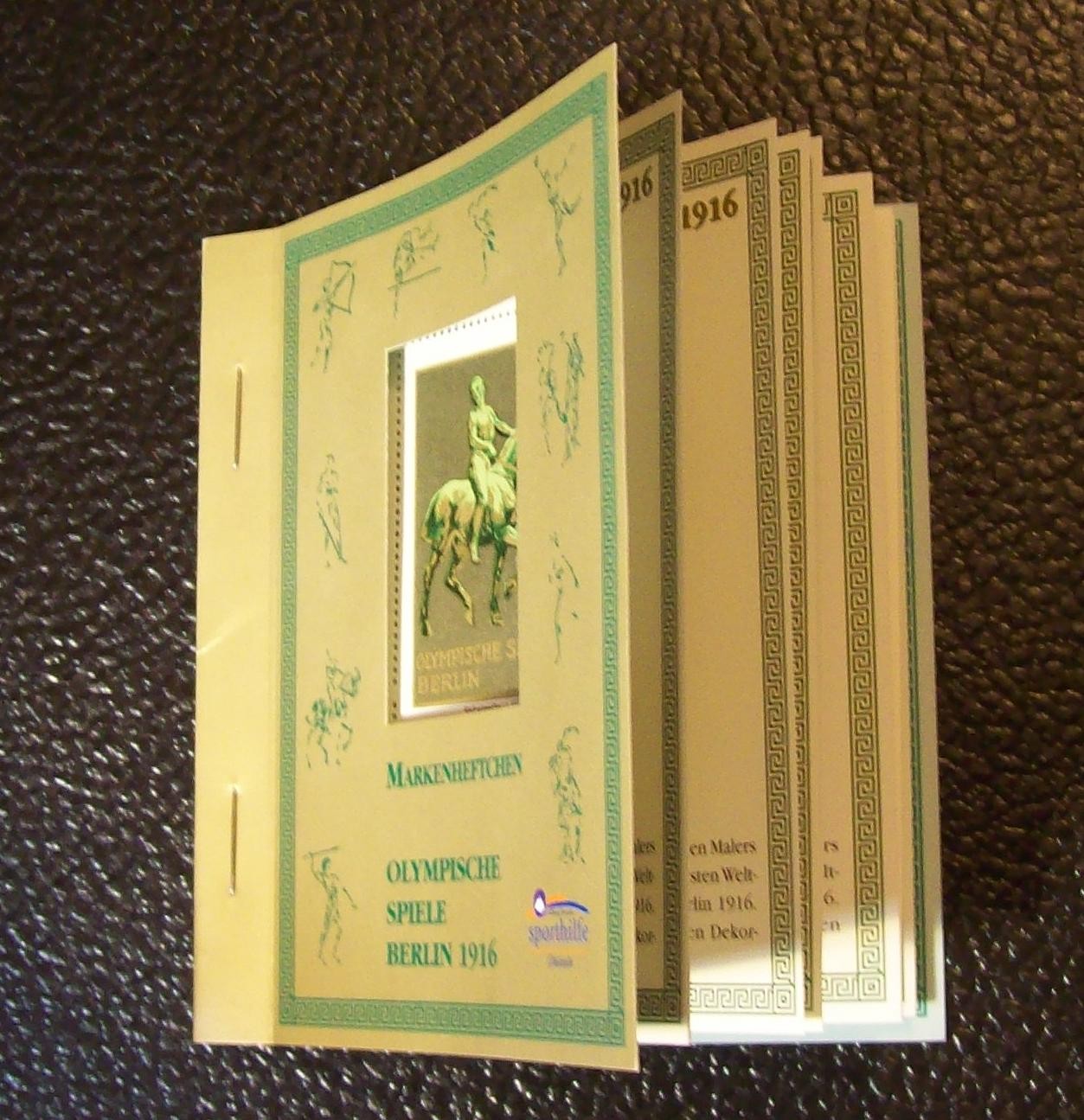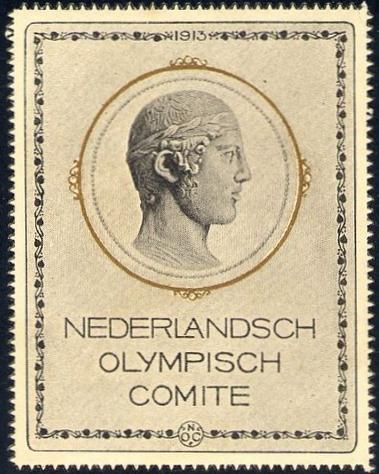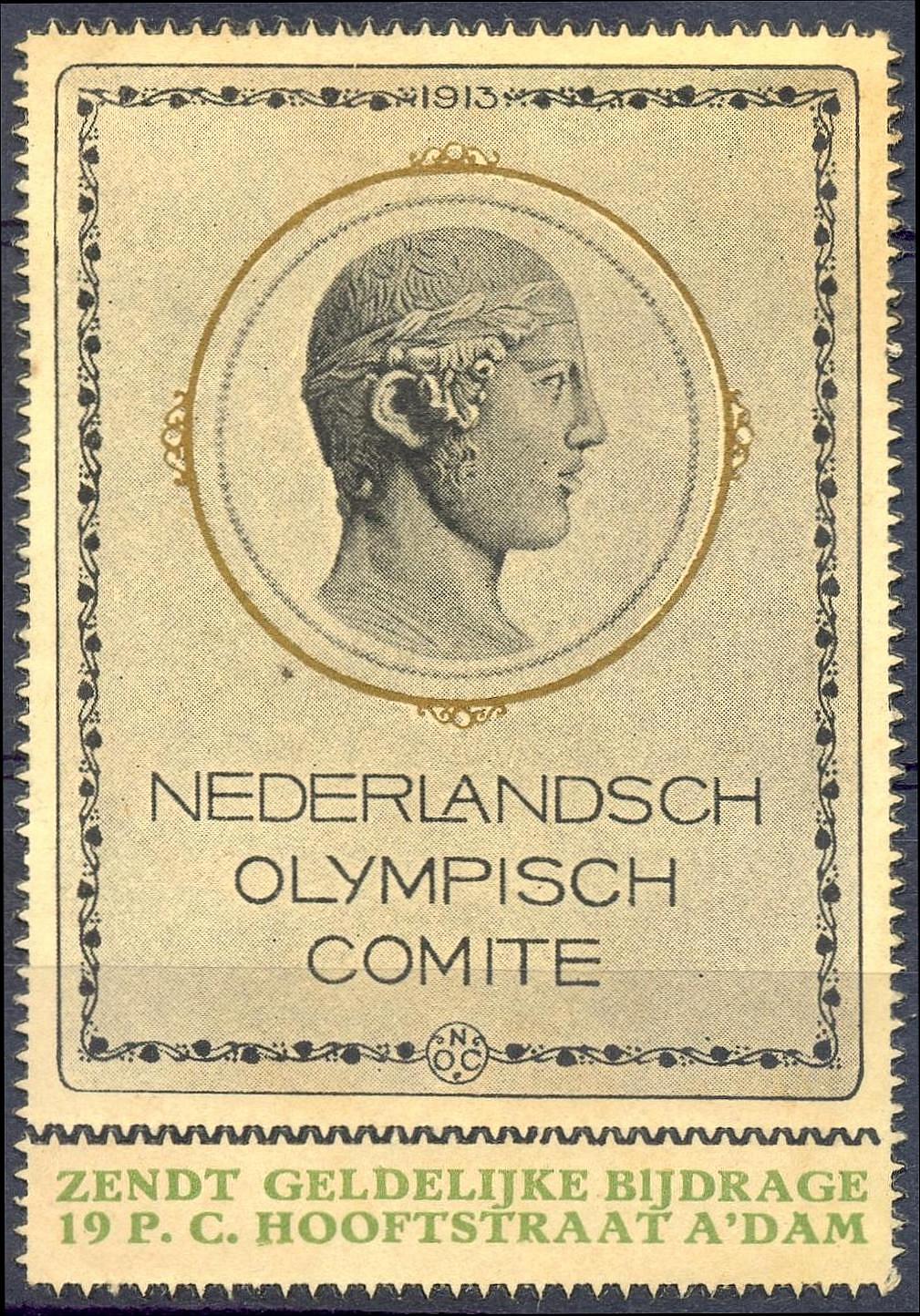 #1916-13 and 13a
(12/18/18 - The copy of 1916-13a shown above sold on eBay recently for $68.)

DuBois listing:

13. "NEDERLANDSCH OLYMPISCH COMITE" below. Vignette, above: the head of a Greek God facing to the right, in a black & gold circular frame; label has a decorative border with a thin outer line; in border, at top "1913," at bottom "NOC." Perfs are serrated with black edging 43x55.5mm, perf 13.5, black & gold on cream paper .. Rare

13a. No. 13 with tab at bottom, inscribed with green text - "ZENDT GELDELIJKE BIJDRAGE 19 P. C. HOOFTSTRAAT A'DAM" ... Rare

The text in the tab at the bottom translates "Send Contributions to 19 P. C. Hooftstraat Amsterdam" (P. C. Hoofstraat = Pieter Cornelisz Hooftstraat, which, according to Wikipedia, is today an upscale shopping street in Amsterdam.)

BELOW, TWO VARIETIES:
- at left, note the background, which is blue. The ones at top have a brown background. Is this a real variety, or just a result of ageing? (I have to say, the blue looks much better to me.)
- at right, an odd example - the perforations are printed!
DuBois listing:
14. Swedish Label: "FRAMGANG FÖRPLIKTAR" above; "MEDVERKA VID NATIONALINSAMLINGEN FÖR OLYMPISKA SPELEN I BERLIN 1916" below. Vignette, between texts: three crowns of the Swedish coat of arms on a dark blue background, on top of a light blue tablet on which is inscribed "SVERIGE 1916," in gold; the vignette has a gold edging with a thin, black borderline; the main border of the label is an ornate, rope-like, light & dark blue color; another ornate border, light blue on white, surrounds the vignette; printer's mark, below design: "CENTRALTR STHLM."; the latter and both upper and lower texts are black. 28.5x45mm, perf 11.5 ... $30.00
(Translation: "Success has its obligations. Contribute to the national collection for the Olympic Games in Berlin 1916.")
The second image above is from an old Feldman auction - imperf version of this label.