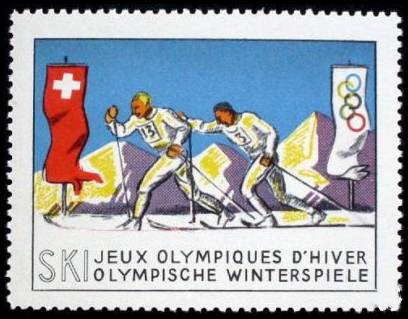 #1948-W-5
DuBois listing:
5. "SKI JEUX OLYMPIQUES D'HIVER OLYMPISCHE WINTERSPIELE" below. Vignette: two skiers with numbers "13" & "3" on their suits, Swiss banner on left and Olympic banner on right, three mountains in background. 52x38mm, perf 11, multicolored .... $20.00
10/18/16 - Steve Greiczek sent me scans of pages from the 1980 Editions Pén "Catalogue Des Vignettes Suisses De Propagande Et Commémoratives: Katalog der Schweizer Werbe- und Erinnerungsvignetten : 1878 - 1980" showing this stamp (S.173), and attributing it to 1928. Go to the bottom of the 1928 Winter Games page to see those scans. To me the design looks more like the other 1948 issues. Note the flags on this stamp and the next one, 1948-W-6. Can anyone resolve this conflict?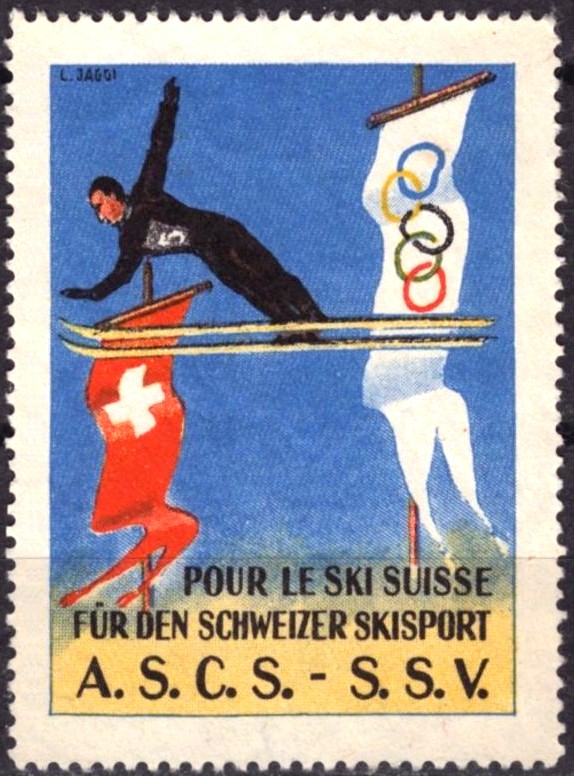 #1948-W- 6
DuBois listing:
6. "POUR LE SKI SUISSE / FUR DEN SCHWEIZER SKISPORT A.S.C.S. - S.S.V." below. Vignette: a ski-jumper with Swiss & Olympic flags in background. An imprint at upper left: "L. JAGGI." 38x52mm, perforated, multicolored ... $30.00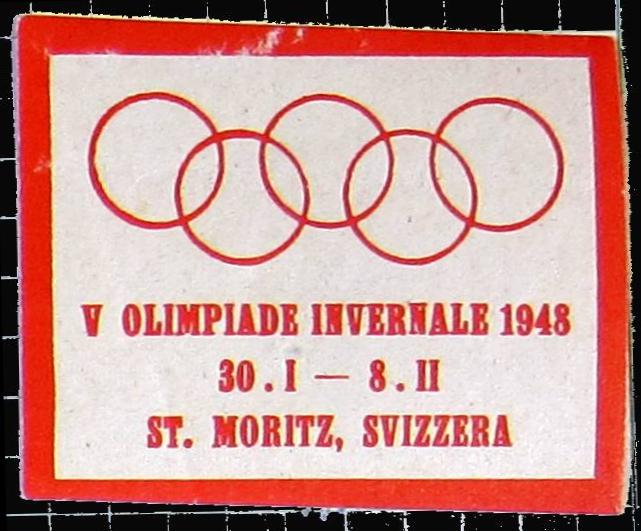 #1948-W-7
DuBois listing:
7. "V. OLYMPIADE INVERNALE 1948 30.I. - 8.II. St. Moritz SVIZZERA" below. Vignette: Olympic rings. Imperf, red on white ... Rare
approx. size of central rectangle = 21x27mm
(Image courtesy of cinderellastamp.com,
"Heirs to the collections of Vittorio de Silva Portugal (1881-1954)")
1948-W-8
DuBois listing:
8. "U.S. OLYMPIC COMMITTEE LONDON - 1948 GAMES - ST.MORITZ" above. Vignette: same as No.17 of "1940-HELSINKI" and No.3 of "1948-LONDON" (see latter for more data)
These American fund-raising stamps mention both London and St Moritz, so applied to both the Winter and Summer Games.

#1948-W-x1
JEUX OLYMPIQUES D'HIVER 1948 St. MORITZ SUISSE 30 JANVIER + 8 FEVRIER
size 139x53mm (2-1/8 x 5-1/2")
Could be the imprint cut from a piece of stationery?
(Image courtesy of cinderellastamp.com,
"Heirs to the collections of Vittorio de Silva Portugal (1881-1954)")
Here's another example from a recent Feldman auction, and the edges look irregular to me, as though it was indeed cut from something larger: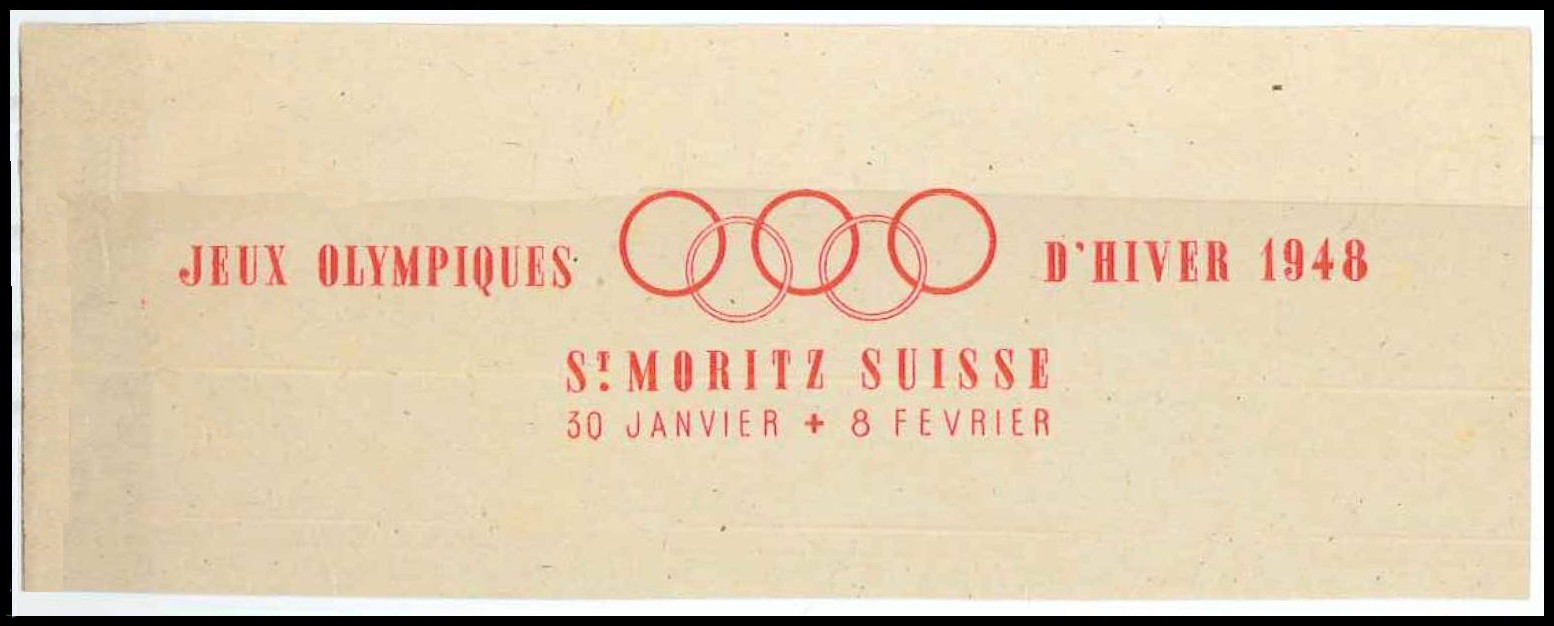 02/24/2017 - The item below was listed in a recent Heiko Volk auction, with description "Back side partially gummed - 139 x 53mm" and it appears identical to the other two, so for me that proves this is a label, not a cutout. Case closed.

11/14/18 - MYSTERY LABEL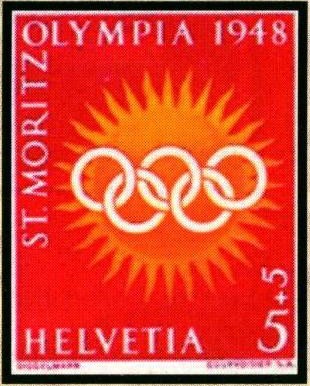 1948-W-x3
Alvaro Tucchi of Italy displayed this label in an exhibit he published in Phila-Sport magazine, Italy's sports philately publication. He has no information about it, but we can see the design is that of Switzerland Sc. B-170, a 1948 semi-postal issued as part of a set of four to mark the 1948 Winter Olympics in St. Moritz. But the color is different. So is this an essay? In any case, I consider it a borderline entry in this collection.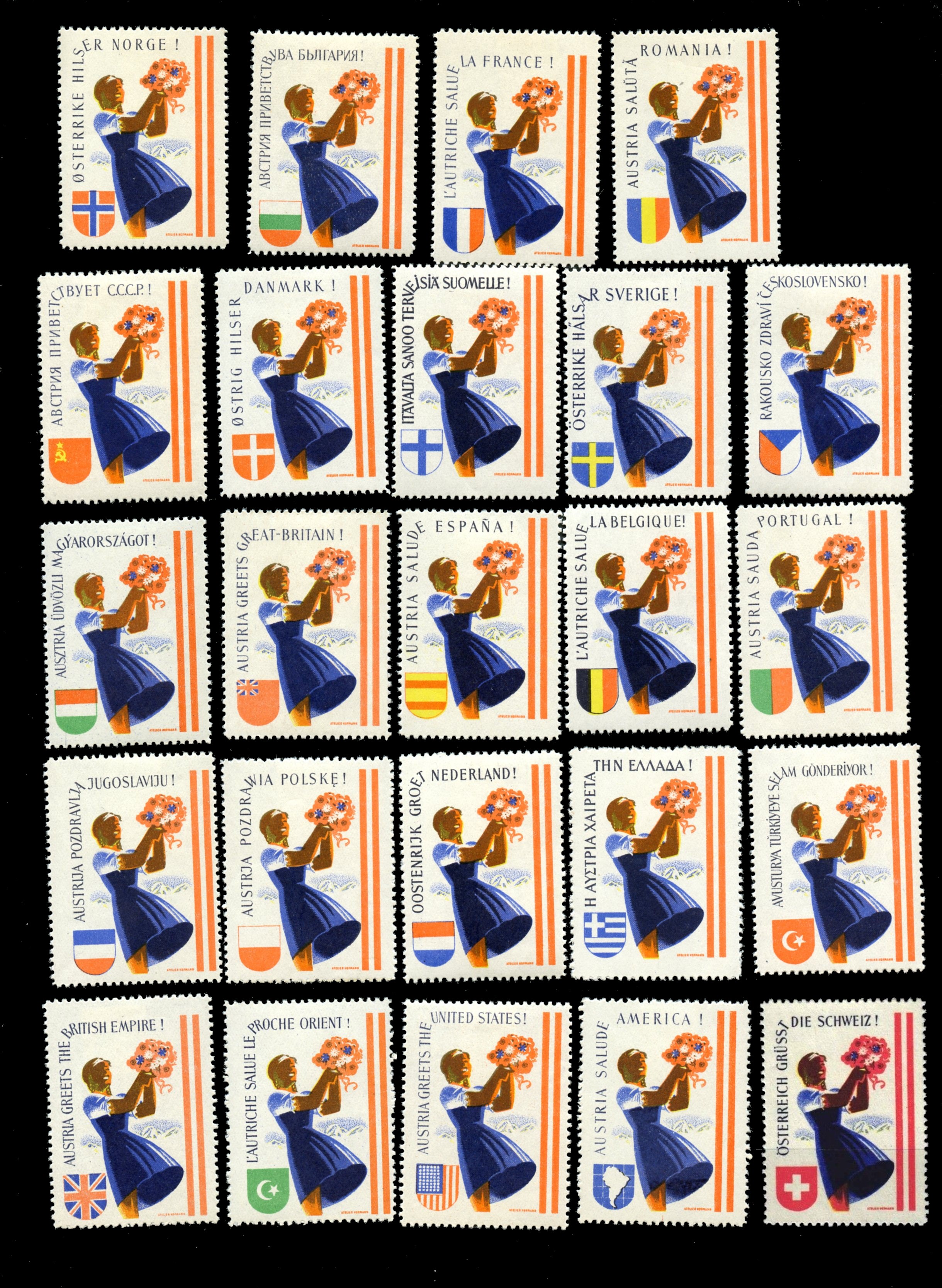 #1948-W-x2
1/22/2018 - MYSTERY SOLVED
NO OLYMPIC CONNECTION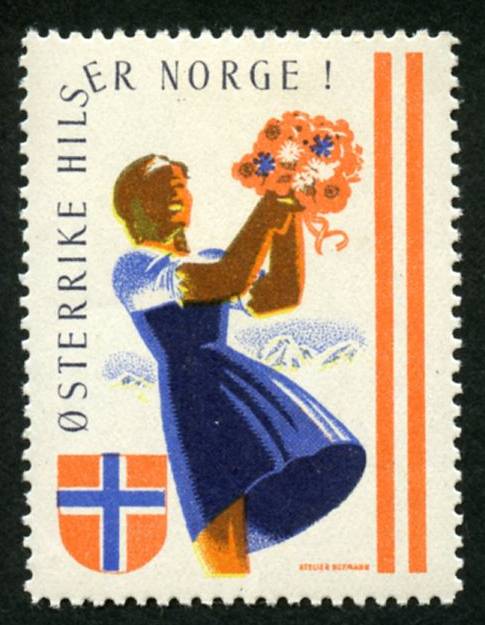 #1948-W-x2
Austria greets the world
Austrian Mädchen holding bouquet of flowers at right, national flag in shield shape at bottom left, text on each stamp up from bottom left and across top: "Austria Greets (country name)" in the national language.
The note with my set of 24 (complete?) of these says "1948 - St Moritz." That would make sense, they were clearly issued to promote tourism in Austria and a great time would have been during the Olympics next door in Switzerland in 1948. So not Olympic, per se (no rings). But is there a connection? Can anyone provide more information about them?
Next column, one used on cover - I can't make out the date in the cancel - 1947? - but the stamp (Scott 485) was issued in 1947, so probably 1947 or 1948, which fits.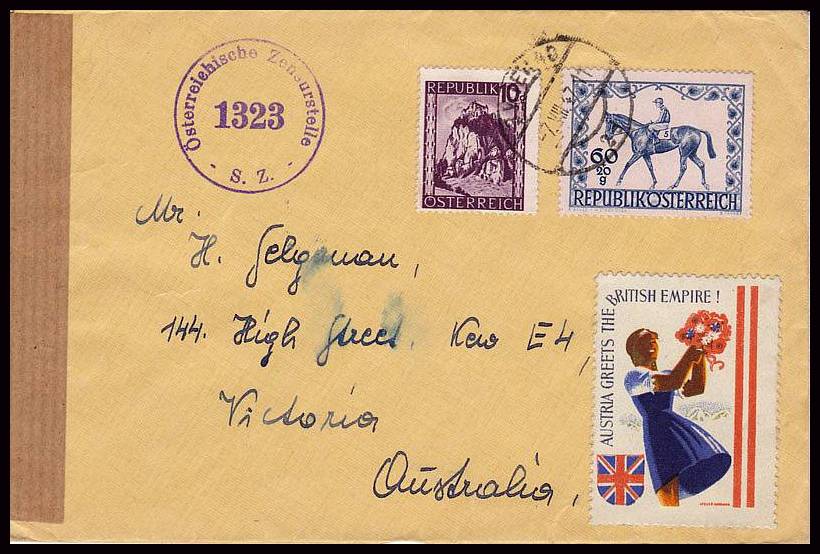 Below, one with a clear 1947 cancel, and one with a 1956 overprint.
---
1/22/2018 - MYSTERY SOLVED
NO OLYMPIC CONNECTION
I just found the following image: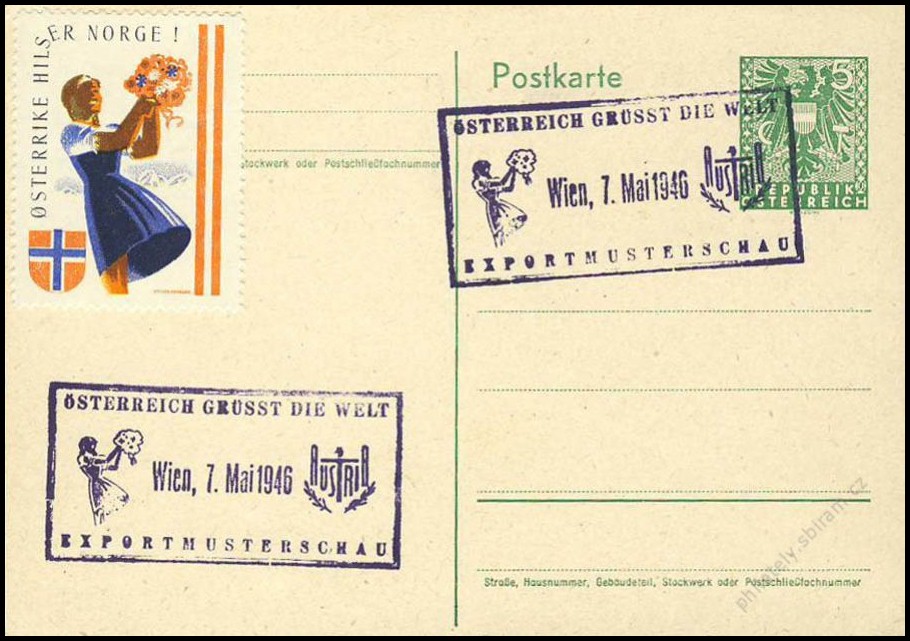 EXPORTMUSTERSCHAU
= Export Sample Show
in Vienna, May 1946 - case closed.