1940 - ADDENDA - PAGE 145B
New Zealand Centennial Games
Historical Background:
The Polynesians known as Maoris arrived in New Zealand during the A.D. 1300's. In 1840 the Maoris signed the Treaty of Waitangi, ceding New Zealand to Great Britain. Auckland was founded that same year as the capital, but was replaced in 1865 by the more-centrally located city of Wellington (being on the south end of the North island).

The centenary of British sovereignty was commemorated on January 2, 1940, by the issuance of a set of 13 postage stamps. The following label was also issued on the occasion of that centennial: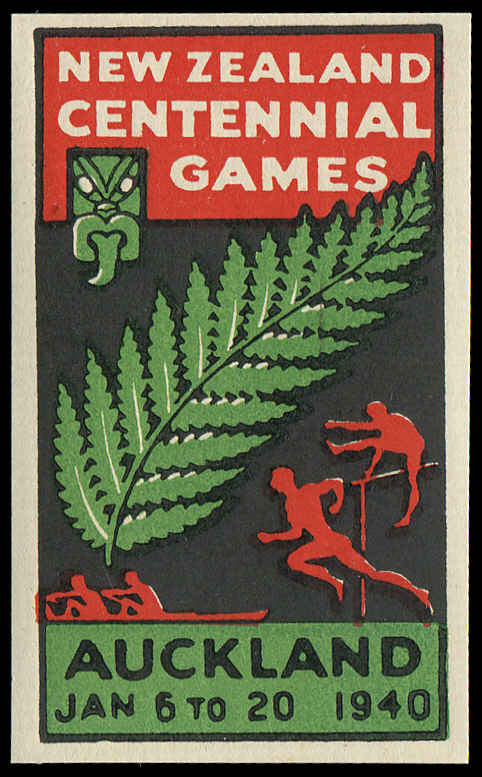 Poster Stamp for the 1940 Centennial Games in Auckland
"NEW ZEALAND CENTENNIAL GAMES" white text in red panel at top; "AUCKLAND JAN 6 TO 20 1940" black text in green panel at bottom. Vignette: A green carving that the Maoris are famous for, at upper left; a green fern across the black vignette background; a red scull with two oarsmen at lower left; a red sprinter and high jumper at lower right. Imperf design measures 34.5 x 60.5mm, overall size 38.5 x 63.5mm.
Like the other games scheduled for 1940 at Sapporo, Tokyo, Helsinki, and St. Moritz, these games were cancelled due to World War II. These Auckland Games would have served as Olympic Trials due to being scheduled for early January of 1940.