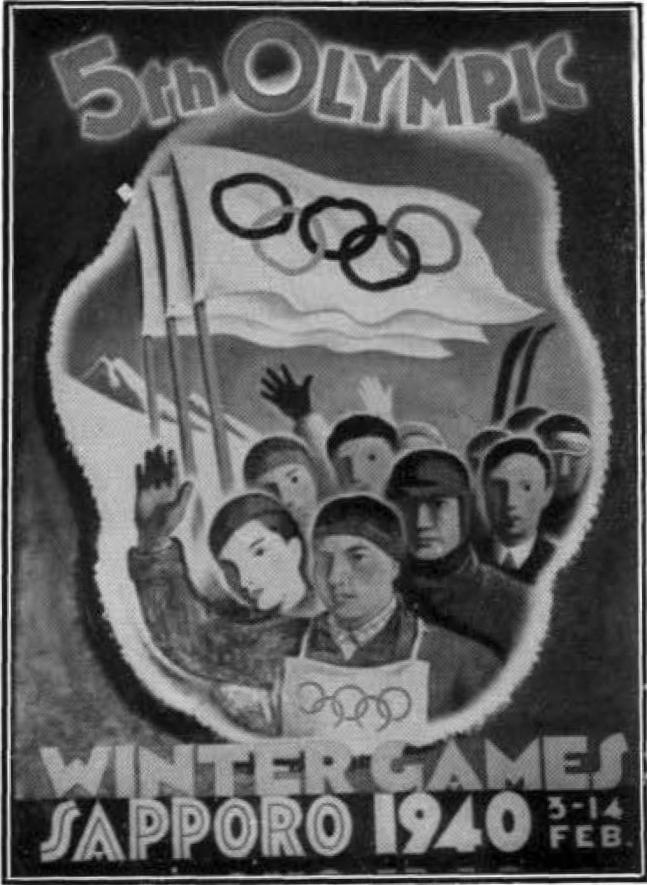 Official Poster for 1940 Winter Games in Sapporo
Sapporo was selected to be the host of the fifth edition of the Winter Olympics, scheduled February 3-12, 1940, but Japan gave the Games back to the IOC in July 1938, after the outbreak of the Second Sino-Japanese War in 1937.
The following poster stamps were designed (but not issued) for the 1940 Winter Games:
Click on image below to open an enlarged version in a separate window/tab
Click on the DuBois number beneath the image to display technical data about that label.
#1940-J-W-1

DuBois listing:

1. "V. OLYMPIC 1940 WINTER GAMES" around sides & top; "SAPPORO" at bottom. Vignette, in center: Olympic rings superimposed on a mountainous, wintry scene. Round shape, 32mm diameter, imperforate, multicolored ... Rare

Not in DuBois

#1940-J-x1
Image from Report of Japanese Olympic Committee. (Proposed design - not seen as a label)
There were many matchbox labels in Japan with Olympic themes in anticipation of the 1940 Games - Some of them showed winter sports - I show them all on the 1940 Tokyo page.