The 1944 Winter Olympics, which would have been officially known as the V Olympic Winter Games (due to the cancellation of 1940's V Olympic Winter Games), were to be celebrated in February 1944 in Cortina d'Ampezzo, Italy. Cortina d'Ampezzo had been awarded the games in June 1939, but due to World War II, the 1944 Winter Olympics were cancelled in 1941.
There was no poster design published for 1944 Winter Games in Cortina d'Ampezzo.
There were no poster stamps issued for the 1944 Winter Games in Cortina d'Ampezzo.
---
I found this image somewhere on the www - no idea what it is, but it could be a window sticker or luggage label. The edges and design are a bit fuzzy, though, so it might be a cloth patch.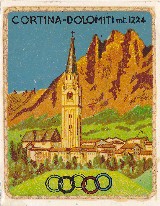 1944-W-x1
Text: "Cortina-Dolomiti - ml: 1224"
Cortina was the site designated for the 1944 Winter Olympics.
It is in the Dolomites mountain range of Northern Italy, at an elevation of 1224 meters.
I suppose this could be a souvenir of the 1956 Winter Games, but the style of the Olympic rings looks older.
Please email me if you know what the item is - address at bottom of page.