11/18/17 - NEW FIND!
The label below was certainly NOT created for the phantom Games of 1944, BUT, by my calculations, based on its Maerkat* number, it was issued in 1944, so I am placing it here.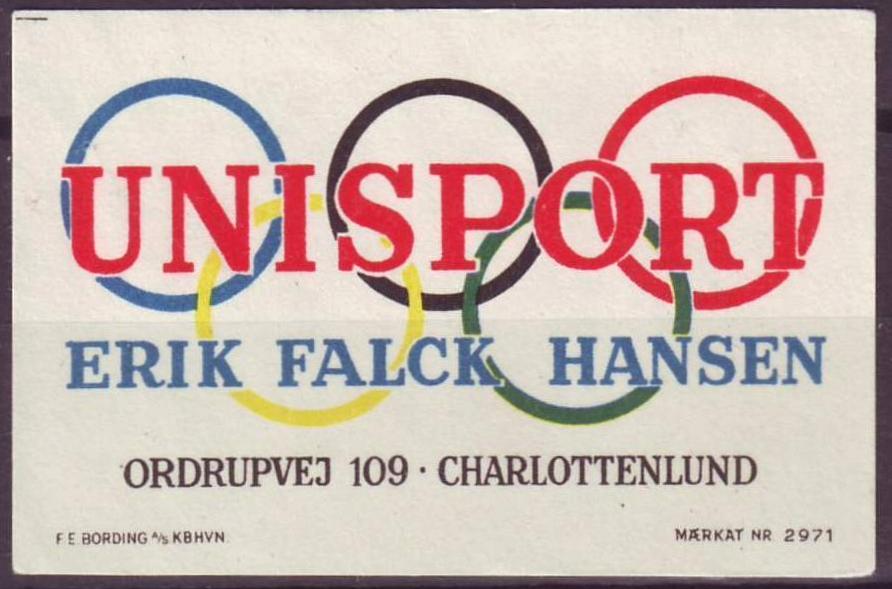 1944-x1
Advertising label:
Olympic rings in background, in proper colors.
Text in front:

UNISPORT
ERIK FALCK HANSEN
ORDRUPVEJ 109 CHARLOTTENLUND
F E BORDING A/S KBHVN - MAERKAT NR 2971

Colors - blue, black, red, yellow, green
Size: 55x35mm
I assume UNISPORT was a sporting goods store - there is a modern Danish sporting goods company of the same name, but I was unable to determine whether it descended from this one.
The only Danish ERIK FALCK HANSEN I could find was a cyclist who competed from 1943 to 1948, so that fits. He may have owned this store, or let them use his name for publicity.
* Maerkat labels were a long-running series of Danish advertising and souvenir labels that started in 1930 and ran through about 1978. Numbers were assigned more or less chronologically, ending with number 15428! BUT, there have been imitators and other incarnations, so labels with higher numbers and later dates do exist. Maerkat expert Ray Petersen (dba maerkat on eBay) says some numbers were used multiple times, and many labels had no numbers, so there could be as many as 30,000 different maerkater out there!
4/20/18 - see the bottom of my 1968 Mexico City page for much more about Maerkater.
03/31/2019 - NEW FIND!
1944-x2
Swiss Soldier's stamp, 1942
6es CHAMPIONNATS d'ARMEE - FRIBOURG - 27-30 AOUT 1942
6th Army Championships (athletic competitions)
This one is in a grey area vis-à-vis this catalog, as Swiss Army stamps are a specialized area, and the "rings" are in a non-standard configuration. It's up to you.