06/17/2020 -I movesd this here from the 1940 Helsinki page, where I had placed it by mistake.
GERMAN POSTCARD FOR 1940 WINTER OLYMPICS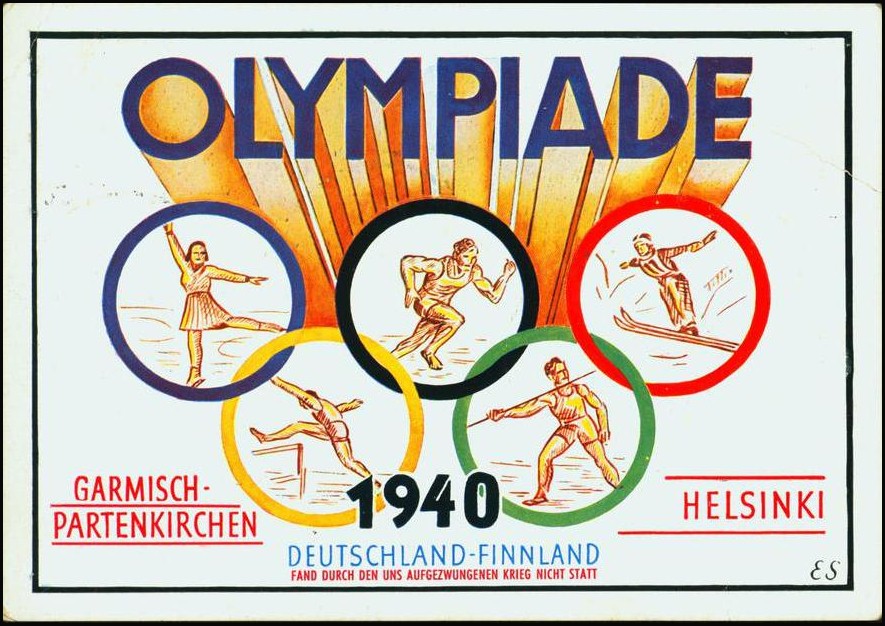 #1940-F-x2
148x104mm overall
This one's interesting. I found several examples on the www, with no description of size or origin, so I thought it might be a label.
The German text reads:
OLYMPIADE / GARMISCH-PARTENKIRCHEN 1940 HELSINKI / DEUTSCHLAND-FINNLAND / FAND DURCH DEN UNS AUFGEZWUNGENEN KRIEG NICHT STATT
Rough Translation:
(THE 1940 OLYMPICS)
DID NOT TAKE PLACE BECAUSE OF THE WAR IMPOSED ON US
Wow!
Turns out it's a postcard, and I've seen examples postmarked in Garmisch-Partenkirchen on February 18 and 21 of 1941, during International Wintersports Week of 1941(!)

Text on the address side reads as follows:
MOEGE DIE OLYMPISCHE FLAMME LEUCHTEN DURCH ALLE GESCHLECHTER ZUM WOHLE EINE IMMER HOEHER STREBENDEN, MUTIGEREN UND REINEREN MENSCHHEIT
which translates something like
MAY THE OLYMPIC FLAME SHINE THROUGH ALL GENERATIONS FOR THE BENEFIT OF AN EVER HIGHER ASPIRING, BOLDER, PURER HUMANITY.
This text is attributed to Baron de Coupertin, founder of the modern Olympics.

I'll let you absorb all of that for a few minutes.
Ready to continue?

The mind boggles. Is this the Nazi propaganda machine pretending the war was imposed upon them, and that by February of 1941 they had not attacked and occupied Poland (September 1939), Denmark (April 1940), Norway (April 1940), Belgium (May 1940), the Netherlands (May 1940), Luxembourg (May 1940), and France (May 1940)? I guess so.

If anyone has further explanation of this card, please write me - email address at bottom of page.
6/17/2020 - an update: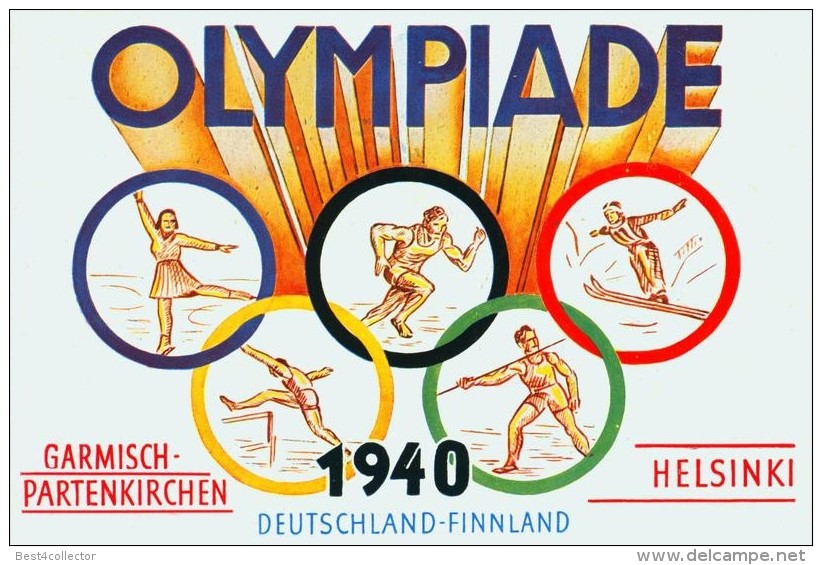 #1940-F-x2b
Pavel, a Russian visitor to this site, wrote and sent the image above, with this message:
Hello William! I am finishing work on a monograph for the failed Games of the XII Olympiad (Tokyo, Helsinki). When studying material from the Internet, on Delcampe, a scan of a card issued in Germany and dedicated to the 1940 Olympics in Helsinki was found. On the card below, under "DEUTSCHLAND-FINNLAND", the text "FAND DURCH DEN UNS AUFGEZWUNGENEN KRIEG NICHT STATT" is missing and there is no "ES" monogram at the bottom right. I make the assumption that at first a card was printed without text below. When it was decided to cancel the Olympics, a red overprint of the text about the failed Olympics was made on the card. Cards are known in their pure form and with special cancellations. Earliest cancellation date 11/11/1942. Respectfully yours, Pavel
That's an interesting addition to the story, and makes sense. It would have been silly to issue the card just to complain about the cancellation - they issued it first expecting to hold them, then they were cancelled, and the overprint was added. Thanks, Pavel!