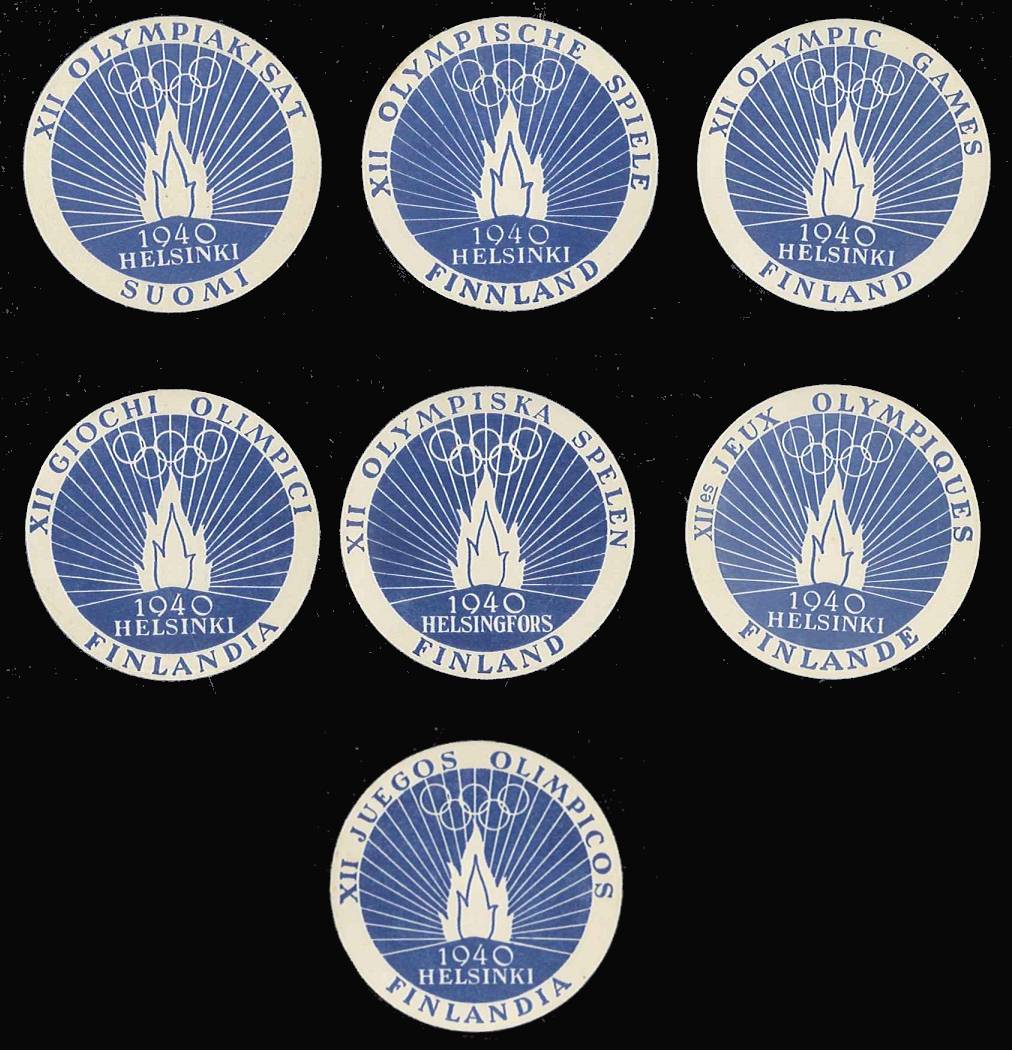 #1940-F-5 thru 11
DuBois listing:
A round, die cut label, text in seven different languages; vignette,within the outer circumferential text: a flame with line-radiations; "1940 HELSINKI" ("1940 HELSINGFORS" on Swedish version, #ll), below the flame; Olympic rings are above flame. Outer texts, at top & bottom of outer circumference,as follows:
5. Finnish: "XII OLYMPIAKISAT SUOMI" ... $3.00
6. German: "XII OLYMPISCHES SPIELE FINNLAND"... $3.00
7. English: "XII OLYMPIC GAMES FINLAND" ... $2.00
8. French: "Xlles JEUX OLYMPIQUES FINLAND" ... $3.00
9. Italian: "XII GIOCHI OLIMPICI FINLANDIA"... $3.50
10. Spanish: "XII JUEGOS OLIMPICOS FINLANDIA" ... $3.50
11. Swedish: "XII OLYMPISKA SPELEN FINLAND" ... $3.00

Size: 41 to 42mm diameter,overall; vignette: 25 to 34mm.
Color: vignette background is blue with rings, rays, flame, and "1940" in white; inner-flame in blue-outline; text in outer circumference is blue on white.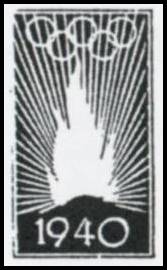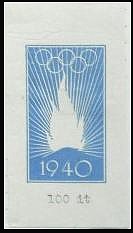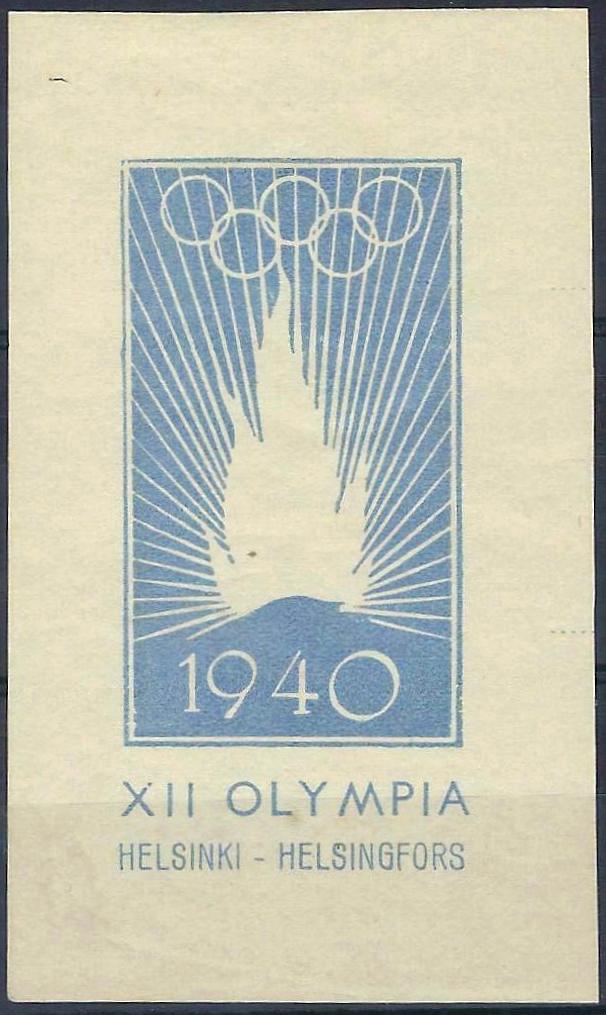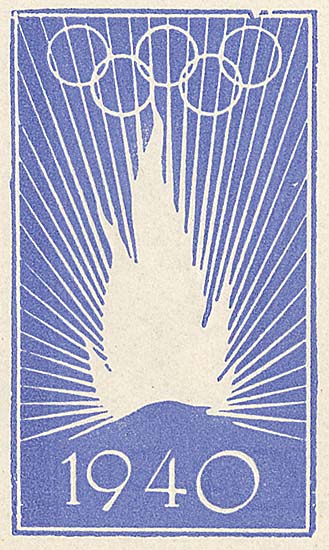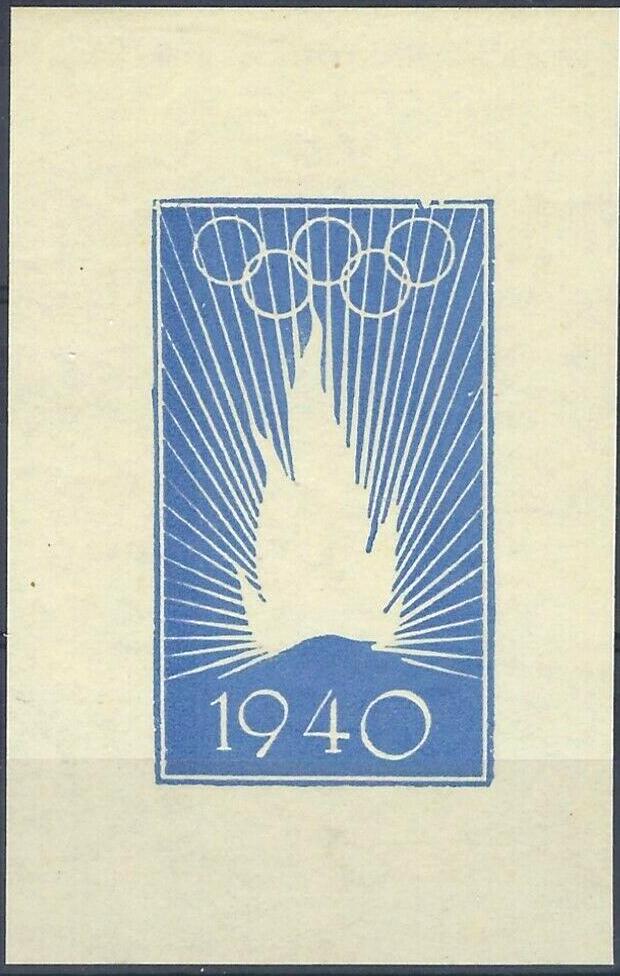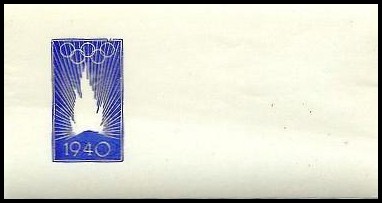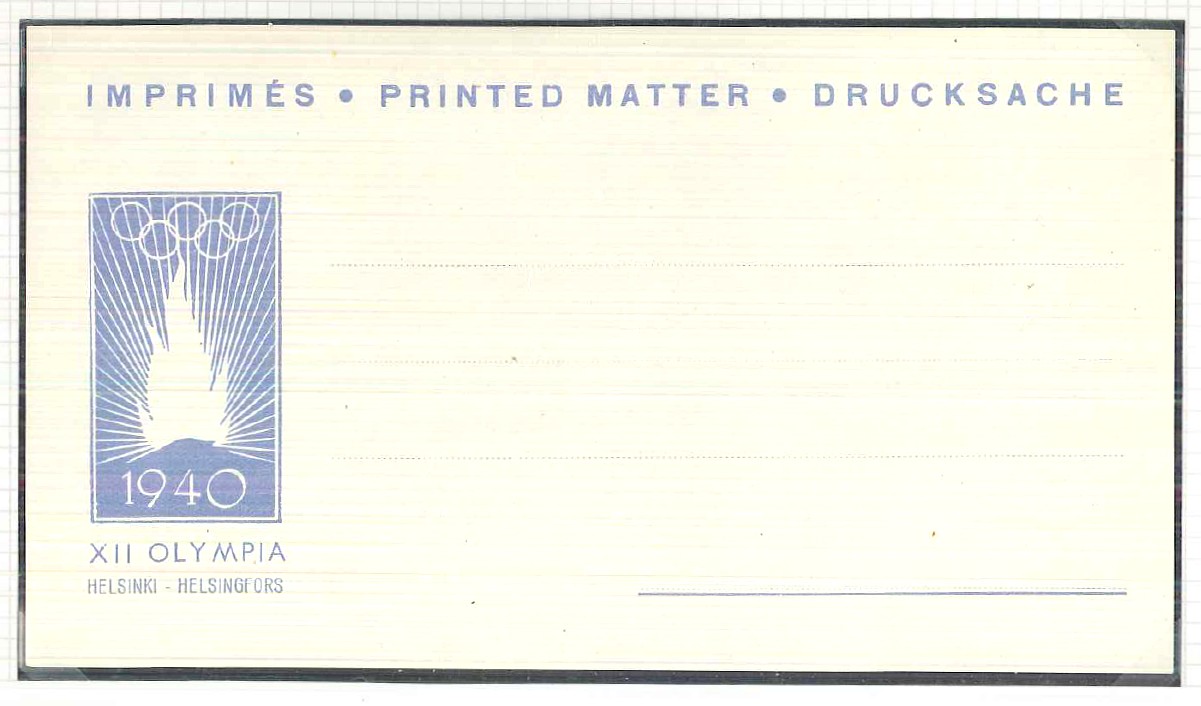 #1940-F-12 and variations

DuBois listing:
12. Rectangular label with vignette like Nos. 5 to 11; only text is "1940" at bottom; a blue border line. 28x49mm, perforated ... Rare
Exists on a "printed matter" label ... Rare
TOP ROW - That's the DuBois image on the left, an image from cinderellastamp.com (size=21x39mm overall) next, then an image from this page of Juergen Wagner's excellent internet Olympic Games Museum (size unknown); and next a "cinderella" from a recent auction - no size given. Does not look perfed. Note the imperfection in the border at the top - also on the larger label below. What's the "100 it" on the second one?
ROW TWO, left - the second item in the DuBois listing - a "printed matter label." SIZE = 6" x 3.25"
ROW TWO, right - 5/13/2019 - another large label, from the new Feldman auction! SIZE = 7" x 3.75" (the boxes are each 1/8" square)
DuBois says his first item is perforated, so none of these is that one. And HERE is an image of a 1938 Finnish lottery ticket to raise money for the Games, with the same logo, so there could be many items bearing it. (Japan had forfeited the Games in July, 1938, giving two years for Finland to prepare.)
06/17/2020 - eBay seller newby101 offered a wonderful assortment of Olympic labels, including the fifth item in the top row. Its dimensions are 51x80mm.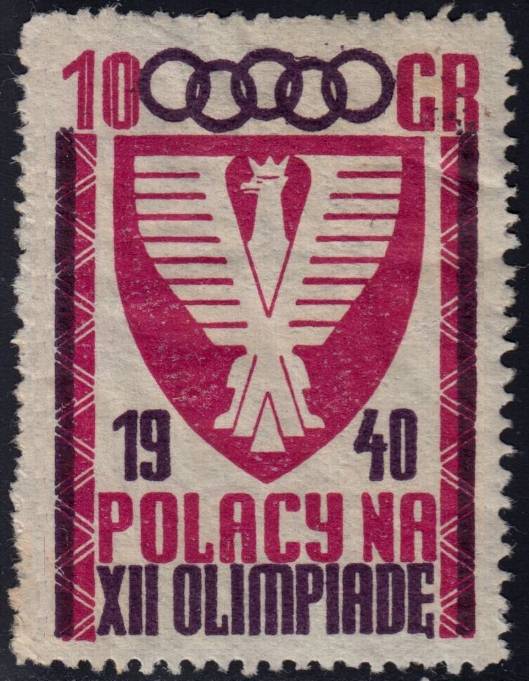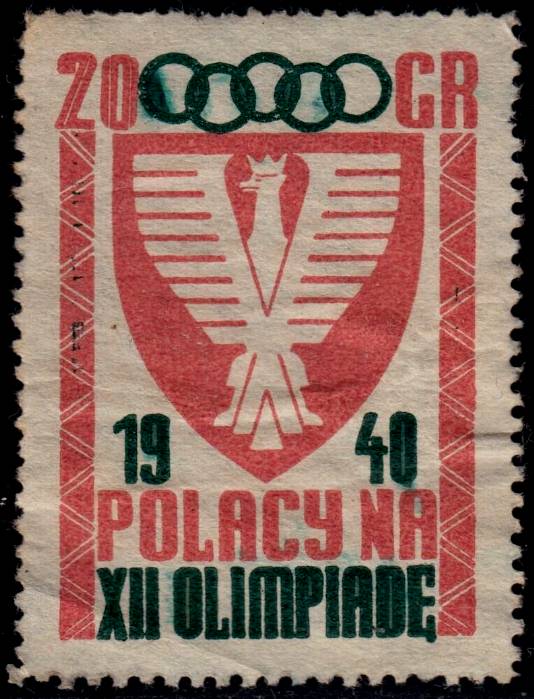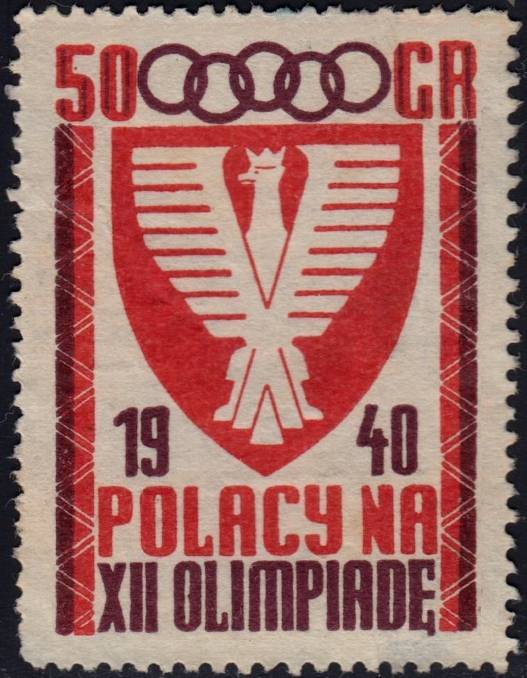 #1940-F-13, 14, & 15
DuBois listing:
13. Polish Fund: "10" at upper left corner; "GR" at upper right corner; Olympic rings between 10 & GR; "1940 POLACY NA XII OLIMPIADE" below; Vignette: a Polish eagle in a shield; sides of label are decorative. 27x38mm, perf 12, deep rose & brown violet ... Rare
14. Like #13 but 20 GR and colored rose & green ... Rare
15. Like #13 but 50 GR & colored vermilion & brown ... Rare
3/18/17 - the image above of what seems to be 1940-F-15 turned up on eBay recently, but its colors do not match the description in DuBois. Was he wrong, or is there another version? 4/12/17 - Here's another copy, same colors - I think DuBois had it wrong.
---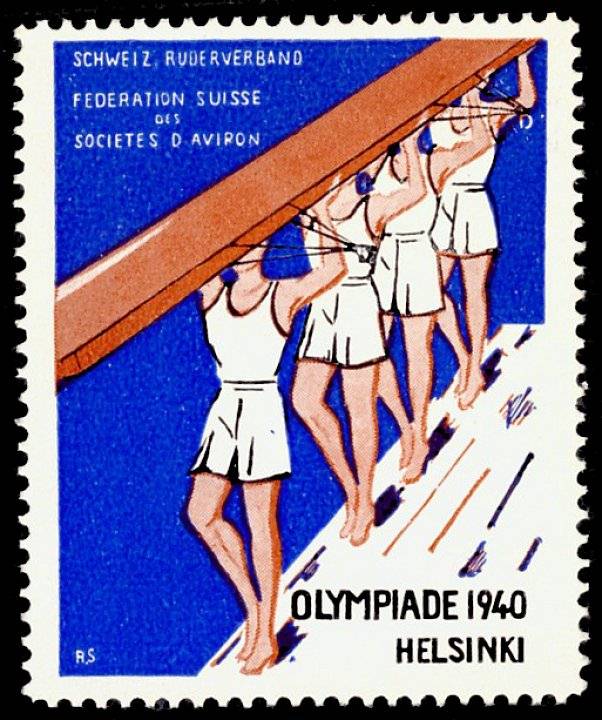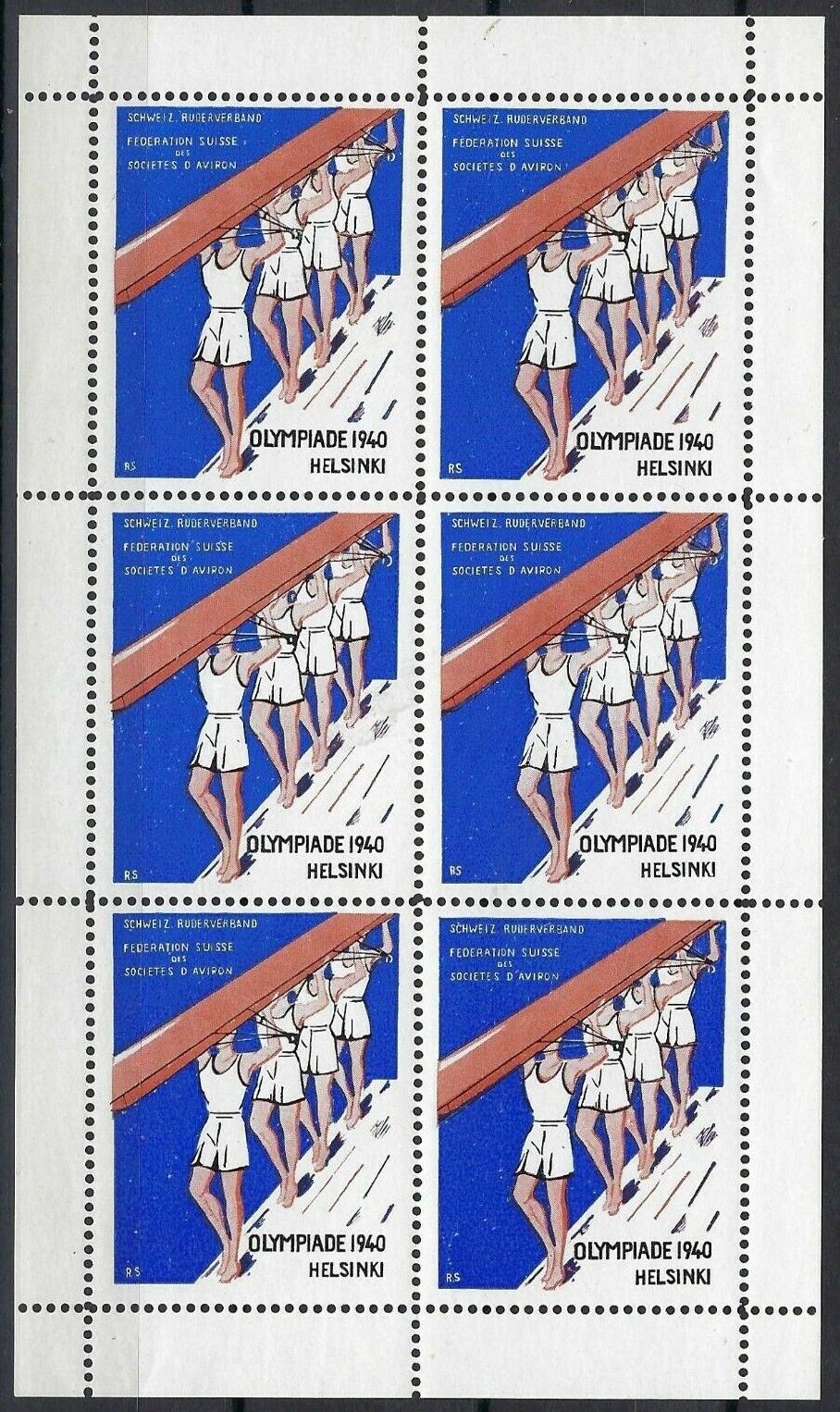 1940-F-16
DuBois listing:
16. "SCHWEIZ. RUDERVERBAND / FEDERATION SUISSE DES SOCIETES D'AVIRON" above; "OLYMPIADE 1940 HELSINKI" below, on the right; vignette: four oarsman carrying a boat,which is over their heads; artist's mark at lower left: RS. 36x45mm, perf 11.5, multicolored ... Rare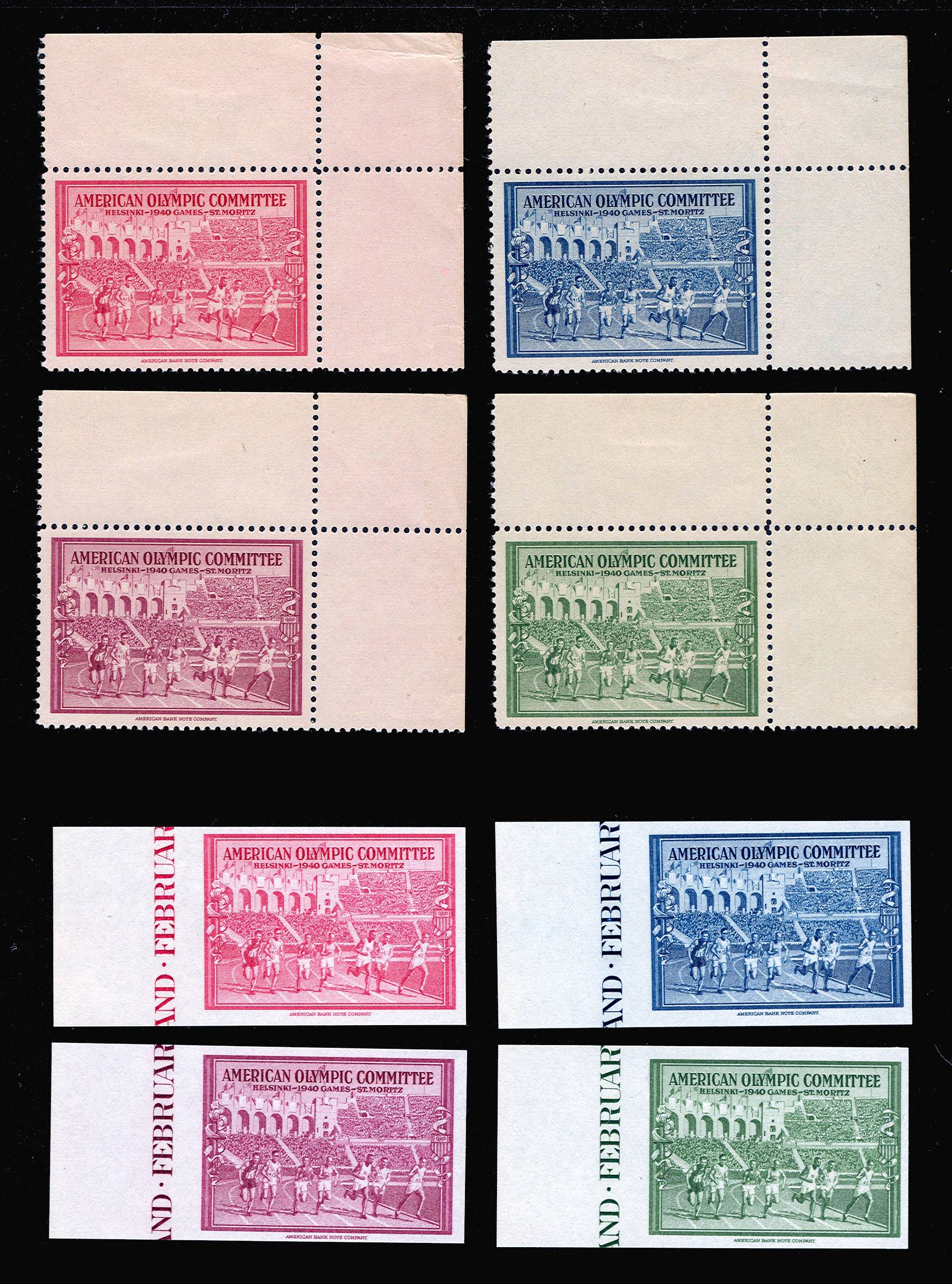 #1940-F-17a thru 17d and 17/aa thru 17/ad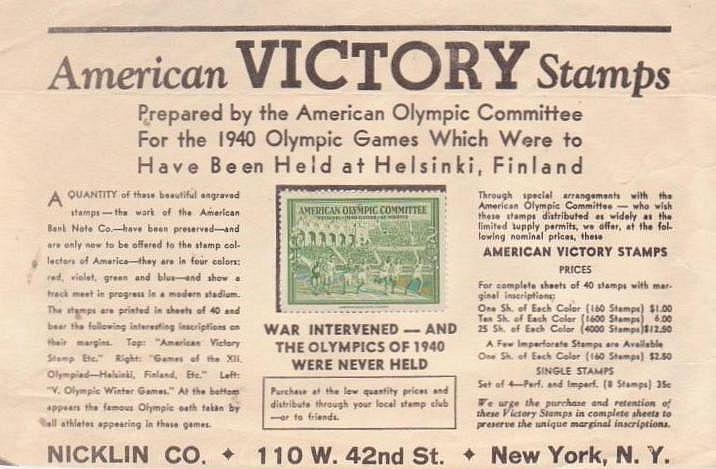 Contemporary ad for 1940-17 stamps!
More ads from the DuBois catalog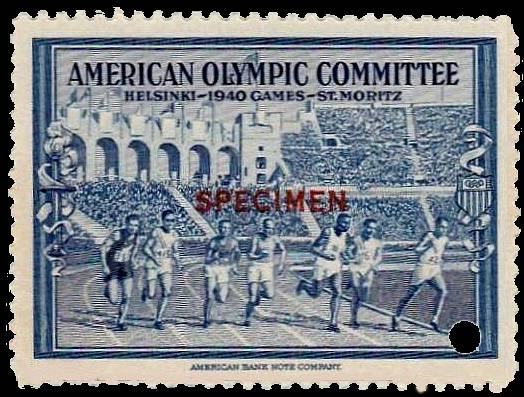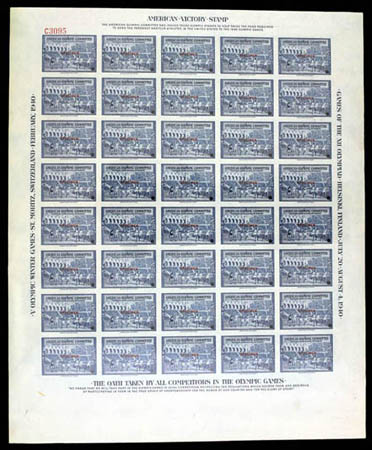 4/11/19 - SPECIMEN, single and imperf sheet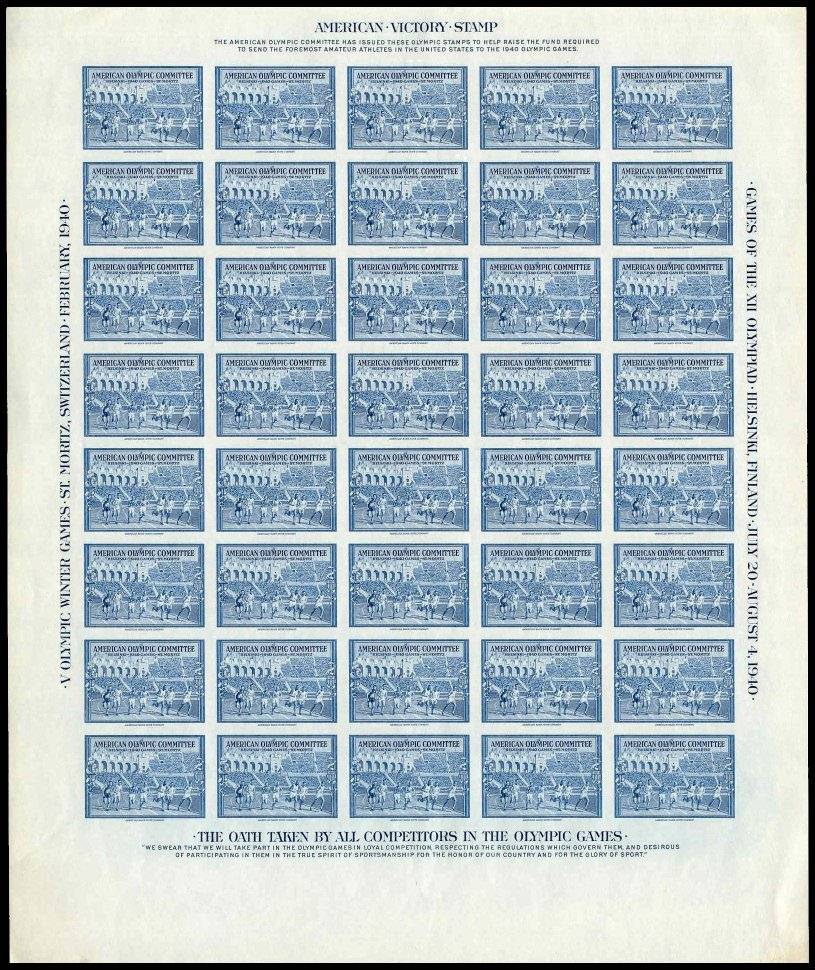 Full sheet of #1940-F-17/ac
DuBois listing:
U.S. Fund Labels:
17. "AMERICAN OLYMPIC COMMITTEE HELSINKI - 1940 GAMES - St. MORITZ" above; printer's imprint: "AMERICAN BANK NOTE COMPANY" below design; Vignette: a scene from the 1932 Games in Los Angeles - seven runners on the track, in the foreground; background depicts a portion of the stadium with its arched entrances, flags atop the latter, and seats crowded with spectators; a be-ribboned torch to left side; a be-ribboned USA Olympic coat-of-arms to right side. 41x28mm,perf 12, each label of one color only, as follows: a)red , b)green , c)blue , or d)purple ... each: $1.00
17a. Same as #17 but imperf & without gum ... each: $2.50
17 & 17a issued in sheets of 40(5x8), PM4S, perforations pass through selvage which measures 21 mm at top & bottom and 23mm on sides. The following information is printed on the selvage:
Left side-"V OLYMPIC WINTER GAMES ST. MORITZ, SWITZERLAND. FEBRUARY, 1940."
Right side: "GAMES OF THE XII OLYMPIAD. HELSINKI, FINLAND. JULY 20-AUGUST 4, 1940."
Top: "AMERICAN VICTORY STAMP THE AMERICAN OLYMPIC COMMITTEE HAS ISSUED THESE OLYMPIC STAMPS TO HELP RAISE THE FUND REQUIRED TO SEND THE FOREMOST AMATEUR ATHLETES IN THE UNITED STATES TO THE 1940 OLYMPIC GAMES."
Bottom: "THE OATH TAKEN BY ALL COMPETITORS IN THE OLYMPIC GAMES. "WE SWEAR THAT WE WILL TAKE PART IN THE OLYMPIC GAMES IN LOYAL COMPETITION, RESPECTING THE REGULATIONS WHICH GOVERN THEM, AND DESIROUS OF PARTICIPATING IN THEM IN THE TRUE SPIRIT OF SPORTSMANSHIP FOR THE HONOR OF OUR COUNTRY AND THE GLORY OF SPORT."
See "1948-London" label nos. 3 & 3a for a reissue of the above items,with appropriate changes in texts & dates. A notable change occurred in 1948 in that the name "American" was changed to "United States"
Autographed Sheets: Imperforate, ungummed sheets of the 1940 issues (17/a) were signed by several prominent persons, including the following: R.E. Byrd, Charlie Chaplin, Lily Pons, Eddie Rickenbacker, Eleanor Roosevelt, Shirley Temple, Orson Wells (Additional signers, known to the reader, are solicited).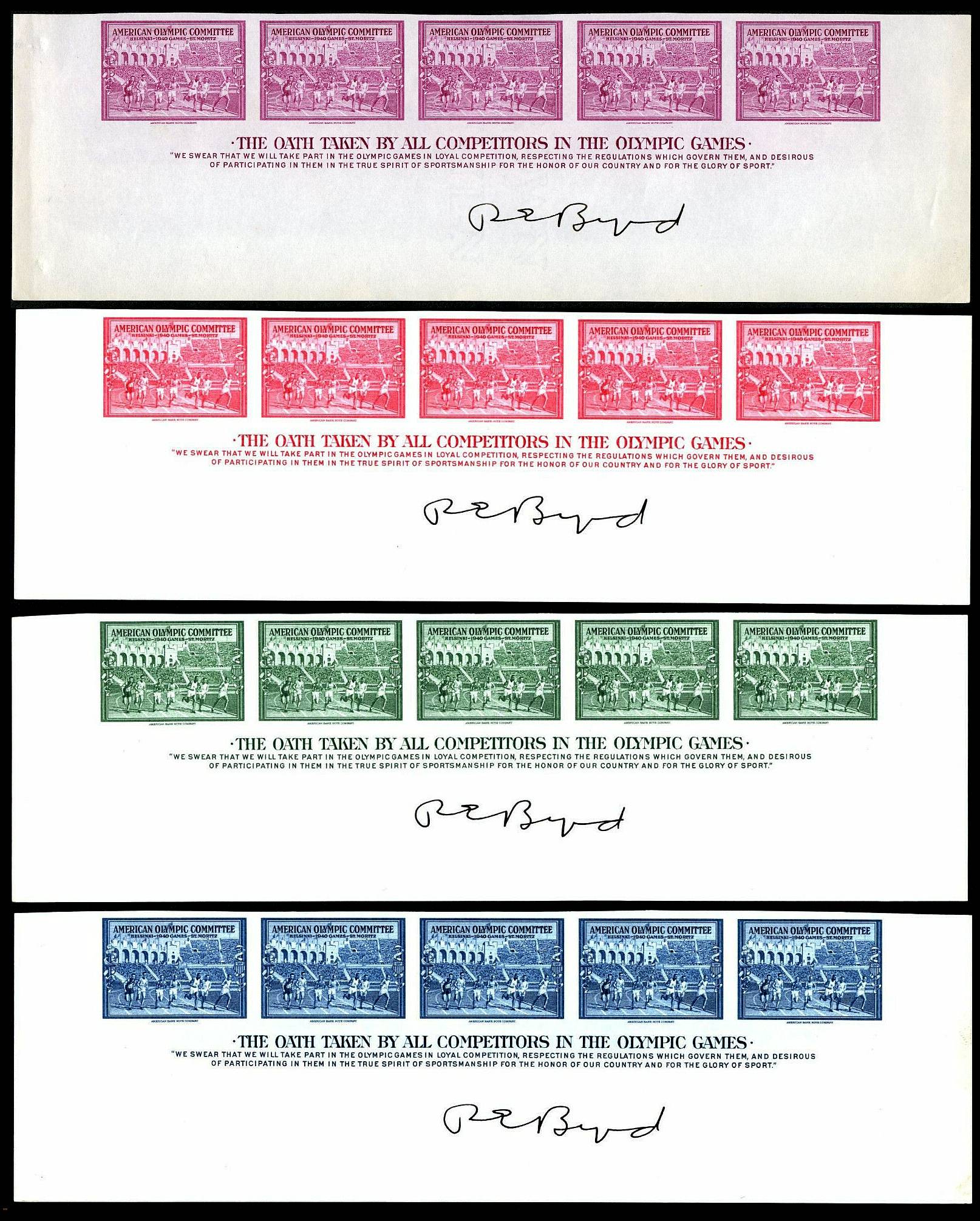 Bottom margin strips of 1940-F-17a in all 4 colors, with Admiral R. E. Byrd autographs, one of five sets known.

In the 1930's, Byrd was arguably the most famous man in America. He is the only person ever to have three ticker-tape parades in New York City (in 1926, 1927 and 1930) given in his honor.
---
6/18/19 - eBay listing - Full sheet in green autographed by famous explorer, author, and ornithologist William Beebe.
---
The above finds, plus a tip from Polish Olympic maven Roman Babut led me to the 1940 Official Report of the American Olympic Committee and the July 15, 1939 issue of Stamps Magazine, where I found these names of some of the signers of the sheets: Admiral Richard E. Byrd, Alfred P. Sloan, Bing Crosby, Bob Burns, Charlie Chaplin, Col. Theodore Roosevelt Jr., Edgar A. Guest, George Ade, Grantland Rice, Joe E. Brown, John Kieran, Lily Pons, Louis Bromfield, Lowell Thomas, Orson Welles, Paul Whiteman, Sherwood Anderson, Shirley Temple, Thomas Mann, William Beebe.
IN ADDITION, the Stamps item states that each celebrity signed TWENTY sheets, or five sets! So we now know the relative scarcity of these treasures!