1904
(Click on any image to view an enlarged version)
1902 postcard used in 1904.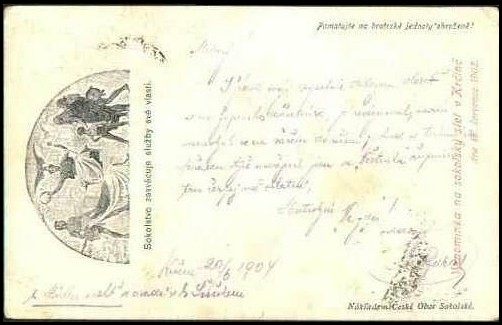 ---
Below, undivided postcard, artist Korbel, produced for the Slet held in Ceska Trebova 14th to 15th April 1904, with main text: Rovnost', volnost', bratrstvi'! i.e. Equality, freedom, fraternity! Addressed to Kostelec nad Orlici, bearing Franz Josef 5 h. stamp and publicity label for the slet, both tied with bilingual Prostejov canceller dated 5th April 1904. Receiving handstamp dated 7th April.
---
Sokol postcard of the gymnasium in Senju, franked with Hungarian stamp cancelled with Zengg postmark dated 904 AUG 28; addressed to Kamenice nad Lipou, Bohemia, and bearing its weak bi-lingual arrival handstamp.