1924
(Click on any image to view an enlarged version)
KRAJOVÝ SLET SOKOLSTVA V CESKÉ BUDĚJOVICE - TROCNOV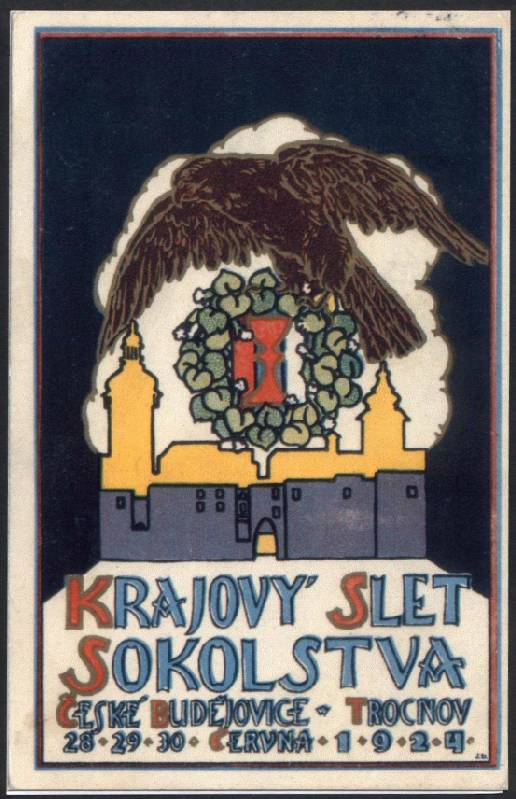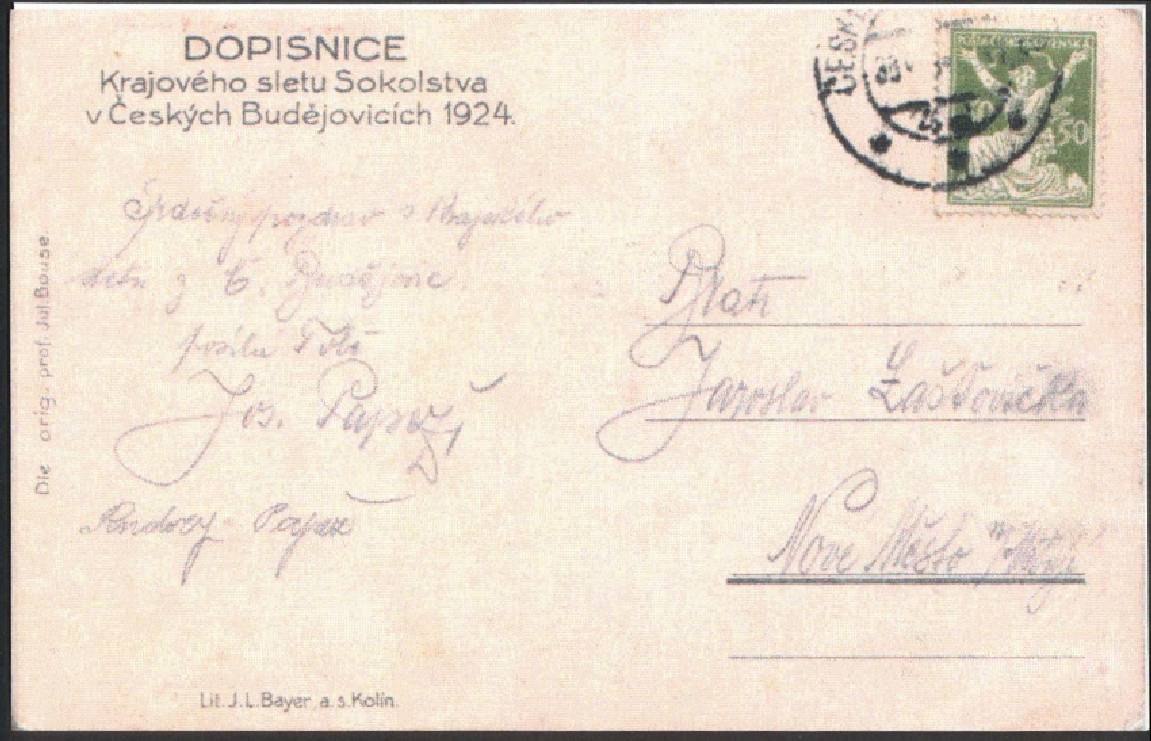 Artist: Julius Bous (1878-1944)
Above, Postcard produced for the Regional Slet held in Trocnov and České Budějovice in June 1924.
Used locally it is addressed to Nove Mesto nad Metuji.
Trocnov is a small village in the České Budějovice district where the most famous Hussite commander Jan Žiška was born. There is a monument to him there. České Budějovice is the main city of its district.
Below, poster stamp, card, and pin for the same event. The stamp and cards all look like the product of the same artist, and I bet there is a postcard with the same design as the stamp. Stay tuned. There might be poster stamps with the other two designs as well!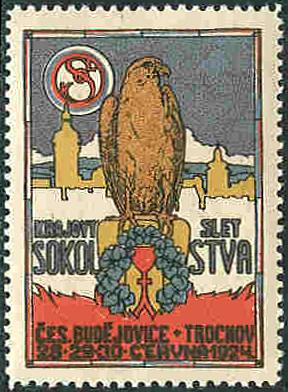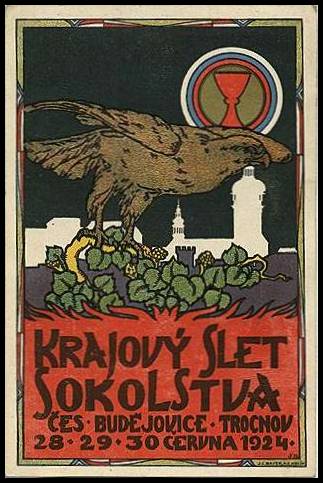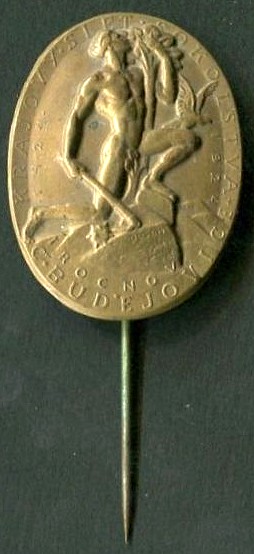 Artist, card and stamp: Julius Bous (1878-1944)
Artist, pin: Jan Vítězslav Dušek (1891-1966)
My Czech accomplice Štefan supplied the artist info, and says there was a poster, by Emil Pitter (1887-1943), and he has seen one more card, but no more stamps.
Here is a wonderful photo of that Slet.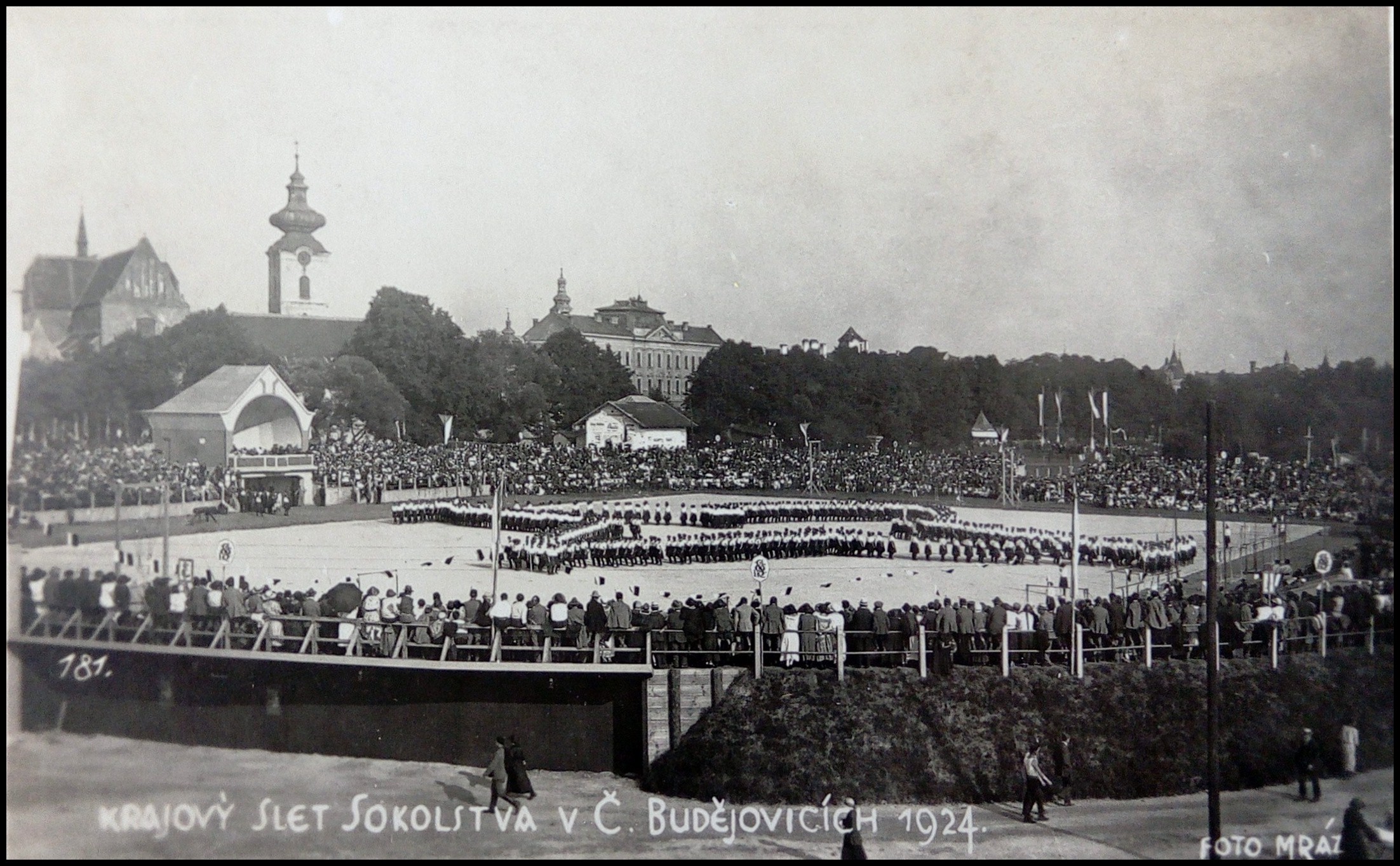 And finally, here is a link to a video showing the performances and competitions at the Slet.
Description: Regional Gathering of the Czech Gymnastic Organization Sokol in Ceské Budejovice on 28th-29th June, a Tribute paid to Jan Žiška by the Sokol Members in the Town of Trocnov, 1924.
If you have never seen a large Slet, prepare to be astounded, keeping in mind that Ceské Budejovice, while now the capital of South Bohemia, has a population of just under 100,000.
------
Regional Slet in Sarajevo (Bosnia and Herzegovina)
The same card, but text in two different alphabets
The card backs differ, too.

The language is Serbian, which is one of the three official languages of Bosnia and Herzegovina.

According to Wikipedia:
Serbian is practically the only European standard language whose speakers are fully functionally digraphic, using both Cyrillic and Latin alphabets. The Serbian Cyrillic alphabet was devised in 1814 by Serbian linguist Vuk Karadžić, who created the alphabet on phonemic principles. The Latin alphabet was designed by Croatian linguist Ljudevit Gaj in 1830.
---------------
Slet in Zagreb, Croatia