is still on display in the Brno Town Hall!

Above, postcard and three poster stamps, all with same image,
suggesting this was the official image for the event.

Note that the same artist did the two postcards and the stamps above, as well as the two cards below. Emil Kosa, Sr., a friend and longtime assistant to Alfons Mucha, was born in 1876 in Brno, but left to work in Paris and then in America. In 1912 he returned to Brno and lived there until 1918, when he moved to America again.

Sokol athlete stomping snake, aided by falcon.

---------------

Below, allegorical images.

The artist for the card on the left is A. Brunner, and for the card on the right, Jaroslav Čižek.

---------------
Poster stamps for Regional Slet in Rakovnik
---------------
Poster stamp in memory of Dr. Jan Podlipný (1848-1914)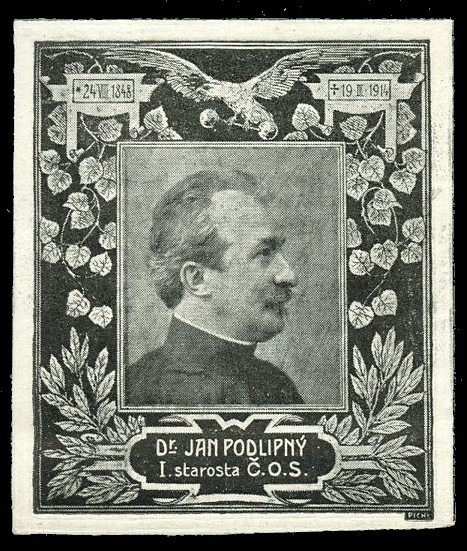 According to Czech Wikipedia and Google translate:
JUDr. Jan Podlipný (August 18, 1847, Hnevceves - 19 March 1914, Prague) was a Prague attorney , Mayor of Prague (1897-1900) and member of the Bohemian Landtag as a Young Bohemian, and the first mayor of the Bohemian village of Sokol (1889-1906). He organized the Collection of Laws on the State Law of the Kingdom of Bohemia (1882) and was also the Legal Unity Executive. He was a man of rare character and noble morals.
And obviously he was a very active member of the Sokol organization.
---------------
Poster stamp for 3rd Slet in Ljubljana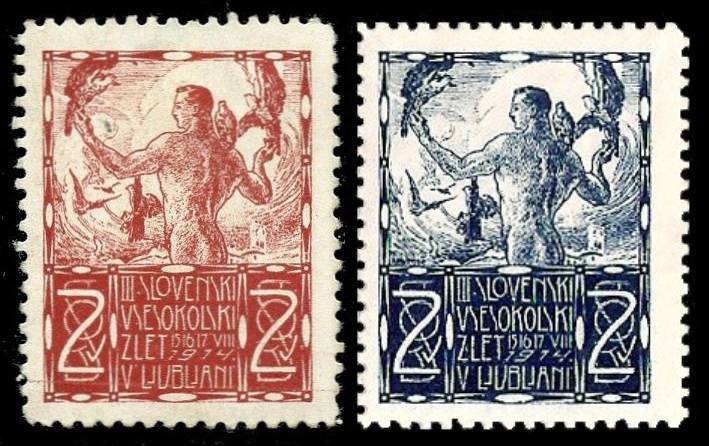 ---------------
Poster stamp for Red Cross in Lysá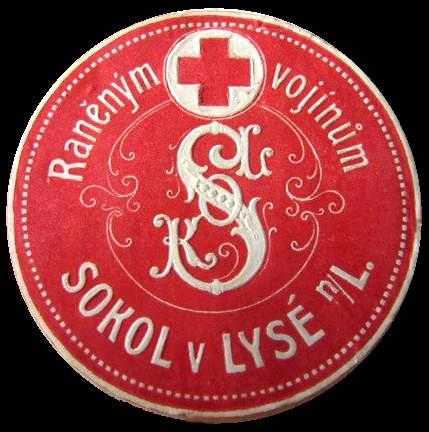 Size = 4" diam.
Raněným vojínům - Sokol v Lysé n/L
Wounded Soldiers - Sokol in Lysá n / L
Presumably this was to raise support for aid to soldiers in WWI