1927
(Click on any image to view an enlarged version)
Poster Stamp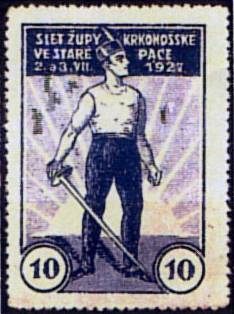 SLET ŽUPY KRKONOŠSKÉ VE STARÉ PACE
Regional Slet at Stará Paka in Krkonoše District
---
Poster Stamp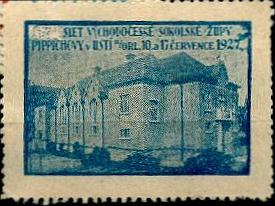 A regional slet at Ústí nad Orlicí, July 1927
A picture of Sokolovna (Sokol´s house, a gym)
(three colors - blue, green, red)
---
Poster Stamp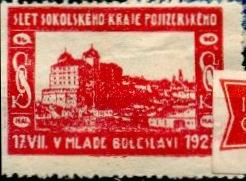 A regional slet at Mladá Boleslav, July 1927
(two colors - red and blue)
---
Poster Stamp
Fund-raising stamps for club-house (sokolovna) in Bratislava.
The Sokol club in Bratislava was founded in 1919, and flourished there. By the mid-20's the club had raised enough money through sale of these labels and other methods to purchase and renovate a former dance-hall named Bellevue to serve as their club-house, gym, meeting hall, etc. They held a festival to dedicate it from June 26 to July 6, 1927.
12/31/18 - Štefan Šuták has confirmed that the labels above were printed in 1927, by V. Neubert of Prague, and that there is a third color, but he does not know what it is. The artist may be a Czech painter named Mrázek.
04/11/2022 - Štefan sent the image below, of all three colors.
Thanks, Štefan!

The postcard below, dated 1928, shows the completed Sokol house.