1915
(Click on any image to view an enlarged version)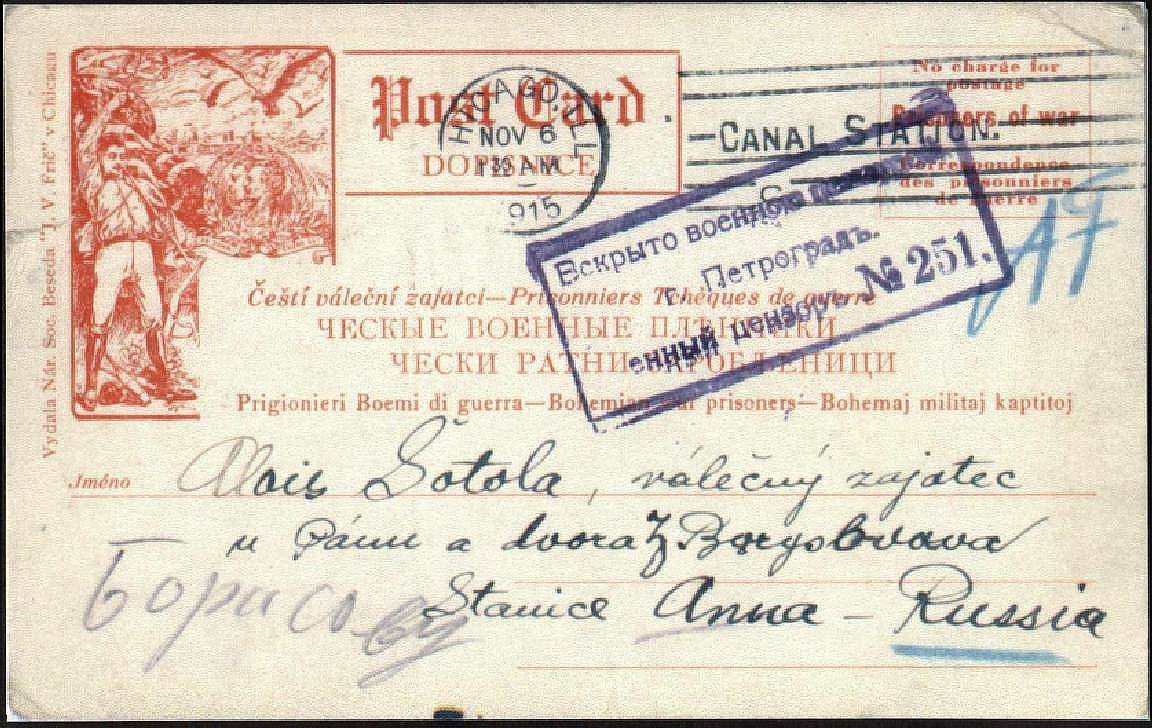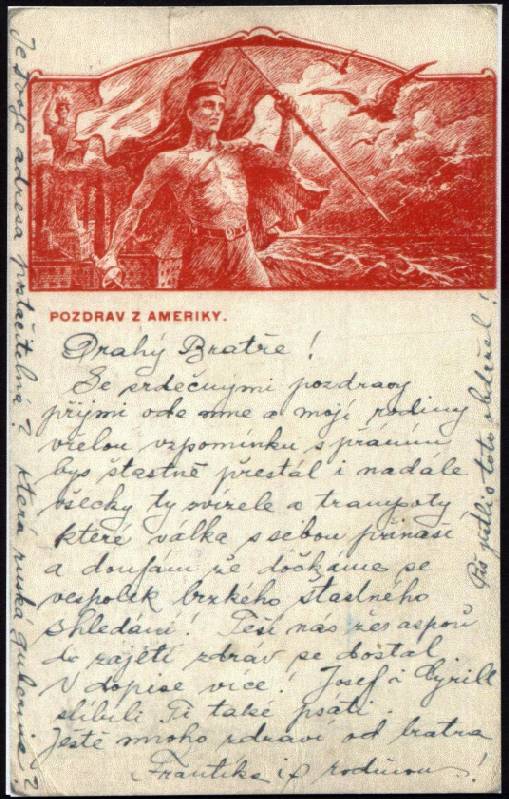 Czechoslovak Prisoners in Russia
Prisoner of War, postage free, postcard produced by the Sokol Organisation in the U.S.A., and sent to a brother Sokol then a POW in Siberia, from Chicago with its Canal Station postmark dated NOV 6 1915.
Vignette of a Sokol and the organisation's founders; stylised view of the Statue of Liberty on the reverse.
Boxed Russian censor (type 16 group) of Petrograd, No.251, struck in blue.
Printer Nar. Soc. Beseda "L V. Fric", Chicago
A Dramatic Image!
I love the image on this card - talk about drama! And what a costume! I assume that's the German eagle he's choking. Is it a Sokol card, though? There's no text on the image side, and nothing on the address side to identify it as specifically Sokol.

I asked my Czech source Štefan Šuták, and he informed me that the printed inscription on the back: VE PROSPĚCH NÁRODNI JEDNOTY POŠUMOVSKÉ translates "For the Benefit of The National Unity of the Bohemian Forest." National Unity (1884-1939) was a group established to help Czechs in border regions. Sokol suppported this association.

So I think we can say that this card has a Sokol connection, if not a direct Sokol meaning.
Štefan tells me the image was also used on a private card, i.e. without the National Unity credit.

As for why I put this card on this page, it was somewhat arbitrary. I cannot make out the date on the postmark, but the stamp was valid only between 1908 and 1916, and this page was a bit sparse, so why not?

But hey, Who is that guy, anyway?