Yunak
(Click on any image to view an enlarged version)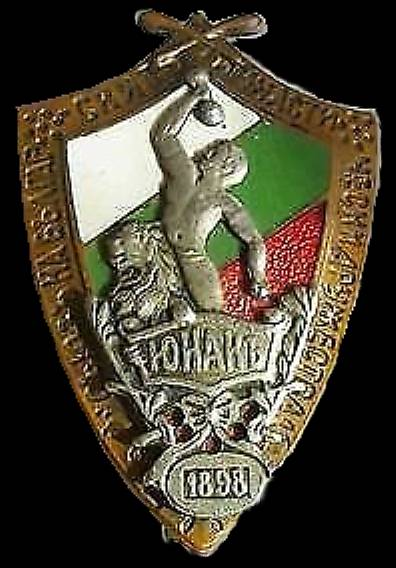 Yunak badge, with official emblem
Bulgaria created its own version of Sokol, called Yunak, or Hero. Founded in 1895, it had similar roots - a desire to build a strong, patriotic citizenry - and Yunaks competed in Sokol Slets. But Yunak developed on its own, and unlike the Czech organization, Yunak developed with the cooperation and approval of the government, and in cooperation with the school system.
Yunak's full name in Bulgarian is
СЪЮЗЪ НА БЪЛГАР СКИТЪ ГИМНАСТИ ЧЕСКИ ДРУЖЕСТВА
THE UNION OF BULGARIAN GYMNASTIC SOCIETIES (SBGD)
The founder of Yunak was a chemistry teacher, Todor Yonchev. He had encountered gymnastics movements in Switzerland and Austria-Hungary during his studies there, and saw their practical benefit in developing patriotism, public unity and a healthy populace. In order to spread the gymnastics in Bulgaria, he established gymnasiums in Shumen and Sofia. The movement spread and grew rapidly, and at its peak in the early 1940s, it had a membership of nearly 60,000 (out of a total population of about 7 million) with 242 branches nationwide. Unlike Sokol, though, it did not survive the Communists, who outlawed it in 1946.
NOTE: Sokol membership in Czechoslovakia in 1940 was about 700,000 out of a population of 15 million.
The cards and stamps shown below are all dated, and are shown on the appropriate year pages, as well as here.
------------------
1901
An undivided postally used postcard showing a group of Bulgarian Junaci at the IV. All-Sokol Slet in Prague.

------------------
1907
An unused card described as "Bulgarian Sokol visitors to the V. Slet in Prague."
The white caps identify them as members of Yunak, rather than Sokol.

------------------
1910
1910: Bulgarian card for the 5th Yunak Assembly, in Sofia, June 27-29, 1910.

------------------
1912
Card showing Yunak group on parade at the VI. Sokol Slet; postally used locally in Prague.

------------------
1925
Yunak membership stamps

I have seen these described as "revenue stamps,"
but the only way I have seen them used is to validate Yunak membership cards,
so I think they are not really "revenue" stamps, since that would imply official government issue,
and Yunak is a private organization.

I have put them on the 1925 page because the only
dated use of them I have seen is the one below,
on a membership card dated 1925/1926.
They may have been issued earlier.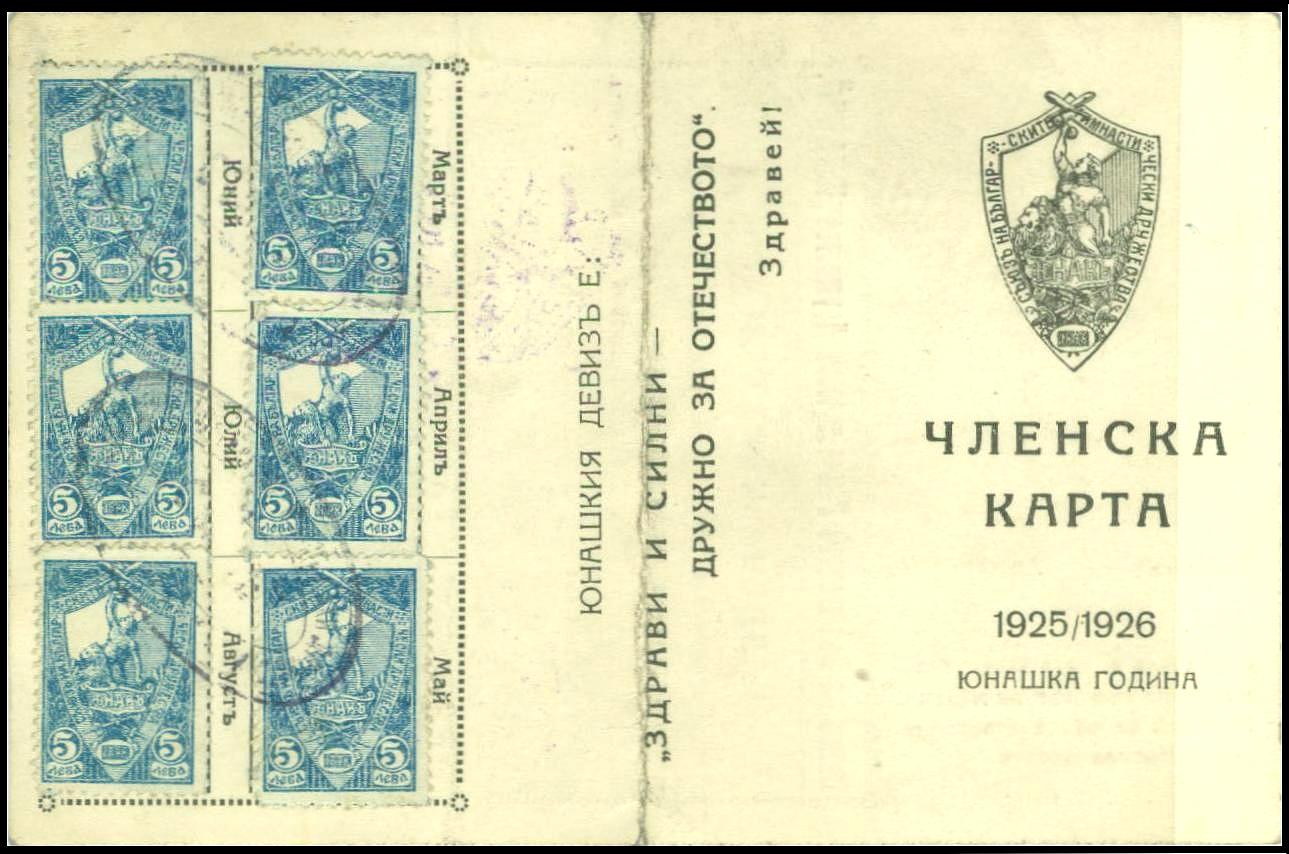 As dues increased, they applied overprints:
---------------
1930
Postcard for 7th Yunak Assembly - SOFIA (Bulgaria)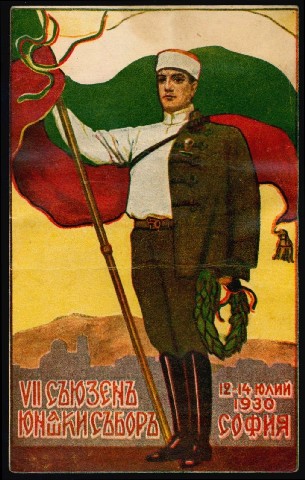 VII. СЪЮЗЕНЪ ЮНАКИ СЪБОРЪ
---------------
1935
Postage stamps to honor the 8th Yunak Assembly

Note that the high value of the set, the 50 leva, shows the official emblem of Yunak, the shield with an athlete holding a dumbbell aloft, a lion in front. This can be seen on the membership badge at the top of this page as well.
And there it is again on the 2 leva value of the set of stamps issued in 1939, shown below.
---------------
1939
Postage stamps to honor the 9th Yunak Assembly