(Click on any image to view an enlarged version)
Pardubice
Orels on the left, Sokols on the right
Vienna
I do not know where I got this card, or why I thought it represented a Sokol parade.
The two men carrying the banner are wearing what might be Sokol costumes - hard to be sure in B&W. The women are wearing traditional Czech folk costumes, which might also be Sokol. But why would Sokols be parading in Vienna in 1931? Well, it happens that the 2nd Workers' Summer Olympiad was held there July 19-26 that year.
So could these be members of DTJ (the Socialist offshoot of Sokol)?
8/12/18 - I asked my Czech accomplice Štefan Šuták if he could unravel this mystery,
and sent him high-res scans of the card and banner,



enabling him to tell us the following:
Banner Upper text - "Zdar rudé Vídni" (Czech)
Banner Lower text - "Freundschaftsgrüsse den roten Wien" (German)
English translation: "Friendly greetings to red Vienna"
The Austrian chapters of Sokol had a regional slet in Vienna May 23-26, 1931;
and the II. Workers´ Olympiad took place in July 1931.
Both the Sokol and DTJ delegations from Czechoslovakia participated in both events
This card is probably from the later event, since the banner mentions "red Vienna."
The guys carrying the banner are definitely Sokols.

Nice photo of Vienna - that's the Parliament Building at left, and you can see the tower of City Hall rising behind it.
SLET SOKOLSTVA NA JADRANU
SPLIT - JUNI - 1931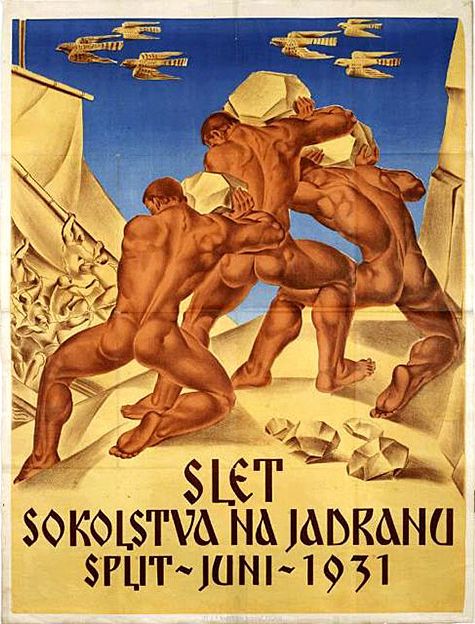 This extraordinary image announced a "Sokol Slet on the Adriatic"
at Split (2nd largest city of Croatia), in June, 1931.
YOU MUST READ THIS PAGE! (translation courtesy of Google)
with an equally extraordinary essay about the event.
Unknown