The tenth festival, in 1938, took place during the time of growing fascist threats from Italy and Germany, but still exceeded the previous Slets in size and length. Again there were both winter and summer competitions. For the summer games, ten days of competitions and performances were spread over one month, with participation by nearly 350,000 Sokol members, observed by more than 2 million spectators.
Two sets of postage stamps were issued (shown above): one, with two values depicting a falcon, for the winter games (Scott Czechoslovakia 241-242), and another, with three values depicting Jindrich Fügner, for the summer games (Scott Czechoslovakia 246-248). All were printed with setenant labels, in sheets of 100 stamps and 12 labels, LIKE THIS.
Two series of postal cards were issued, one for the winter games, and another for the summer, each of eight cards. All are shown at the bottom of this page.
------------

The reconstructed strip of ten poster stamps above shows the history of the All-Sokol Slets prior to 1938. The first stamp, on the left, is a reproduction of a famous painting of the All-Sokol Slet of 1882 by Adolf Liebscher (1857-1919). The next 8 show photos of the eight Slets from then to 1928, and the last stamp is an image created for the new celebration The artist was Mikoláš Aleš (1862-1913). His signature - "A" - is visible at bottom left.
These vignettes were issued in five different colors - violet, red, green, blue, and brown.
The designer of the stamps was Karel Špillar (1871-1939).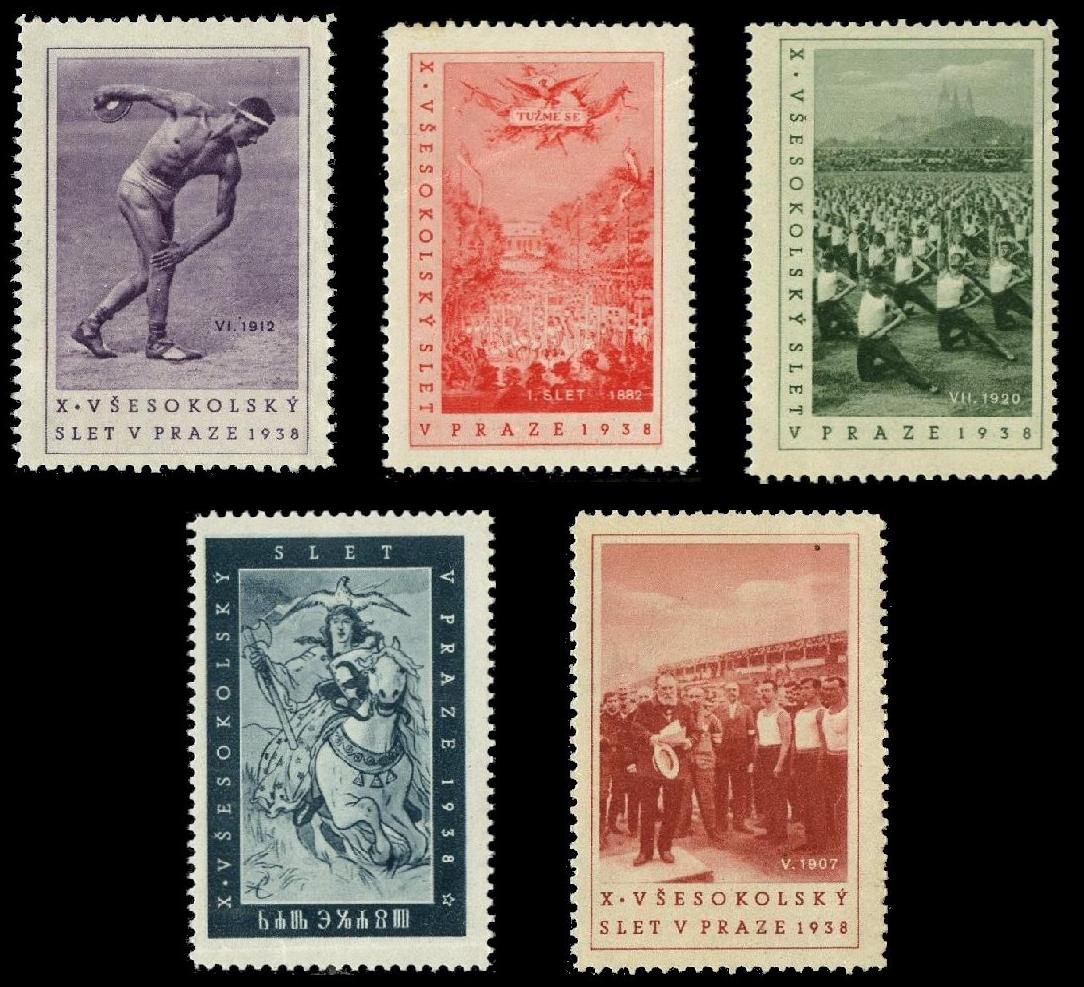 8/19/18 - One of my collecting obsessions is large multiples of stamps and labels. I like to see how they were printed and distributed. Well today, after searching for many years, I finally found this image of a complete sheet of these labels - fantastic!
(Image courtesy of Burda Auction House)
---
High School Games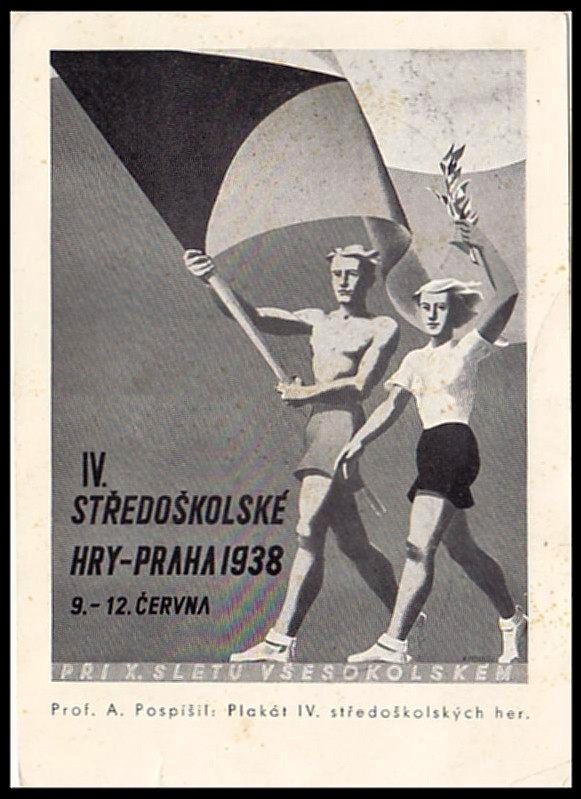 IV. STŘEDOŠKOLSKÉ HRY-PRAHA 1938
Fourth High School Games
I know nothing about these, except what the name says, but it appears they were sponsored by the schools/government, rather than the Sokol organization, so though held in conjunction with the Slet, they were not officially a part of it. Note that they are not listed in the schedule on the poster at the top of this page.
More information is welcome.
-------------
---
A Nightly Spectacle!
A popular feature at these huge Slets were the re-enactments and allegorical performances.
This image is from one titled "Build and Defend!"
-------------
As expected for one of these All-Sokol events, many postcards were published. Below are a few, though two of these are generic, undated cards produced for general use.
Note the image on the card at right above - the athlete is throwing a hand-grenade.
The German invasion of Czechoslovakia was imminent!
-------------------
The photograph at left below says it all.
--------------------
Below, a special railway ID card for travel to the Slet.
Issued by the Czechoslovak Railways for visitors of the Sokol exhibition on occasion of the 10th Sokol festival in Prague.
Official revenue stamp and special railway fee stamp, both cancelled by railway markings.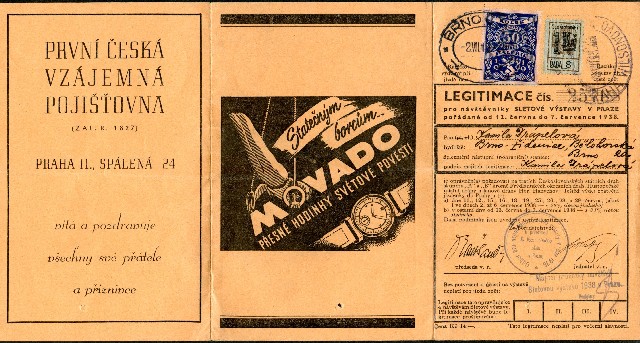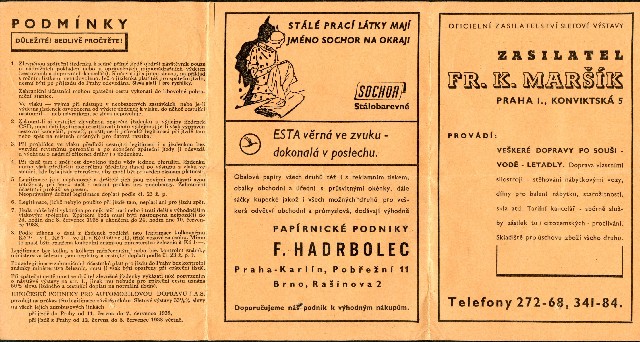 ----------
POSTAL CARDS - WINTER GAMES
----------
POSTAL CARDS - SUMMER GAMES
-------------
SLETOVÁ VÝSTAVA - Slet Exhibition - 1938
Poster stamp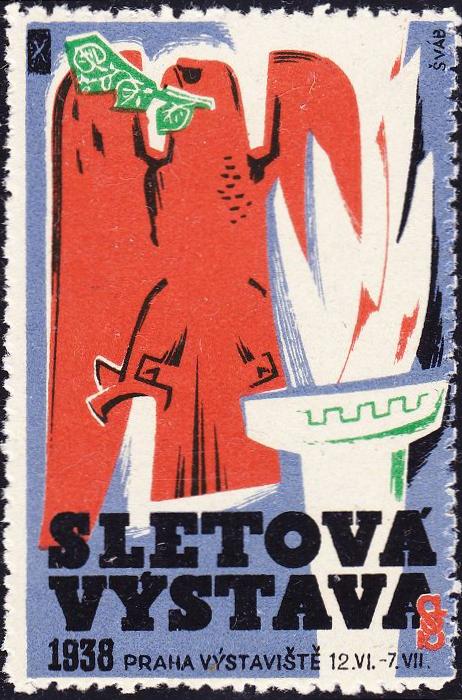 Artist: Jaroslav Šváb
Slet Exhibition at Výštavisté (an exhibition grounds in Prague)
----------
Poster stamp
LETNICE HRANIČÁŘŮM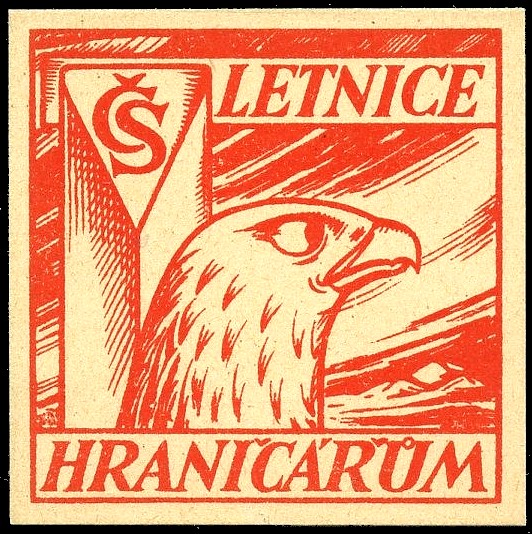 According to Sokol maven Štefan Šuták of Chomutov, Czech Republic, this stamp was a charity label issued to raise funds in support of Sokol clubs in border areas where clubs could not get enough members to be self-sustaining.
He verified its date of issue from a Sokol news journal of that time.
"5/29-6/6/1938 - With permission from the authorities,
Sokol has announced a public collection of money for pepole living in border areas."
LETNICE means Pentecost and HRANIČÁŘŮM means border guards.
"Letnice," or Pentecost, is seven weeks after Easter. Easter in 1938 was Sunday, April 17, so Pentecost was Sunday, June 5.