is a list of theirs, from their web site. Note that their slets were held in even-numbered years. I could find no such list of the American Sokol Slets, but the ones noted below did take place in odd-numbered years. Nor did they always show a number on their cards and labels. So I have had to guess at some of the sequence numbers below for American Sokol Slets.

Postcards and poster stamps (labels) have been issued for some of the American competitions, but far fewer than in Europe, since neither achieved the popularity here that they did on the Continent.
UNDATED US SOKOL POSTER STAMPS
I am putting these two labels first on this page because I want to know more about them.
Please write me (address at bottom of page) if you can provide more information.

I think the first label above - "SLOVAK RELIEF FUND - SLOVAK GYMNASTIC UNION SOKOL" - dates from 1918, right after WWI, when Czechoslovakia was established. I found references online to the formation of the CZECH-SLOVAK RELIEF FUND, to help the area with post-war recovery. And the price, a penny, seems too cheap for any time later. Also that label just looks old, right? But it *could* date from the late thirties through the mid-40s, which was also a period of turmoil and hardship in that area. Can anyone tell me more?

The second label - "V PRID. SOKOLSKEMU DOMU. - CLEVELAND O." - is, I think, a fund-raising stamp for the Cleveland Sokol group, to build their Sokol house. Again, at a penny, it can't date from later than 1940, right? But which American flag is that in the background? It looks like a botched attempt at either the 45-star (1896-1908) or 46-star (1908-1912) flag, except the stars are staggered wrong. There has never been an American flag with stars like that. AND can this stamp be that old? Sokol Cleveland DID build a hall in 1910, and that would fit. Anyone?

8/29/18 - Ted Krejsa, Sokol member and collector of Cleveland, sent me scans of three Sokol postcards he inherited from his Grandfather, one of which I have added below - scroll down to 1916. The other two are on the 1901 page. I asked Ted if he had seen this label, and he said No, but sent me a pdf of the October 21, 1910 edition of a Cleveland Slovenian paper called AMERIKA, which carried an advertisement ( CLICK HERE) - note use of the same phrase as on the stamp - V PRID. SOKOLSKEMU DOMU. - "inviting all Slovenian societies to take part in a benefit for the Sokol hall, starting with a harvest and winemaking at a vineyard, and followed by a dance at a hall." Ted added "it looks like they were raising money for a Sokol hall, and the time fits the graphic on the stamp. A few years later they collected money for the still operating Slovenian National Home in Cleveland, which housed many organizations and also had a Sokol gym. Don't know if the gym still exists there."

So that clinches it for me, this stamp dates from 1909-1910. Can anyone send me a better scan, though?

-------------------
1909
SLET SOKOLSTVA V AMERICE a ZÁVODY N.J. SOKOLSKÉ V CHICAGU
N.J. = Národní Jednota
Sokol Slet in America - with races - National Sokol Union at Chicago
Slet in Chicago - this must have been a local Slet, as I can find no mention of it online. The first SGUS National Slet in the USA was in 1906, and the second was in 1910, while the first American Sokol National Slet was in 1925 - see below.
8.23.18 - Štefan Šuták sent this link to the October 25, 1909 issue of Věstník Sokolský, and explained
1909 - The Czech delegation went to Chicago. The entire course of the expedition is described in the Sokol Journals No. 17-20/1909. There was a warm welcome in New York, a trip to Washington and Philadelphia. The attendance at a meeting in Chicago. Lots of banquets and public exercises with local organizations of Sokol. Just a wonderful 'zájezd' (trip) for Czech members of Sokol.
Thanks, Štefan.
So this must have been a major Slet, to attract visitors from abroad! I guess two postcards says a lot, too.
1912
American card from New York to Austria, Travel Agency advertisement for the 6th All-Sokol Slet in Prague

Foldout advertisement from Chicago
The ad below dates this to 1912

Text of the ad:

A respectful invitation to the public exercises of Telovychovna Jednota Sokol Slavoj,
(sports physical education unity of Sokol named Slavoj)
which will be held on Sunday, May 19, 1912, in the Pilsen Park pavilion at Albany and 26th Street.
The ceremonial procession goes off at half past one in the afternoon
from br. K. Semradek's Hall, 1333, j.41.Ct. to the Park.
Music directed by br. Fr. Blazek.
After the end of the program, free dance entertainment.
Admission 25 cents per person.
br. = brother, i.e. a member of Sokol

(Translation courtesy of Štefan Šuták)
1914
Admission certificate for Sokol club in Muskegon Heights, Michigan, USA - 1914
(Approximate size = 24" x 36")
1915
Czechoslovak Prisoners in Russia
Prisoner of War postcard (postage free) produced by the Sokol Organisation in the U.S.A., and sent to a brother Sokol then a POW in Siberia, from Chicago with its Canal Station postmark dated NOV 6 1915.
Vignette of a Sokol and the organisation's founders; stylised view of the Statue of Liberty on the reverse.
Boxed Russian censor (type 16 group) of Petrograd, No.251, struck in blue.
Printer Nar. Soc. Beseda "L V. Fric", Chicago
1916
American Sokol postcard from Chicago to Cleveland.
DOPISNICE ŽUPY FUEGNER-TYRŠOVY
K VI. SLETU V CHICAGU, ILL. 1916
Ted Krejsa, a Cleveland Sokol member today, sent us the scans of this card, addressed to his grandfather, but can't explain its mystery - the numbering of the Slet. The card says VI, or 6, but the "American Sokol" group did not hold its FIRST national slet until 1925, and the SGUS held a national slet in 1916, but it was number III. So perhaps this was local/regional slet number 6 for Chicago Sokol.
The title of the Sokol song is Červená košile - Red shirt, an essential part of the Sokol costume.
There are two more cards from Ted's grandfather on the 1901 page.
1920
An American card (printed in Chicago) commemorating all-Sokol Slet VII in Prague.
1921
The "Sokol Union of America" held its first slet in Chicago.
I think this was a Slovak group that joined with S.G.U.S. in 1922.

Note that the card on the right was printed in Prague,
though it was published by a Chicago firm ( F. Pancner), and I assume distributed only in America.
But I have to say its production quality is much higher than the American cards of the period that I have seen, so that may explain why the publisher went to the trouble to have it done in Prague, where Sokol cards were a high art.

The card at the left has the same image as the one above it, dated 1912.
Recycling images was fairly common on Sokol cards.
1925
First American Sokol Gymnastic Festival
1933
Second American Sokol Slet

A major (2nd) American Sokol festival was held in Chicago in 1933, in conjunction with the Chicago Worlds Fair of that year, celebrating Chicago's centennial. Special Sokol cachets were created for the festival, and for Czechoslovak Day at the fair.
1937
(III?) American Sokol Slet

As I mentioned in the Introduction to these pages, poster stamps were also created for many Sokol events, with designs matching the posters and post cards created to advertise and commemorate the festivals. Here is one for the 1937 Sokol festival in Chicago. No number, but this was probably #3.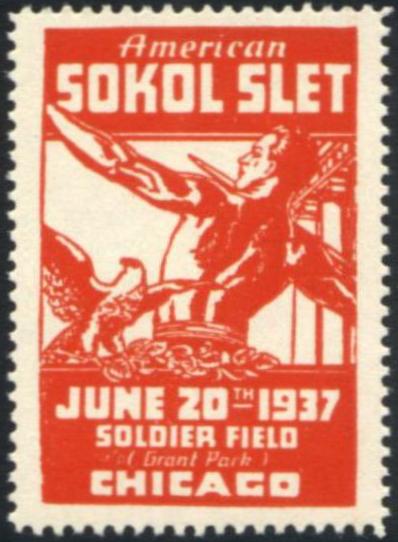 1947
(VII?) American Sokol Slet

Postcard and Poster Stamp with the same image as the one in 1937.
1953
(VIII?) American Sokol Slet
1954
(XII) SOKOL USA SLET - Sponsored by SLOVAK GYM UNION SOKOL
S.G.U.S. = Slovak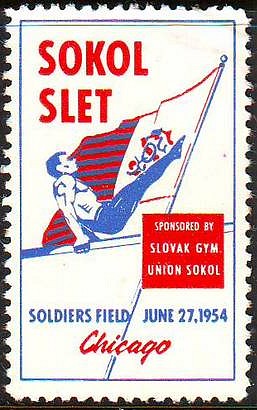 1955
American SOKOL JUBILEE - 1865-1955 - St Louis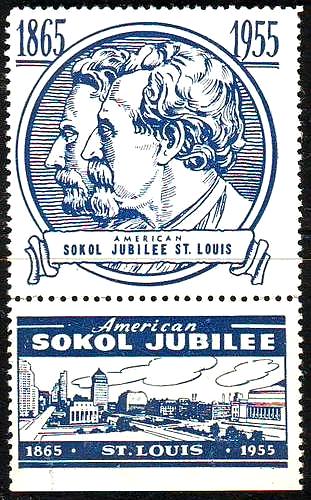 1957
(IX?) American Sokol Slet - 1957 (Chicago)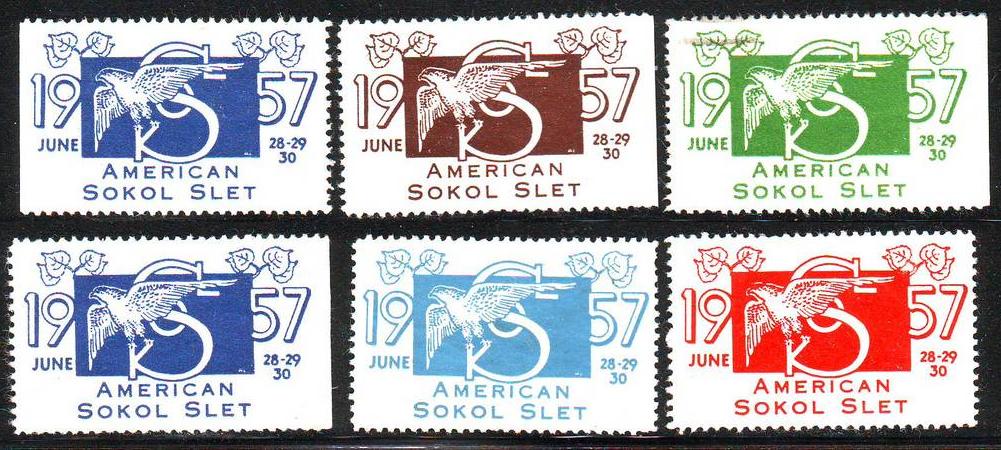 1958
(XIII) Sokol Slet - Cleveland (SGUS - Sokol USA)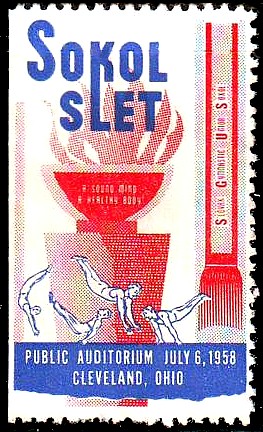 1959
American Sokol Mid-Slet - Los Angeles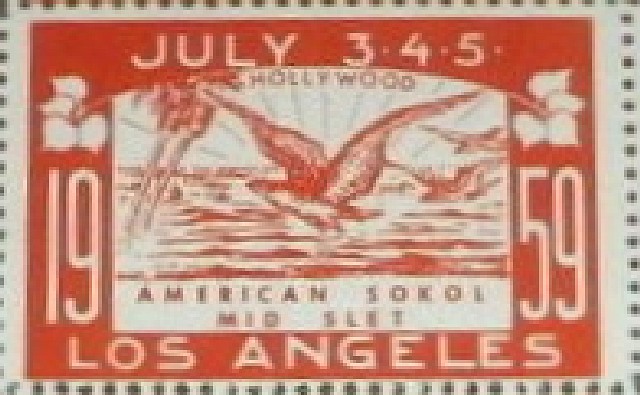 1961
X. American Sokol Slet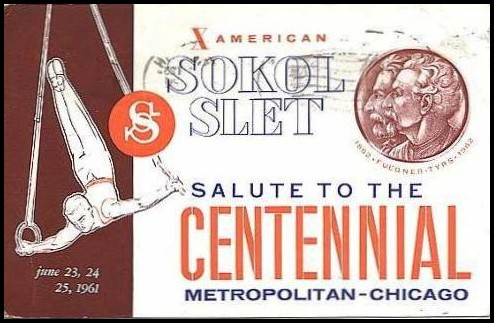 1965
In 1965, the US Post Office Department issued a stamp to commemorate the 100th anniversary of the founding of the Sokol movement in the USA.
1967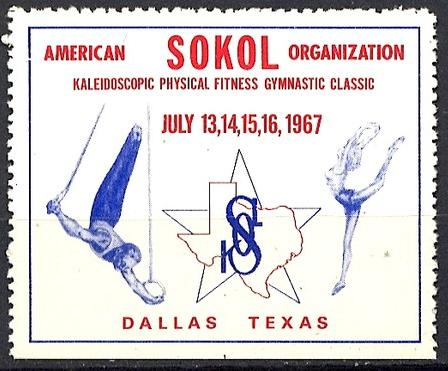 1973
American Sokol Organization, Dallas, Texas
XIII National Slet
1981
American Sokol Organization, Fort Worth, Texas
XV National Slet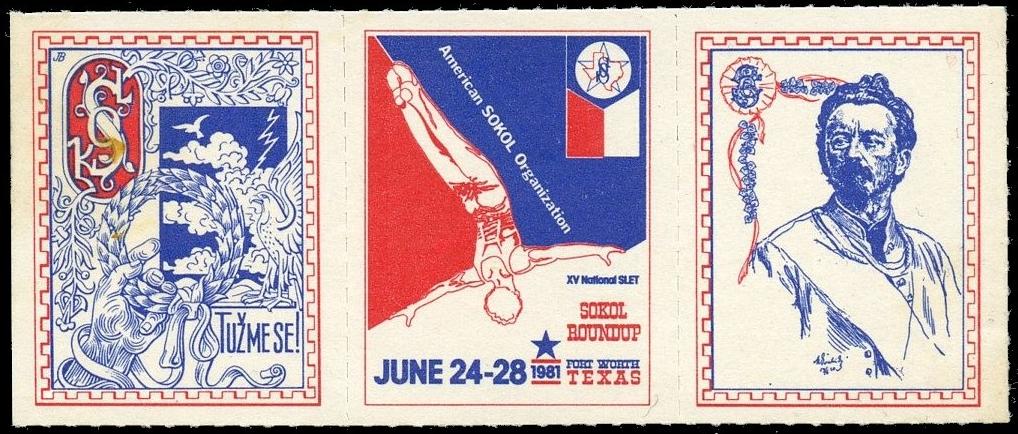 1982
Sokol Minnesota - 100 years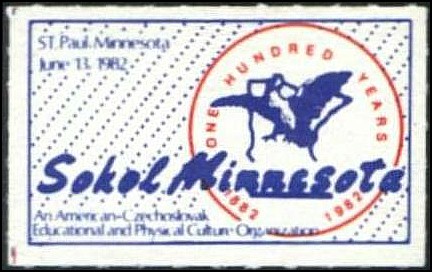 Merry Christmas, 1982